I'm not going to lie to you and tell you it all happened naturally or easily. It never does for a woman my age. Yes.
I'm going there.
Several months ago the seed was planted, fertilized and grew as they say (such a gross term). I'm sorry I didn't talk about this sooner, but there was always the chance that something would go wrong and I just didn't want to get into a situation where I had grieve publicly.
Now, however, we're definitely past the danger zone and I am proud to present to you my best kept secret of the year. My bundle of joy.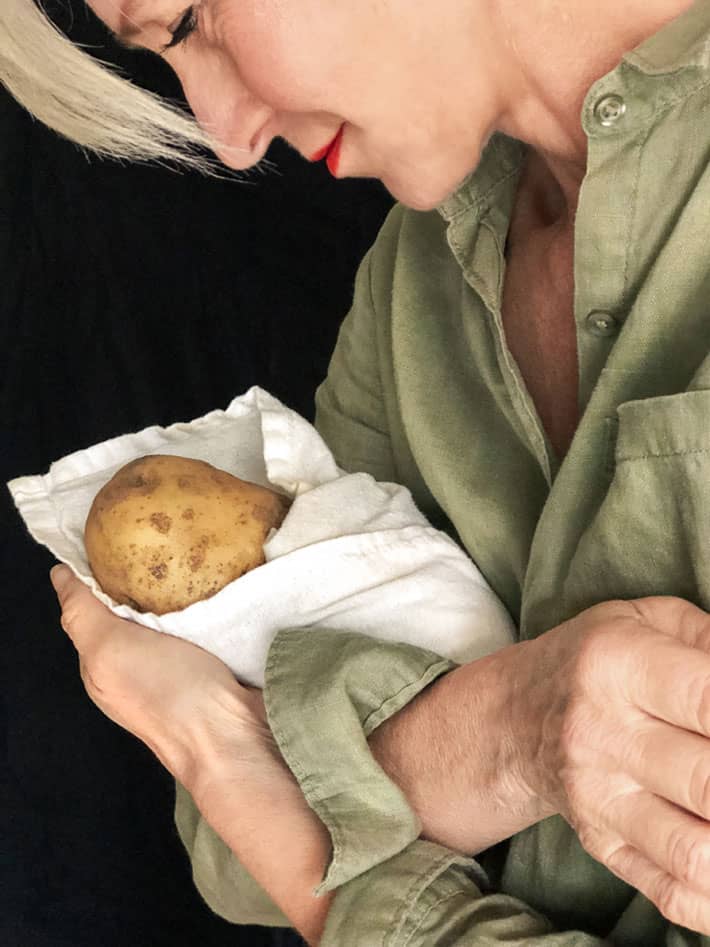 1.1 lbs, 5 month gestation, 2 minute delivery. I named him Chip.
I accidentally grew 150 pound of potatoes.
I don't know if it was the fertilizing with compost or the automatic watering system, but whatever it was I've never produced such a big crop from so little seed.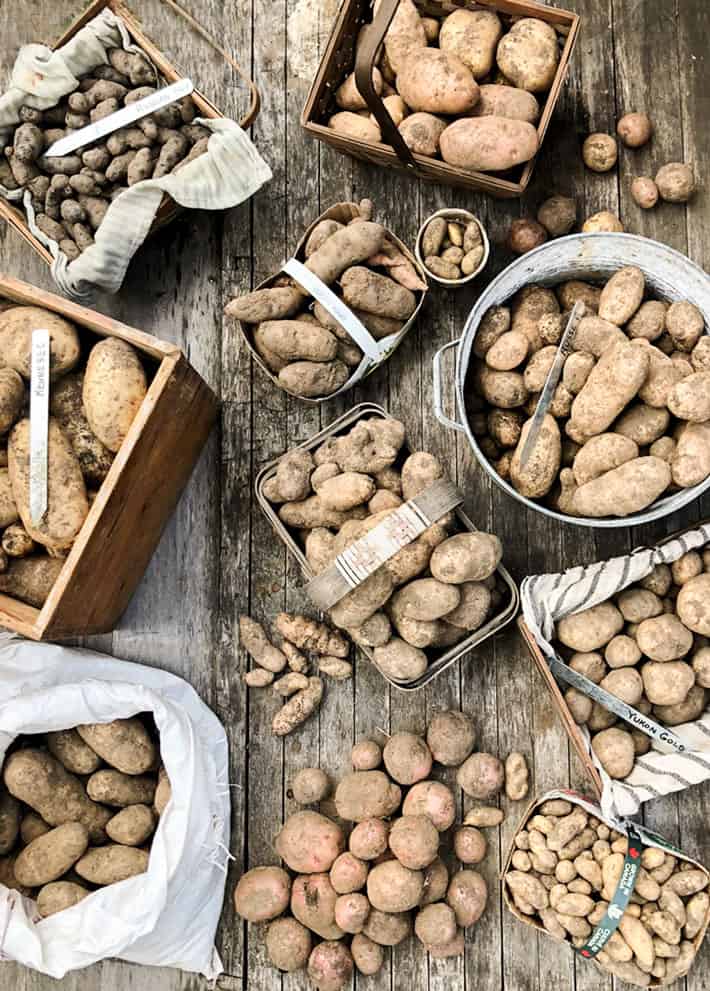 Did you hear about that Karen? She grew 150 pounds of potatoes. For herself. Why would she do something like that do you think???
Karen? Down the street? Oh, well, she's not in her right mind. She named one of her potatoes Chip, called it her baby and then she ate it.
The gossip is all true of course.
This year on The Art of Doing Stuff we're going to learn whether I can eat more than my weight in potatoes within a 5 month period. Or possibly 2 weeks depending on how fast I can peel.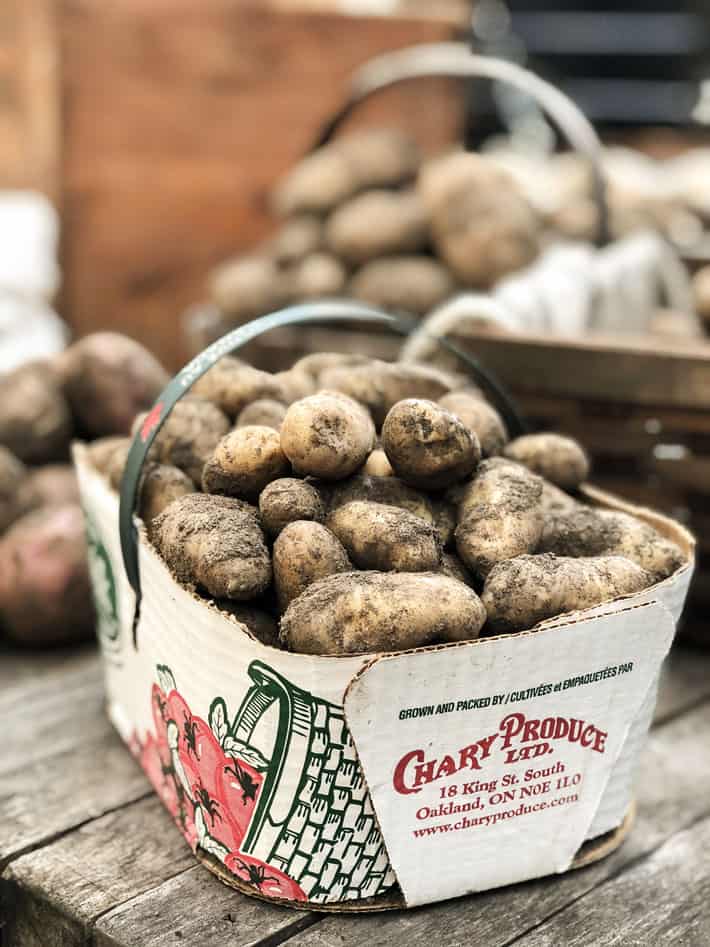 As a gardener I try to grow things I like and things that I can store throughout the winter. If they can be swaddled, all the better. Squash, cabbage, sweet potatoes, carrots, beets and of course ... potatoes. Why so many? It's not as crazy as it seems. Not for a potato lover anyway.
For french fries I need my Kennebecs. For a multipurpose potato, you need Russets. Perfect potato salad requires nothing less than the stellar red potato Chieftain and any health conscious potato lover will tell you the purple varieties like Peruvian Purple have the most health benefits. Plus you aren't a real maniacal potato lover if you don't have a section of your garden devoted to buttery yellow fingerlings like Austrian Crescent. I mean seriously. Plus there's your rare heritage varieties like Amarosa, Pink Fir, and those weird little ones with warts all over them.
---
How to Grow Potatoes
My growing method is different than traditional potato growing. I don't hill them or add any soil after planting them.
Add 1-2" of compost on bed in fall or spring.
Push a 2"x2" wood stake into the soil down around 8"-10" and drop a potato into the hole.
Fill the hole about halfway.
When potatoes greens start to grow, use a rake to completely fill in holes.
Wait.
Harvest potatoes.
---
Austrian Crescent Potato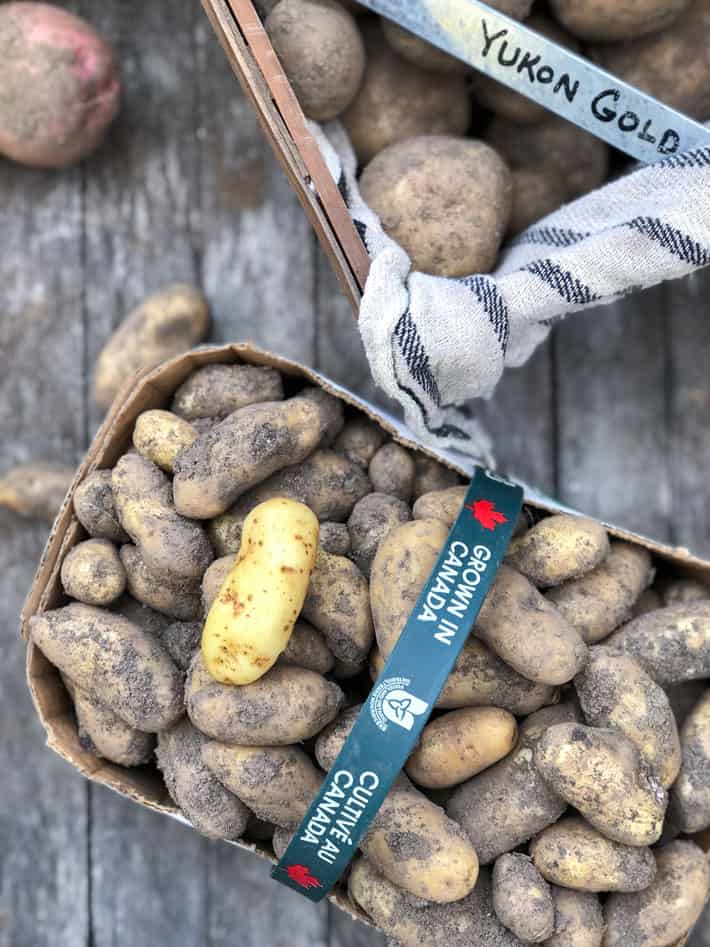 So. Not so crazy after all.
This is so stupid. I'm not even convincing myself.
The Austrian Crescents are dainty little fingerling potatoes that get my vote because unlike some fingerling potatoes, these stayed the size of fingerlings no matter how long I left them in the ground. I don't know if the buttery colour just fools my simple brain into thinking they actually taste buttery, but they do.
Peruvian Purple Potatoes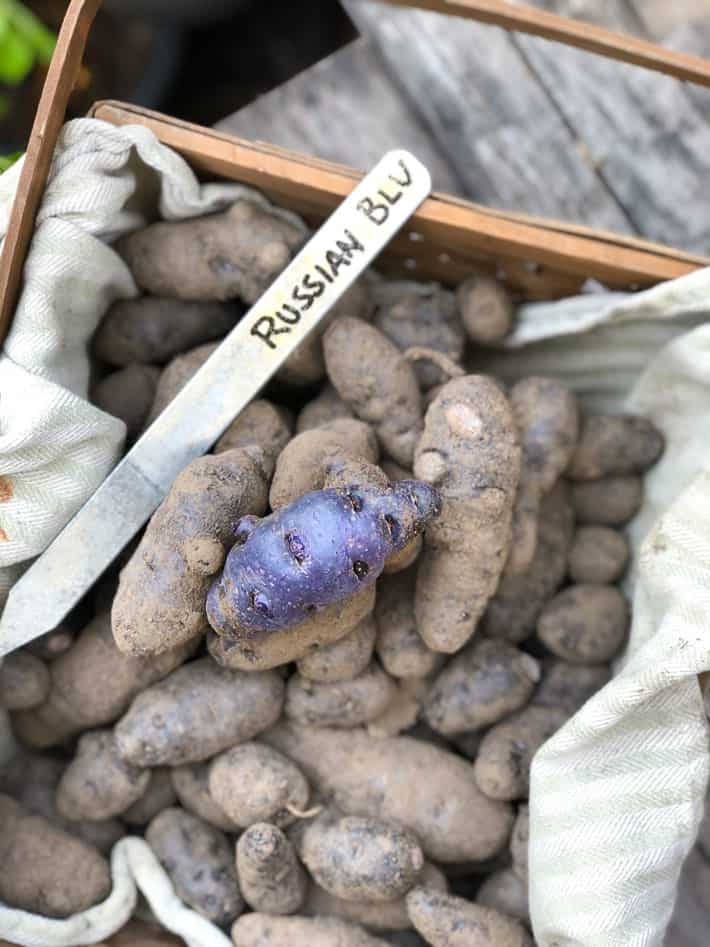 Or they could be Russian Blue. I'm not really sure. Some years I grow purple potatoes and the inside is completely dark purple, and other years they're like this ...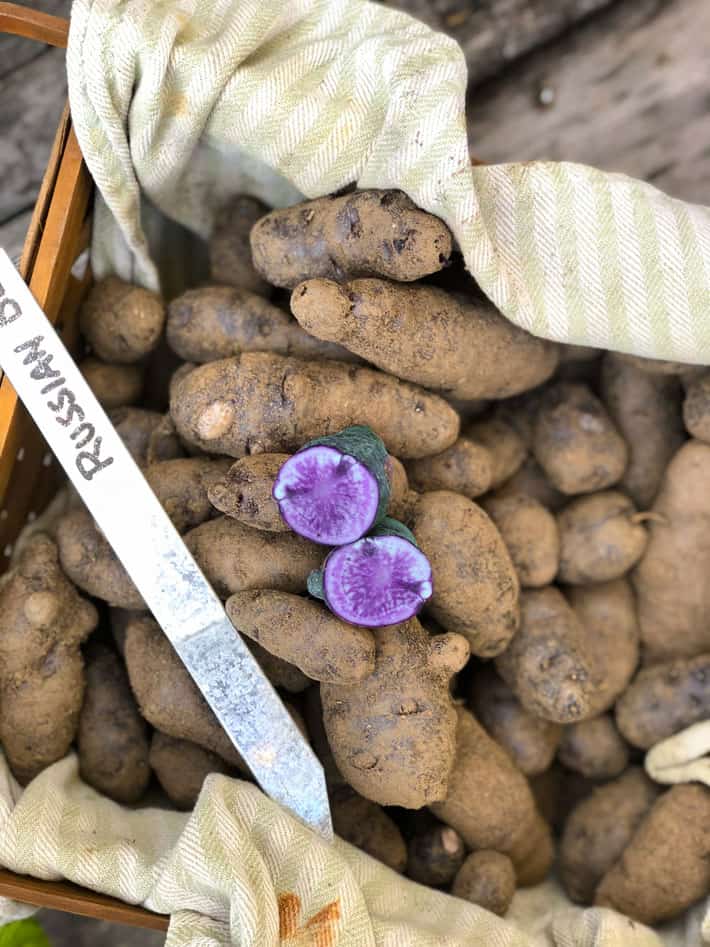 ... sort of feathery. The size doesn't matter. Whether they're big or small they're like this. I thought I planted Russian Blue which I've had better luck with but these are looking mighty Peruvian Purple to me.
Like a crispy fried potato?
PURPLE SKINNED POTATOES GET CRISPIER THAN REGULAR POTATOES.
Chieftain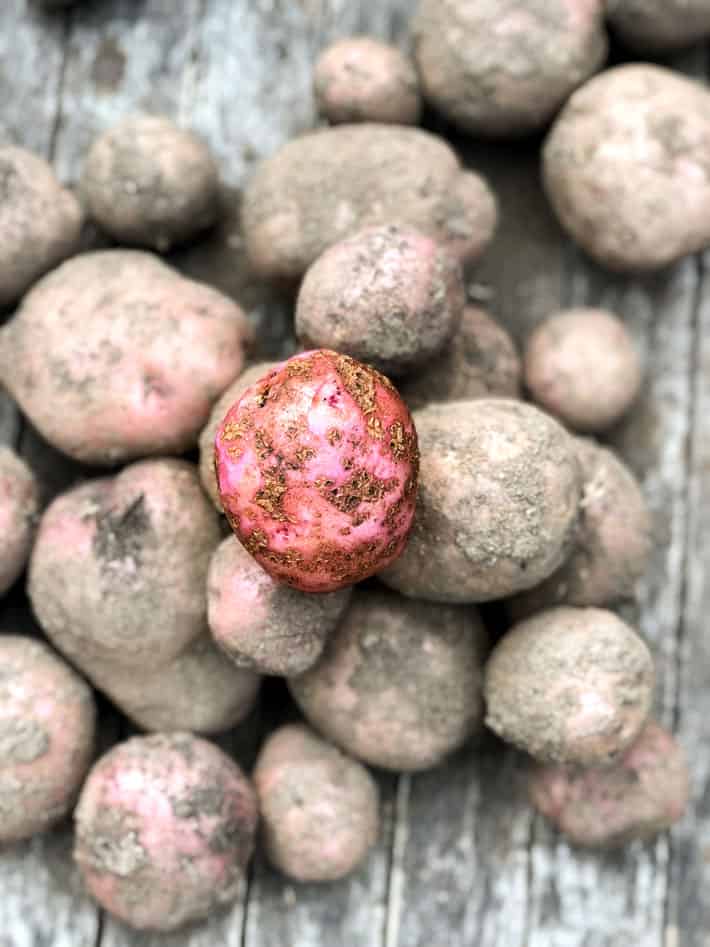 Red potatoes really are the best for potato salad. They don't fall apart completely when they're cooked so they'll hold their shape. I don't exclusively use red potatoes for potato salad because that would be predictable and I'm nothing of the sort.*
*please see first photo of my swaddling a potato baby.
That's scab on my red potatoes by the way. It's just cosmetic. You know, like a scab.
Russet Burbank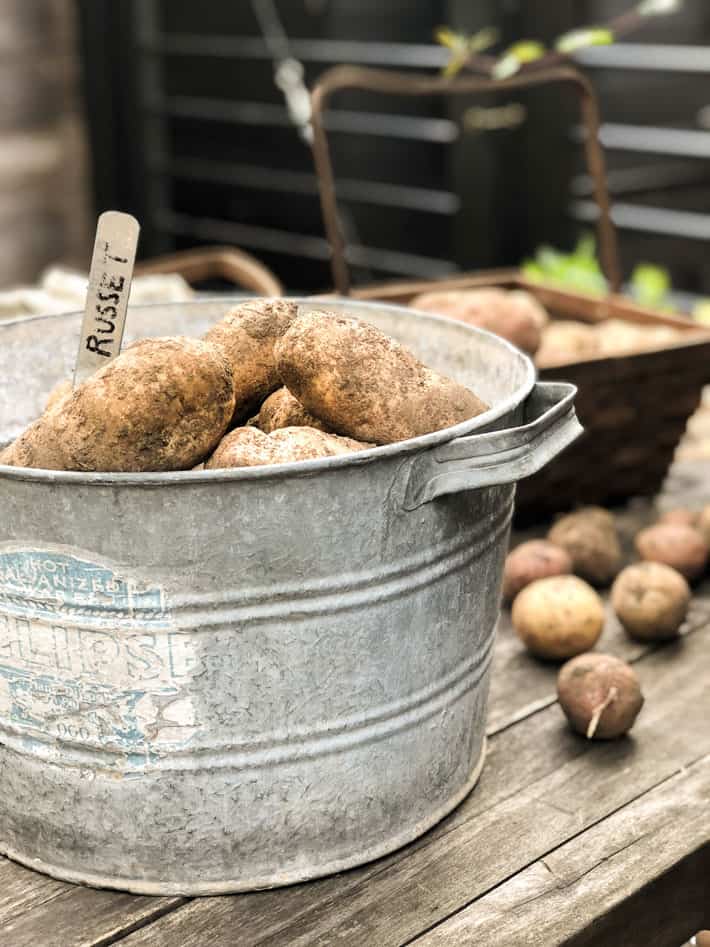 These are the workhorses of the potato loving kitchen. Good for fries, baked, mashed, gnocchi, potato guns and more.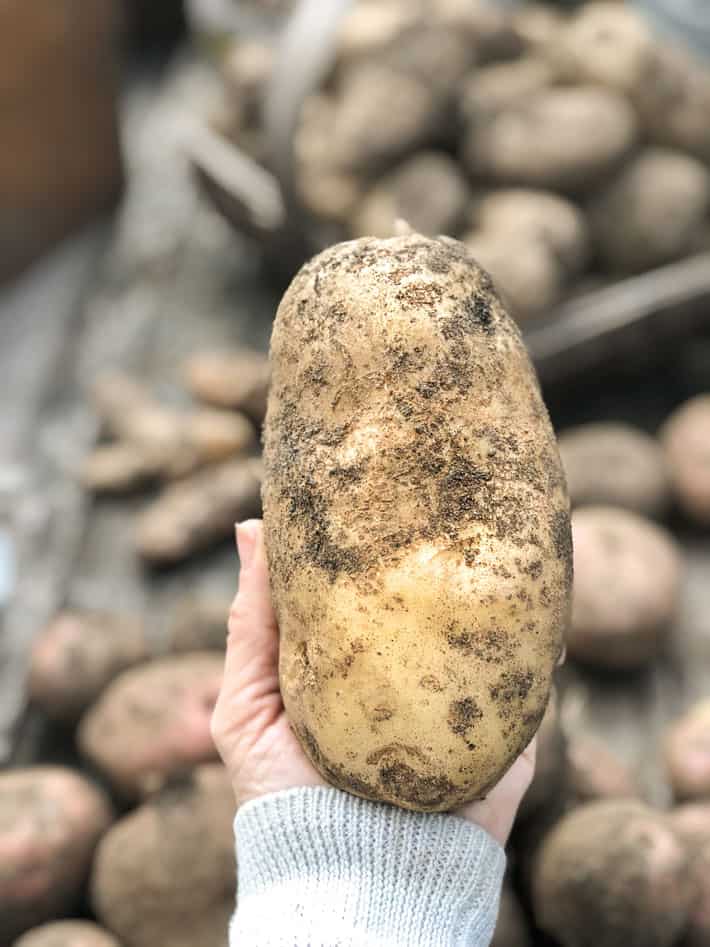 Bundle. Of. Joy.
Then you have your classic yellow fleshed potatoes, the Yukon Gold another nice multipurpose with a light yellow flesh. You can see the difference between the interior of a Russet and a Yukon Gold below.
Again, I'm really not sure how this happened or what I'm going to do with them all. So far I've eaten french fries, potato pancakes, roasted potatoes, made gnocchi and looked up how to distill potatoes into vodka.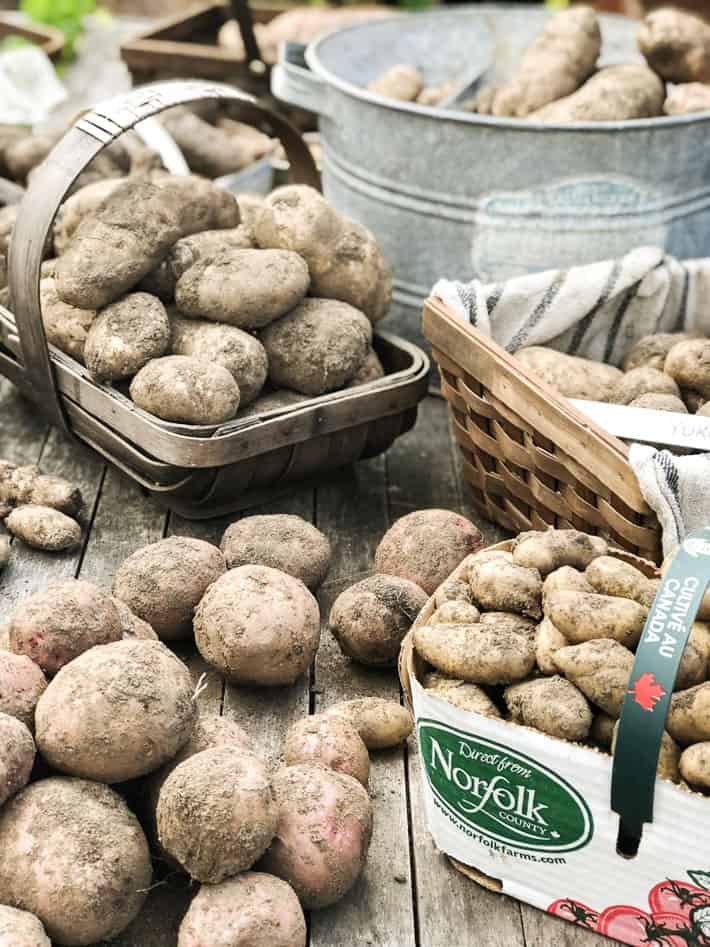 Oh! And I registered for shower presents of course. I've got a nice stroller selected if you're looking for something to get me. Maybe you could all go in on it together - it's not cheap.
It may seem weird but I'm going to walk my potatoes around the neighbourhood in a stroller because it's harder than you'd think to strap them into a car seat.

→Follow me on Instagram where I often make a fool of myself←