This is going to be a snappy quick rundown of my complete 48 hour mental breakdown. But don't worry. It'll be fun.
Part of my living room is on my front porch. This is unusual for me.
In 2018 I declared I was buying an English Roll Arm Sofa, right away. I'd hated my sofa for a decade and would absolutely DIE if I had to live with it another day.
Which lands us here almost 5 years later, reading about how I've just thrown half of my sectional into the street. Like a sad television cable.
So I didn't die from living with my sectional another 5 years, at least not quickly.
Instead, every night when I went into my living room, a little piece of my soul croaked. It was the piece of my soul that has a good eye and knows not to mix 50's and 70's aesthetics.
I just can't get this living room right. Not in 25 years have I ever felt 100% comfortable with it or in it. That's tough to accomplish when you have a wood burning fireplace. You have to really screw things up to make a room with a wood burning fireplace yucky.
When I'm anxious I rearrange furniture
Or maybe I'll declutter a drawer. I always feel accomplished and in control when I'm done. Except for this time when I rearranged furniture for 48 hours only stopping to hydrate and marvel at how bad at this I really was.
Only I'm not, which is what has been so frustrating.
In my defence, every 3 hours or so I thought I was done. Then I'd leave the room, come back in and start all over again. Things weren't clicking until fortunately - I snapped.
That's when I decided to take my sectional apart to see what the room would look like with just a couch. I figured I could at least see how nice the room could look with less sofa in it. And that would appease me.
I'd be able to stop moving furniture and accessories in circles.
I was right.
Chucking one hunk of my sectional on the lawn made me feel like I'd just had Bunny Williams redo my house.

karen bertelsen
I thought I hated everything in my living room, as it turns out. It was just 4' of the sectional that I hated.
That wasn't the end of it of course. Sunday night I worked moving, rearranging, shoving and storing furniture from 6 p.m. until 2 a.m. I worked myself into a complete frenzied panic.
I was NOT going to bed until my living room felt like me. It didn't even have to be grade A design. I just had to feel like it felt good to me.
Because my dining room feels like me.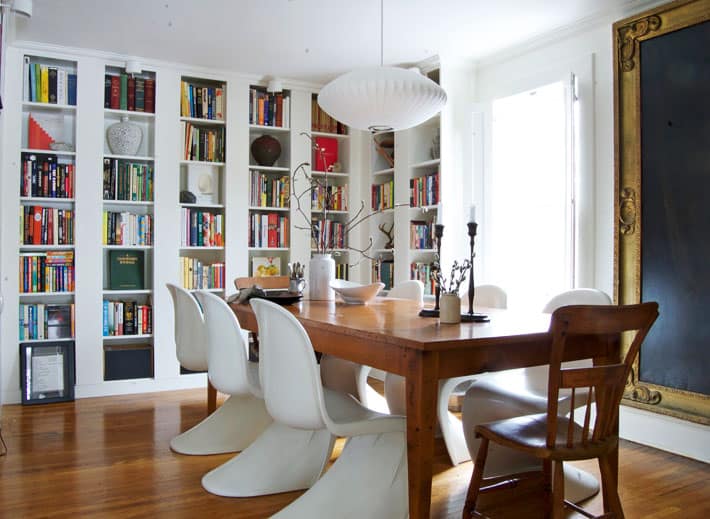 My foyer feels like me.
You guessed it. My kitchen feels like me.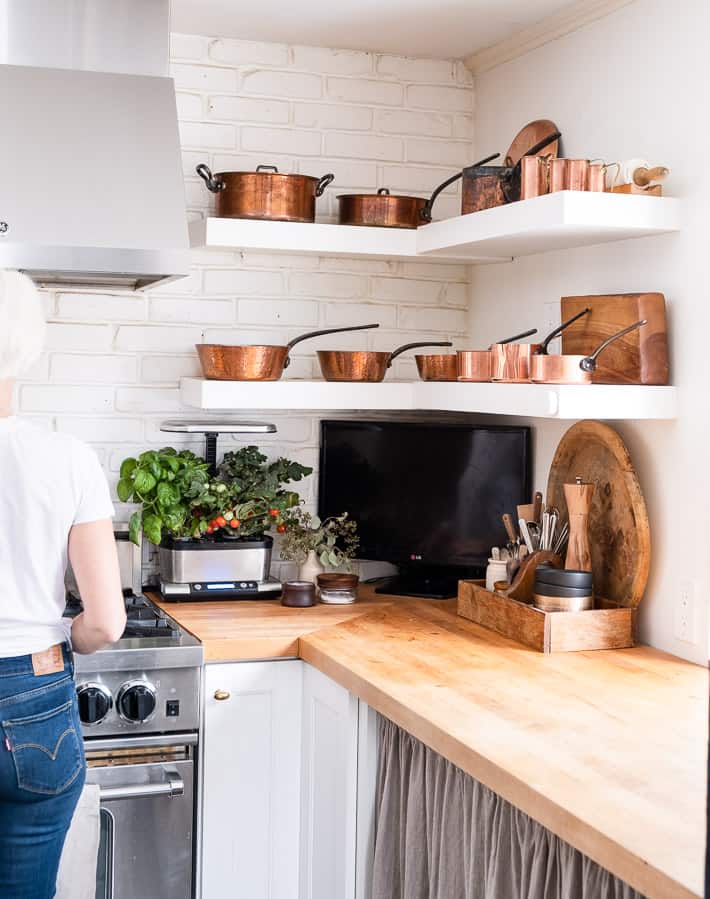 But my living room has always felt like ... not me.
This is an especially bad photo of an especially bad time in my living room but you get a good idea of how large a bossy pants that sectional was.
What I did was take the right section, the one in front of the window - and threw it away.
That freed up an ENORMOUS amount of space in the room for me to rearrange chairs, make actual pathways to walk. Since owning this house I've never once been able to walk in a straight line at any point through the living room. Zigging, zagging and scooching was always involved in a trip across my living room.
Now?
Well. Now it's kind of perfect. Now it is me.
Those are photography backdrops under the couch because I don't have anywhere else to store them. #littlebrickcottage
These are all just quick shots I took at about 3 p.m. Tuesday afternoon which means it was already getting dark out. So they aren't great images, but you can see there's more room in the living room.
More room to walk, vacuum, carry wood in. I could break dance. Do you know I could now break dance in my living room if I wanted.
Because I took a section off, the 2 ends of my sofa are different.
To cover up the fact that the two arms on the sofa are different, I just threw a blanket over the one arm. Problem solved.
I still need a new sofa. But at least I feel comfortable and like I'm sitting in a room meant for me.
At least that's how it went until 3:30 p.m. today. I looked at the photos I took. I didn't like them. Things weren't right and I had a pretty good idea of why. (I'll explain that in another post)
So it started all over again. I am currently putting the final sentences on this blog post from yet again, a completely different living room.
And I think this one is it. But I'm going to sleep on it.
I'll update you on this volatile situation on Friday. But I think I finally love my living room.
My porch, at the moment, I'm kind of hating.