Let's start things right out of the hopper with my great big photographic lie. My windows are bare here because I still have my ugly curtains that I am unimpressed with, so I took them down before I started shooting photos. My plan for the late summer or fall (which typically means late winter or early spring or maybe even in 10 years from now) is to build solid wood, interior shutters for my windows. So it isn't so much a lie to take down the curtains as it is a preview of how things are going to be. Kind of. Whatever, I took 'em down cause they look like crap. Suck it.
You may remember in the spring I went to the Christie Antique Market and bought a Turkish rug even though I wasn't looking for a Turkish rug, wasn't sure where I could put a Turkish rug and in fact only brought enough money with me to purchase Canadian french fries.
I kind of wandered around the house with the rug and finally ended up putting it in my bedroom. Then my front hall. Then my bedroom. Then the upstairs hall. You know how that goes. You buy something, you love it, but you can't find anywhere that it actually works.
The very same thing happened with my favourite flea market lamps. I owned them for 10 years before I my house evolved enough that I had somewhere to put them.
So this rug. I loved it but couldn't find anywhere to put it that was perfect. Enter the weekend flea market. A few weeks ago I went up to a flea market that takes place in this area from May until October. I went looking for a small ironstone bowl to replace one that broke.
I wasn't looking for a Turkish rug, wasn't sure where I could put a Turkish rug and in fact only brought enough money with me to purchase one ironstone bowl and Canadian french fries. Again.
Yet again, out I walked with a Turkish rug. And another Turkish rug. 2 Turkish rugs. I now had a total of 3 Turkish rugs and no real plan for them. As it turns out that's exactly what I needed to make my original impulse Turkish rug work make sense in my house. It just needed some friends.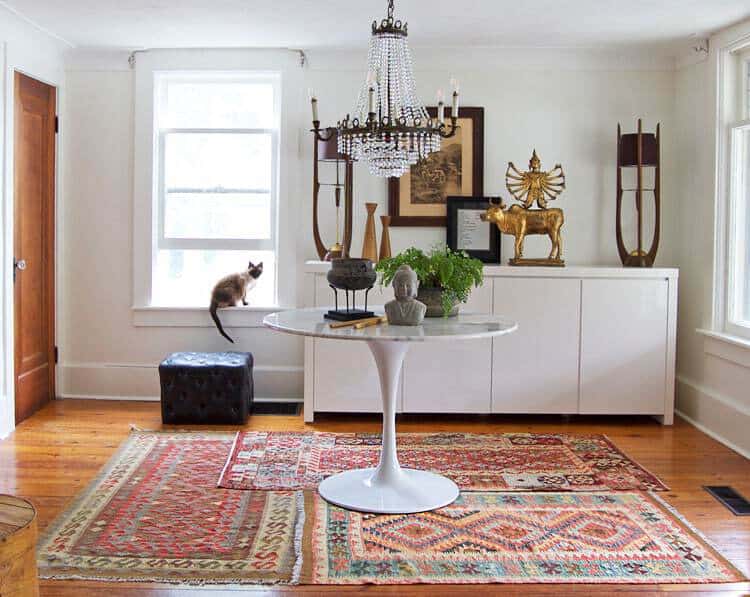 Layering Turkish rugs is now my new favourite thing. I might just cover my entire first floor in them. Walls and furniture included. And yeah, a tiny little one for the cat.
In real life it looks good, but looking at the photo above now, I can see I need to declutter a bit. The table and buffet were fine before I had the layered patterned rugs, but now it's a few too many objects. I'll either clear off the tulip table and just put one single thing on it, or simplify the buffet. I already have an idea for that as I come excitingly close to buying my first piece of original art from a local artist.
The Turkish rugs have a feeling that other rugs didn't have, which is why I've never got around to buying rugs. In, like, 17 years. That's not true, I bought a shag rug from Costco once only to lose a ring, 14 Cheezies and a friend's baby in there once. The baby was recovered, the other items were almost immediately digested by Shaggy.
Nothing's hiding in these rugs except my savings account. Each of these Turkish rugs were about $350 each which makes the entire rug that measures around 6' x 8' a total of just over $1,000. A big investment but that's what they are. An investment. They're 100% handmade, with natural hand dyed wool. I'll own them forever. They won't end up in the dump, they won't fall apart, they don't even stain when the cats throw up on them because wool is naturally stain resistant, which is why I always say fingernails should be made out of wool.
The next big Christie Antique Show takes place in a few weeks. I plan on going. And I plan on only buying french fries.