Today I'm going to demystify quiche so you can make one without a recipe, at the drop of a hat, without even thinking about it. It's all about the ratio.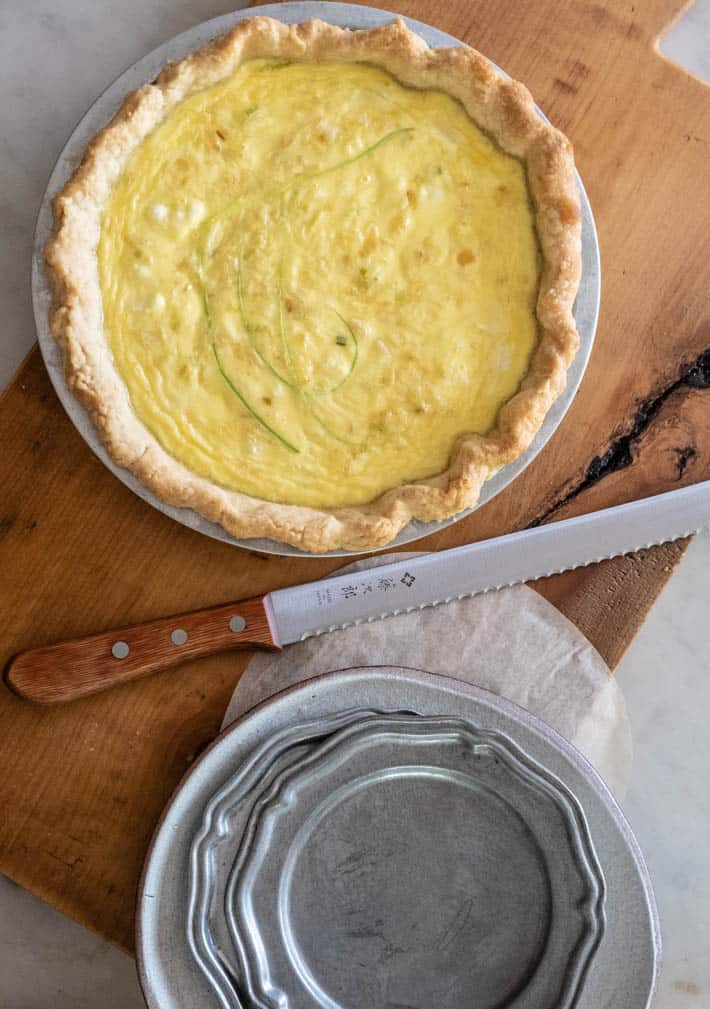 I guess we should get the "Do real men eat quiche?" question out of the way. Yes they do. And they know how to make it. Since we aren't all part of a backwoods lumberjack camp in the year 1952 that shouldn't come as a surprise to you. We have evolved. Real men even eat cotton candy. It's a mad world we live in.
Have you ever avoided cooking something because you couldn't be bothered to look up a recipe? What if you could cook WITHOUT a recipe? That's when your life in the kitchen really opens up. Certain things you'd never even think of cooking with a recipe. Most people don't need a recipe to make a steak, baked potato and vegetable dinner. But what about something like a quiche?
Quiche is technically part of the baking world and baking is scary. Baking (in terms of pies, cakes, cookies pastries and such) is based on ratios, measurements and science. If you get one thing slightly wrong it can ruin an entire baked good because baking is all about reactions and interactions. Cooking is is for the wild child of the food world, baking is for the slightly more disciplined. The people who drew double red lines under the titles in their school workbooks through the wholeeeeeee year, not just the first week.
So what's a freewheeling cook to do when they come up against something like quiche that needs proper measurements to turn out great?
You just have to remember your egg to liquid ratio.
If you can memorize the ratio you can make a perfect quiche without having to look at a single recipe.
---
Egg to Dairy Ratio for Quiche.
1 large egg - ½ cup dairy (milk, cream or a combination of the two)
A standard 9" pie plate would need 3 eggs and 1 ½ cups of cream to fill it.
---
There are other ratios that people use, (more egg, less egg) but I've had the best luck with the 1 - ½ ratio.
---
Vegetable Ratio for 9" Quiche.
1 cup vegetable (sauté your veg before adding them to the quiche)
1 cup cheese (cheddar, swiss, goat cheese and fontina are all good choices)
---
Don't worry, I'm going to give you an actual recipe at the end of this post, but just for fun and to gain a little kitchen confidence, try baking this quiche without looking at the recipe. Just trust your gut. As long as your ratios are right you can't go wrong.
---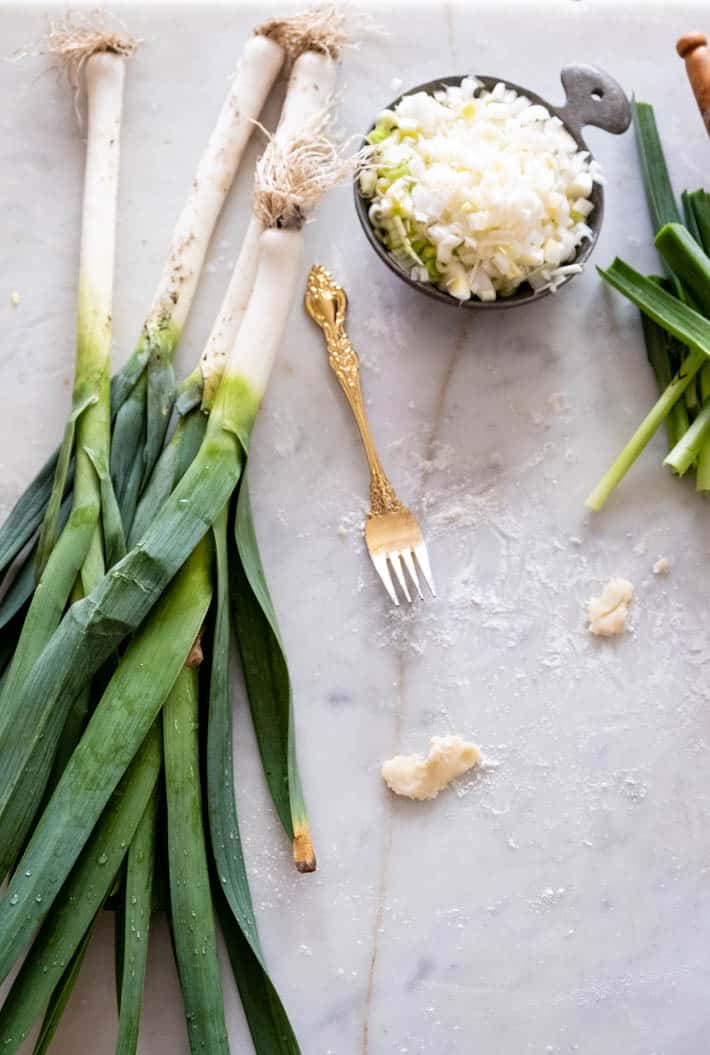 You can fill your quiche with whatever you want; leeks, broccoli, asparagus, mushrooms, cheese, bacon, sun-dried tomatoes ... anything you have on hand. The amount doesn't really matter, but if you need a guideline aim for 1 cup of vegetables and ¾-1 cup of cheese.
For a simple leek quiche:
Blind bake your pie crust (either frozen store bought or homemade). It just makes life easier. Prick the uncooked pie crust all over with a fork, cover it with parchment paper, fill the crust with pie weights or dried beans and bake in a 425 F (220 C) oven until the crust starts to get golden - around 15 minutes. Take the pie out, remove the weights and parchment paper and cook for another 5 minutes to brown up and dry the bottom of the crust.
Clean and prep the leek like this. Then slice the leeks thinly and sauté in some butter until they're translucent. I use about 3 leeks for a quiche. Sprinkle a good bit of salt (1tsp) over the leeks while they're cooking and then let them cool. Add a splash of dry white wine to the leeks as you're cooking them if you want to get fancy.
Mix the cooled leeks with the egg/cream mixture and pour it into your prebaked pie crust. Dot the entire quiche with healthy chunks of crumbled goat cheese and bake at 350f (175c) until it's set. About 25 minutes.
In short form that means making a Quiche is this:
Blind bake crust.
Sauté vegetables.
Mix 1 part eggs with ½ part dairy.
Mix vegetables and egg mixture together and pour into crust.
Sprinkle in whatever cheese you're using.
Bake at 350 F (175 C) for 25-35 minutes.
Eat.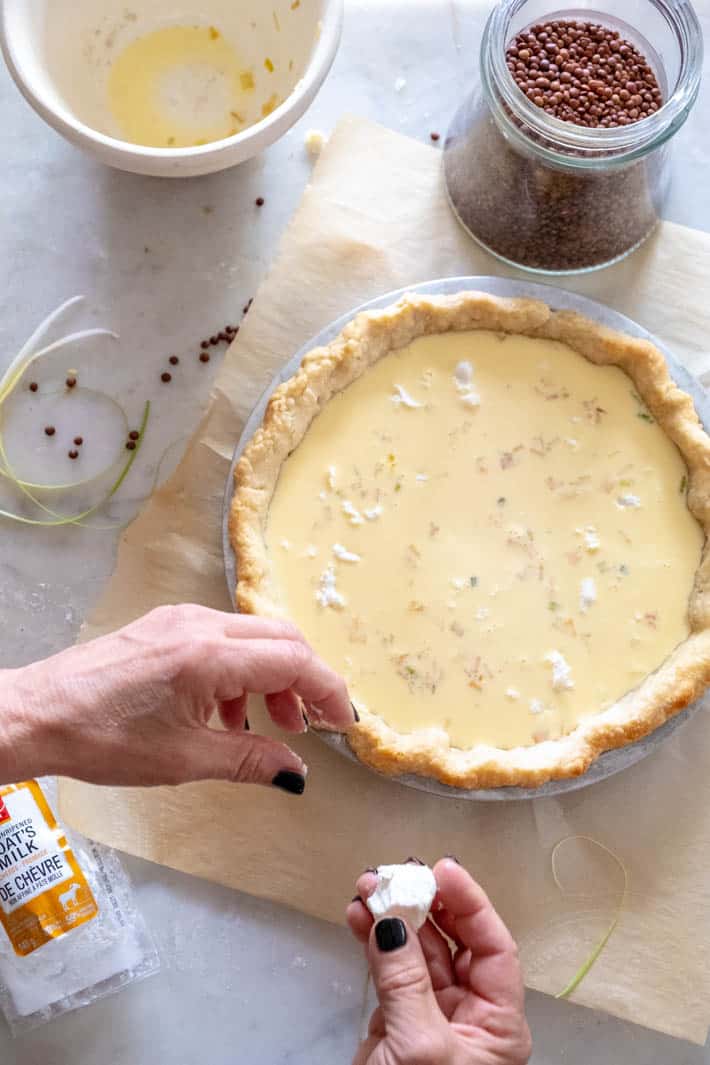 I crumble or sprinkle my cheese on the quiche after the egg mixture has been poured in because I can aim it better, making sure each area of the quiche has an equal portion of cheese. Sometimes when you mix the cheese in with the filling it all comes out as a blob in the end of pouring and is harder to make sure you have an equal distribution of it.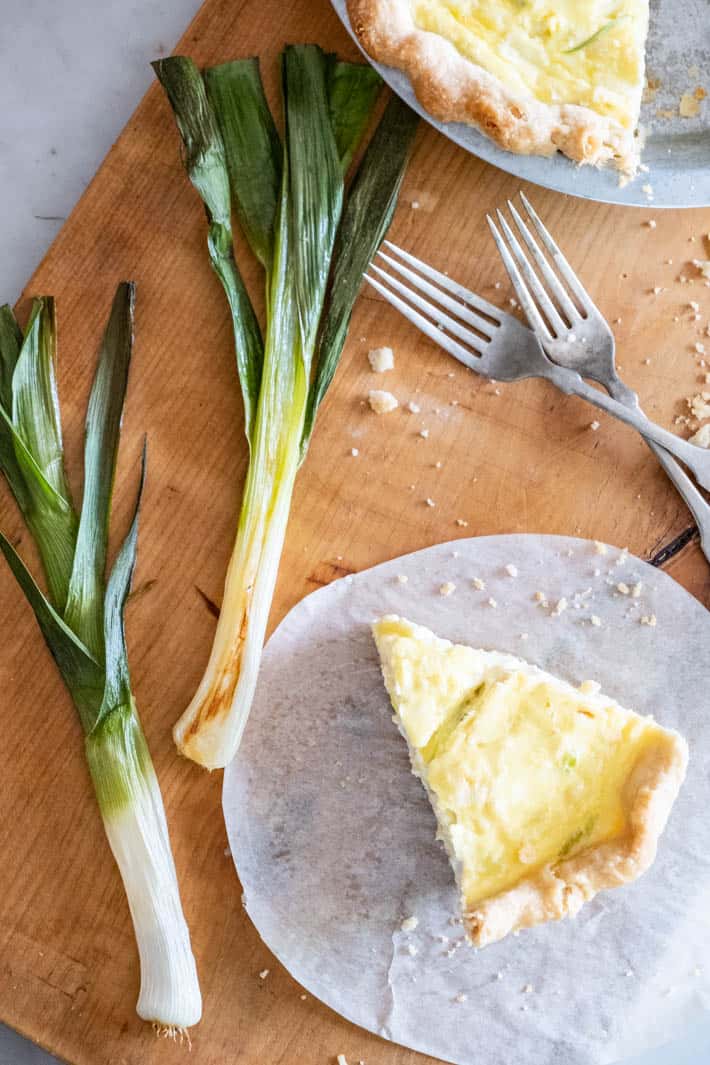 Roasted leeks are a perfect side dish for a quiche. Roast them in the oven. Pop them on a baking sheet after they've been prepped and drizzle them with olive oil and put them in the oven with the quiche. Small leeks will cook in about 35 minutes, larger ones could take an hour or more so get larger leeks into the oven before you put your quiche in.
When you take your roasted leek out of the oven the outer layer will probably be a bit dried out and papery. Just peel that outer layer off.
Leek Quiche Recipe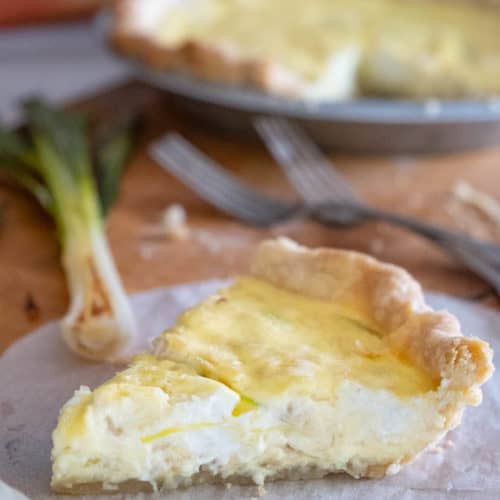 Leek Quiche
An easy quiche you can adapt to whatever you have in your refrigerator.
Print
Pin
Rate
Ingredients
3

large

eggs

1

cup

milk

1%, 2% or whole milk is fine.

.5

cups

heavy cream

Whatever cream you have is fine. 5%, 10%, 18%, 35% ...

1

cup

leeks

sautéed

1

unbaked pie crust

store bought or home made

1

teaspoon

salt

1

cup

goat cheese

Less cheese is fine, more cheese will be too much.

1

tablespoon

olive oil

.25

cups

dry white wine

If you don't have dry white wine you can use vermouth.
Instructions
Blind bake your pie crust in a 425° (220°C) oven. Simply prick the bottom of your unbaked pie crust with a fork, line it with parchment paper and then add pie weights or dried beans to weigh it down. Bake for 12 minutes (or until crust is just starting to look golden), remove the parchment and weights and bake for another 5 minutes (until bottom of crust is dry and starting to get golden)

Reduce oven temperature to 350°F (175° C)

While crust is baking, sauté your leeks in olive oil, sprinkling them with 1 teaspoon of salt. Just before leeks are done, add ¼ cup of dry white wine and cook until almost evaporated. Let leeks cool.

Mix 3 eggs with dairy. Try not to incorporate too much air in the mixture. Air bubbles in eggs makes them tough.

Add cooled leeks to the egg mixture and pour into your blind baked pie shell.

Top with cheese, making sure it's evenly distributed.

Bake quiche in 350°F (175° C) oven for 20 minutes then check it. If the crust is getting too brown cover it with tin foil or parchment. Cook until it's set and the centre reaches 170°-185°.
Notes
Don't overcook the quiche. There's no coming back from that. An overcooked quiche is rubbery.
Quiche is a custard so that's the consistency you're looking for. It shouldn't run and it shouldn't be rubbery. When you shake the pie plate in the oven the centre should jiggle just slightly. 
Use 1 cup of any vegetable you want. Broccoli, asparagus, mushrooms ... whatever you have in your fridge.  Then match your cheese to that with whatever you have.  Swiss, cheddar, goat and fontina are all great choices.
Nutrition
Calories:
393
kcal
|
Carbohydrates:
19
g
|
Protein:
14
g
|
Fat:
28
g
|
Saturated Fat:
14
g
|
Cholesterol:
152
mg
|
Sodium:
711
mg
|
Potassium:
184
mg
|
Fiber:
1
g
|
Sugar:
3
g
|
Vitamin A:
1160
IU
|
Vitamin C:
1.8
mg
|
Calcium:
145
mg
|
Iron:
2.3
mg
And that is how you make a simple quiche. Do you remember the ratio? Good. Now go see what you have in your fridge and make one.

→Follow me on Instagram where I often make a fool of myself←