You want to learn how to cut leeks but first you have to prep them. Because of the way they grow, leeks leaves are filled with soil, sometimes all the way to the interior of the leek. So prep work is essential. Here's how to pre and cut leeks.
The first time I ever cooked with a leek was when I was making a potato/leek soup, years ago. The instructions told me to "prep the leeks". Huh? I thought a leek was like a massive spring onion. I don't need to prep a spring onion. Why I gotta prep a leek? Here's why ...
So I didn't. I cut the end with the roots off and started slicing. I sliced the whole sucker up, all the way to the tips. Then I noticed a tiny bit of dirt on one of the slices. Then more dirt, then a part of a leaf. I wiped the bit of dirt I could see off and started sauteing away. What resulted was a dirt filled pan with some partly cooked bitter leeks that not even a blender could pulverize.
I shouldda prepped my leeks. Problem is, I didn't know what prepping a leek was. I'd never cooked with them before so how would I know?? The same way I don't cook with mushrooms (blech) so I have no idea how to prep them. (kay ... I'll give you Portabellas, Portabella mushrooms are pretty good)
So ... I have for you today,
How to Prep a Leek
The leek really is similar to a massive green onion (scallion, spring onion). It has a bit of a different flavour and definitely isn't as strong as an onion or green onion. I know this because when I slice a leek my mascara only cries down to my nostrils as opposed to when I chop onions and I have mascara dripping off my chin.
To prep it, the first thing you do is slice it down the centre.
If you're like me, you'll think perfect! The leek is prepped! It's not.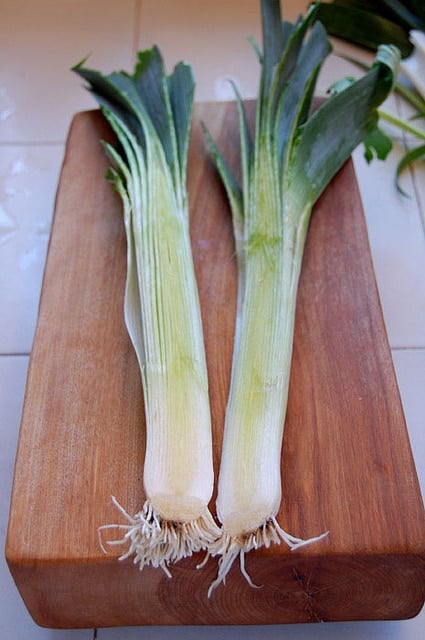 Because, on further inspection, the leek is filled with dirt. And yes, those are even cedar leaves. (I looked it up ... the green part of the cedar are really called leaves)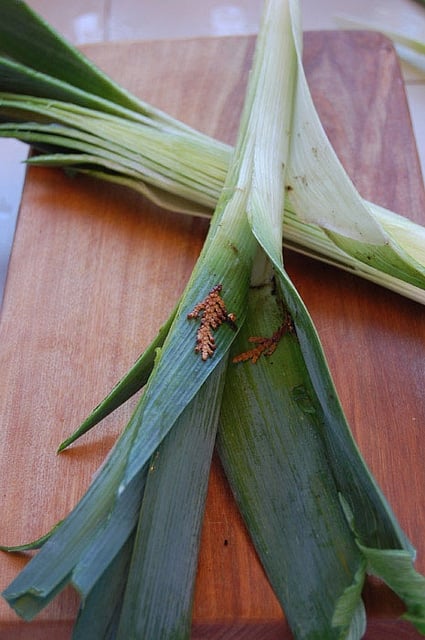 So the second part of prepping a leek is to wash it under water. Not just rinse ... wash. No, not with soap. Just water. Let the water run in between all of the layers of the leek. They're filled with dirt! Dirty old leeks.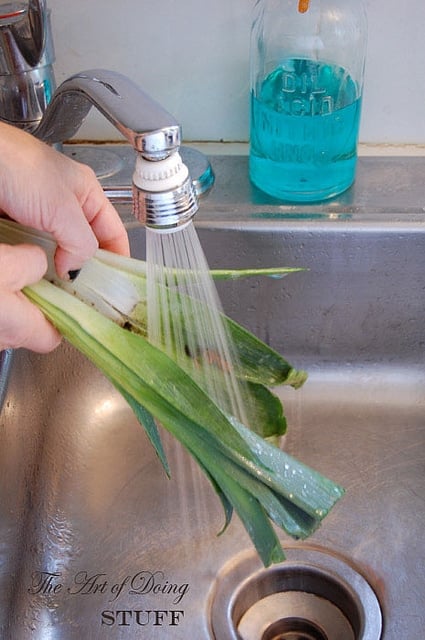 Good. Now your leek is almost prepped. You're doing an excellent job. Your mother would be proud.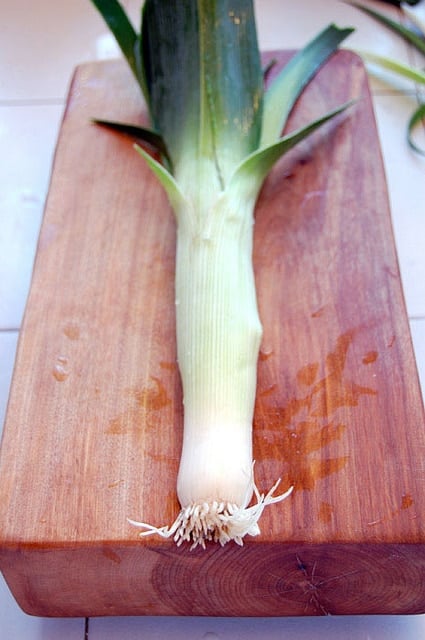 Now all you have to do is work your way down the dark green, woody part of the leaves and cut them off. You want to be left with the white and light green portion of the leeks. The dark green stuff is chewy, tough and bitter when you cook it. If that's your thing, go nuts ... chow down on the grossness of the dark green leek. But we can't be friends anymore and I'm definitely not coming for dinner.
Almost all recipes for leeks call for you to slice them thinly, like so. You're done. You've prepped a leek.
In closing, when a recipe suggests you do something ... you should probably do it. Unless it tells you to add mushrooms. In which case you should ignore it entirely.
→Follow me on Instagram where I often make a fool of myself←