Eggs, sugar, and fresh seasonal berries are pretty much all it takes to make this easy, IMPRESSIVE dessert. Mini Pavlova with juicy berries, whipped cream and raspberry compote. Hellooooo summer!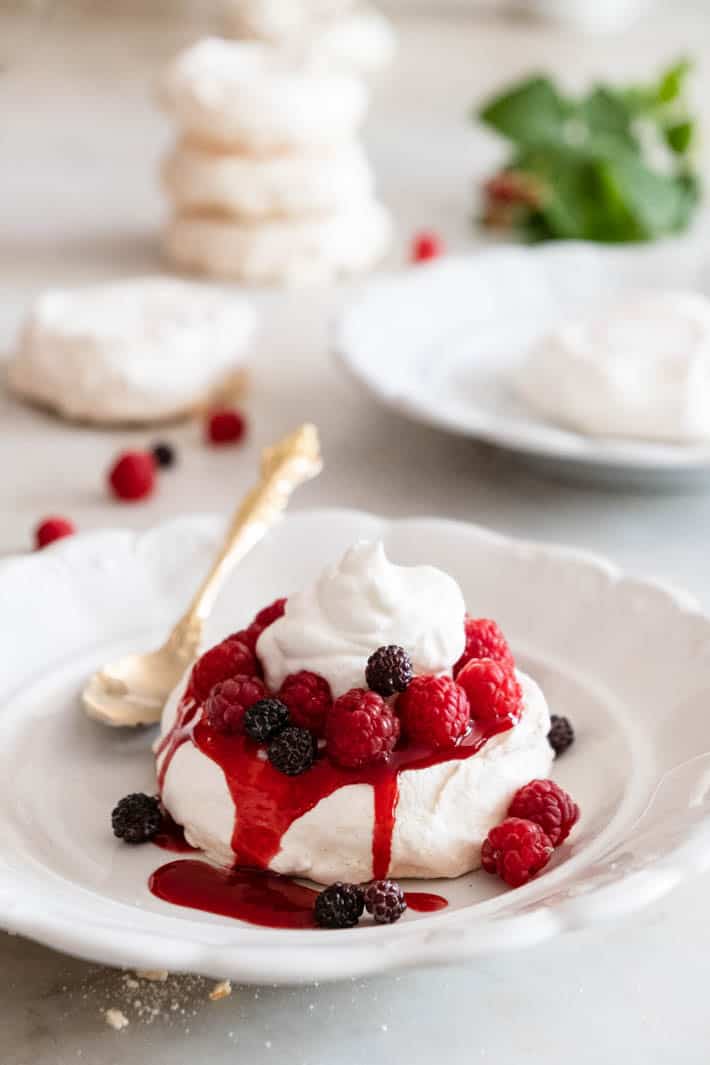 Make mini individual pavlovas so everyone gets the perfect amount of berries, whipped cream and crispiness.
---
In the thick cloud of summertime heat, talk up at my community garden always turns to one of two things: Do you think I need to water today? And, Any idea what I can do with all these raspberries? The answers are typically yes, you should always water and yes, you can make jam.
I don't know about the rest of the gardeners, but I have enough jam. I still have jam from 2015. Even my peanut butter is sick of the raspberry jam.
Last week, however, a chain of events occurred that changed the way that second question would be answered for years to come.
I was outside of my house pulling weeds when a neighbour walked over under the pretense of saying hello. It was later confirmed he really only came over to see how loud his air conditioning sounded from afar but thought it would be creepy to come stand next to me and not say anything.
That led to another neighbour walking over and I can't pinpoint when in the conversation things turned to booze but I feel like it was immediately. I walked away from the impromptu get together with a fistful of weeds and a new answer to the raspberry question.
RASPBERRY GIN. But nope. We're not making raspberry gin today. Up at the garden the next night, raspberry gin talk turned to raspberry compote and THAT is how we got to this point today.
Making a crisp on the outside, marshmallowy on the inside pavlova with fresh berries and a tart/sweet raspberry compote.
---
The Raspberry Gin recipe my neighbours and I were talking about if you're interested is from Mrs. Beeton's Book of Household Management (circa 1861). Drunkie.
---
How to Make Pavlova.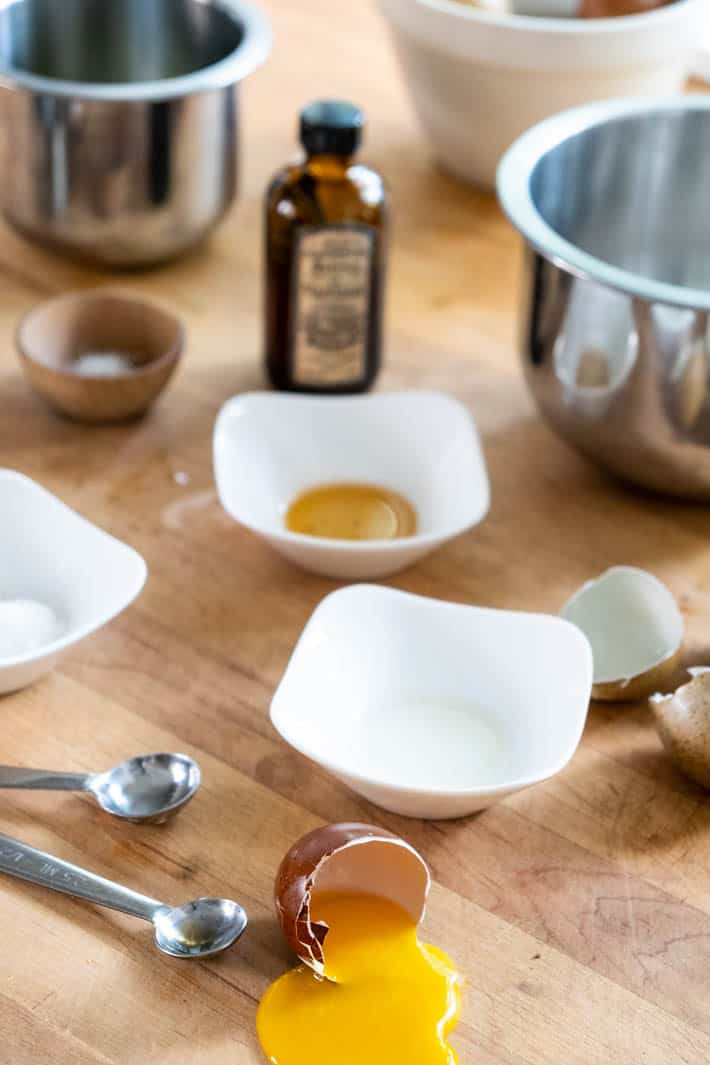 Gather up all your stuff.
This is where I tell you to to use the freshest, freshy, farm-fresh eggs you can get. And then you'll all scatter and use whatever eggs they carry at the grocery store because only hipsters, homesteaders and lunatics have farm-fresh eggs within arm's reach at all times. You're gonna need 4 of them.
Pavlova is really just meringue that's been baked until crisp. So whipped egg whites with sugar. You can do that, can't you?
They get beaten until thick and glossy.
Then you just plop the meringue onto a piece of parchment paper with circles drawn on it to give you a guide.
---
Pro tip: Put a dab of meringue on each corner of the cookie sheet before you place the parchment paper down. It'll act like a glue to keep your parchment paper from slipping all over the place as you're dolloping the meringue onto it.
---
This recipe makes enough for 8-10 individual meringues (depending on how big you make your circles). And remember, don't make your meringues too thin. Really plop it on there.
Once you've plopped your meringues, press the back of a spoon into the top of each of them to make a bit of a well for the berries and whipped cream. You can stick them in the oven at this point and make the raspberry compote, which is just raspberries and sugar.
My raspberries haven't come in at full force yet so I used frozen raspberries (totally acceptable) for the compote, and my fresh picked raspberries for topping the pavlovas.
Like I said. Raspberries and sugar (also you need a bit of acidity so I'll have you add lemon juice or red wine vinegar.)
The trick to knowing when to pull the Pavlovas out of the oven (they get cooked on a very low temperature for an hour or so) is if they feel dry to the touch. Once they feel dry like the outside of a marshmallow, they're done and you can turn the oven off.
If you overcook them don't worry about it, they'll just be crispy all the way through instead of crispy on the outside and marshmallowy on the inside.
Top everything with a dollop (official term approved by anyone who has ever eaten it) of whipped cream.

Easy Pavlova with Raspberry Compote.
With just a few ingredients you can create this summertime dessert in no time.
Print
Pin
Rate
Ingredients
Pavlova
4

egg whites

room temperature

1

cup

sugar

1

pinch

kosher salt

2

tsps

cornstarch

1

teaspoon

lemon juice

can use vinegar

½

teaspoon

vanilla extract
Raspberry Compote
400

grams

raspberries

fresh or frozen

400

grams

sugar

2 ½

tsps

red wine vinegar

can use lemon juice
Whipped Cream
1

cup

heavy cream

1

tablespoon

sugar

1

teaspoon

vanilla extract
Instructions
Pavlova
Preheat the oven to 200 degrees F.

Draw 3.5" circles on a piece of parchment paper cut to the size of your baking sheet. Use a vegetable can as a guide. You can flip your parchment over and see the circles from the underside. This way you won't be putting your meringue right on the lead pencil markings.

Whip the egg whites (be very careful to not get ANY yolk into your egg whites when separating) and salt in the bowl of an electric mixer (with whisk attachment). Beat the egg whites on high speed until they firm up. (1 minute or so)

With the mixer still on high, slowly add the sugar tablespoon by tablespoon and beat until firm, glossy, peaks form. To make sure the sugar is completely dissolved rub some meringue between your fingers to check for graininess. Beat it a bit more until the texture is smooth.

Once beaten, sift the cornstarch evenly onto the beaten egg whites. Add the lemon juice (or vinegar) and vanilla and carefully fold it all together with a rubber spatula.

Dab a little bit of meringue between the parchment paper and your baking sheet to help stop the paper from moving around when you form the pavlovas.

Plop the meringue into the middle of the circles on the parchment paper. Using a spoon press a well into the centre of each one. Bake for 45 minutes then test the pavlovas for doneness by touching their sides. If they're sticky bake another 15 minutes. Once they're dry and starting to feel firm and not completely wobbly turn off the oven BUT keep the pavlovas in the cooling oven for another hour. Remove them from the oven after an hour and build your pavlovas or store them in an airtight container on the counter for a few days.

To build the pavlova, drizzle with Raspberry compote, top with fresh berries and a large dollop of whipped cream.
Raspberry Compote
Bring all three ingredients to a boil and then simmer for 10 minutes.

Strain the mixture with a fine sieve, pressing it out with a rubber spatula. Rinse the remaining mixture and seeds in the sieve with ¾ cup of very hot water. The rinsing will get every last bit of berry flavour out and thin your compote to the right consistency.

Stir and bring to the boil again, then bottle and keep refrigerated for several days or indefinitely in the freezer.
Whipped Cream
Whip heavy cream until it shows signs of thickening then add sugar and vanilla.

Continue whipping until soft, pillowy peaks form. Don't over whip or you'll end up with butter.
Notes
Both your oven and the type of baking sheet you use will alter the length of time the pavlovas take to cook.  So your cooking time may very. Just keep checking them after 45 minutes. If you've cooked them until they're solid enough to easily lift off of the baking sheet, you've cooked them a bit too much and they'll be crispy all the way through once they're cooled.  
Nutrition
Serving:
1
g
|
Calories:
437
kcal
|
Carbohydrates:
84
g
|
Protein:
3
g
|
Fat:
11
g
|
Saturated Fat:
7
g
|
Cholesterol:
41
mg
|
Sodium:
43
mg
|
Potassium:
122
mg
|
Fiber:
3
g
|
Sugar:
79
g
|
Vitamin A:
455
IU
|
Vitamin C:
13.5
mg
|
Calcium:
32
mg
|
Iron:
0.4
mg
Now. Do you think I need to water today?
→Follow me on Instagram where I often make a fool of myself←