An antique looking herb drying rack that you can also use to cure garlic and onions. Hang it from the ceiling or use it standing on a porch. Perfect for drying all those summer herbs for winter use.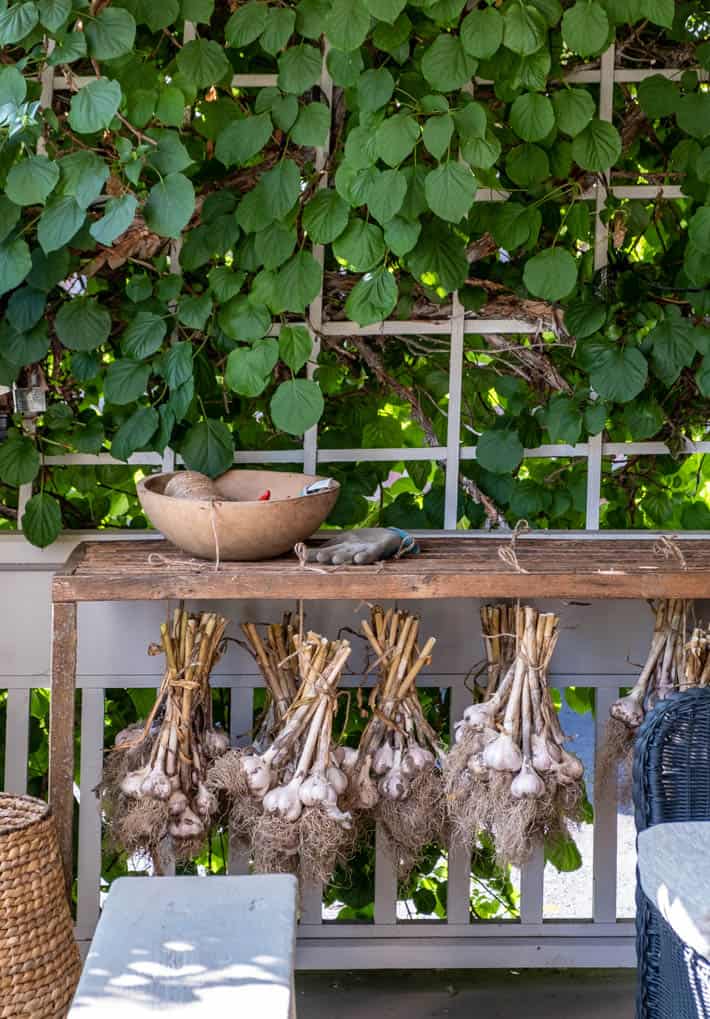 Pin
I grow my own onions and garlic. You know that about me. I grow herbs. Also ... quite a well known fact. What you might not know is that I hate my porch.
So what's the correlation between these two things? This herb drying rack made me realize what was missing from my front porch. And yes, what was missing was an old timey, antique looking herb drying rack. My porch is long and skinny with everything lined up in a row because there's no other way to line things up.
Adding this herb drying rack to the end of the porch creates something running in the other direction plus visually it shortens the length of the porch.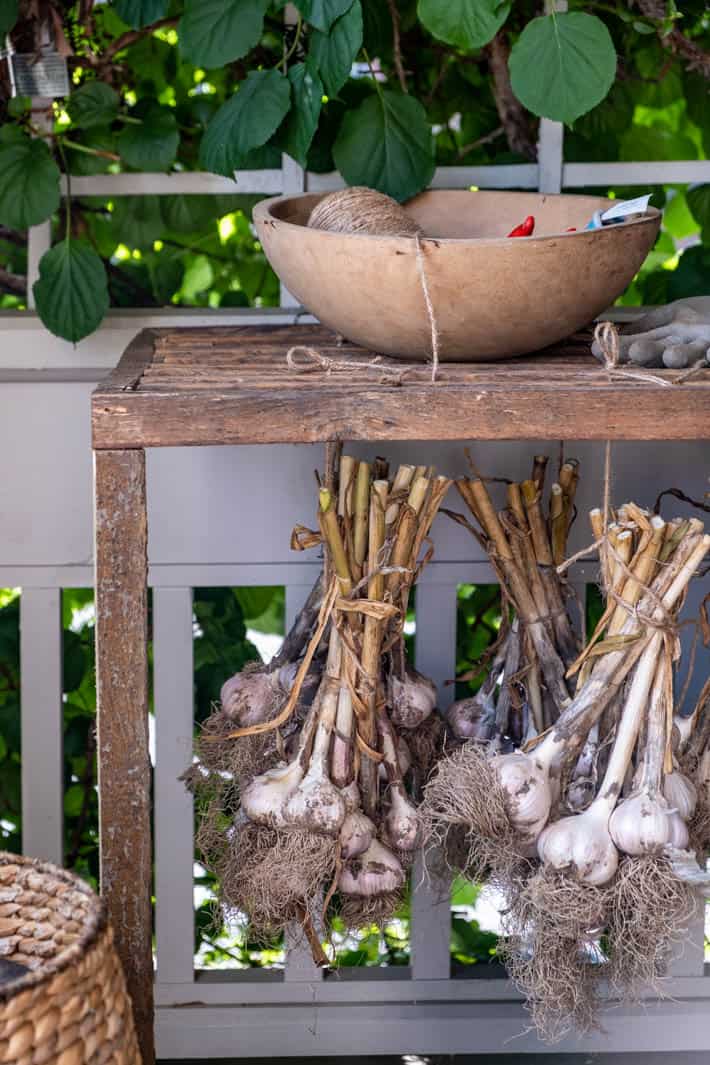 Pin
Also it has a purpose, which is pretty important in a house that's only about 1,000 square feet.
Growing what can only be described as a pathologically large garden for someone who lives alone, I preserve a lot of what I grow to use later in the year. Green beans get canned of course, cucumbers are turned into pickles, tomatoes are roasted for freezing, onions are cured and herbs are dried!
And of course there's garlic. I grow hundreds of bulbs and they all have to be hung and dried for several weeks. Here's a tutorial on how and when to dig up garlic if you aren't familiar with the magical growth of garlic.
This ventilated drying rack lets me cure vegetables and dry herbs. Plus it folds out of the way when I don't want to look at it. Which will be never because as I mentioned ... it makes my porch look better.
Wooden Herb Drying Rack
Materials
10, 4' lengths of 1x2
2, 50" lengths of 2x2
2, 20" lengths of 2x2
2, 28" lengths of 2x2
3 small hinges
30, ¼" fluted dowel pins
Wood glue
Tools
Drill
¼" drill bit
Screwdriver
Hammer
Detailed Instructions
Drill ¼ holes into the very centre of both ends of all the 1x2s. To make your holes at least partially accurate, make a little slide for your drill to run along, making sure the drill bit lines up in the centre of the ½'s.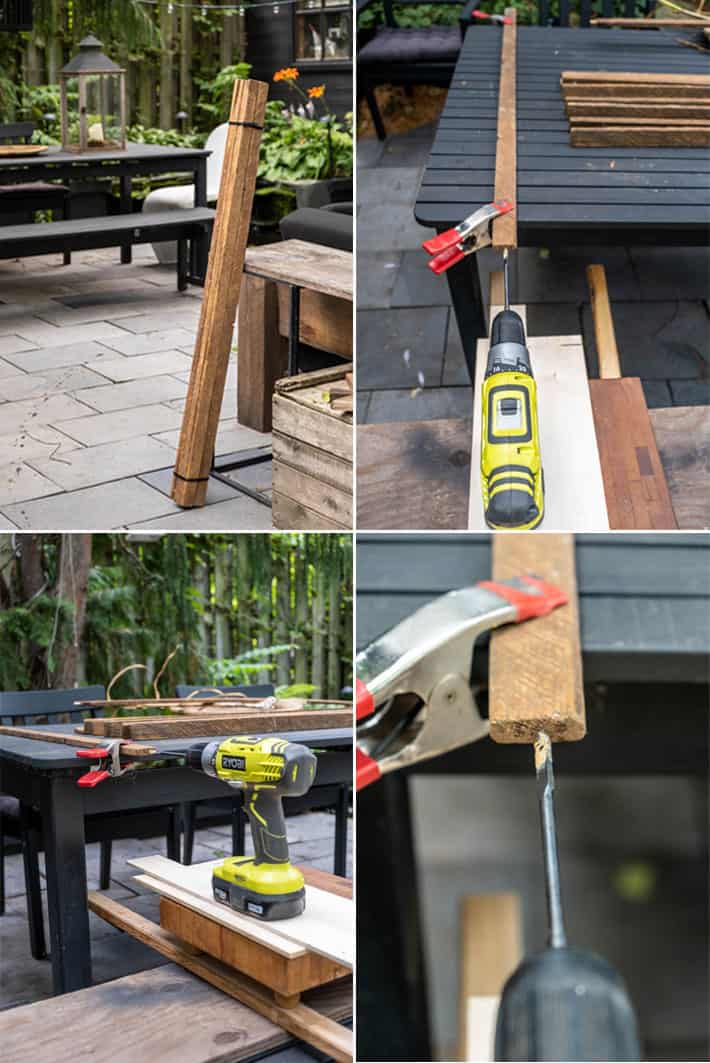 Pin
2. Squirt a bit of wood glue into each hole and insert a dowel pin into all the holes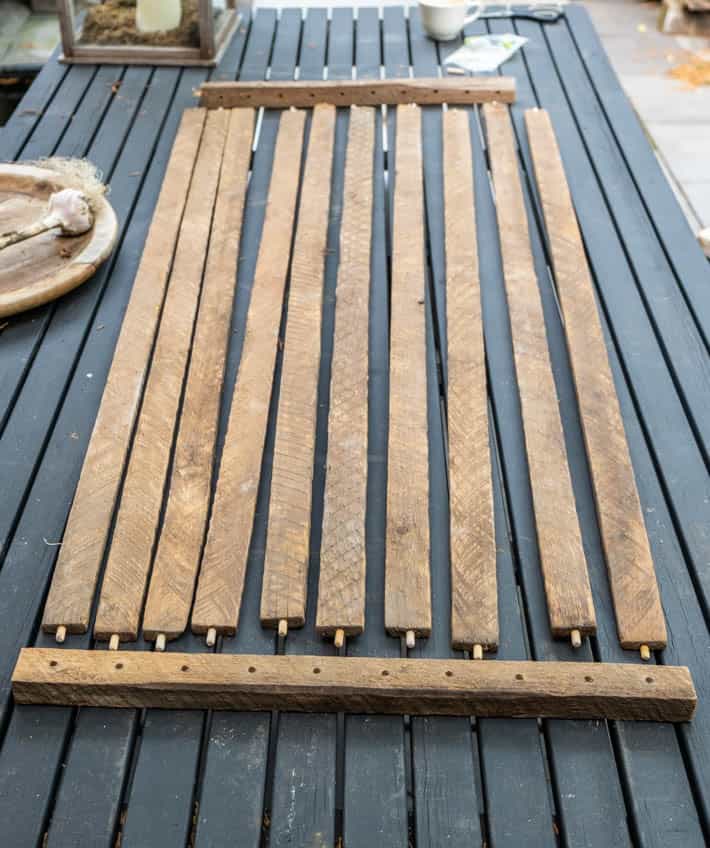 Pin
3. Drill 10 holes, spaced evenly into the 2, 20" lengths of 2x2. Squirt a bit of wood glue into each hole you just drilled into the 2x2s and insert all of your 1x2s.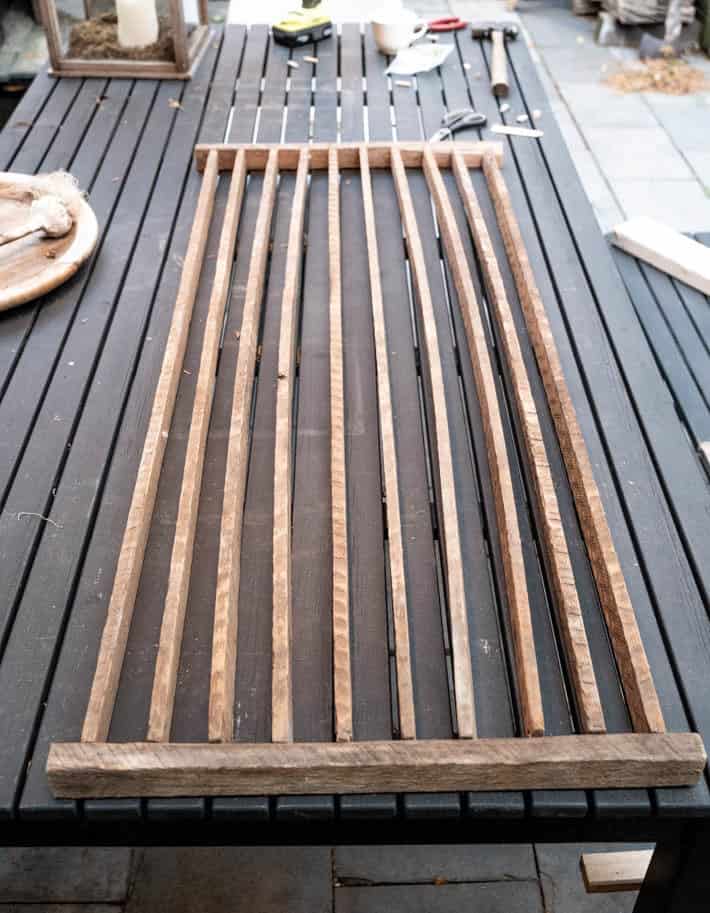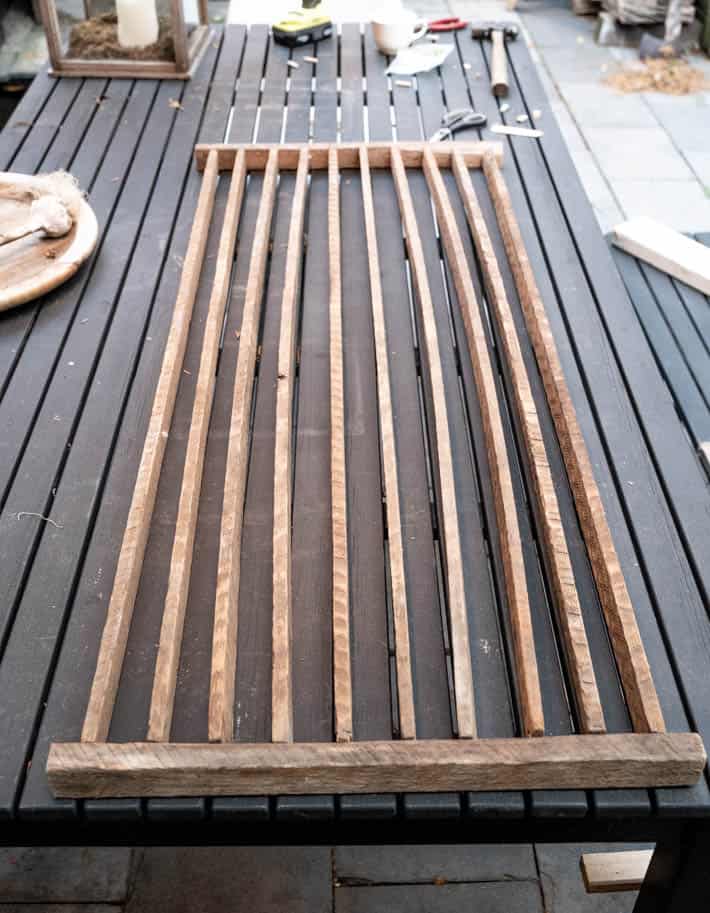 Pin
4. Tap with a hammer to make sure everything is set tightly. Drill 2 holes into the each cut end of the 20" 2x2s. (you will have 2 holes in each end, for a total of 8 holes)
5. Squirt a bit of wood glue into those holes and insert a dowel pin into each.
Pin
6. Turn the rack on its side and dab glue onto the ends of the dowels that are sticking up. Carefully lay a 50" length of 2x2 on top so the glue transfers to the wood, marking where you should drill your holes. These will be the long sides of your herb drying rack. You can make this even more accurate by clamping a piece of wood to the sides of your 2x2s to make sure you're laying your top piece of wood straight down.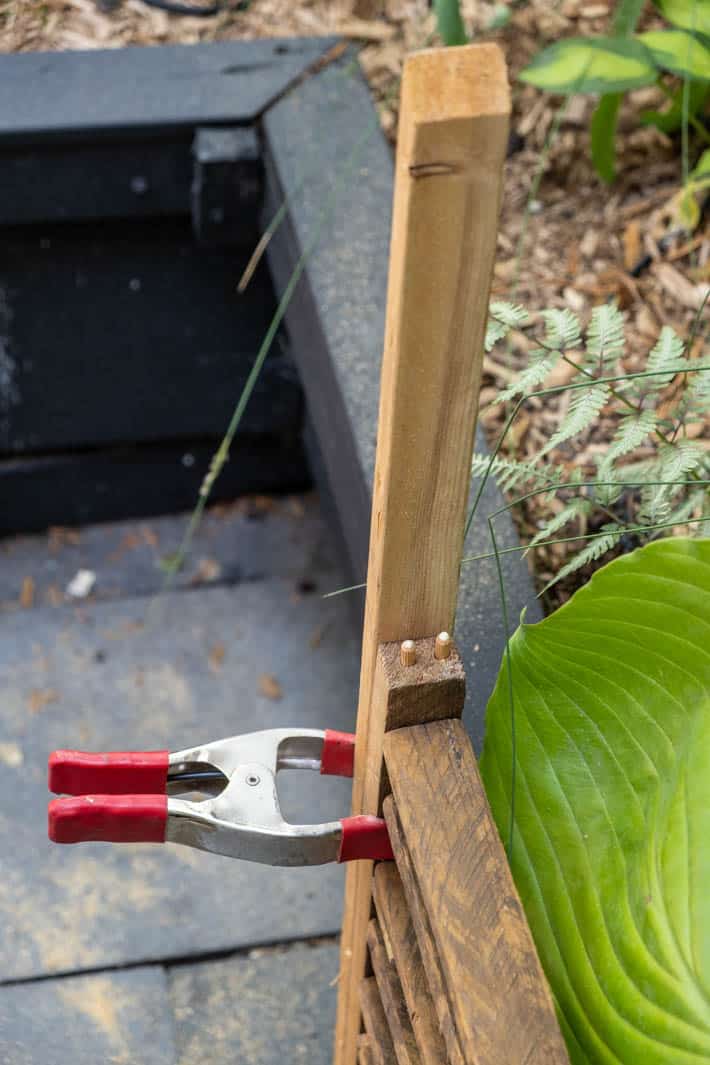 Pin
7. Drill holes where the glue has indicated you should. Repeat with other side and other 50" length of 2x2.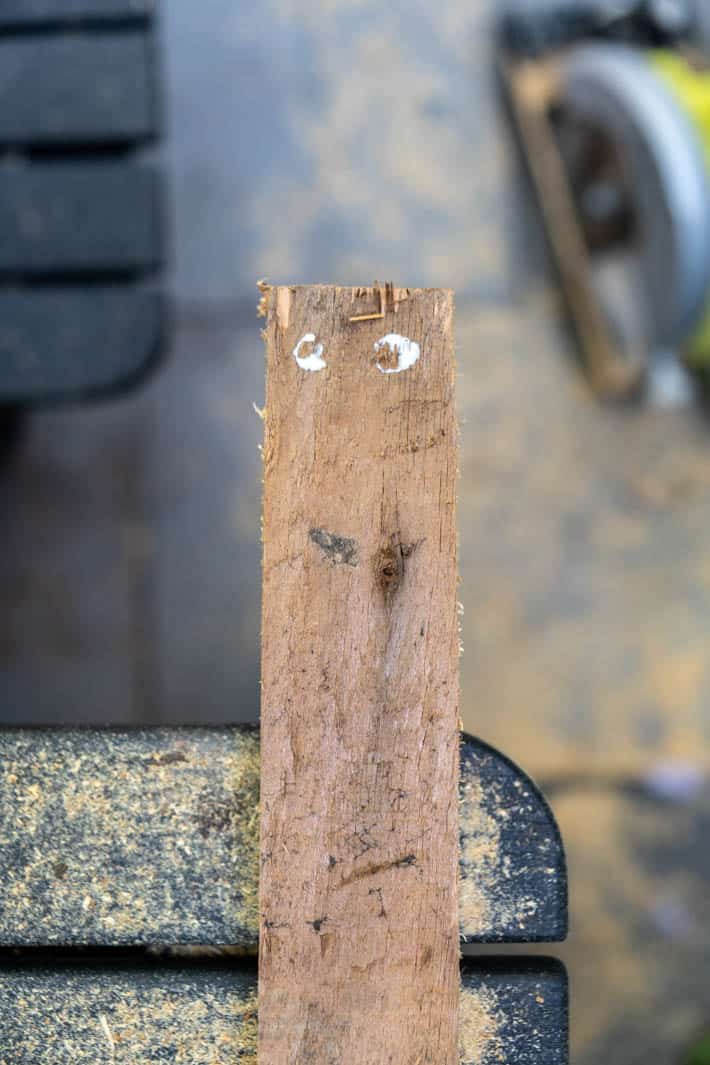 Pin
8. Attach the 2, 50" lengths to the drying rack after squirting a bit of glue into the holes, and screw your 3 hinges in, evenly spaced.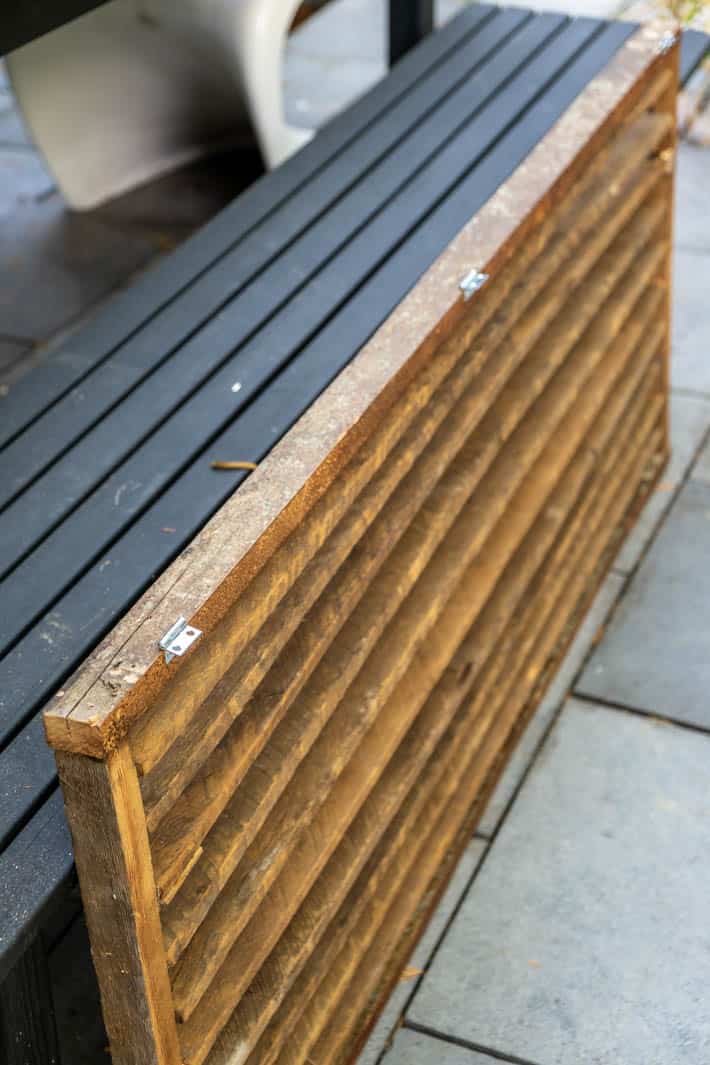 Pin
9. Let the rack dry overnight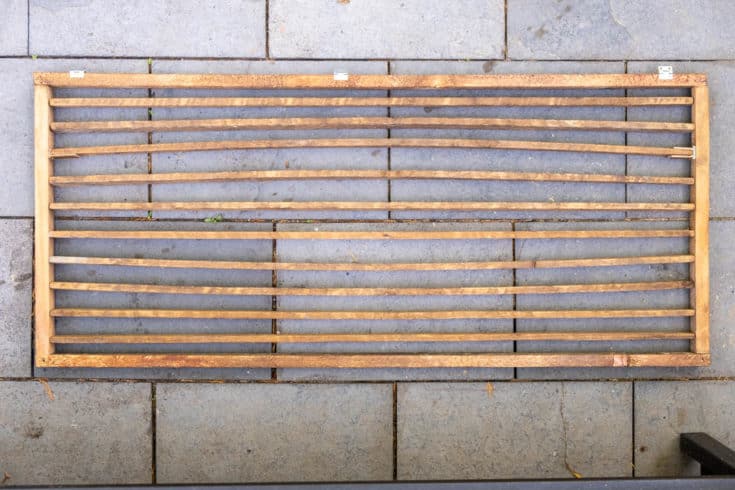 Pin
10. Drill 2, ¼" holes into the underside of the drying rack. One on the left corner and another on the right corner. This is where your legs will attach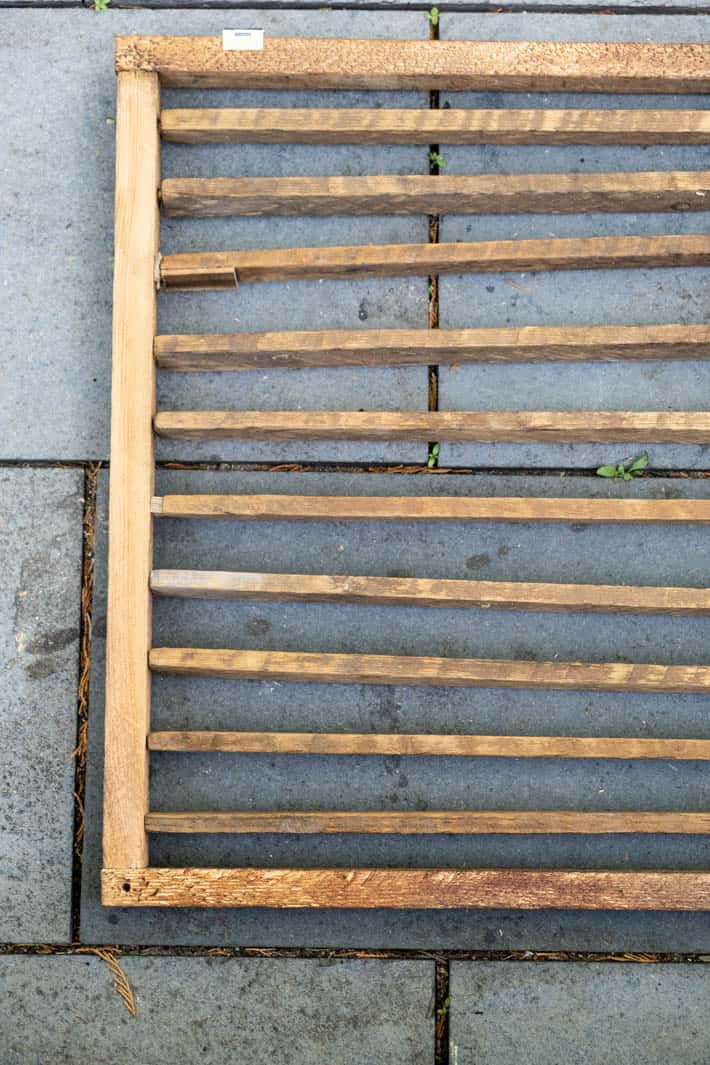 Pin
11. Drill a ¼" hole into the ends of the remaining 2x2s - 28" lengths. Insert glue and a dowel pin into each hole. Let dry.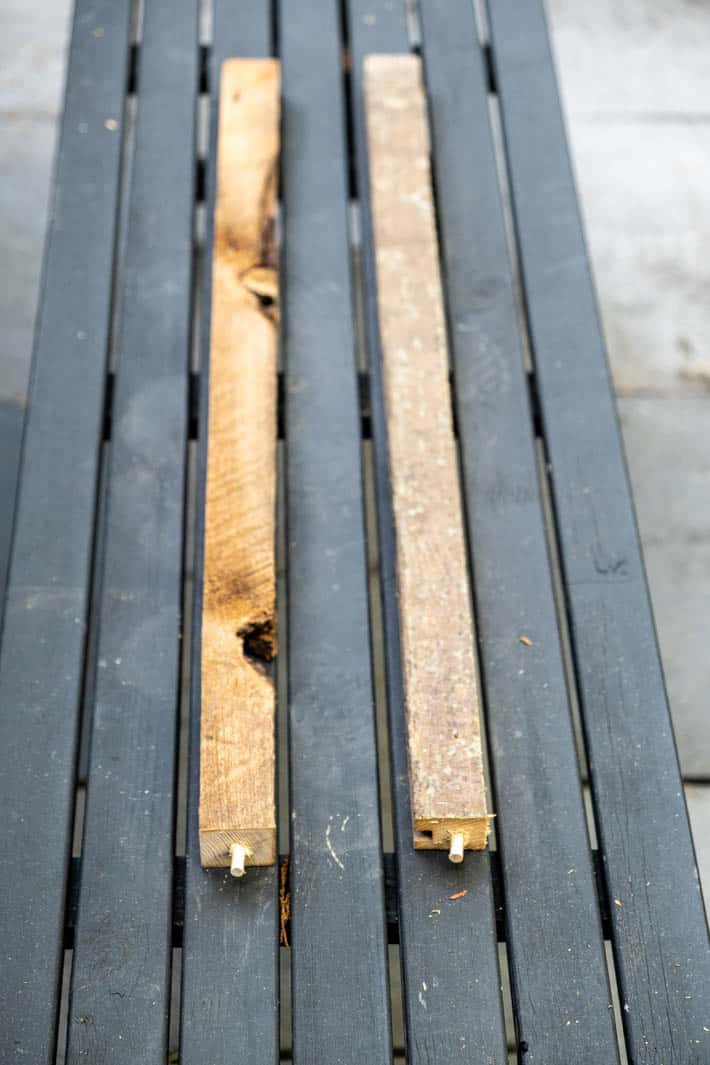 Pin
12. Hang your drying rack 28" off the ground.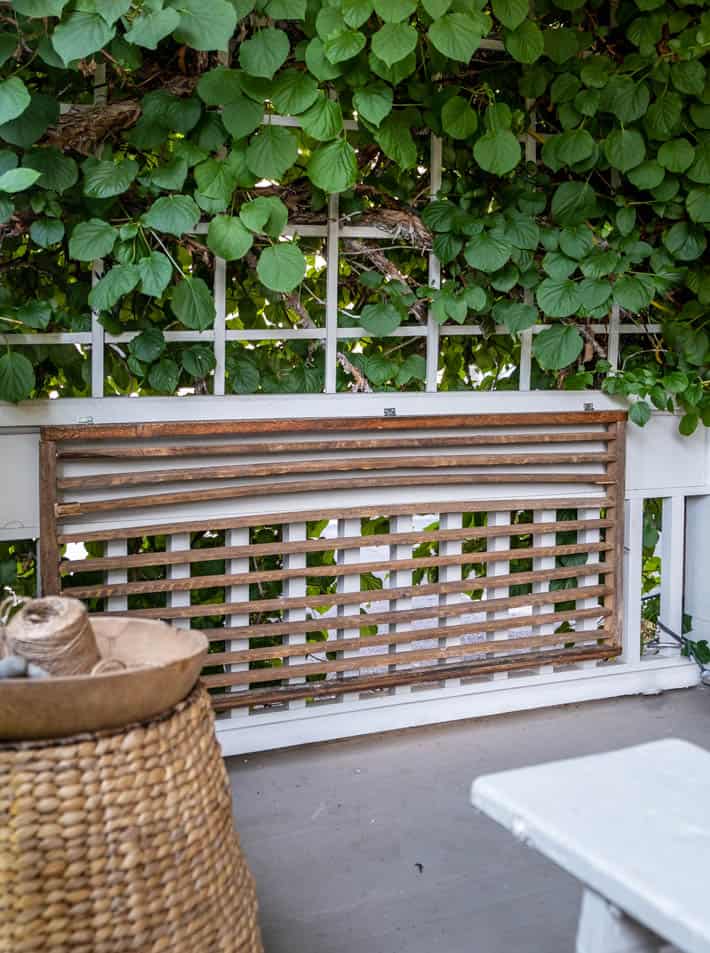 Pin
13. When you're ready to use it, pull the rack up into place and insert the wood legs with dowels into the holes underneath.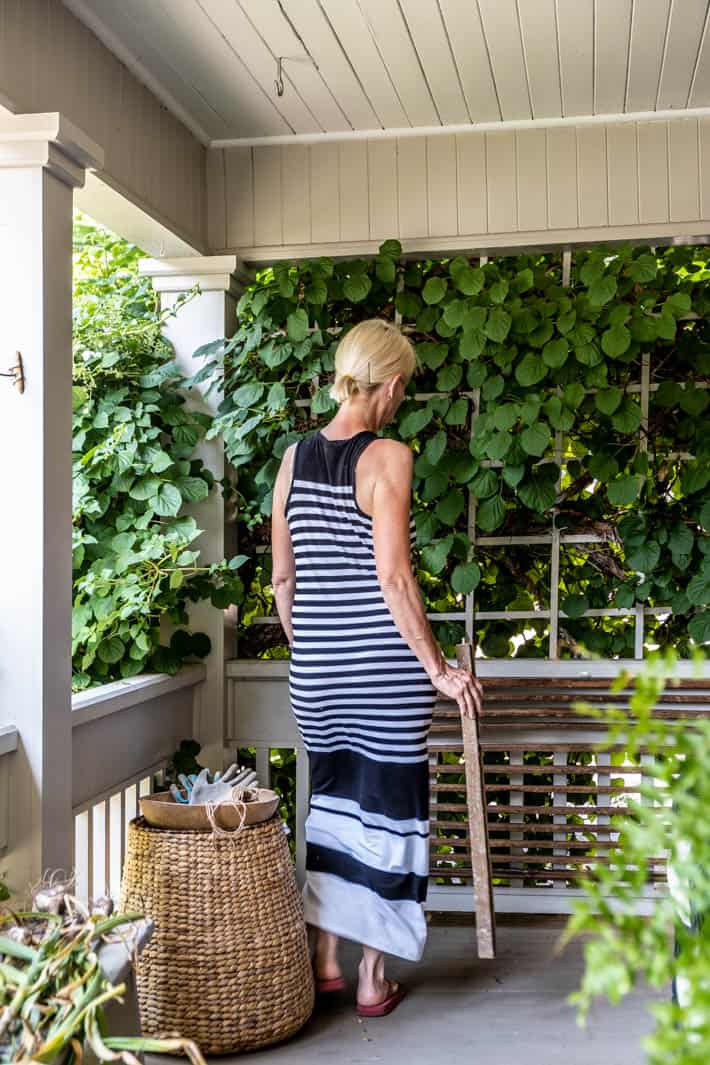 Pin
14. Remove the legs and fold away when done.
---
Simplified Instructions
I've given you measurements and all kinds of complicated instructions but all you're really doing is making a wood rectangle and then running more pieces of wood in the middle of it. You don't have to use dowels to piece it together, you can use screws or nails or whatever you want.
Screw together some 1x2's to form a rectangle of the size you want.
Measure the interior width and cut as many lengths of 1x2 as you need to fill the interior with slats that are 1-1.5" apart.
Screw the slats inside your rectangle, making sure you pre-drill your holes first to avoid splitting the wood.
Hang it with rope. (no need to make legs that way)
Pin
Here I've hung my drying rack instead of using the front legs. This on account of the fact that I stepped on one of the legs on my porch last winter. It was hiding under the snow.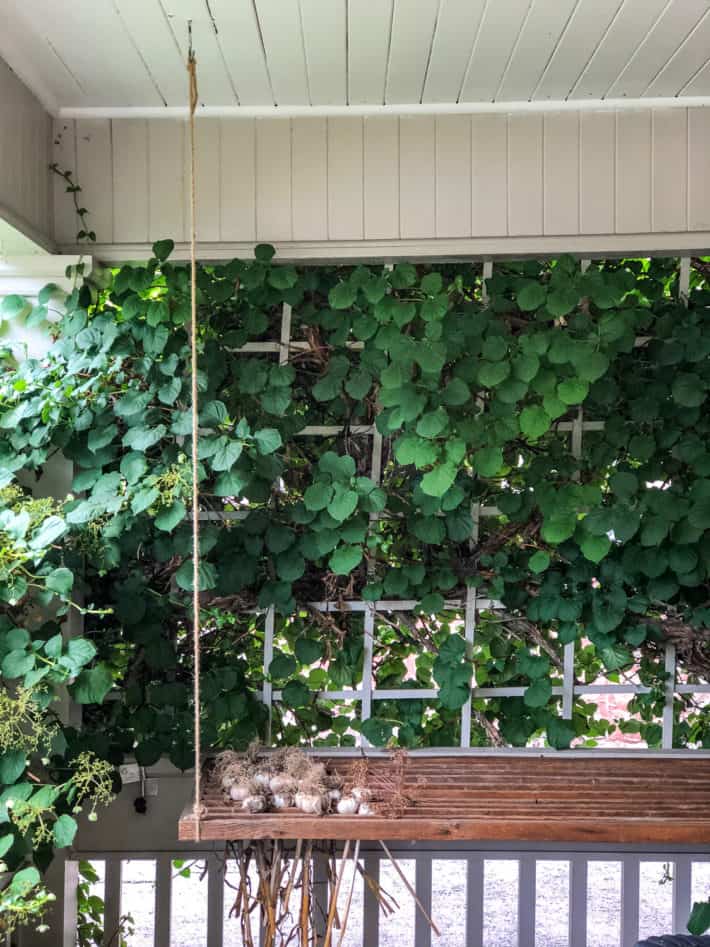 Pin
To hang the drying rack in your house just screw hooks into the ceiling (find your joists people) and tie rope to each corner of the rack.
Hanging this over a kitchen island will give you somewhere to dry herbs indoors, away from bugs and outside dirt.
It'll also give your home instant olden days charm.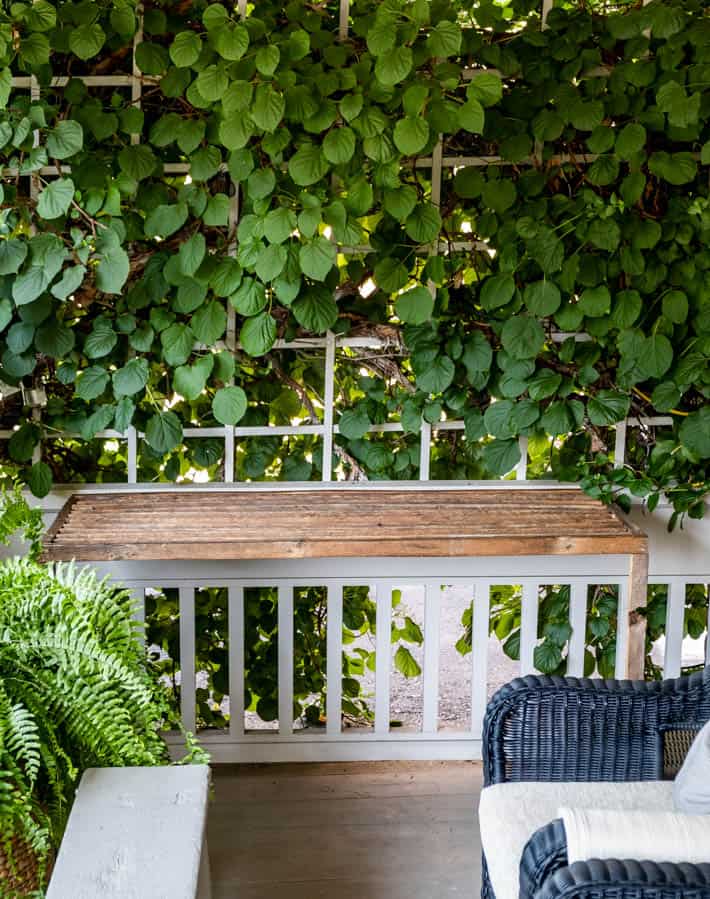 Pin
It can be as wide or narrow as the space you have for it and if you really want to save time you can forget the hinges and legs and just rest it on a couple of sawhorses for your herb drying needs.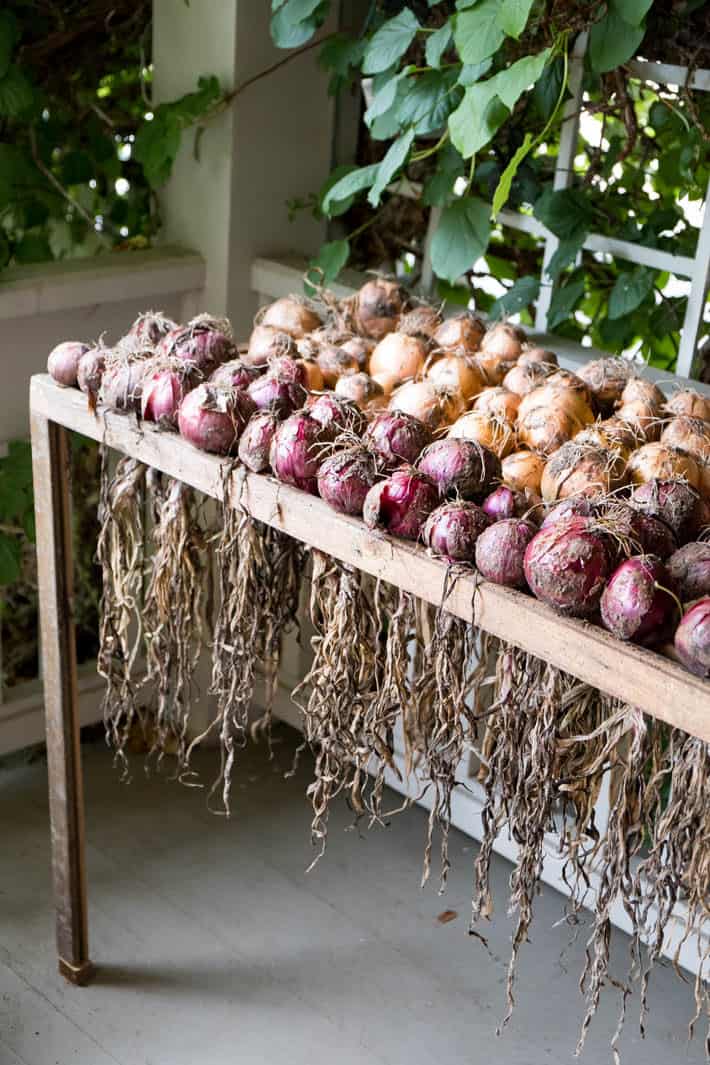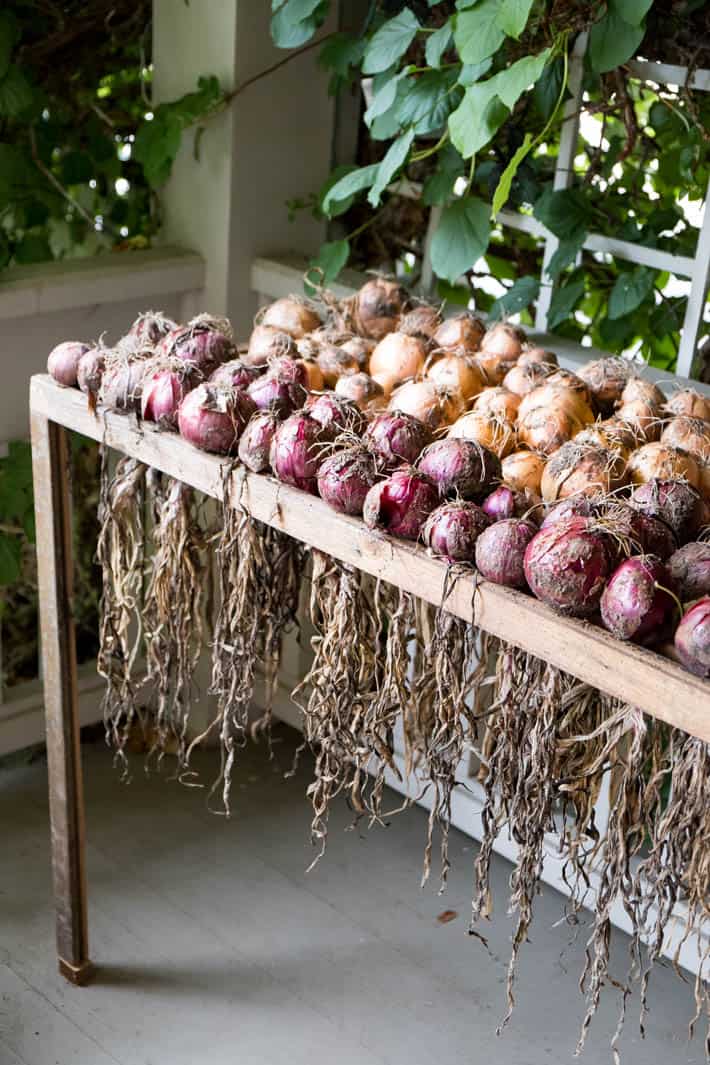 Pin
Do you have herb drying needs or am I living in a world that imagines people have herb drying needs?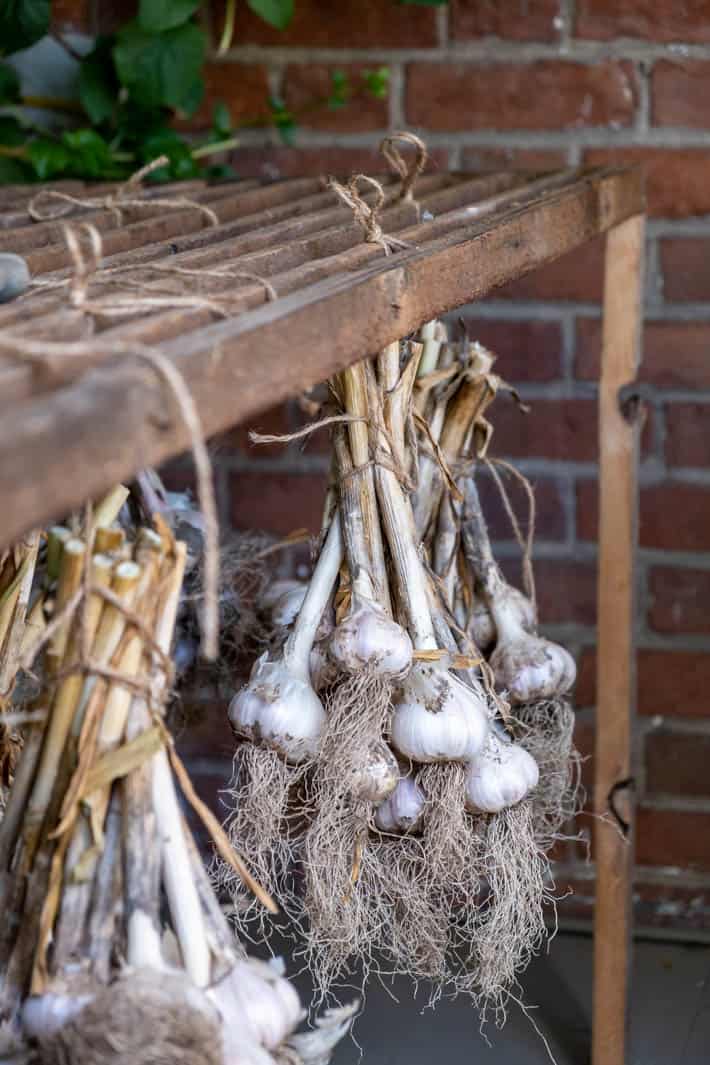 Pin
Ways to Dry Herbs
Tie them together by the stems with a string and hang them upside down in a dry area until they're crispy.
Lay flat on dehydrator trays and dehydrate at 110 F (43C) until fully dry and stems snap instead of bend.
Lay in a single layer on a baking sheet and put them in your oven at its lowest setting. Check very 30 minutes.
Storage
When the herbs are dried, using whichever method you chose, you can either leave the herbs hanging on their stems, or you can run your fingers down the stems to remove all the leaves and store them in airtight container. If the jars are clear like mason jars, store them in a dark area like a cupboard.
Surely you have garlic curing needs, I mean, you aren't a gaggle of fancy rich people who just go out and BUY garlic willy nilly are you? Oh. You are.
O.K. well, I happen to know everyone needs a cute little flip out table. It'll fit on a balcony, in a garage, shed or porch.
And if it's going on your porch ... it'll definitely make it look better.
→Follow me on Instagram where I often make a fool of myself←