You know how you get to the bottom of a bag of potatoes & all that's left are soft, wrinkled, sprouting balls of sadness? Those are the PERFECT potatoes to make fries with. Which you can then FREEZE.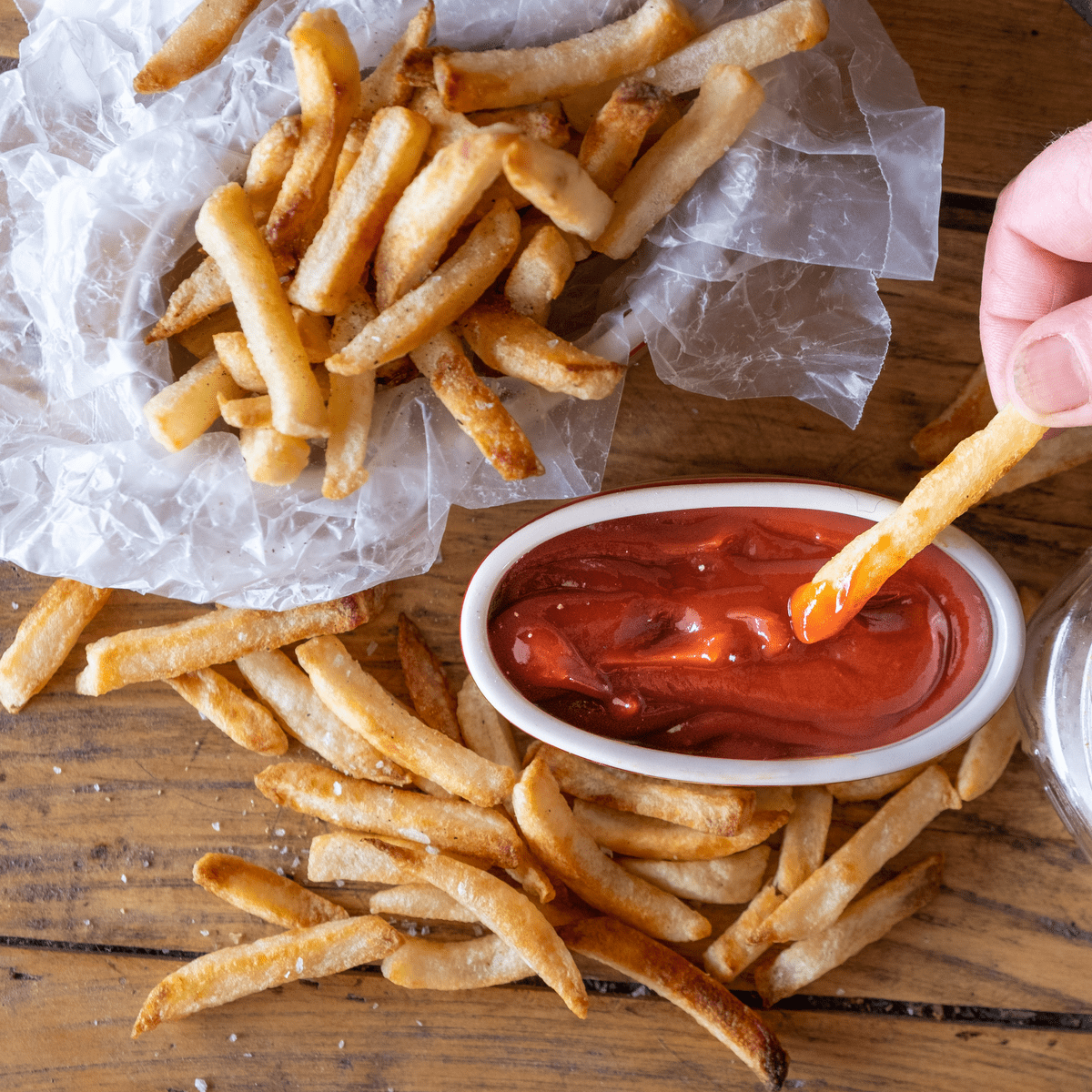 Today you're going to learn what to do with old, soft potatoes. The ones that are wrinkled and sprouting at the bottom of the bag or bin. They're not only perfectly safe to eat - they're the BEST potatoes you can use to make french fries.
Why?
Because wrinkled potatoes are wrinkled because they're drying out. And dry potatoes make the best fries.
Ergo - wrinkled, sprouting potatoes make the finest french fries around.
And today you're learning how to make EMERGENCY FROZEN FRENCH FRIES with them.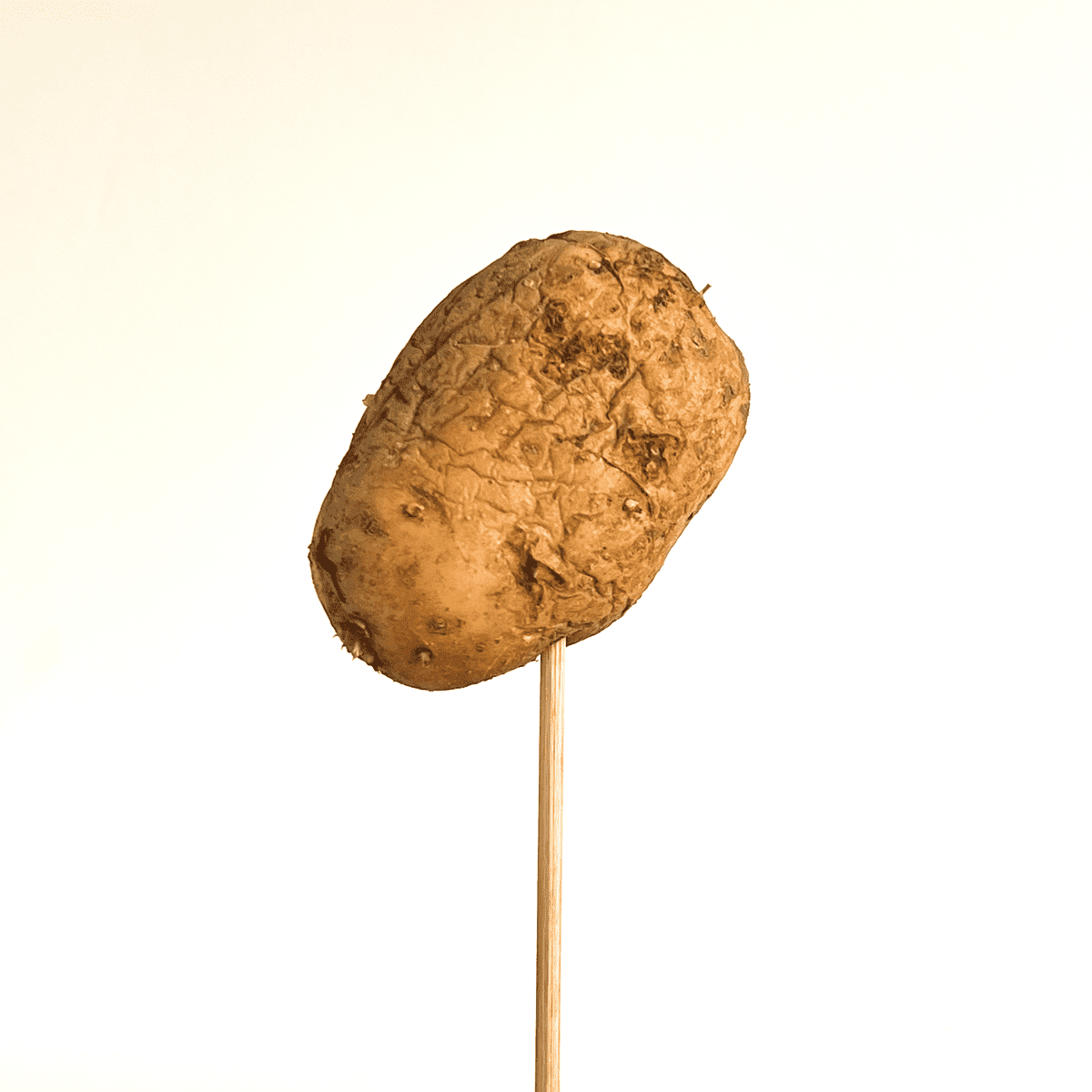 Throughout my entire high school career I ate the exact same thing for lunch. Every day. Every single day I exploded out of math class so I could get to the cafeteria to order "Large fries with gravy please".
Anyone I went to school with will be able to confirm this fact. Sometimes people would chip in (heh) to buy me more fries just to see how many I could eat.
In high school, whenever I walked anywhere, I was accompanied by an aroma-cloud of Obsession with notes of starch and smoky grease.
When I realized last week that I had half a basket of potatoes from my garden haul starting to wrinkle and sprout I knew it was time to save them for future use. If you take a look here you'll understand how it is I end up with extra potatoes.
So I made frozen french fries.
Let's do it.
It'll be this easy:
Ingredients
Sprouting, wrinkled potatoes* (or low moisture potatoes)
Fat/oil for frying
*slightly soft, wrinkled potatoes are what you want. NOT rotting, mushy potatoes.
Instructions
You can either cook these fries immediately or partially cook them and turn them into your own big bag of frozen french fries. 🍟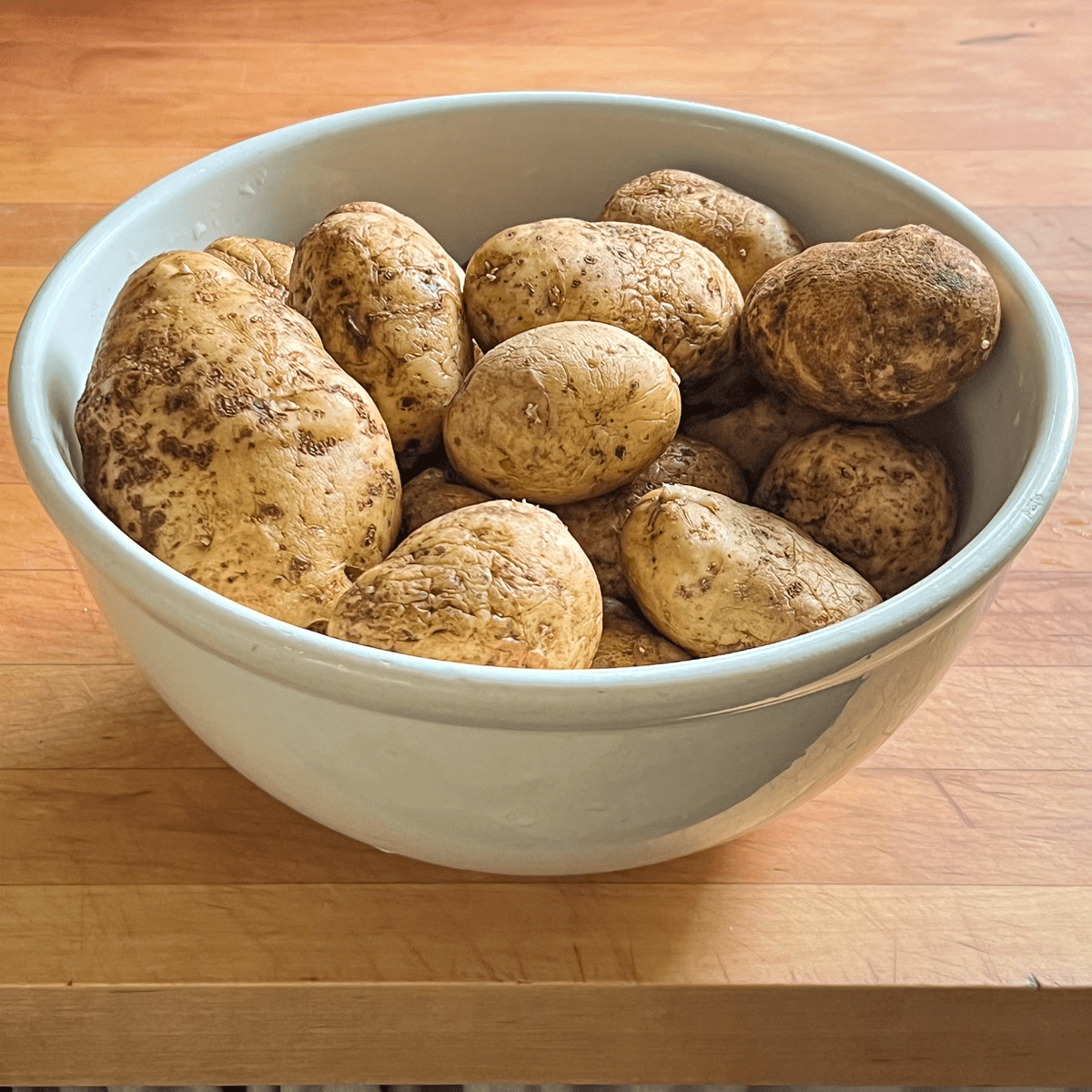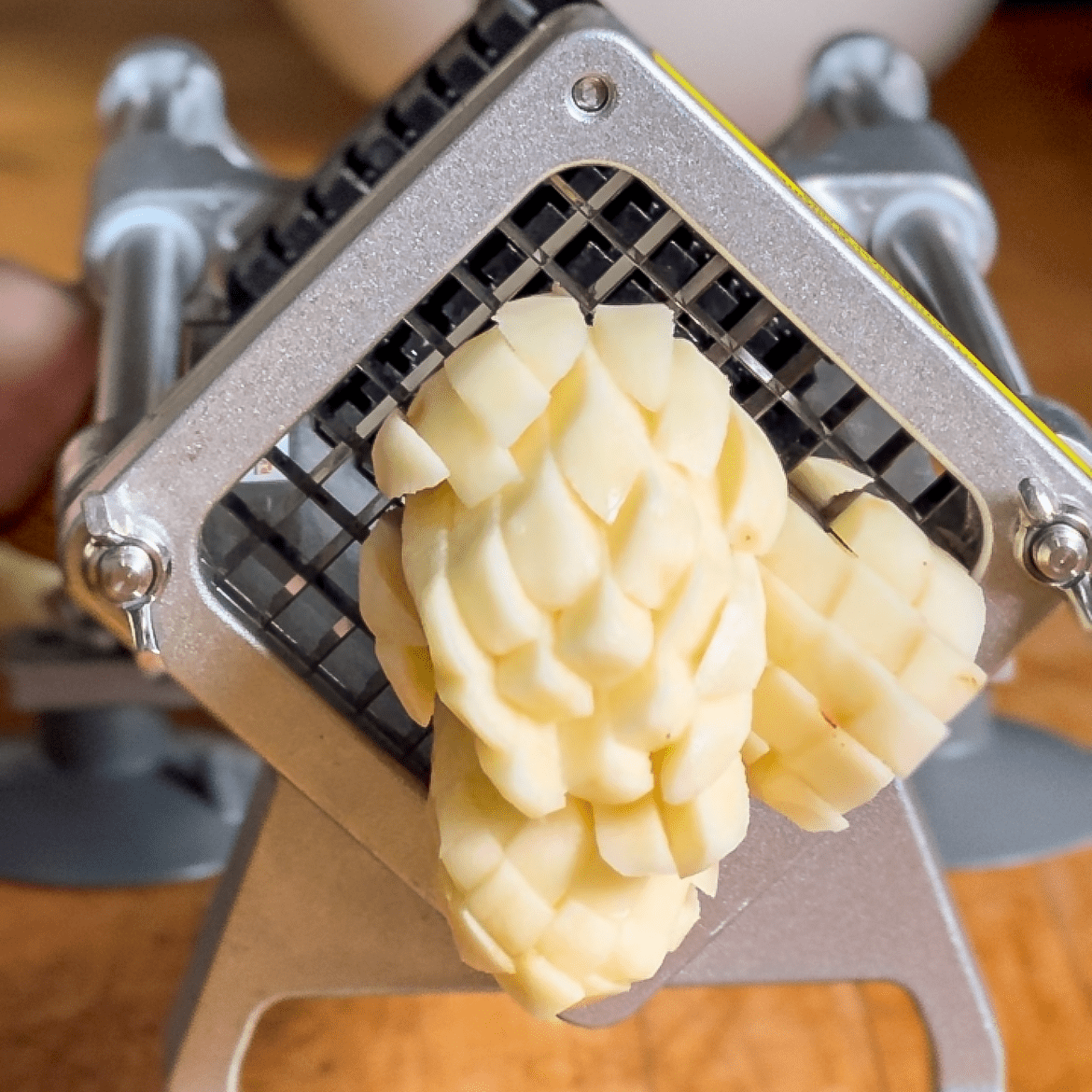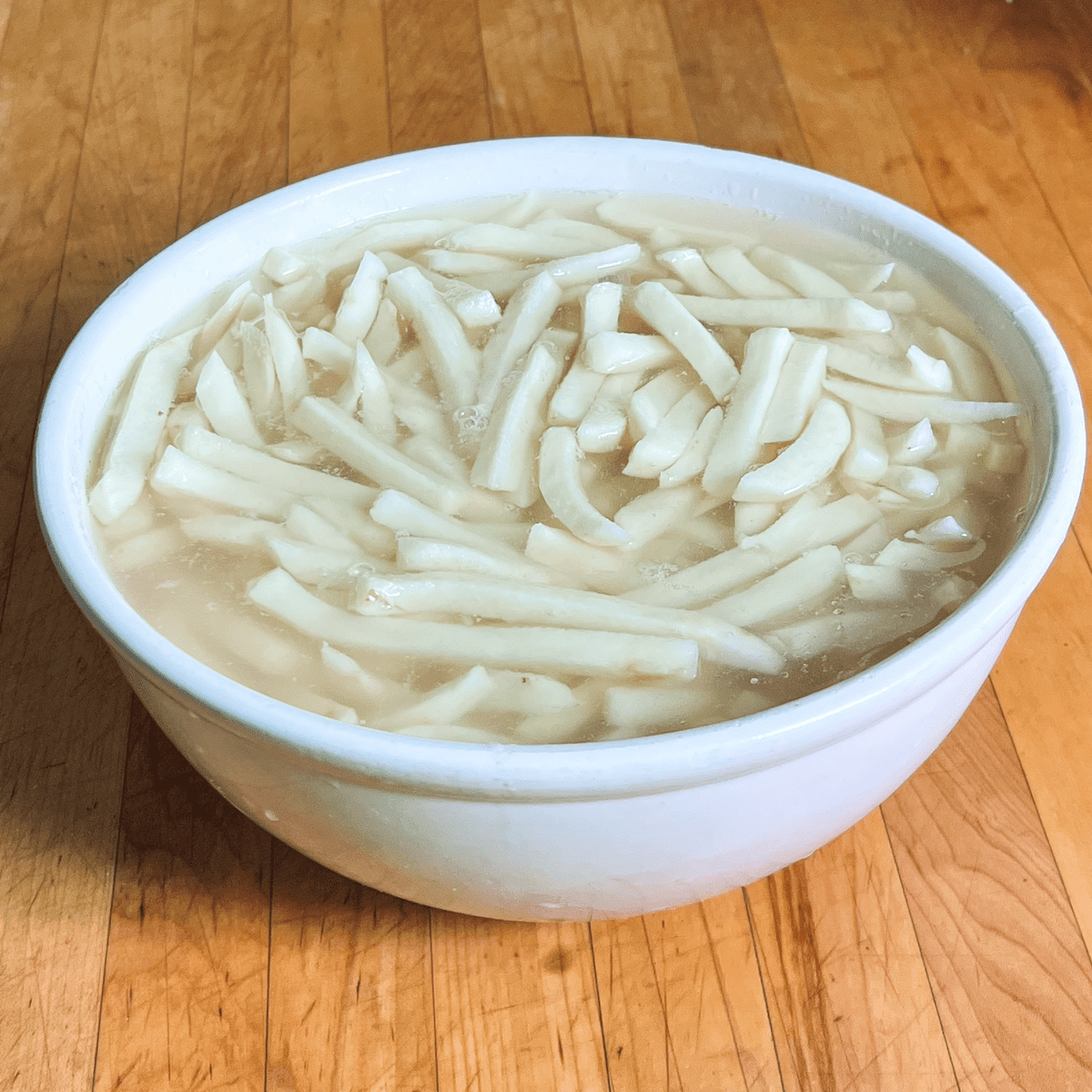 Grab your potatoes & peel them.
Cut fries into whatever thickness you like.
Keep them soaked under water as you go.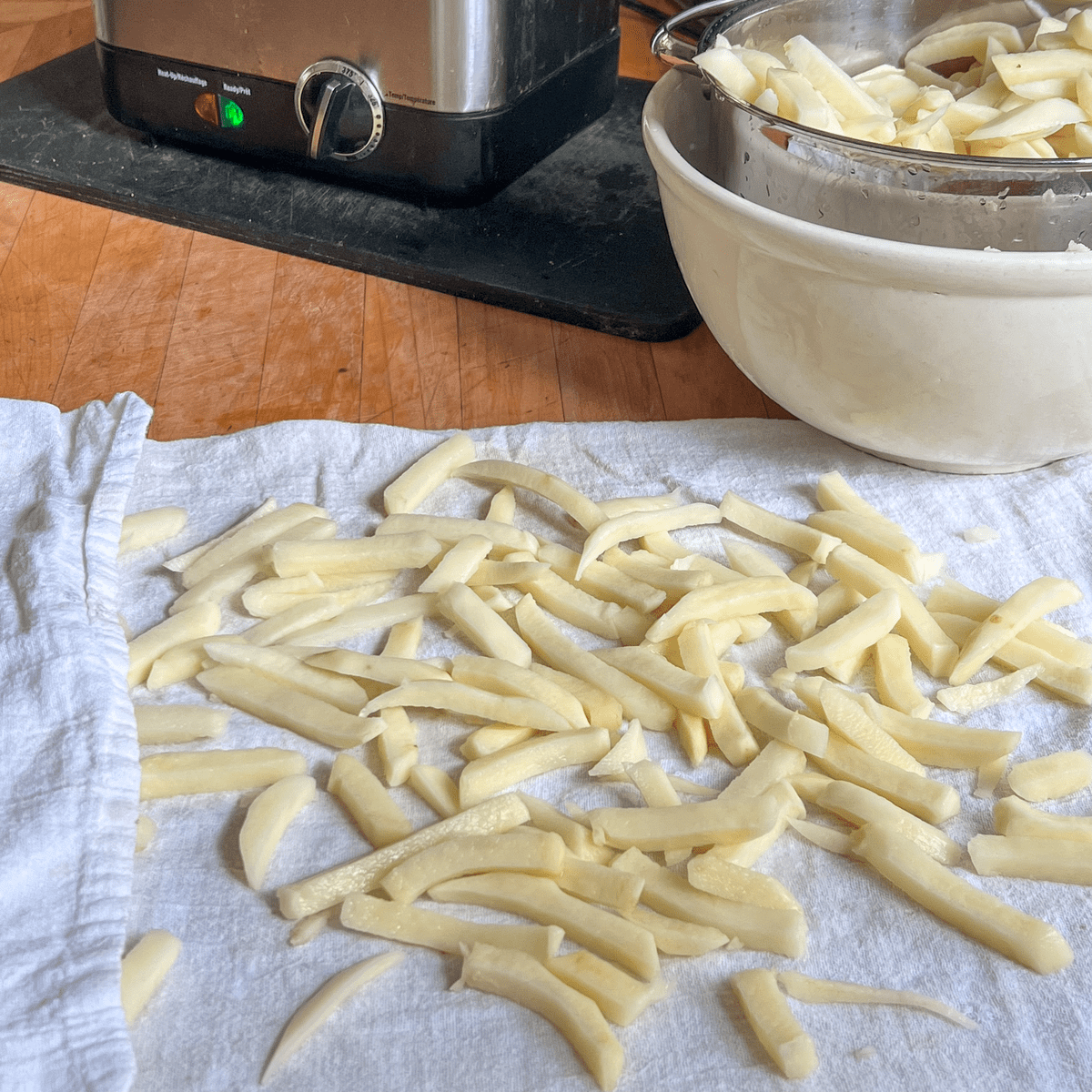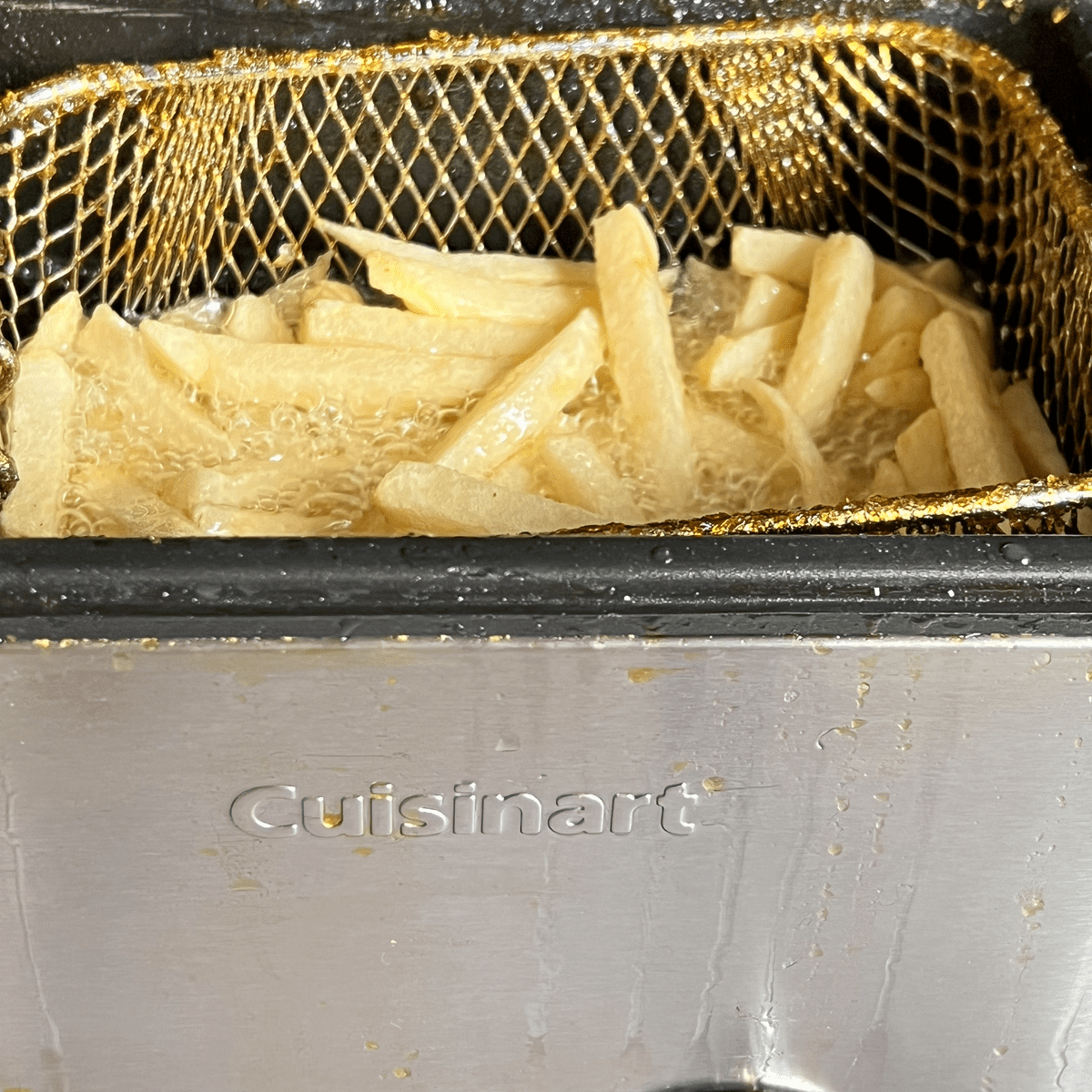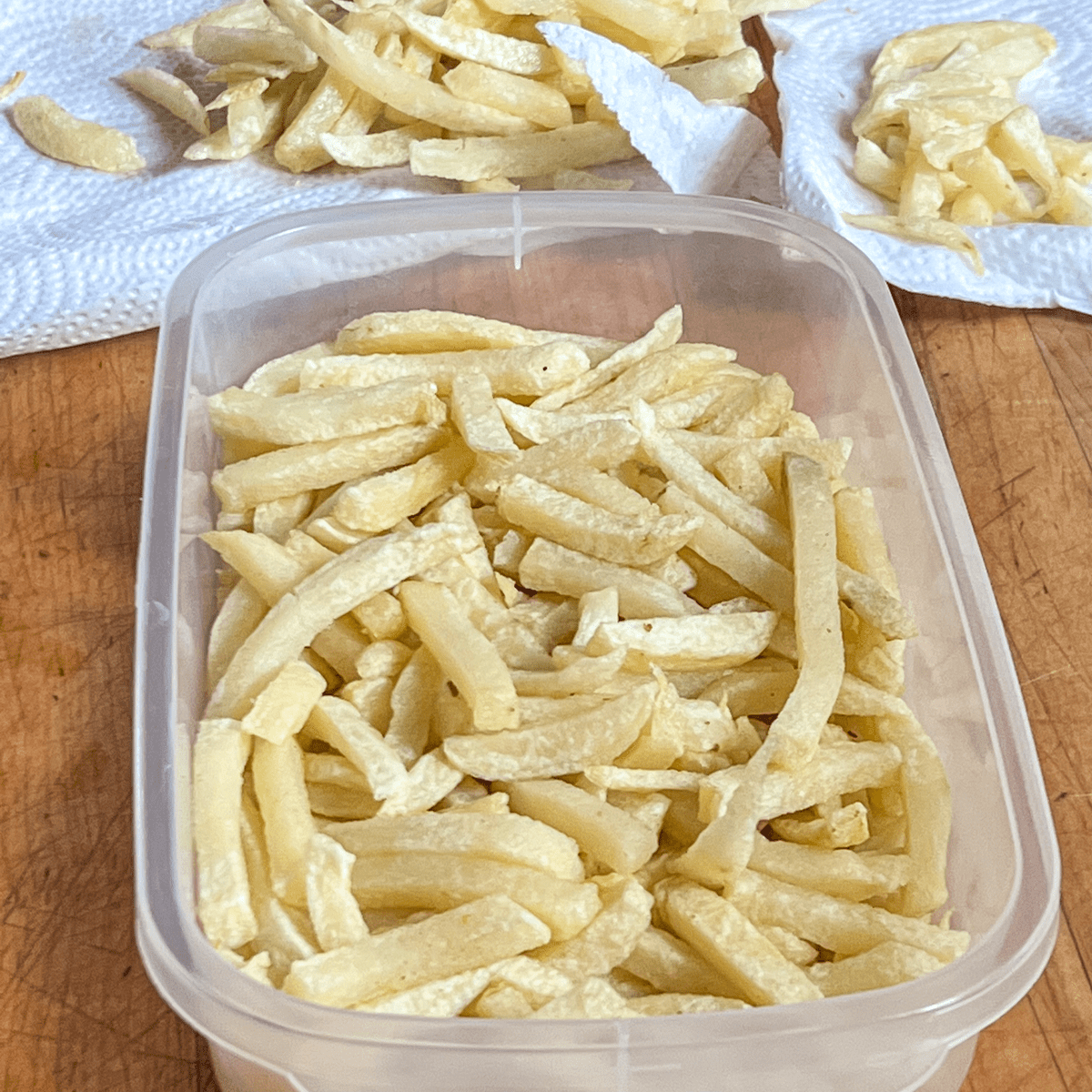 Drain, dry & fry one batch at a time.
Deep fry until the fries are barely turning golden.
Drain on paper towels then put in a food safe container & freeze.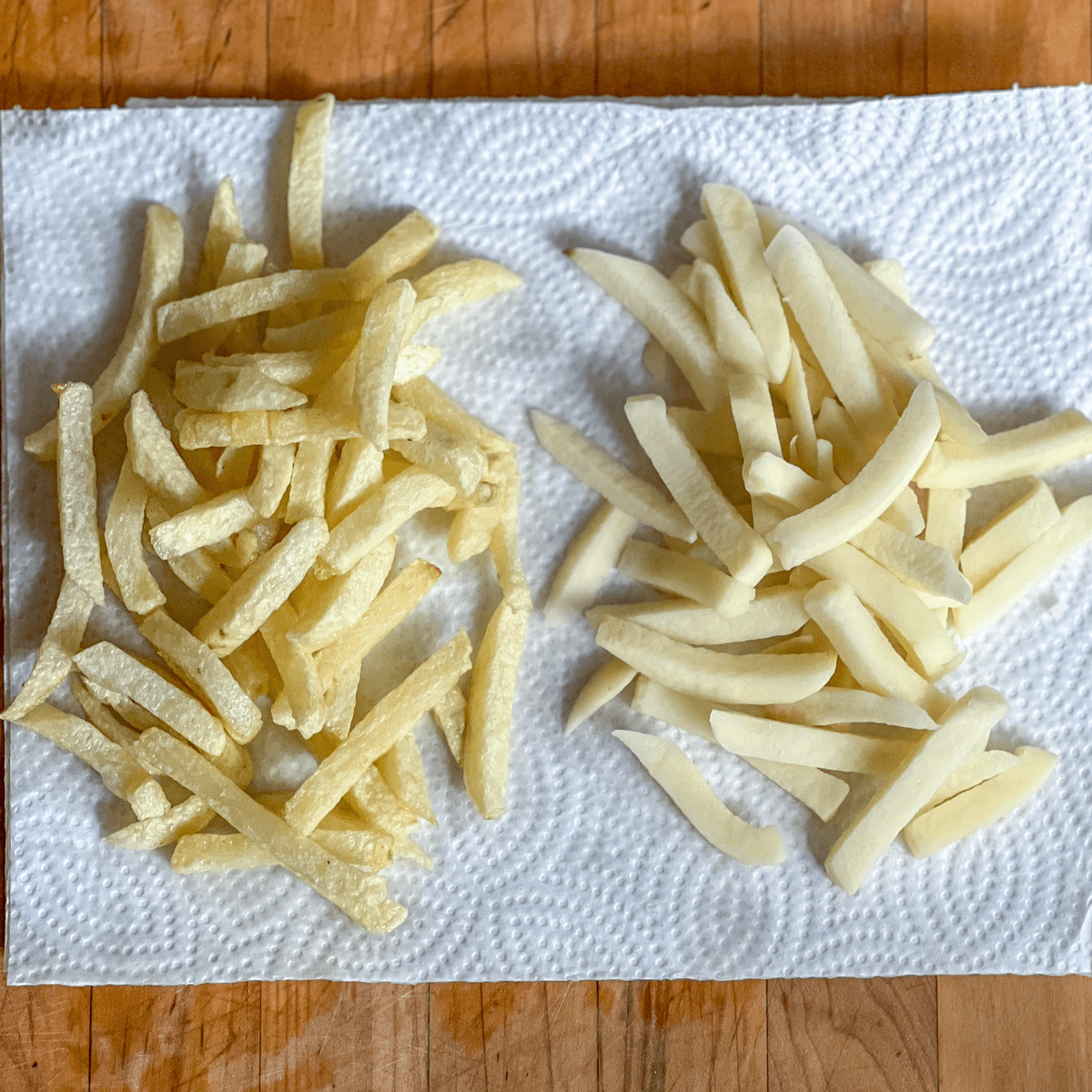 THIS is how your partly cooked homemade fries (ON THE LEFT) should look compared to the raw potatoes (ON THE RIGHT). They have a dry skin that's formed, are just *starting* to turn colour but are still soft and pliable.
TO COOK FROM FROZEN
Heat oven to 425 F.
Drop a handful of fries (or however many you want) onto an ungreased baking sheet and bake for 10 minutes.
STIR / FLIP fries and bake another 5 minutes or until done.
TO COOK IMMEDIATELY
After partial cooking the fries at 325 F, remove from oil and set aside on paper towels.
Increase oil temperature to 375 F, and cook fries for a second time for a few minutes until golden and crispy.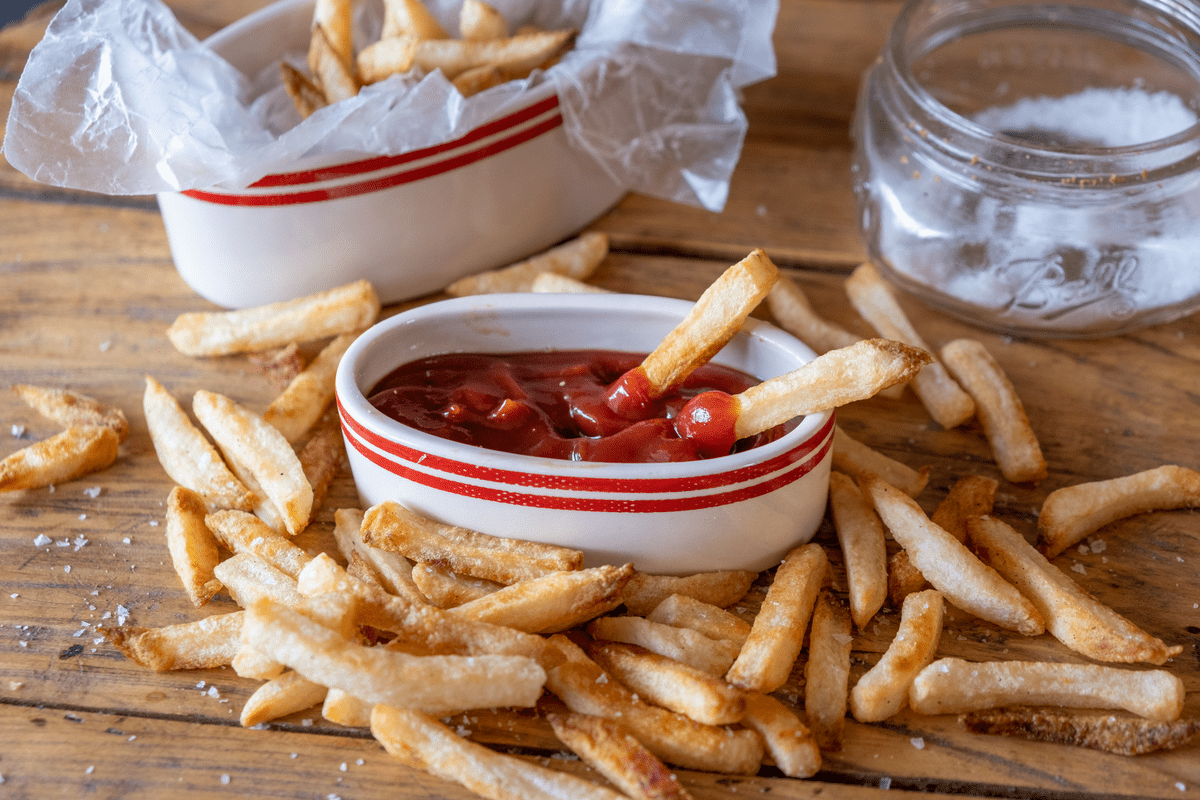 If you want to make the reallyyyyyy Perfect French Fry you can go even further by boiling the chips first, but with wrinkled potatoes you can eliminate the boiling step because the potatoes are already softish inside.
Yet another win for the the old and wrinkled. Soon we will take over the world.
The length of time you bake your fries will depend on how many fries you're cooking. Lots of fries means you'll have to increase the length of time you cook them. Just eyeball them. When they're golden and crispy they're done.
Substituting
You don't have to have access to pathetic potatoes to make great fries. Like I said, dry / low moisture potatoes are what make good fries.
There are a quite a few varieties that have these qualities.
POTATO REFERENCE TABLE
🥔
Low starch / High moisture
High starch / Low moisture
Type
Red, New, Fingerling
Russet, Idaho, Yukon
Texture
Waxy & firm, keeps shape
Floury & soft, prone to crumbling
Cooking
Best for boiling & roasting
Best for frying, baking
& mashing
Uses
Salads, soups, & stews
French fries, hash browns
& mashed potatoes
These come out perfectly crispy and greasy after you pull them out of the oven. They're just like you fried them. Because you did.
Why I don't use an air fryer.
And no, I don't use an air fryer for two reasons.
I don't fry a ton of foods, but when I do, I want a grease fried food, not an air fried one.
I don't have room to store one.
I could spend that money on potatoes.
Lessons learned today
🥔 Wrinkled, soft, sprouting potatoes are still good to eat and even better for certain things like french fries.

🍟 Fry homemade french fries FIRST at 325 F & then again at 375 F. The first cook softens the potato and releases moisture. The second cook, browns them and makes 'em crispy.

🥶 Homemade fries can be FROZEN after the first cook and pulled out later to finish in the oven.
Serve with salt and a smile.