Have an armload of dahlias or other large flowers? Use these tricks to turn them into a pretty great flower arrangement no matter how florally unskilled you think you are.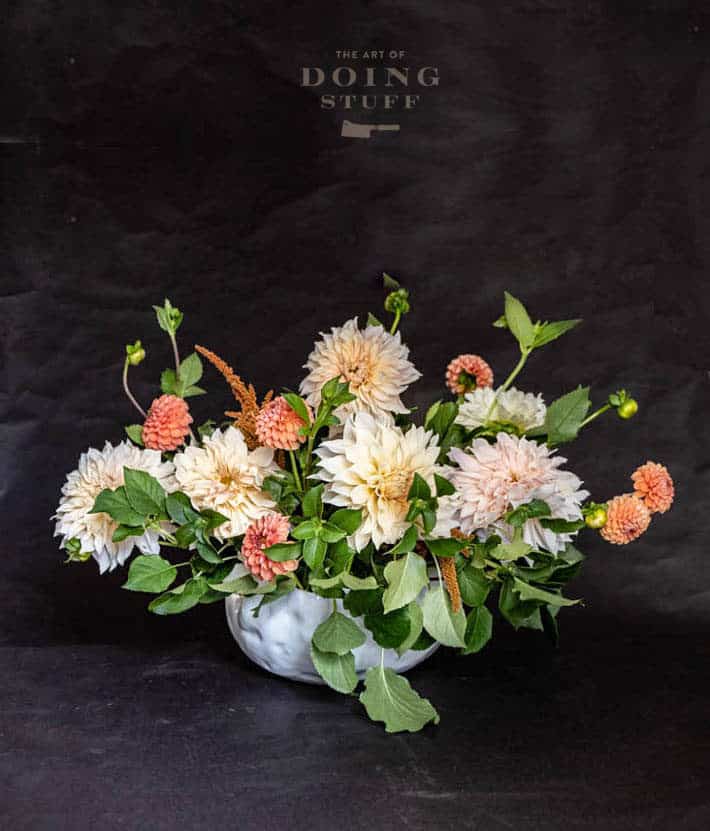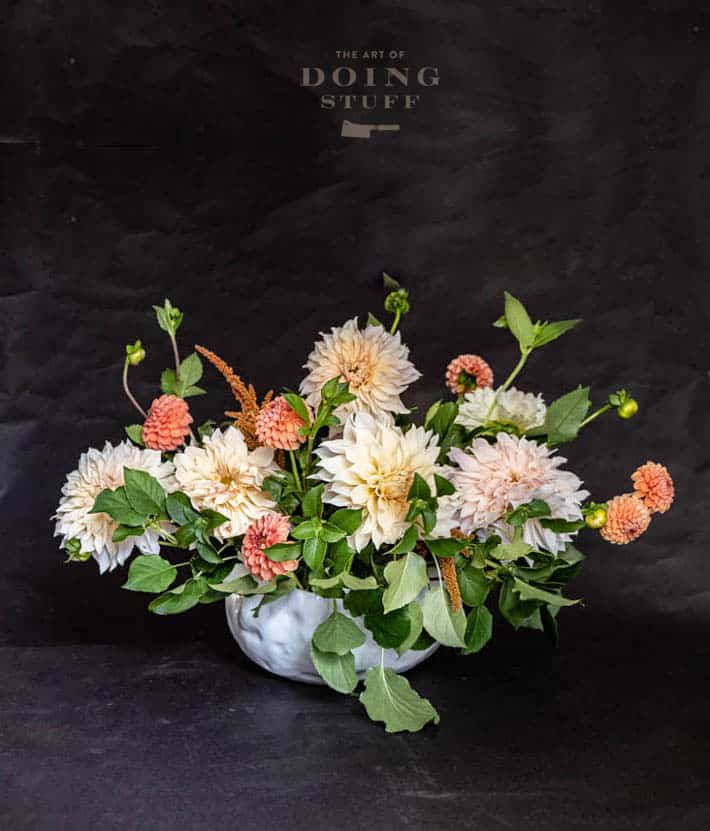 ---
If you reallyyyyy want to make your flower arranging easy click here to skip to the bottom of this post and just buy a dinosaur vase.
---
Arranging flowers (and photographing them) is one of those things that seems pretty simple. You put some stems in a vase. Maybe jiggle them around a bit. Nope. They're just standing there. They don't look right. Shift them around, cut the stems, fan them around - WHY DON'T THEY LOOK RIGHT?
Here are the main reasons:
You've used too big of a vase.
You don't have enough filler.
You're not using flowers, you're using sweatpants.
No matter what you do to them, sweatpants will never look good in a vase.
As for the other two reasons ... that's probably what's killing you.
The arrangement I've done here isn't going to win you any awards at a highfalutin flower arranging competition, but it might get you third at the county fair.
And that's better than the 10th place you'd probably get without this lesson.
Who's revved up and ready to get started??! 🤣
A couple of notes: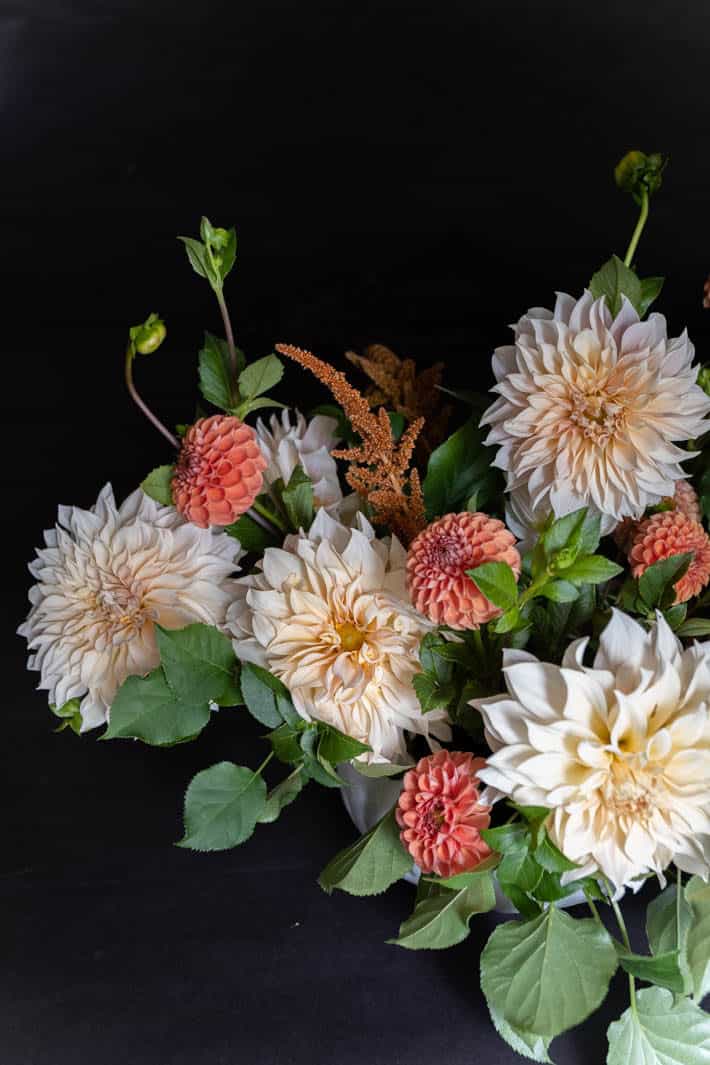 Filler is your friend even if you don't get it from your dermatologist's office.
Whether it's climbing hydrangea branches (like you see here), hosta leaves or other leafy branches you're going to need filler. It makes your flower colours stand out and it ... well ... it fills in spaces so you can get away with using less flowers.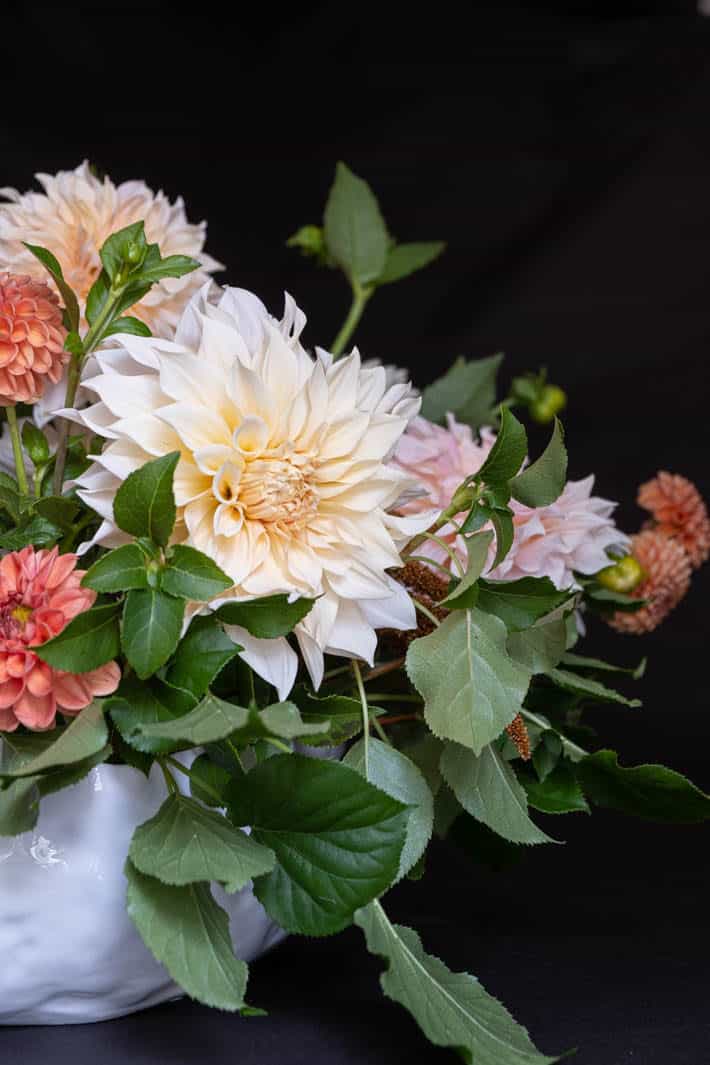 Having only a few types of flowers will make your job a lot easier. There are fewer decisions to make and it's just a simpler process when you're only dealing with 1-3 types of blooms.
It's like the difference between decorating a room in one style and decorating it with a variety of pieces from different periods and styles. One takes more skill and knowledge.
Ready?
Here's how to do it:
This is a real flower arrangement for real people who have really no idea how to arrange flowers. There are no wild curly branches sticking out of it, no whimsical rare orchids, or a million colours to balance.
But it is impressive considering there's less than 20 flowers in it.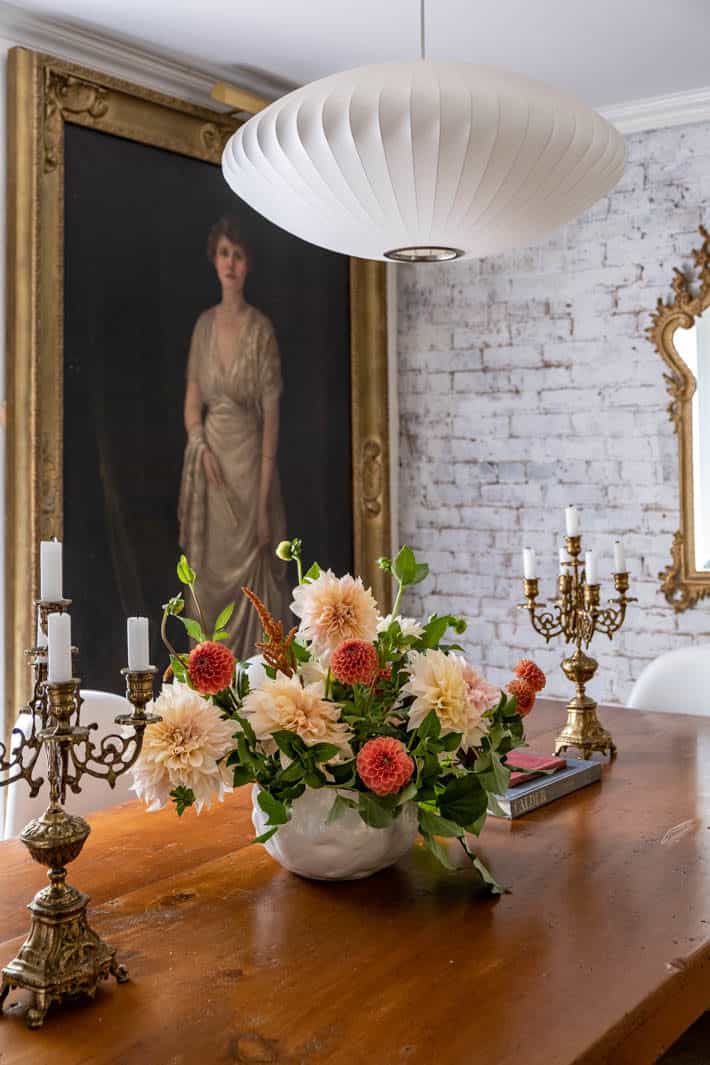 If you aren't feeling all that skilled then JUST use dinnerplate dahlias and greenery. In fact if you'd really just like to get your confidence up, only use one type of flower with greenery in any arrangement.
It's really difficult to screw up an arrangement with one type of flower. A mass of one type of flower always looks great.
copper cup filled with Cockscomb. silver pitcher with Hot Biscuits Amaranth (and a couple of Cornel Bronze dahlias)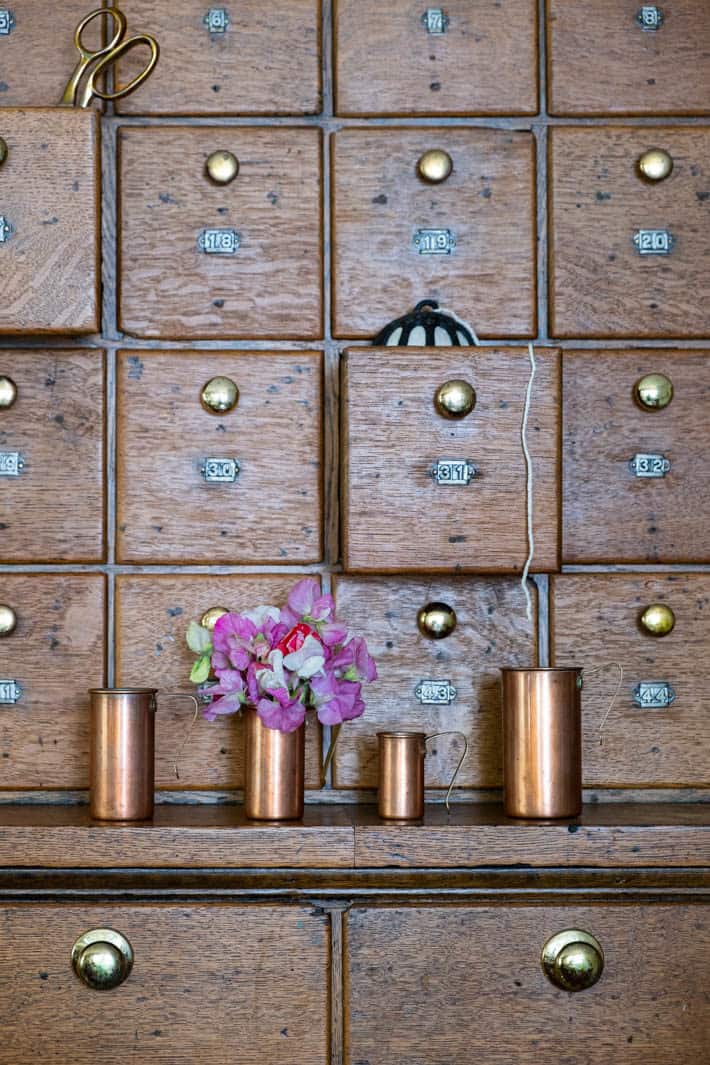 Small jug of sweet peas massed together.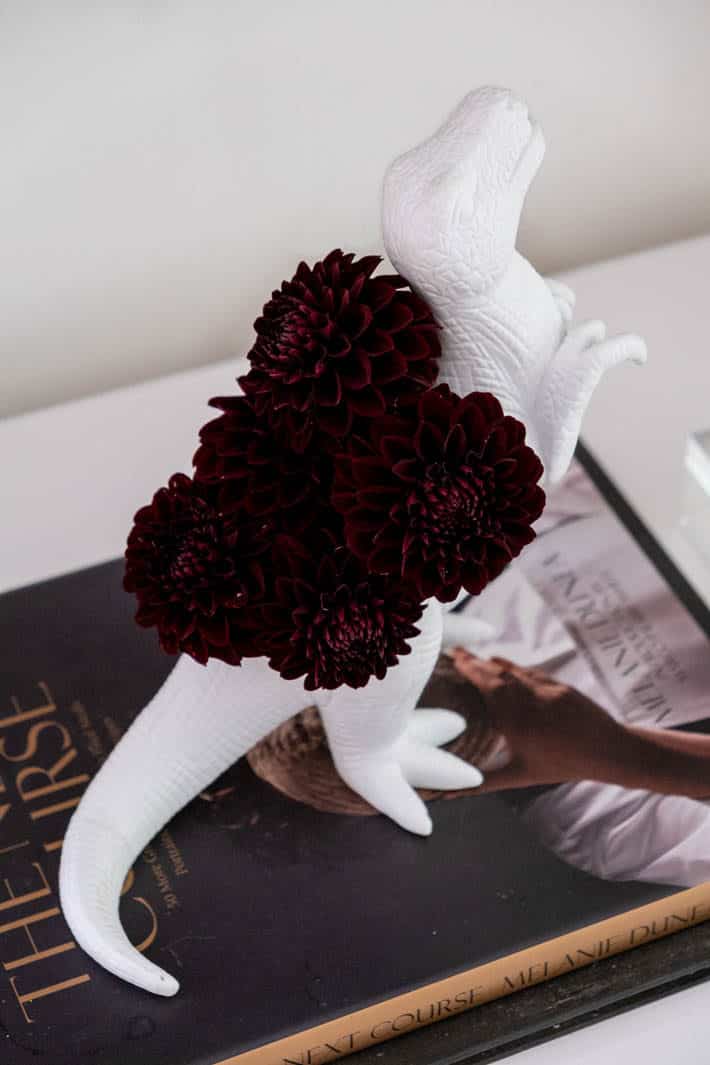 You want this vase don't you? Even though you're not a 12 year old boy, you want it.
You can get this "Plantasaurus" here on Amazon. I bought mine this summer and have LOVED every second of it.
Update: The plantasaurus has 3 small holes in the bottom of it that aren't glazed from the pouring process. I filled these each of these holes with a blob of silicone to make it watertight.
---
If you like the big arrangement with just the dahlias? Leave it like that! You'll probably need to add a few more dahlias and you won't win the county fair prize. But you'll still have a nice flower arrangement and access to cotton candy so basically an award winning day.
Have a good weekend!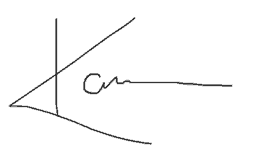 →Follow me on Instagram where I often make a fool of myself←