Looking for a way to use up rhubarb?  Other than using its leaves to whack people with? Try this Rhubarb Cake and Coulis.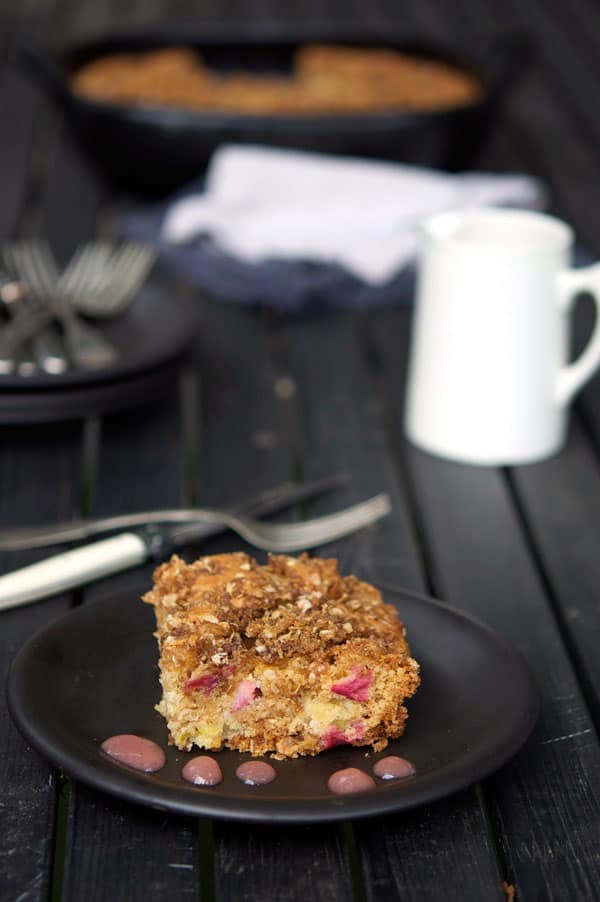 Mindy made me make a rhubarb cake.  Mindy's a reader and she's an asshead.  Last year at some point when I mentioned rhubarb she told me I had to make a rhubarb cake.  This year I did a post on a Rhubarb Tart and she told me I had to make a rhubarb cake.
So I made a rhubarb cake.
And now I don't like Mindy because I ate all the Rhubarb Cake and have delusions about making another one and eating all of it too.
It's Mindy's fault which is why Mindy's an asshead. This may or may not affect our future relationship as blogger and reader. It has definitely affected my relationship with my back fat.
So let's get back to this cake.  Mindy has an old family recipe for Rhubarb Cake and she's adamant that even if you don't like rhubarb you'll like rhubarb cake.  Since I DO like rhubarb the chances of me liking this cake were pretty good.
I started off using her recipe (like I always do) and ended up changing it to suit my tastes (like I always do).  So my recipe is slightly different than hers, plus I added in a Rhubarb Coulis for to get rid of some more of my rhubarb, plus it adds a bit of tartness that I like.
So if you try it you too will be able to have evil thoughts towards Mindy, with the added bonus of also having evil thoughts towards me.
Rhubarb Cake with Rhubarb Coulis
Rhubarb cake is the perfect dessert for anyone who isn't a fan of overly sticky, sweet concoctions. Lightly sweet with a burst if tartness in every bite.
Print
Pin
Rate
Ingredients
½

cup

butter

1 ½

cups

sugar

1

egg

1

teaspoon

vanilla

2

cups

flour

1

teaspoon

cinnamon

1

teaspoon

baking soda

¼

teaspoon

salt

1

cup

buttermilk

I never have buttermilk on hand so just add 1 tablespoon of vinegar or lemon juice to a cup of regular milk and let it sit for 5 minutes

3 ½

cups

of rhubarb

1

tablespoon

flour

Topping

¼

cup

butter

1

teaspoon

cinnamon

1

cup

packed brown sugar

½

cup

quick cooking rolled oats
Instructions
Cream together butter and sugar.

Beat in egg and vanilla.

Sift together flour, baking soda, cinnamon and salt.

Add sifted ingredients to the creamed mixture alternately with the buttermilk.

Toss your rhubarb with 1 tablespoon of flour and stir into the batter.

Pour batter into 9X13 baking pan (or equivalent)

Smooth the surface.

Mix together melted ¼ cup of butter, brown sugar, cinnamon and rolled oats.

Crumble topping over surface of batter.

Bake in 350f oven for 45 minutes or until toothpick comes out with only a few crumbs on it.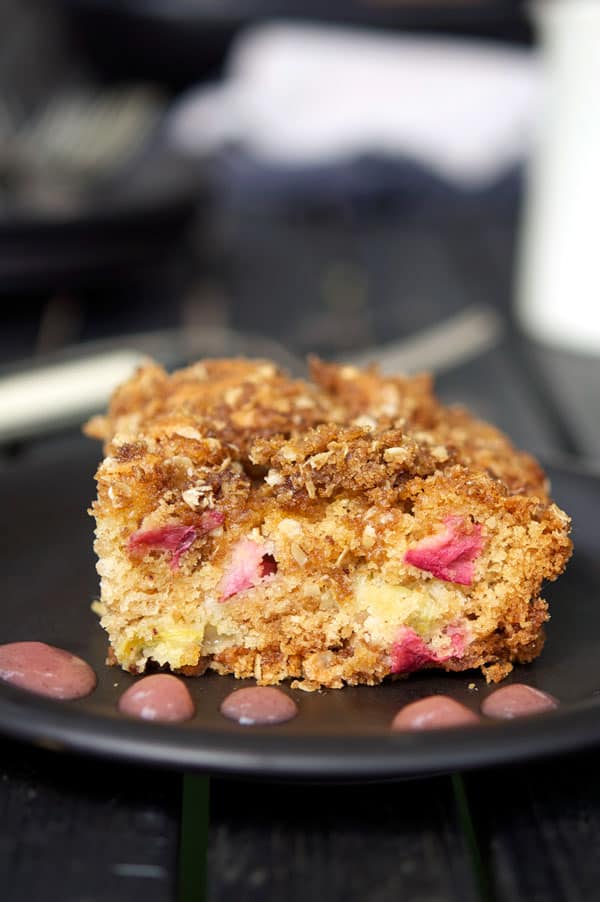 This cake was a favourite of everyone who came to visit the day or two it was here in my kitchen. It's a bit crumbly like a coffee cake, is sweet enough to be dessert like but not so sweet it's sickening. The rhubarb (if you pick nice pink stalks) adds a bit of colour to the cake, and depth to the taste. You get that little shot of tart with every bite.
If we can just be brutally honest here, I think I need to reiterate what an asshead Mindy is.
If you can be bothered, here's the recipe for the coulis, which you just dot around the plate.  It helps to cut through the sweetness of any dessert.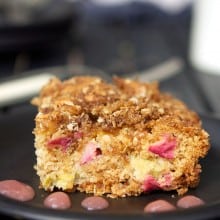 Rhubarb Coulis
Rhubarb Coulis is the perfect addition to a sweet dessert you want to add a little tart kick to.
Print
Pin
Rate
Ingredients
250

grams

9 oz rhubarb stalks cut into small cubes

100

grams

3 ¾ oz caster sugar (caster sugar is superfine sugar which dissolves easier)

100

grams

3 ¾ oz water

1

vanilla pod
Instructions
Place the rhubarb, sugar, water and vanilla pod in pot and bring to the boil.

Cook until rhubarb is soft enough to easily pierce with a knife tip.

Remove vanilla bean.

Blend mixture in blender until smooth.

Pass the mixture through a fine sieve if needed to make it smooth.
So that's 3 rhubarb recipes down (Rhubarb Crisp, Rhubarb Tart, Rhubarb Cake) and about a million more to go.  I have two other rhubarb recipes on deck from readers so if you haven't been called out as an asshead yet, don't worry.  There's still another 3 months of rhubarb season left.