This is year two of trying to grow an English Cottage Garden that looks like it's been around for a century. So far it looks like it's been growing for 2-3 weeks tops. It's quite pathetic actually. Welcome to it!
This is me leaning my porch pillar in a bra that doesn't give enough support, holding my iPhone casually while I click a button on it to take a photo with my drone all the while attempting not to crash it into a car, sidewalk, neighbour or my forehead.
I mentioned that my English Cottage Garden, Year 2, is quite pathetic. And it is. But that's to be expected. It's pretty hard to fake a garden that's been around for a century. It takes time. Maybe not a century but certainly longer than the 2 seasons of Big Little Lies that I've given it.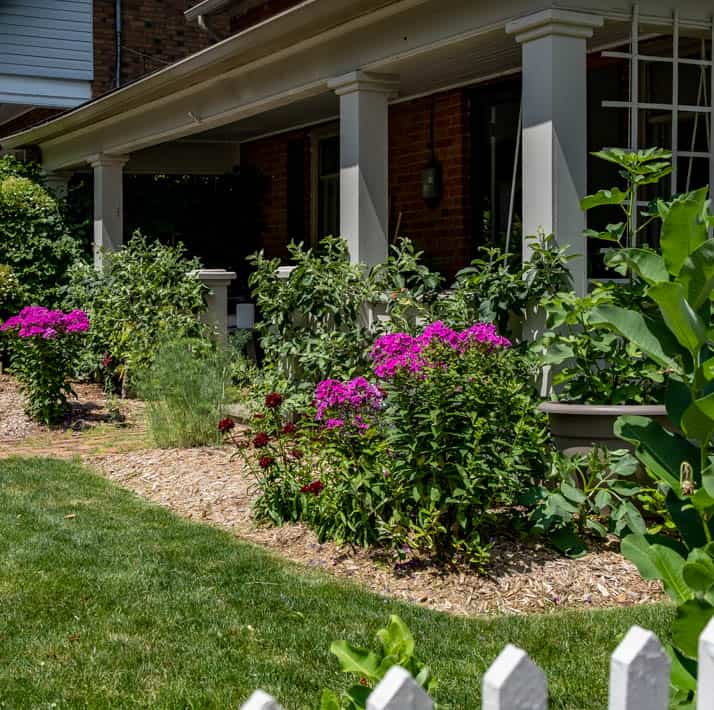 Welcome to my 2-year-old English Cottage garden, surrounding my 180-year-old cottage. Certain places are too crowded, certain places are too empty and others are just right. Actually there aren't any that are just right, but I added that in there to make myself feel a little better about this process.
Can you see the two tall groups of purple/pink phlox? Of course you can because they stand up and out like great big giant phlox plants. The thing is, the phlox I bought and planted last year were tiny. And I thought the variety was supposed to stay tiny. In fact I'm sure I have a tag somewhere claiming exactly that. Because I thought they were going to stay low to the ground, I planted them in the front of my beds where they currently look like 2 pink soldiers guarding my apple espaliers.
Speaking of the apple espaliers ... they're getting enormous and I'm really going to have to throw caution to the wind and just regularly prune them instead of only pruning them on the summer solstice. Yes, I want to keep them compact and have apples on them, but I also want them to look relatively tidy along my porch. At the moment they're a bit frenzied looking.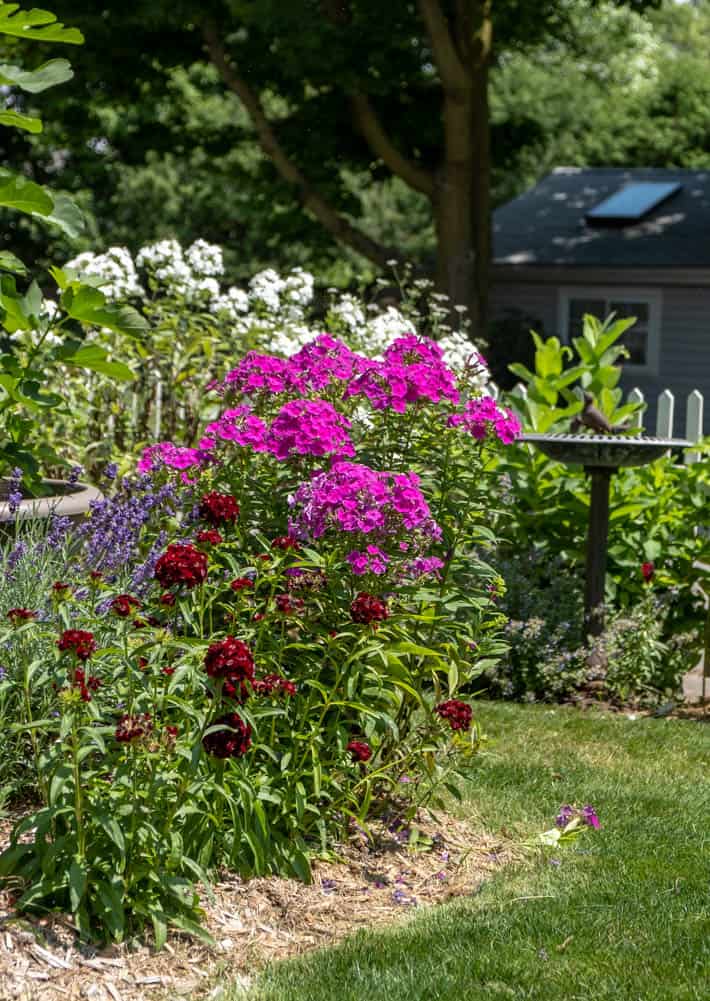 Look! That's a nice corner. And that's how the whole garden should be. Free flowing, lots of colour with just a bit of garden bed showing.
My side yard and along my fence is doing fairly well in terms of its development.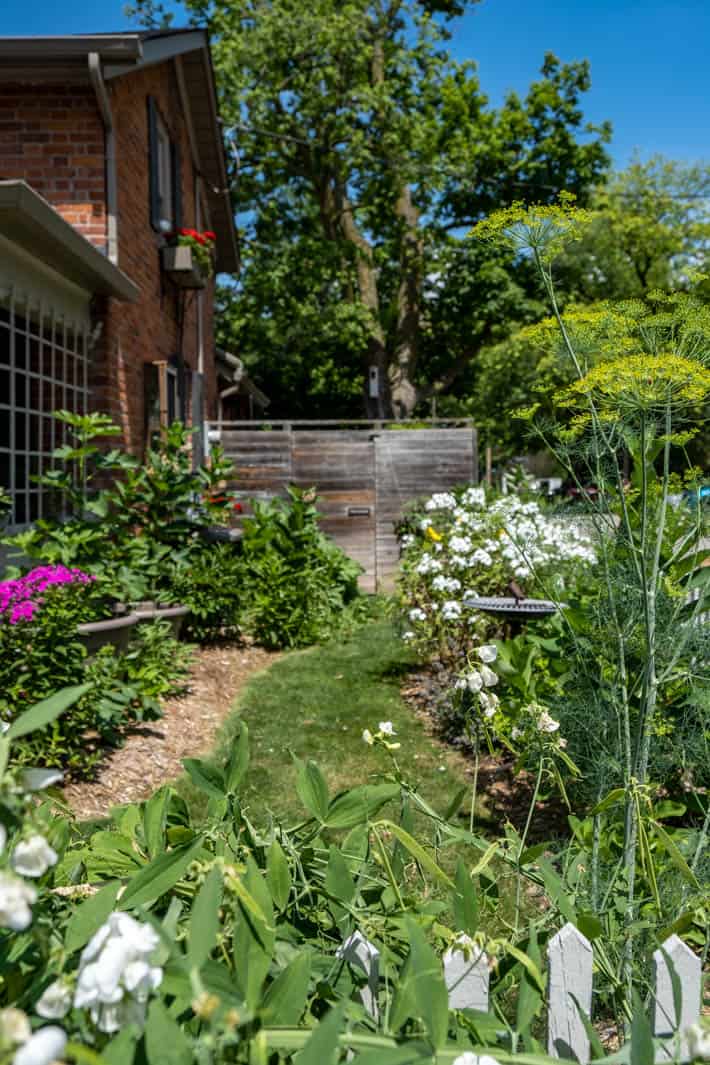 But the front beds are a struggle for me because I want to keep things nice and low. Like ground-cover low so you get an uninterrupted view of the espaliers.
I don't want any sort of border plant or edging because that's too structured for the look I'm going for. I LOVE the look of little square boxwoods along the border of beds and everything looking crisp and perfect, but that's not where I'm headed. I'm headed somewhere a bit more frantic but still controlled. Part crazy Russell Brand part sane Russell Brand. Understand?
In amongst the perennials and annuals, I have a few of my vegetables. The flower boxes for instance are geraniums, but all the greenery in them is parsley. I have a random pop up potato plant in one of the beds that I've left and celery tucked in beside the phlox. There's rhubarb, herbs and of course tomatoes.
I've espaliered this tomato by using a variation on the string method I use and love so much. I've let one stem grow from the ground up until just before the top of the fence. At that point I allowed 2 leaders to grow, one running off to the left of the stem and one to the right. By the end of August, I suspect it will run the length of my fence, spilling cherry tomatoes all over.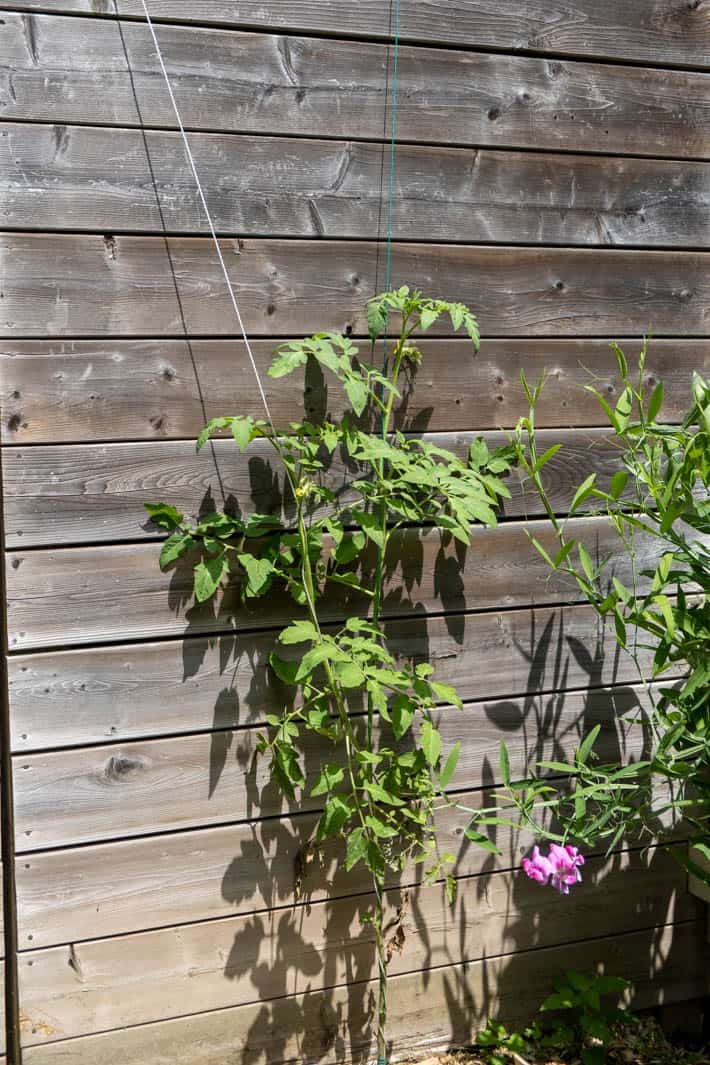 Using the string method again, I've planted a Black Krim tomato against my fence. On my porch trellis I'm string training another cherry tomato to grow up it.
Last fall I dug up, split and moved a variety of hydrangeas, daylillies, peonies and phlox. This fall I expect I'll be doing the same. Digging up, moving, rearranging and rethinking.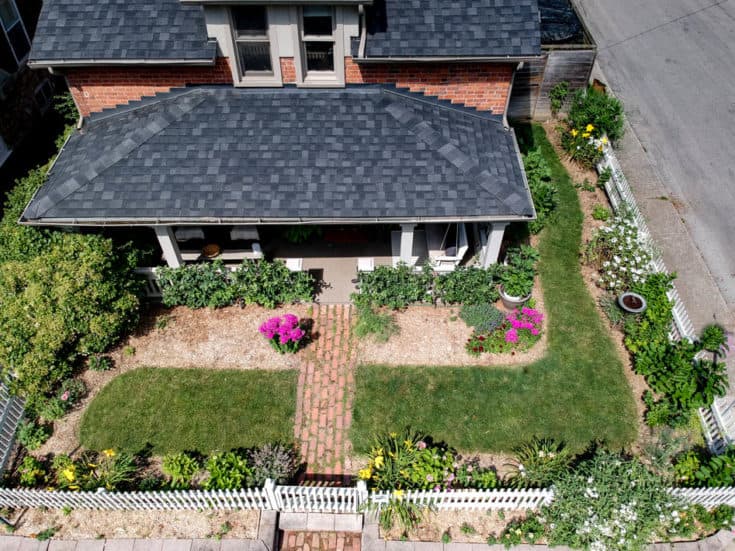 I'll get some more shots of the infant English Cottage Garden in late August when it will either be exploding with colour and beautiful or brown and dead. If the flowers do well but grubs get at the lawn, it might just be a combination of both.
Either way I'll be taking photos of it all in a new bra.
→Follow me on Instagram where I often make a fool of myself←