Today is day 18 of The Christmas Pledge. There's only a little over a month until Christmas, so you'd better start thinking about getting out your Easter decorations. Just kidding. Easter decorations are ugly. Best just skip right to Halloween.
But before you get out the Halloween decorations you put away 2 days ago, you need to concentrate on Christmas because basically it's already here. Today on the Christmas Pledge Calendar is greenery day. Go out and buy or cut any greenery you need for window boxes, planters, garlands … that sort of thing because this weekend you're going to be doing your window boxes and planters. So you'll need to get twigs, berries, and other penile euphemisms. I know you're tired and you hate me and you probably already gave up on the calendar but GET BACK AT IT. Seriously. I have a cry day scheduled in for November 21st, and it'd suck to bow out before you had your officially appointed cry day.
I thought you might need a little boost and nothing boosts one better than cocaine. But I don't have any cocaine so instead I have a bunch of pictures for you. On the downside you won't be quite as speedy today, on the upside you won't have to spend all your Christmas present money on rehab.
It's easy to get stuck in a decorating rut especially at Christmas when we just get used to putting up the same wreath, the same decorations on the same front door in the same neighbourhood. So, take a quick look at these photos to see if it stirs up a little something inside of you that might lead you in a new and exciting direction.
Starting with more is MORE. Seriously, the swags under the lanterns (which look like genuine gas lanterns by the way) are MASSIVE. And that is why they look so great.
(wherever the source for the photo is available I've linked to it. Just click on the photo)
It doesn't have to be expensive. Cheap burlap normally used for covering up trees in the winter can be turned into a thousand different things.
photo of my porch by Donna Griffith for Canadian Living magazine
Have any tomato cages or obelisks? Put them in planters, run some greenery and lights down them and call it a day. Simple but effective.
Nobody's sitting on that bench in the middle of winter anyway. Cover it.
Pay attention to detail. This light tree works especially well because it's a dark cord against a dark background.
Not many things are a better Christmas decoration that freshly fallen snow, but you can help mother nature out with fake spray snow (like in the corners of the window panes) if you have to.
photo of my backyard by Donna Griffith for Canadian Living magazine
I don't know where I've been living (other than not on a rural road) but there's such a thing as a mailbox swag. It's true.
K, this is a pretty specific look that very few people will be able to do but if you can, DO IT.
Let it bow, let it bow, let it bow.
Perfectly simple, n'est pas?
There are so many elements here but it still ends up looking relatively simple because each element is very plain. The garland with simple ribbon, the unadorned lanterns, and the tiny trees. I'd probably go with just one wreath, but this look works too.
Always loved wreaths on windows? Try them on the shutters.
Just a whole whack of tall twigs with tangle of tiny lights.
Not sure why you like this next picture? It's because of the red behind the windows. You can easily do the same with just red tissue paper or wrapping paper.
It could be the lack of cocaine talking, but this makes me feel all quiet and still and calm.
Really cute way to have a "fire" at your front or backdoor without the worry of having to look nice when the firefighters show up.
Very Scandinavian, very nice.
Planters filled with plain, old, logs of wood surrounded with cedar in my backyard.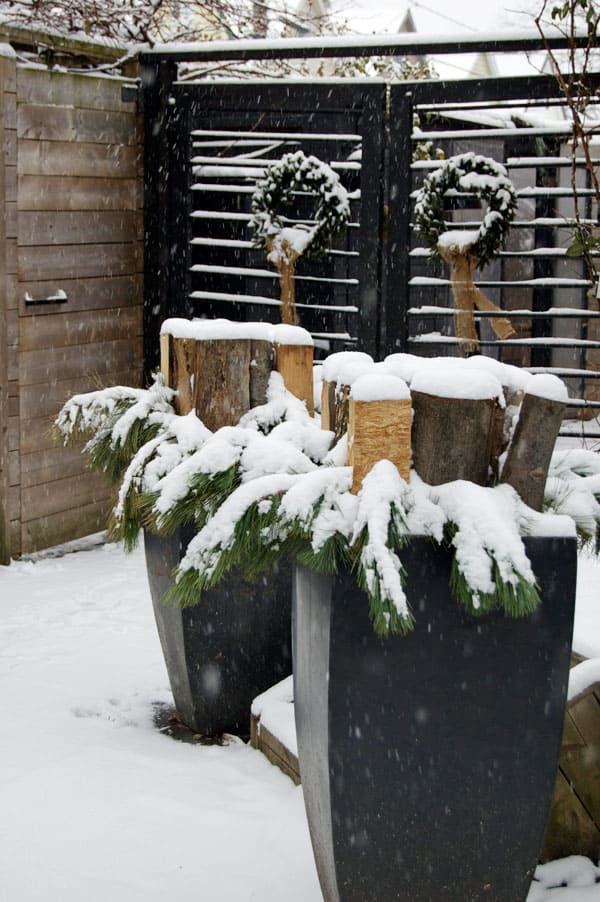 I liked this so much I did it a couple of years in a row. I don't know WHAT I'll do this year because my backyard is entirely different. Those planters are gone, there's an antique workbench out there now and from the look of it, it might not snow until a day or two after the holidays. In Alaska.
I hope you got a few ideas, now get out there, get your stuff and decorate. Have a great weekend.