A completely simplified guide to buying grow lights. I'll cover the basics you need to know if you're growing seedlings and ignore all the extra information that just confuses us all.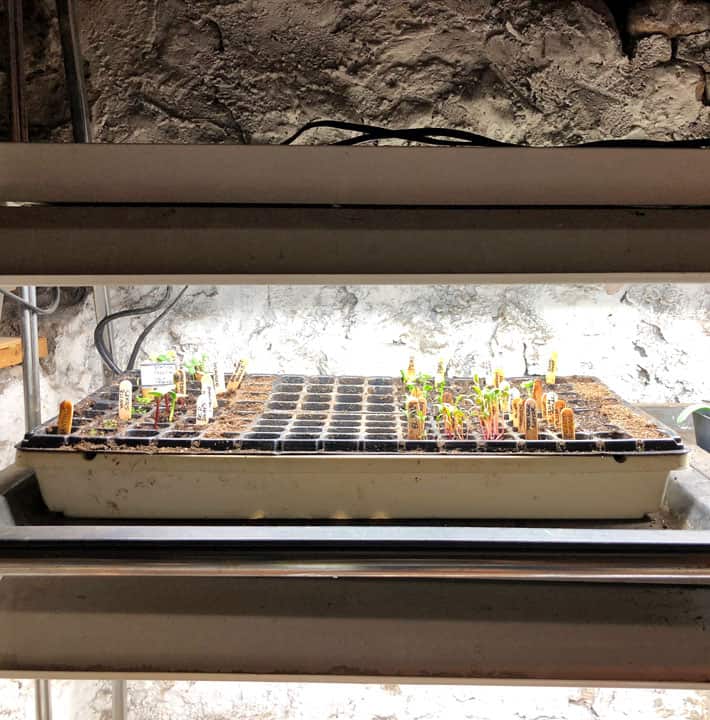 Why ignore a bunch of grow light information? Because decision fatigue is real & as I was researching for my own replacement grow lights I JUST WANTED SOMEONE TO TELL ME WHICH LIGHTS TO BUY.
This is not a guide that has all the information on all of the lights.
I am here to make things easy for you.
Picking the right grow lights can be overwhelming, therefore I'm making this as simple possible.
If you are growing seedlings indoors, use T5 fluorescent or T5 LED lights with a colour temperature of 6,500K.
That's it. Go buy 'em. Incidentally, 6,400 is fine too. Or 6,600. Just get something above 5,000 and below 7,000.
If you like to know a bit about the whys and whats, read on.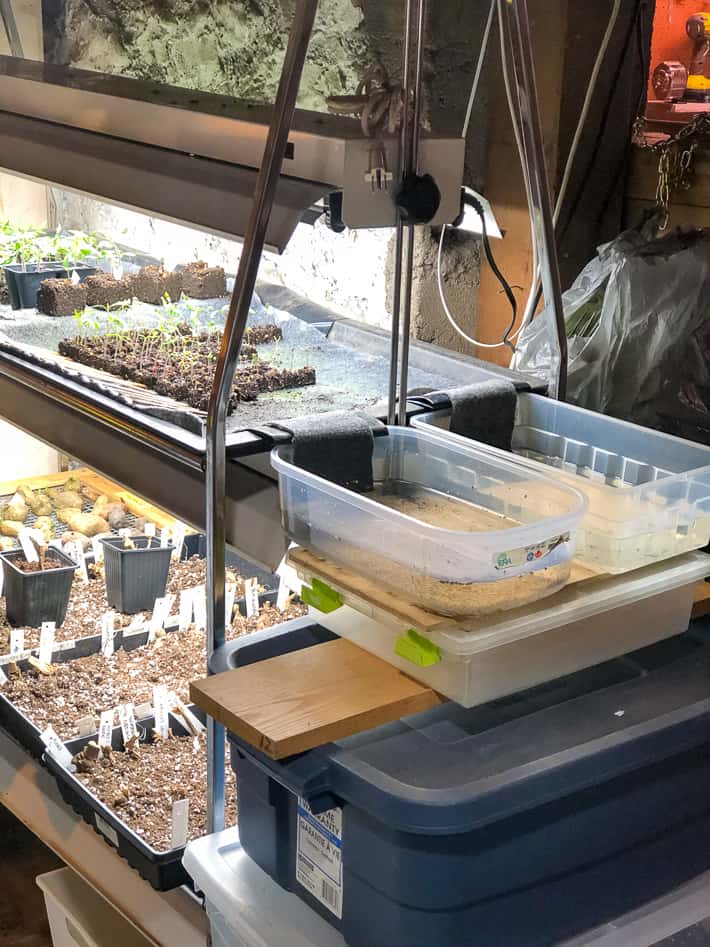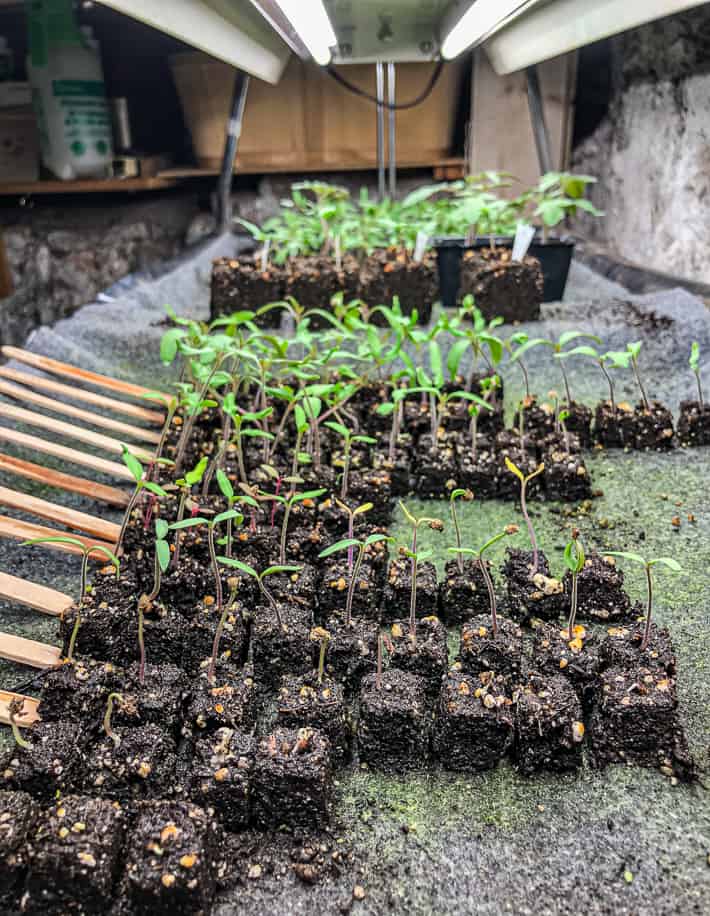 How to Pick The Right Grow Lights
Let's make this easy on everyone.
Choose T5 bulbs; they're affordable, lightweight, and very effective. They're the best choice for anyone who is growing seedlings in their basement or spare room.
What's a T5?
This is very basic information that really helps you understand lighting, yet it's a fact that often isn't explained.
With a T5 light the T refers to tubular and the 5 refers to the diameter (⅝").
Therefore a T5 light is a tubular light that is ⅝ths of an inch in diameter. They usually come in 2', 3' and 4' lengths.
---
Using a T8 light as an example: A T8 light is a tubular light that is 8/8ths in diameter. (1")
So T5 is code for the shape and diameter of the bulb. Nothing else.
T5 LED versus T5 Fluorescent
Now that you know that T5 only refers to the shape and diameter of the bulb I can tell you that they come in both LED and fluorescent options.
So you could buy a T5 fluorescent bulb or a T5 LED bulb. And they look pretty much the same.
So which do you pick? T5 fluorescent? Or T5 LED.
Compare 'em
Energy efficiency: T5 LED lights are generally more energy efficient than T5 fluorescent lights, using up to 50% less energy. LED WINS.
Longevity: T5 LED lights have a longer lifespan, lasting up to 50,000 hours compared to T5 fluorescent lights that last around 20,000 hours. LED WINS.
Heat output: T5 LED lights produce less heat compared to T5 fluorescent lights. FLUORESCENT WINS.
(This is subjective, but when growing seedlings, I like the added heat of fluorescents on my plants BUT have experienced burning on the leaves because of it.)
Cost: T5 fluorescent lights are less expensive but over the long term, LED lights can save you money because they use less energy and won't need to be replaced as often. FLUORESCENT WINS?
Light spectrum: Both T5 LED and T5 Fluorescent offer what you need - a colour temperature of around 6,500K. TIE.
If you want to save money in the short term - choose fluorescents
If you want to save money in the long run - choose LEDs
But really I think you should get LED lights.
Great! Now you know to:
BUY FLUORESCENT OR LED T5 bulbs
Now you only have 2 more factors to consider,
The colour temperature of the bulbs (warm or cool).
The physical length of the bulb.
The 2 most important things to recognize when you're buying your lights.
THE COLOUR OF THE BULBS
The colour temperature of light is measured in Kelvins. For promoting vegetative growth (leaves) the BEST light is in the range of 5,000-7,000 Kelvin with the sweet spot being 6,500K.
REMEMBER
Warm light from 3,000-4,000 Kelvin promotes flowering and fruiting.
Cool light from 5,000-7,000 promotes greenery and is perfect for seedlings
THE LENGTH OF THE ACTUAL FIXTURE
I don't mean the wavelength of the light - I mean the actual length of the bulb. Most grow lights come in lengths from 2 feet - 4 feet.
Choose the length based on how much room you have to grow.
Small space like a countertop? Use a 2 foot light.
Longer area? Use 4 ft.
Using 3' wide shelving? Use 3 ft.
Most bulbs on the market now are connectable. So you can buy 2, 2' bulbs, and in the future if you need to you can attach them together to make 1, 4' long bulb.
---
How Many Lights Do You Need?
This one is tricky because it depends on your setup but generally speaking I recommend using a wire rack as a setup, with 2 bulbs that run the full length of each shelf.
Like this.
So if you have 3 shelves you'd need 6 lights that are the length of the shelf. 2 for each shelf. 5 shelves, 10 lights ... and on and on. You get it.
Just zip tie the lights to the racks and you're on your way.
For super fancy people (like myself) you can also add pulleys to your lights so you can raise and lower them easily. I have 6 pair of these pulleys and I love them.
I'm smack dab in the middle of redoing my entire grow system including upgrading from fluorescent bulbs to LED, changing the technique I use for capillary mat watering, adding 2 new grow racks, and putting all my lights on pulleys.
I'm making a lot of improvements and changes but no matter what I do my basement will always & forever look like a kill room. #circa1840
FINAL TIPS
I've been using grow lights and starting my own seedlings for decades and every year I learn or try something new. So if you screw something up don't worry about it.
LED lights should be 8-12 inches from the top of your plants, possibly more if it's a setup with very strong lights. T5 bulbs should be 5-6 inches from the tops of your plants.

You need more room than you think to grow seedlings. Don't forget 50 tiny little seedlings are going to take up a LOT more space when they're 50 potted plants.

You can save some money by buying 6500K "shop lights" instead of grow lights.
What's the difference between shop lights and grow lights?
Nothing.
Not really anyway as long as they have the right colour temperature(6,500 or 3000 depending on your need). The real difference between the two is price. Shop lights are cheaper.
But there's a caveat. Shop lights don't come with a reflector and your lights should have a reflector. So this option is best if you already own reflectors from past setups.
On the left is a T5 fluorescent grow light with reflector.
On the right a T5 LED shop light.
omg is this ever going to end, right? i swear to you this is the simple guide.
What I Own & Use
The exact things. Same make, colour etc.
The perfect grow setup. Shelving units are the most efficient choice for a grow room.
Pulleys make it easy (and strangely satisfying) to pull your lights up and down.
Save money by getting shop lights instead of grow lights.
Only if you already have reflectors or plan to make some though.
But what about lumens and watts and all the other bothersome stuff? Don't worry about it. T5 LED or fluorescent, at 6,500K. That's all you need to know.
Seriously. This was the SIMPLE guide. I didn't even get into PARs or ballasts or prongs.
Have a question? Go ahead and ask. But you probably just need to buy some 6,500K, T5 LED bulbs.