Why yes, I DO think you should grow strawberries this year. How to choose them, how to grow them and what to do with them.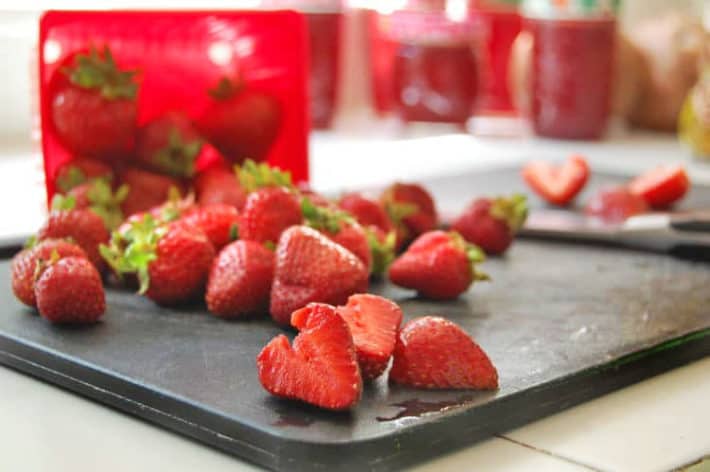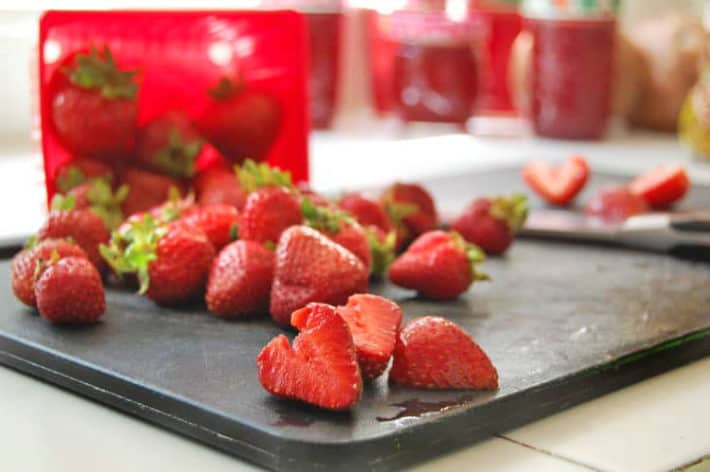 Skip right to the planting instructions.
Not interested in growing strawberries? Picture this: A warm scone broken in half, slathered with a layer of creamy butter and thick, sweet strawberry jam. Good. So now you wanna grow strawberries ... here's how to do it.
A bit of history ... I have a 40' x 40' community garden with two full beds dedicated to growing my own strawberries. I started to grow a few of my own strawberry plants, because really you don't need a lot of berries to make quite a bit of jam. Jam's mostly sugar with a few berries thrown in for colour as far as I can tell. Which I'm fine with by the way. I don't want pectin free jam, I don't want freezer jam, I want 100% full of sugar, bad for you jam.
My original strawberry plants I got from a fellow community gardener who was giving away runners. Strawberries put out little runners and those turn into plants so if you grow strawberries you'll always have plenty of plants to give away.
So these berries were great for jam but they were pretty tart which made them not as great for sitting in the dirt and eating them straight off the plant. So began the search for the perfect strawberry.
A trip to my local farmer's market introduced me to the "day neutral" variety of strawberry called Albion. It was a big berry and incredibly sweet.
Yay! I had done it! I found my next strawberry variety! Then I spent the rest of the summer researching strawberries just in case there was something better out there.
Strawberries, like David Sedaris, are a funny little fruit. You could read for hours and hours about them and still not entirely understand all there is to know about all of the varieties. Not only are there a billion different varieties, they can be put into 1 of 3 categories.
---
Types of Strawberries
And Which ones are the Best for YOU.
JUNE BEARING - June bearing strawberries are the most common strawberries. They have one big flush of berries in June that lasts for a few weeks. The name is a bit of a misnomer because depending on where you live June bearing strawberries can actually bear fruit in May or July. In warmer zones they'll fruit in May, and in colder zones, not until July. Best for anyone who wants a lot of berries all at once for making jams etc.
Popular June Bearing Strawberry Varieties - Annapolis, AC Wendy, Galletta.
EVERBEARING - Everbearing strawberries give fruit 2 or 3 times a season, not just once like the June bearing strawberries. However, they don't give you as many berries in one big flush either. You can expect smaller amounts of berries flushes; one in early summer and one in early fall. You may also get a few extra berries scattered throughout the summer. This type also needs long day lengths to produce flowers and then fruit. Best for anyone who wants two reasonable sized harvests a year instead of one large one.
Popular Everbearing Strawberry Varieties - Fort Laramie, Quinault, Ozark Beauty
DAY NEUTRAL - Day neutral strawberries don't care about day length at all. As long as the temperature is between 1°C - 30°C then that little plant will continue to make flowers and berries. That translates to 35°F - 85°F for my American readers. You'll get strawberries any time conditions remain in that temperature range. I've picked a strawberry as late as November in my zone 6 home in Ontario. This type of strawberry however, doesn't like temperatures above 30°C, so if you live in a climate with temperatures consistently over this these wouldn't be a good choice for you. Best for anyone looking to have a constant supply of strawberries all season long. First flush is large enough for jam making.
Popular Day Neutral Strawberry Varieties - Albion, Seascape, Mara des Bois, Charlotte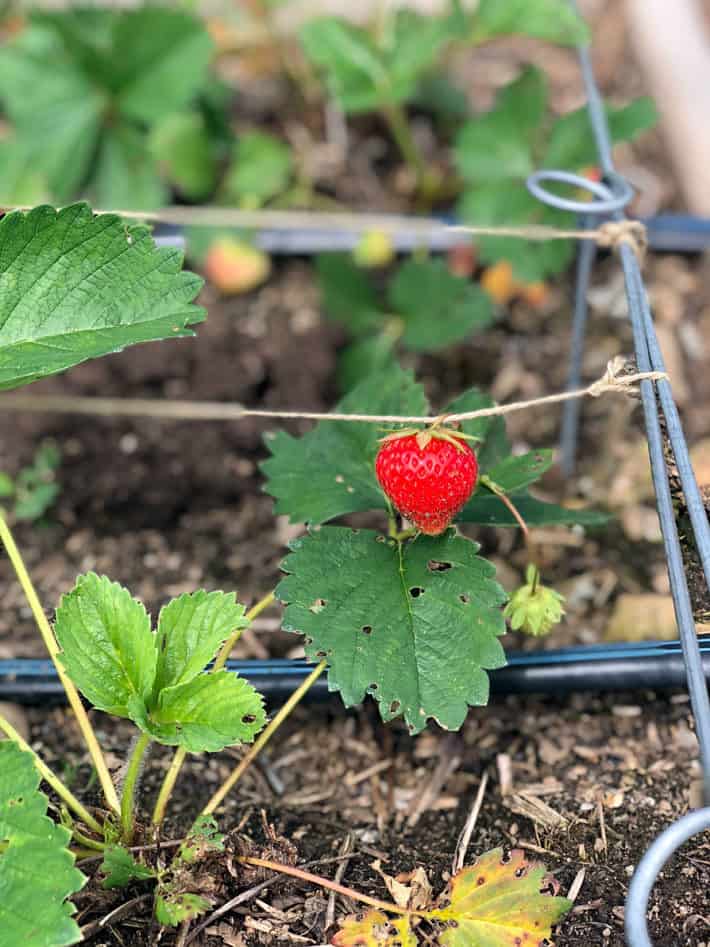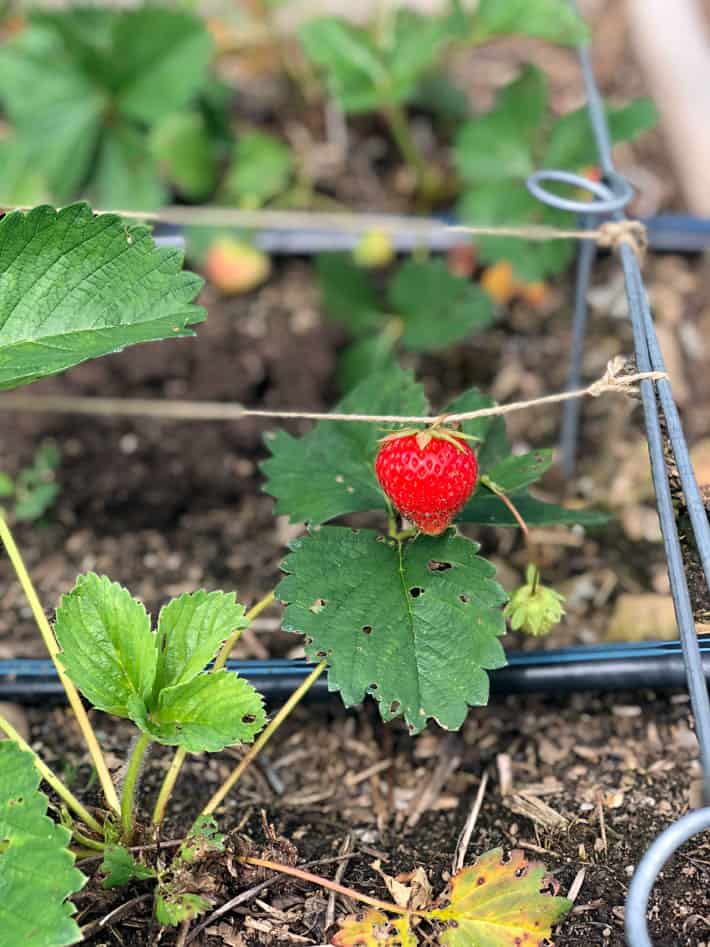 After spending WAY too much time researching everything I could about strawberries I went with the Day Neutral variety, Charlotte. A variety that is available from Lareault in North America.
It's a strawberry that was developed in France and is a cross between the wild type of strawberry, the Mara des Bois and a Californian Cal 19 strawberry. What that ends up creating is among the sweetest, most fragrant strawberries in the world. The Charlotte.
The Carrie and Miranda and pretty good too but I'd avoid the Samantha - a total tart.
Update: The GREAT things about Day Neutral berries is their ability to give you fruit the first season. With the more popular June Bearing strawberries in the first year you're supposed to pinch off all the flowers so the plant will spend all of its energy on growing bigger and stronger as opposed to making fruit. You don't have to do that with Day Neutral berries. You can pinch off the very first flush of flowers, then get strawberries for the rest of the first year. No year long waiting period!
How to Plant Strawberries
---
AS SOON AS YOU CAN PUT A SHOVEL INTO THE SOIL YOU CAN PLANT YOUR STRAWBERRY CROWNS.
---
1. Strawberries like to grow on a hill with good drainage. To accomplish this, dig yourself a bed that's around 8" high. In that bed dig out as many holes as you need for your strawberry plants. They should be at least 12" apart.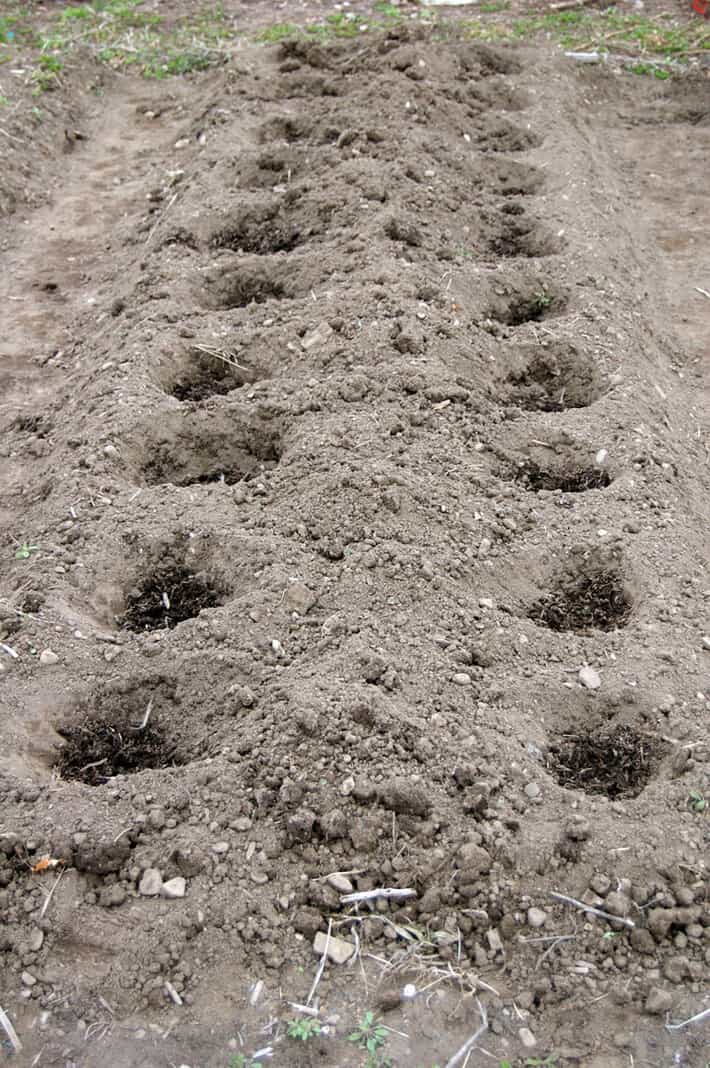 2. Fill each hole with a few handfuls of good compost.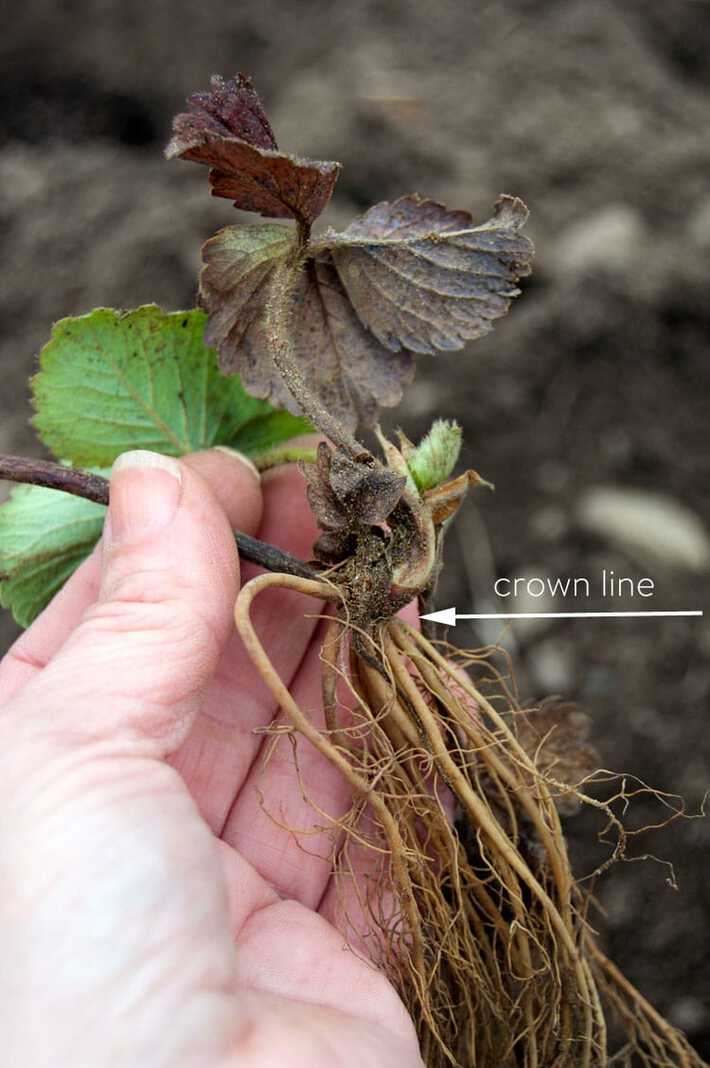 3. Take a look at your scraggly little strawberry plant. People call this whole thing a crown, but really the crown is the top portion that grows above the roots. THAT is how deep you plant it. No deeper than the actual crown. You want the soil to land at the crown line where the roots meet the actual plant so all of the plant and leaves are above ground.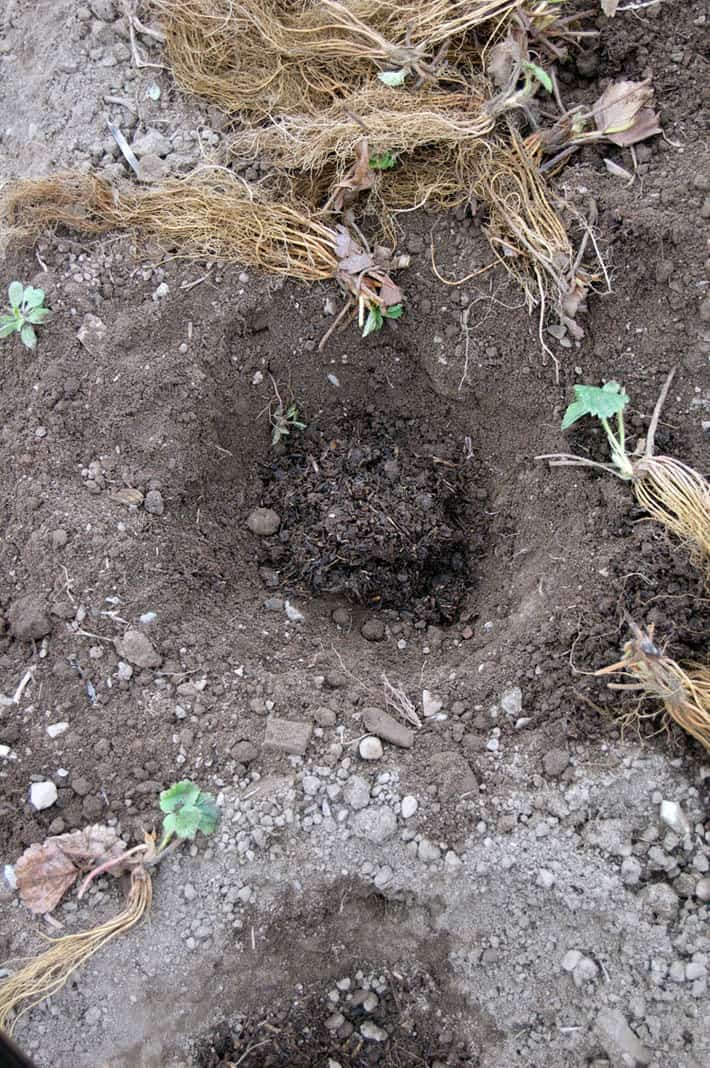 4. Shape the soil in your planting holes into a dome shaped mound.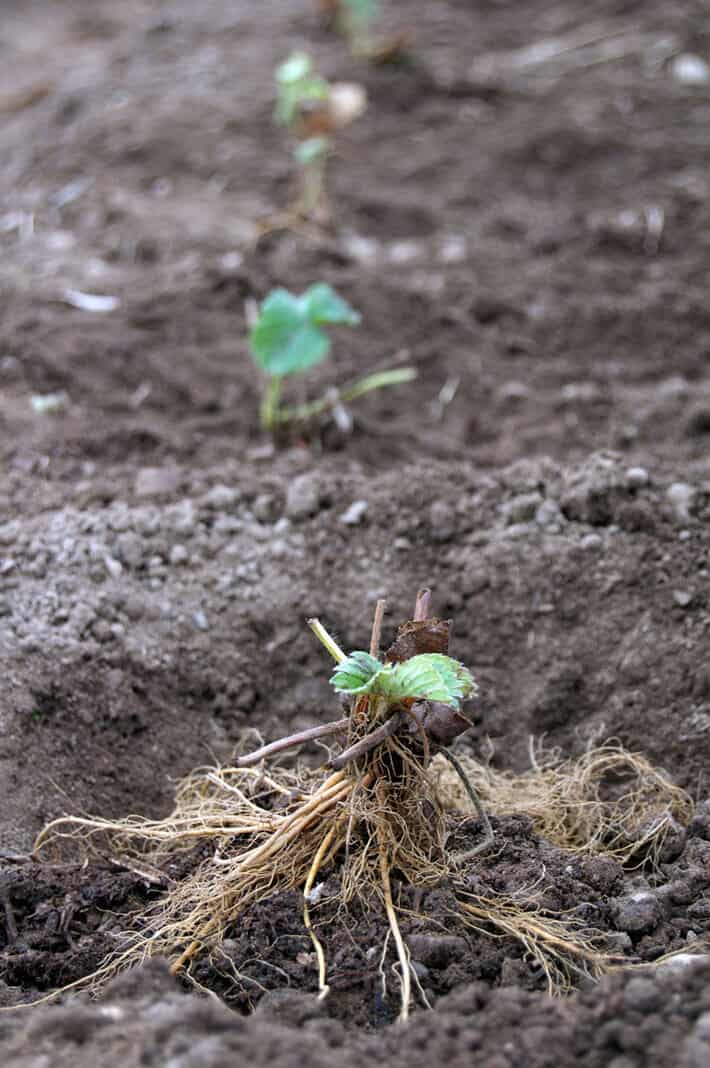 5. Place your plant over the mound so the roots are spread out and facing down. Make sure there's contact between the underside of the crown and soil. No air gaps. Basically it's like a bra on a boob.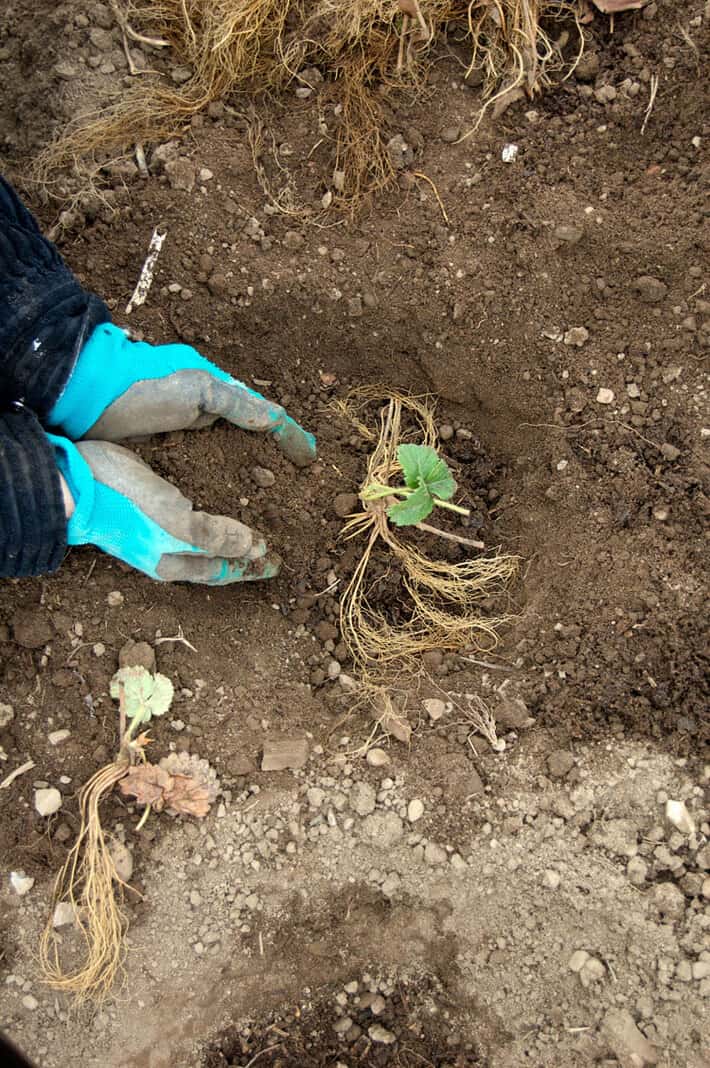 6. Fill in the hole with soil and press down slightly with your hands.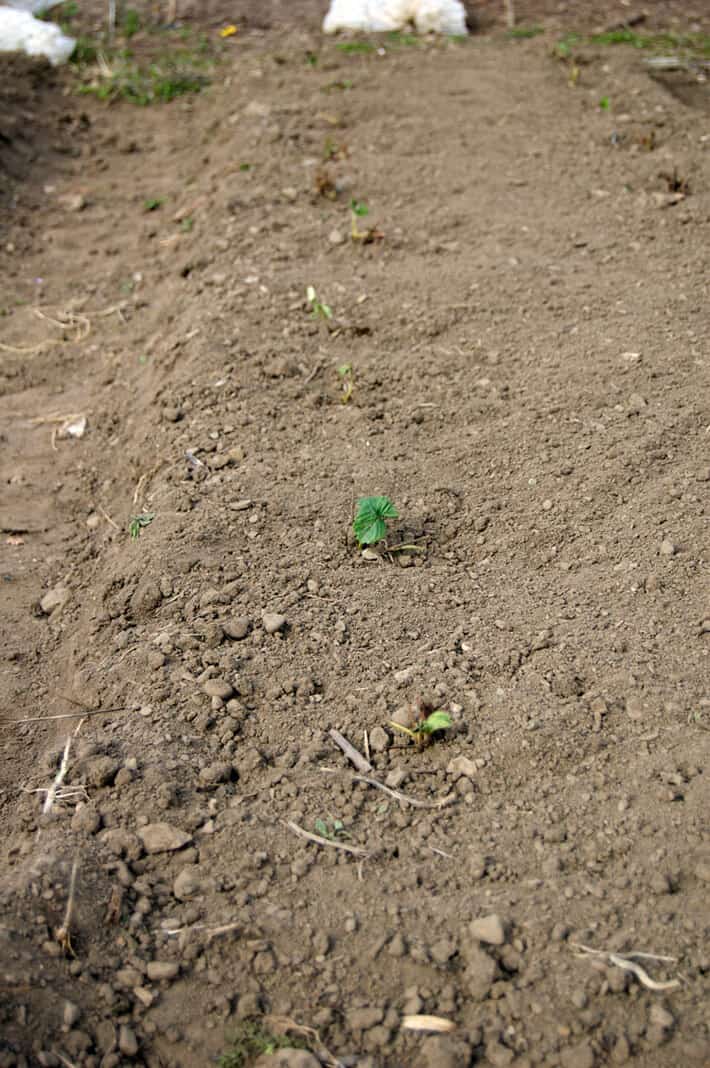 7. At this point you should water in the plants. My community garden doesn't even have the water turned on yet, so I'm going to have to count on some rain soon instead.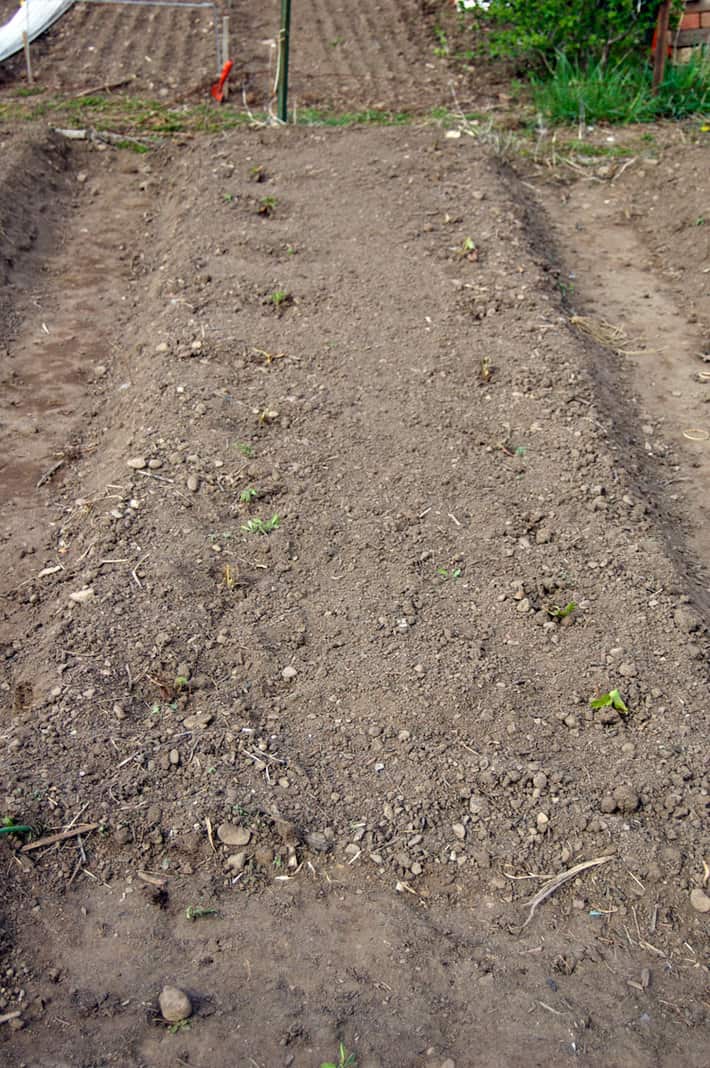 It looks sparse now but in a couple of months it'll be bursting with strawberries. Or chipmunks. Or birds. One of the those things anyway.
I planted two beds like this for a total of 44 strawberry plants and a few months later they were covered in flowers ready to fruit.
And one year later I dug them all up and moved them into my new garden plot where I planted them under tents of hardware cloth to protect them from pests.
I moved them all when they were in full flower which is NOT the ideal time, but as long as you disturb them as little as possible it can be done. Every single plant lived to tell the tale.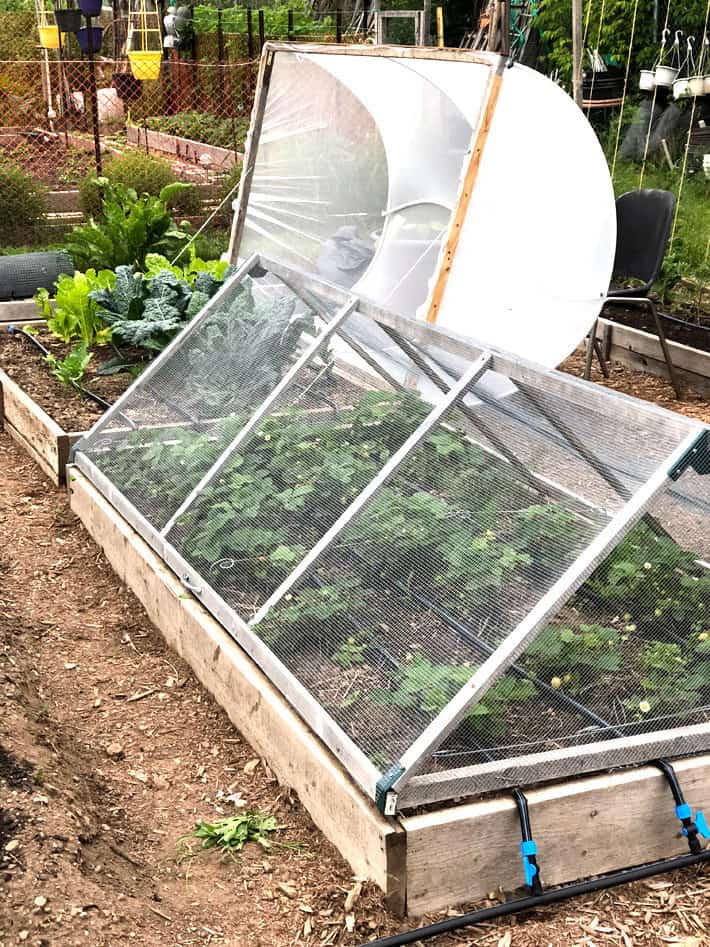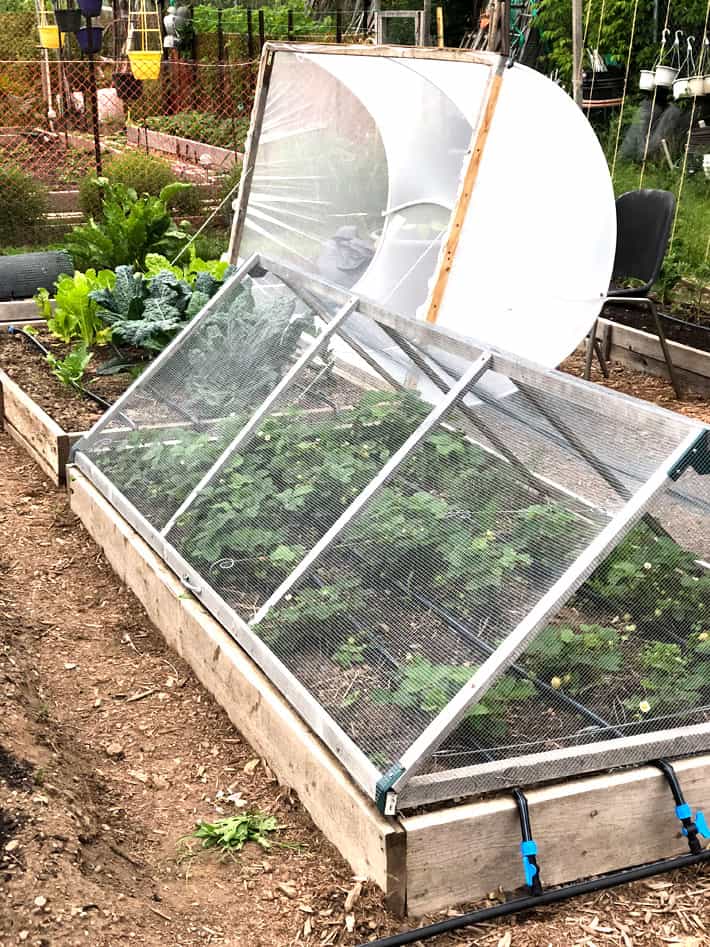 The hardware cloth tent covering the berry patches keeps everything other than slugs out. For catching/drowning slugs I use beer or my homemade slug chug.
You don't have to have this much room to grow strawberries though. As long as you keep them watered and in the sun, strawberries will thrive in hanging baskets, window boxes, pots and planters. Just remember that when you plant in smaller amounts of soil you do need to keep on top of fertilizing your plants. Add compost
GROWING TIPS
Lay plastic or rubber circles around the base of your strawberry plants. This helps keep the berries clean and prevents rotting.
As soon as your plants flower, fertilize them with composted manure or blood meal. Blood meal is also important for fertilizing onions. The added nitrogen for this nitrogen loving plant will really improve your harvest.
WEED!
Remove the energy sucking runners. Remember I told you that strawberry plants put out runners that turn into more plants? Remove them! You can either compost them, give them away for others to grow into plants or plant them in a new bed on their own.
That's it. You planted a strawberry patch and you've earned your Laura Ingalls Bonnet Badge.