Or Nana or Farmor or Babushka or Bubbie. Red Cabbage is a classic winter side dish for anyone with even a tiny bit of European heritage. Shredded and cooked with apples, sugar and vinegar – a sweet and tart European style red cabbage recipe.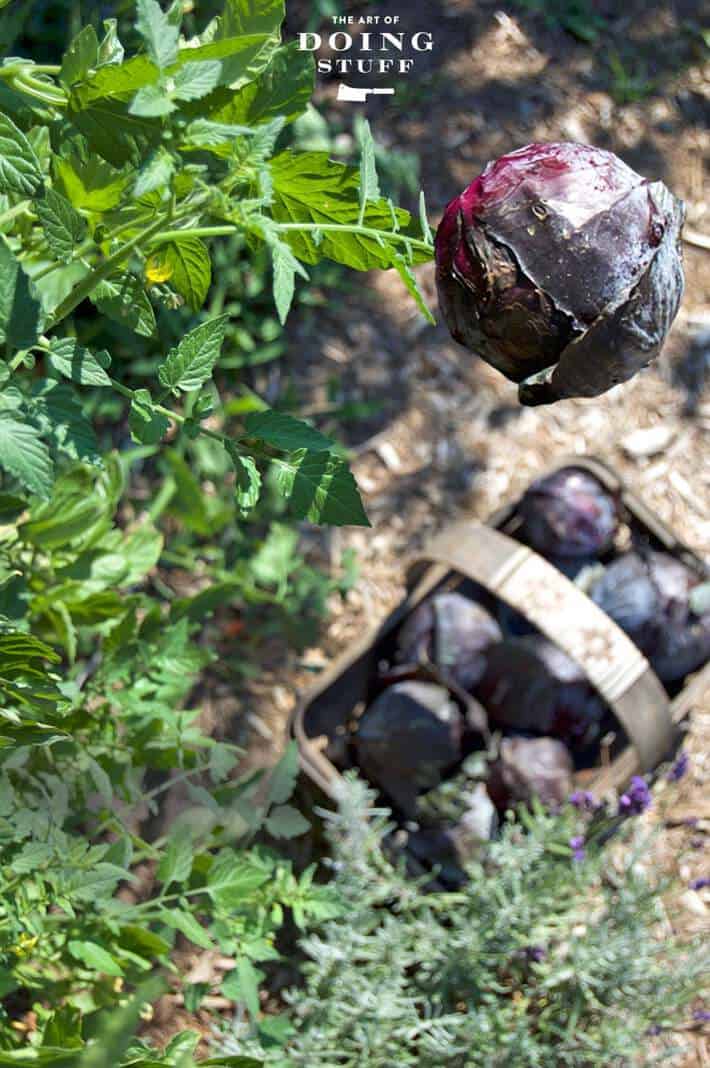 A quick note, before I get right into the exciting world of record breaking cabbages (you and I are super-cool folk who get excited by things like discovering we've already emptied the dishwasher when we thought we HADN'T … and cabbages.)
I've been working on something for the past few months that I'll be making public in the New Year. It has very little to do with cabbages but vegetables might be involved. Or maybe not. I can't tell you anything about it but I guarantee it will be fun. As in, I literally guarantee, every single month will be more fun for you.
If you want to be the first to find out about my new project click here.
DO YOU WANT TO BE THE FIRST TO HEAR ABOUT MY NEW PROJECT?
(of course you do) CLICK HERE.
Now. Onto the cabbages.
It takes a certain kind of someone to want to grow the world's largest anything. Potato, Leek, Carrot, Zucchini … It was in 2016 that the 90 year old record for the World's Largest Red Cabbage was broken by David Thomas who grew a 51.1 pound red cabbage.
It beat out the long standing record of a comparably pathetic 42 pound cabbage, also grown by a man. As it turns out, most of the people who want to grow absurdly large vegetables are men. I think we all know why.
Want to skip right to the recipe? Click here.
If you search the Internet you'll find a photo of David, a resident of Cornwall, England, proudly lounging languidly behind his cabbage, his face and left shoulder the only parts of his body that are visible.
I'm sure this saucy little image is considered quite sexy within the big vegetable crowd. Need more incentive to spend 4 months growing a big potato? It's common knowledge that the only profession searched more often than lawyer on Match.com is Competitive Vegetable Grower.
My own father used to search out the biggest of everything in the grocery store. Instead of coming home with a bag of beets he'd come home with one beet that was so big it needed to be buckled into the back seat like a sleepy, red-faced toddler.
Today's recipe for classic German Red Cabbage came from my very own homegrown red cabbage. My own very small, non award winning, Guinness Book of World Record losing, red cabbage.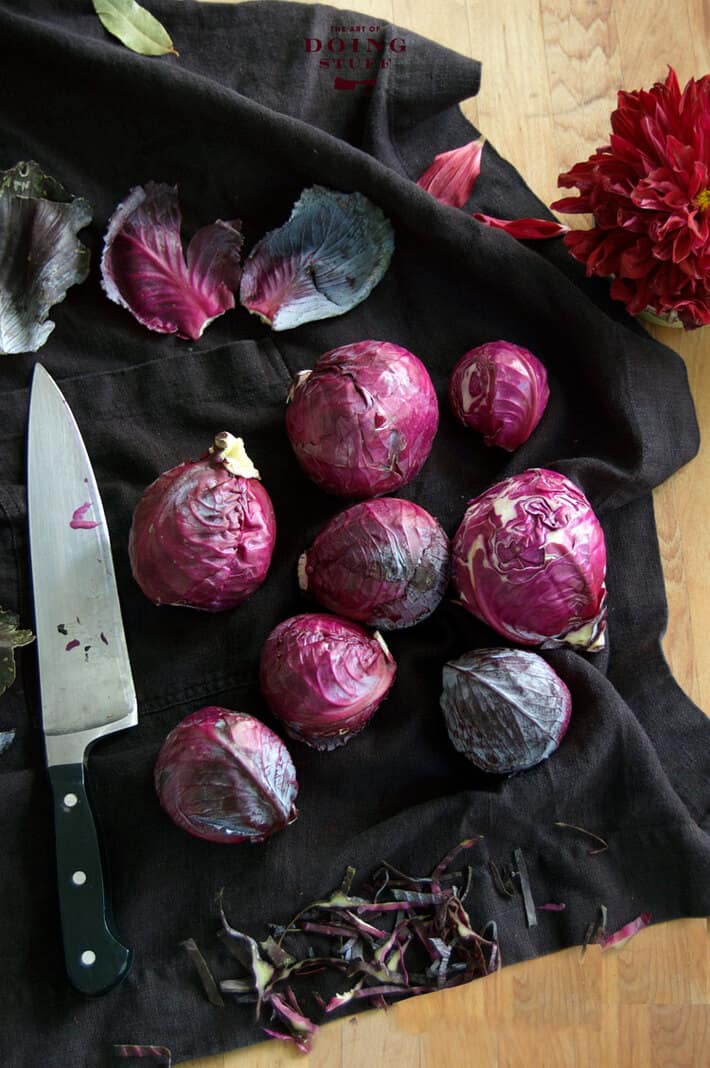 Anyone with a bit of European background has probably had a scoop of red cabbage brighten up their dinner plate during the holidays, but a few years ago I started bringing this holiday favourite out of the "only for special occasions" repertoire.
Why?
Because I like it. And because it's stupid fast and easy to make. And?
Cabbage freezes perfectly.
Cabbage, cooked or uncooked, freezes very well.
In fact, when I make cabbage rolls, instead of boiling the cabbages, I stick the whole cabbages in the freezer for several days. The freezing softens the cabbage leaves enough that they're as pliable as if you had boiled them.
And in the case of cooked cabbage, like this shredded side dish – it freezes perfectly too.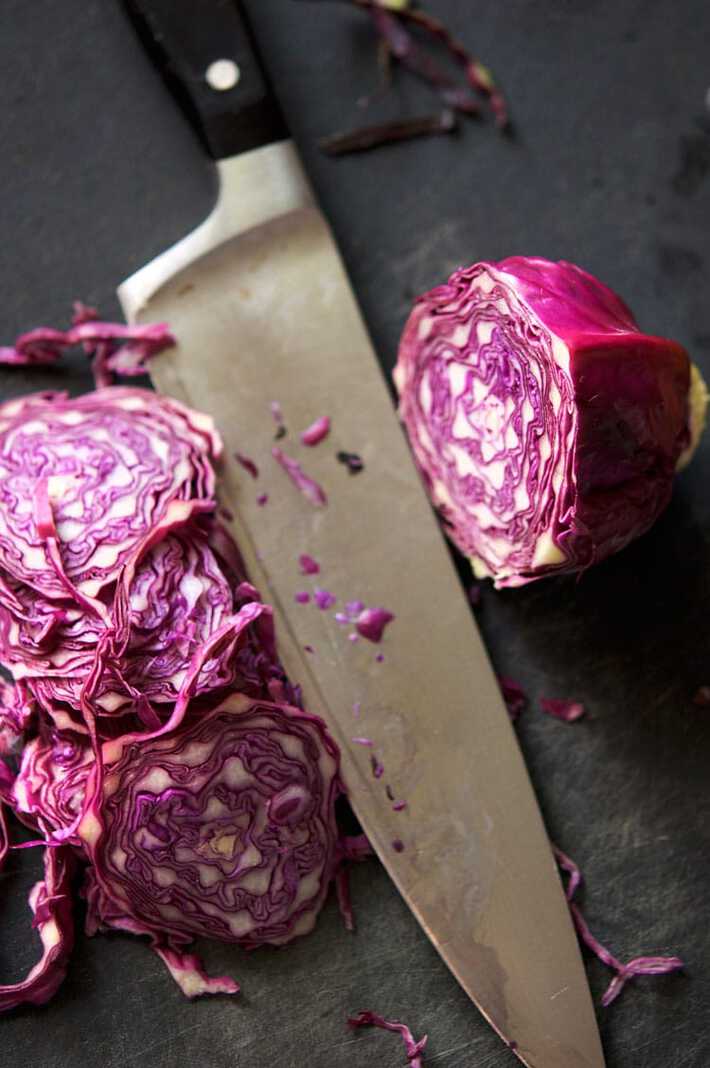 All it takes is one or two perfectly (normal sized) cabbages, some vinegar and sugar and about 1 hour. I use a knife to slice the cabbage thinly to shred it. Honestly? It's easier than dragging out and cleaning a food processor.
But if you want to use a food processor, just fit it with the shredder attachment and shred away.
You can add apples too. I like apples. If I have apples from my espalier trees that are damaged or or soft this is where I use them.
Shred the cabbage with a knife, slice the apples, chop an onion and you're almost done. Don't forget the bay leaf. The ingredients are simmered for about 40 minutes (until the cabbage is tender) and that's all there is to it.
I use red wine vinegar but you can honestly use any vinegar: apple cider vinegar, regular vinegar, rice vinegar …
I make a batch every fall, put it in individual sized containers and stack them in the freezer (because my freezer is perfectly organized and yours can be too.) Don't envy my organized-freezer-of-a-life because I have a basement I'm afraid to enter for all manner of reasons.
So what do you eat with red cabbage?
Red cabbage goes well with pretty much everything but I especially like it with roast chicken, turkey or anything pork. Not a giant pork. Just you know, regular sized pork. I don't eat a lot of game, but if you do it would be perfect with venison or duck as well.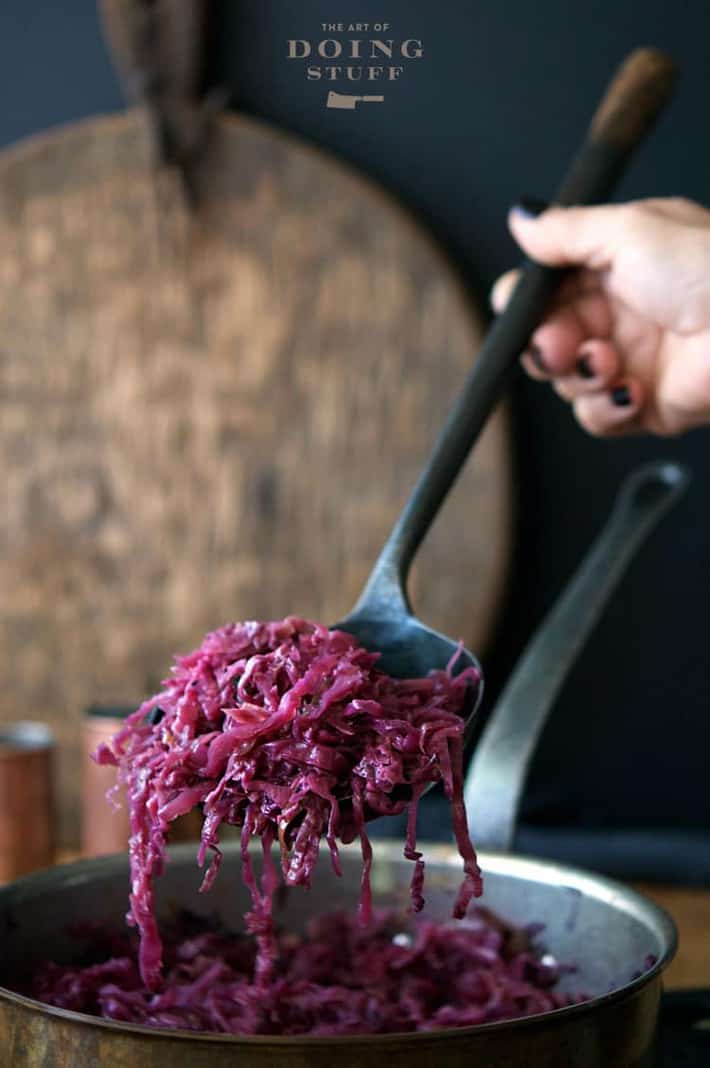 HERE'S A FUN FACT. You can reserve some of the red cabbage and turn it into a super-quick coleslaw by shoving some into a jar with a solution of equal parts vinegar and sugar. Let it steep for at least an hour.
German Red Cabbage Recipe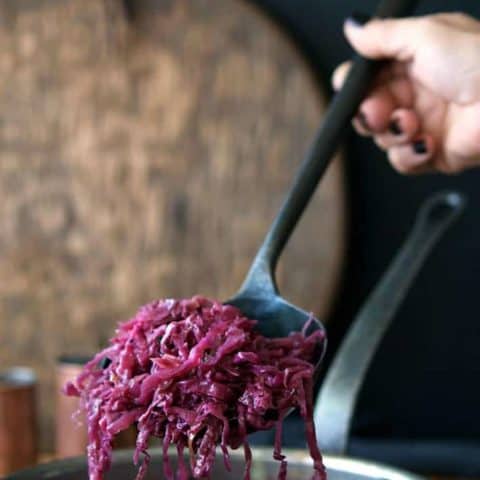 Ingredients
3

Tablespoons

butter

2

apples

1

medium onion

diced

1

regular sized red cabbage

shredded (enough to make 8 cups)

1

cup

water

1/2

cup

red wine vinegar

1/3

cup

+ 2 Tablespoons white sugar

less if you want it less sweet

1

teaspoon

salt

1/8

teaspoon

pepper

1

bay leaf
Instructions
Prep your ingredients so they're ready to go.

In a large saucepan over medium, melt the butter.

Add in the sliced apples and onion, cooking until soft.

Add remaining ingredients and heat to boiling.

Cover and simmer 40 minutes.

Discard bay leaf and transfer to serving bowl or individual containers for freezing.
Notes
*I often taste the cabbage near the end and decide whether I want to add a couple of more tablespoons of sugar.
I don't think I'll be growing a giant, fair worthy vegetable anytime soon, but I do think that if I were to ever join Match.com, before I lied about my height, weight, age or education, I'd lie about being a wildly successful competitive vegetable grower.