Me: I can't redo my living room again, I just did it. Me: That was over 10 years ago. Me: Yeah, like I said ... I just did it.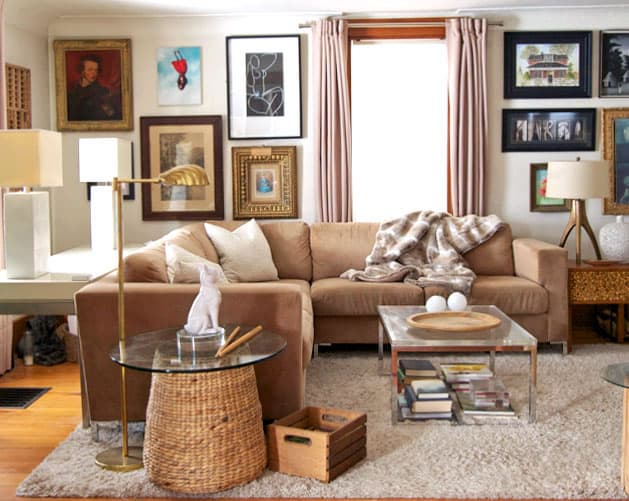 My living room as it looked a few years ago.
I'd like you to step back in time with me. The year is 1996. Dictator Robert Mugabe was re-elected as President of Zimbabwe, Osama Bin Laden was kicked out of Sudan and expelled to Afghanistan, an historic snowstorm paralyzed the American mid-west - and I tried to buy a sofa.
Actually maybe it was 1998, I can't quite remember.
Either way, a sofa isn't something I'd ever bought before. I'd never bought anything before. Actually I had bought one thing. A house. I had just bought my house after moving out of my parent's home and I owned nothing other than a small juice glass with the Coca Cola logo on it. I didn't even pick the glass out. It was given to me.
For me, the better part of a year was spent sitting on my living room floor wondering about sofas. Wondering what sort of style I would like. Wondering what fabric I would like. Wondering if my VCR had taped E.R.
My living room circa 1998 or so. Seriously. No joke.
I ended up buying a red velvet camelback sofa with a single down cushion from Up Country in downtown Toronto. Everything else in my living room I found in the garbage or at the side of the road. Very rarely I may have bought something at a flea market. Most of the other things changed but that sofa stayed until I bought my current sectional.
Over 20 years later I'm *just* starting to understand what my own design aesthetic is. It's a mix of everything. I don't like to say "eclectic" because that just makes it sound like you don't know what you're doing or can't commit. Both of which are true. But still.
I like bits of mid century modern mixed in with antique gilded frames and rough, worn wood.
I like rooms to be mismatched but not so crazy it looks like a unit on Storage Wars.
A couple of months ago I finally bought my dream chair which is a copy of a copy of an Eames chair. Yup.
This is me pretending to read Of Time and the River.
For that dream chair to work in my living room I was going to need to buy a new sofa. Which was fine with me. The old sectional hurts my back because it doesn't give enough support and I'm just kind of sick of it. It also limits other things in my room because of the size of it.
I found myself in the exact same position I was in when I bought my house. omg. WHAT kind of sofa do I want. It's a big commitment, a sofa. It's usually one of the most expensive pieces you buy for your house next to a built-in secret safe for your grades 5- 12 diaries. You don't have one of those? Good luck to you when you kick the bucket and your family reads those writings. You're going to be so embarrassed.
To see what my room might look like with a single sofa as opposed to this space sucking sectional I removed one part of it and slid the other part around the room in various spots.
I then took everything else out of the room. One by one I brought the things I loved back into the room. Now I knew what I was working with. The biggest thing I discovered by doing this was that my coffee table options had opened RIGHT up by getting rid of a sectional. I threw a long bench in front of the sofa to judge the length of it and realized quickly that by having a bench instead of a traditional coffee table I could free up a lot of floor space making the room less cramped.
I knew now that one sofa and my fake Eames chair would fit in the room. But you can't have one sofa and one chair in a living room so I had to decide on another chair style. Shoot me in the head right now. I can't do it.
Then I remembered my neighbour Jane's beautiful wingback chair so I tromped over to her house and asked if I could carry it back to my house and put it in my living room. I'm pretty sure she was just too shocked to say no. She helped me carry it.
I love Jane's chair with a vengeance. But it isn't comfortable. And it just didn't work anywhere in the room as long as I had that fake Eames chair. It's an annoyingly bossy chair, the fake Eames chair.
Jane took her chair home and I continued to stare into my room and flip through Internet pages looking for a small chair. Nothing. There were chairs I liked but finding a way to fit it into the room was giving me stress. The kind of stress where your eyeball starts to vibrate.
If I put the chair next to the fireplace there wasn't anywhere for me to put my wood in the winter. If I put it in another corner, the fake Eames chair ottoman wouldn't fit. If I put it in another corner it was stuck in behind the sofa I hadn't bought yet and it would look weird. Bad weird. Not Architectural Digest weird.
That is when I had a design revelation. I recognized it as such because the singing angels that landed on me were wearing Tom Ford suits.
I didn't HAVE to have a second chair. The only time my living room is full enough to need a sofa and 2 chairs is on Christmas Eve and Thanksgiving. And at those times everyone just wants to sit on the floor in front of the fireplace anyway. So I'd be better off keeping space in front of the fireplace open and shoving a few cool ottomans in the corner along with my firewood.
Done.
Just like that I had a vision for my living room.
My big takeaway here is if you think you need to redo a room, or something about it just isn't right, do what I did. Take everything out of it and just put back the things you absolutely love. The things you know you HAVE to have in there. Then go from there.
And by "go", I obviously mean straight to your neighbour's house to borrow their furniture.

→Follow me on Instagram where I often make a fool of myself←