Did you know that in 2 days it'll be September 1st? Did you know that? It's a pretty well known fact and sometimes even happens every year. Unlike birthdays which definitely only happen once every other year. Once you hit 30.
When September hits I start thinking about the 3 Rs. Reading, Relaxing and Roasting. I mainly just think about reading and relaxing. Roasting though? That one I actually do. There's something about autumn and roasted food that goes together. The way it oven warms up the kitchen and carries the delicious aroma of browning, roasting food throughout the house. Autumn and winter are for foods that take care and time. Stews and roasts and slow cooked casseroles with crunchy tops oozing with rich flavours underneath.
I don't think you should but you can skip right to the recipe if you want.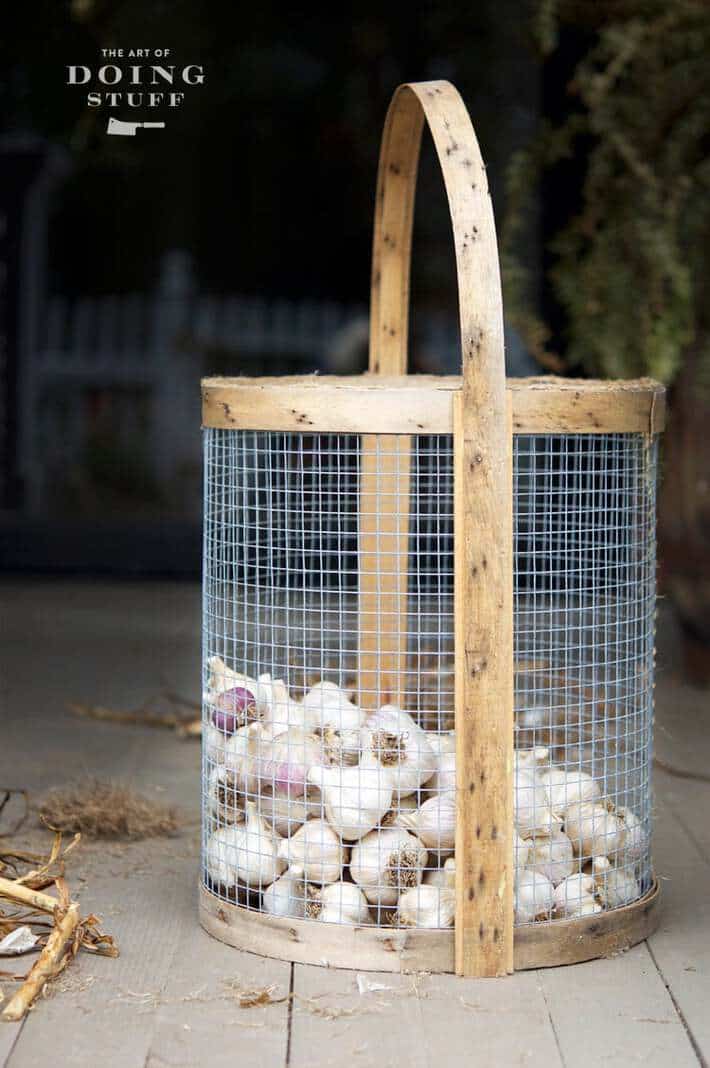 Starting in September, or whenever the nights get longer and the thermometer lower, I roast. I roast roasts, I roast chickens, I roast carrots, cabbage, sweet potatoes and squash. Roasting anything makes it delicious. Except brussels sprout. Deep frying is the only way you can go with those little devil heads.
So what happens during roasting exactly that's so magical?
Roasting breaks down the sugars that are in all vegetables no matter how "unsweet" they seem. Garlic for example probably isn't something you'd describe as sweet. Or onions. But once you roast them they develop a sweet taste.
HOW IS THIS VOODOO POSSIBLE???
The heat from roasting (or pan frying) breaks down the large sugar cells in the vegetables into smaller ones. The breaking down of these cells distributes the sugars into smaller cells which in turn makes the vegetable softer, sweeter and allows it to caramelize.
Who cares, right? I know. I just wanted interject a bit of smart into one of my posts.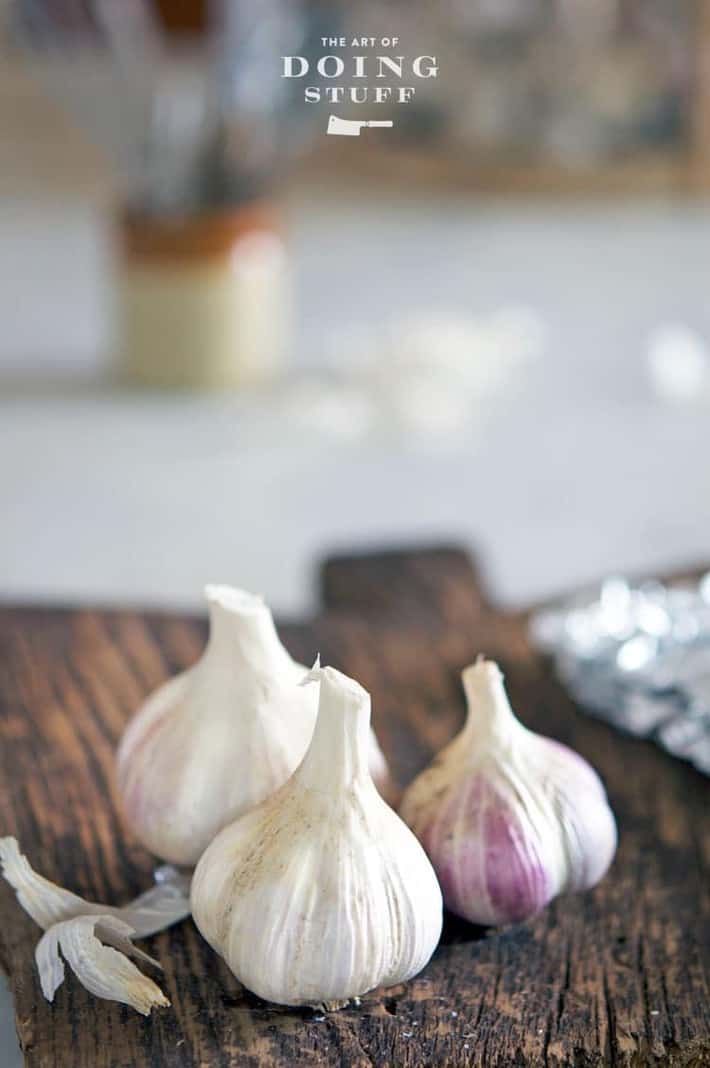 One of the most dramatic flavour changes from roasting is with garlic. Garlic goes from sharp, strong and vampirey to smooth, mellow and toasty sweet when you roast it.
So the other day when I prepped all of the garlic I pulled this summer to get it ready to store for the winter I took a few bulbs, popped them in the oven and gorged myself on its roasty, toasty, goodness.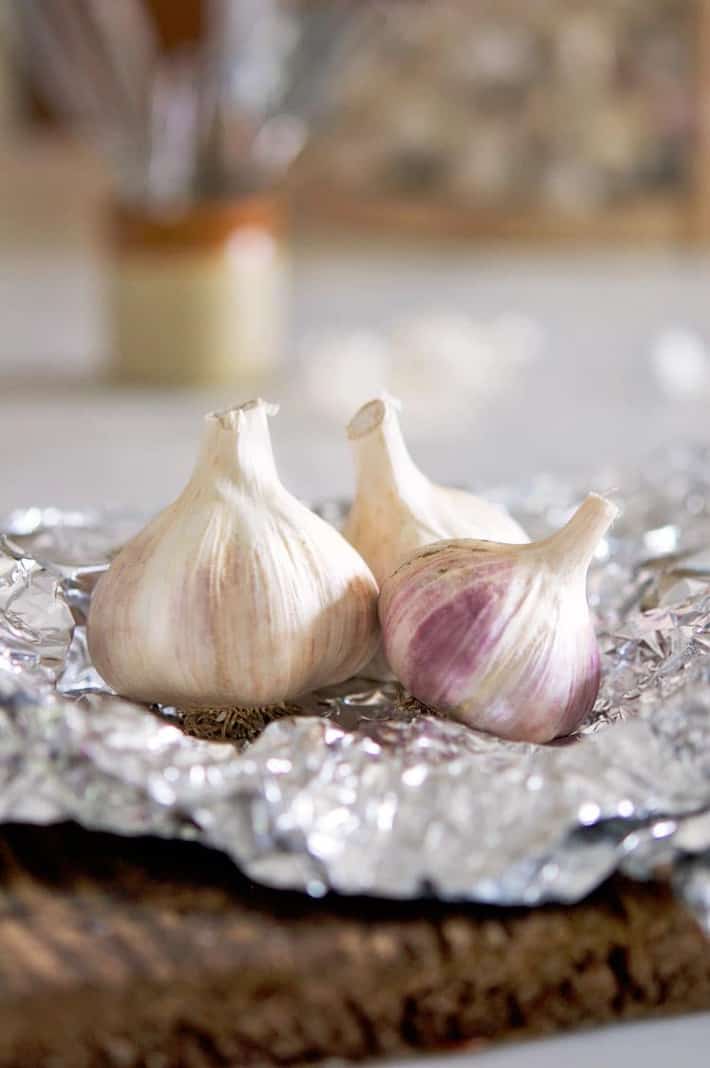 To roast garlic all you have to do is wrap it in a double layer of tin foil, throw it into a 400 degree oven (200 celsius), and wait. 45 minutes - 1 hour later you'll have roasted garlic.
You can cut the top off of the garlic, drizzle it with olive oil and salt prior to baking but that step isn't totally necessary. It is helpful though because when you open your tin foil packet to check on the garlic you can see immediately if the garlic is starting to turn golden brown (which you want). Golden = caramelized = sweet.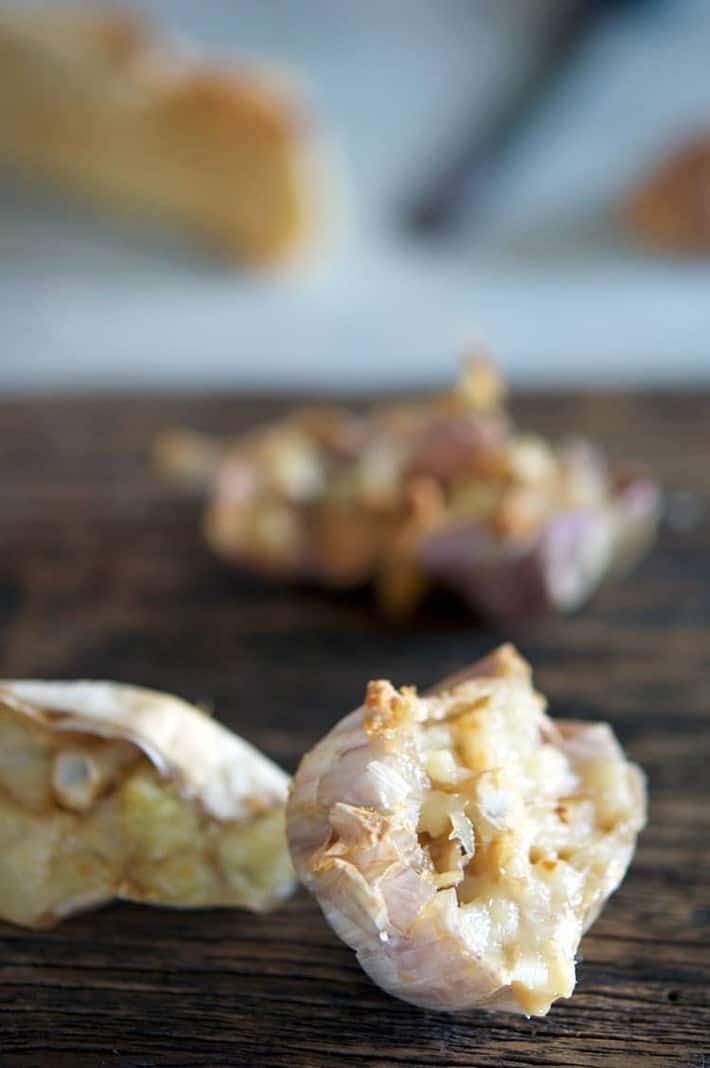 Once the garlic is soft and starting to turn golden, just pull it out of the oven, let it cool a bit so you can handle it, then squeeze each head into a bowl. The cloves with be soft, mushy and very VERY sticky. Seriously. Stick. Y.
You can use roasted garlic to repair broken china, hang pictures on walls and apply false eyelashes which will stay on for 1-2 months. It's true. Everybody says so.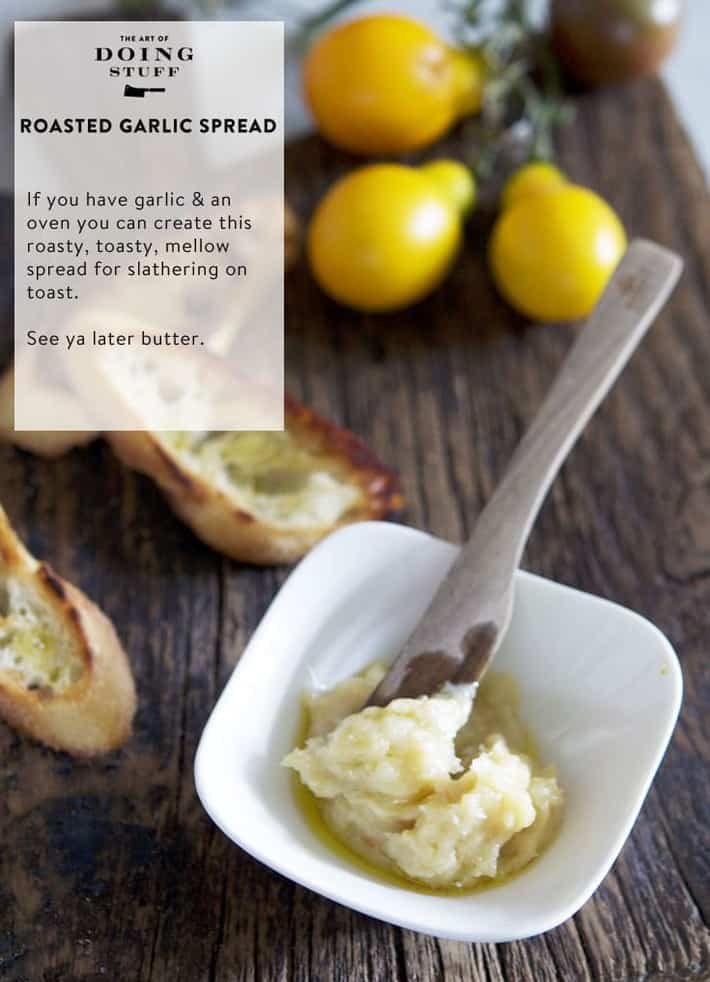 Once the garlic is squished into a bowl add about 1 tablespoon of olive oil and a large pinch of salt for every 2 heads of garlic. Mash it all up with a fork.
You now have roasted garlic spread.
Now what? Well, you can keep it in the fridge for up to a week or freeze it for use throughout the winter, but I'm not sure I'd suggest you do that because then you'll miss out on your house smelling like roasted garlic all winter long. It's better to do it the day you're craving it so you can get the full sensory experience.
Ingredients
4

heads of garlic

2

tablespoons

olive oil

2

large pinches salt
Instructions
Preheat oven to 400 f (200 celsius)

Cut the top off of the garlic to expose the top of the cloves.

Wrap garlic in a double layer of tin foil.

Put in preheated oven for 45 minutes - 1 hour (until heads are soft and cloves are golden)

Let garlic cool enough to handle then squish cloves out into bowl.

Add olive oil and salt then mash with a fork.

Store in fridge for 1 week or freeze indefinitely.
5 Uses for Roasted Garlic.
Mix with sour cream to make a dip.
Add to soups and stews to create a sweeter, more complex flavour than raw garlic.
Add to sautéed vegetables like green beans or spinach.
Add to mayonnaise for a roasted garlic aioli. (2 heads garlic per cup of mayo)
Spread on toasted baguettes. THIS is my favourite.
Even though you can spread roasted garlic on a baguette slice all on its own, because there's absolutely no shame in being super-boring, you might want to think of adding a few other things.
To get you rolling I have a few examples of ways you can amp up your toasted baguette/roasted garlic game.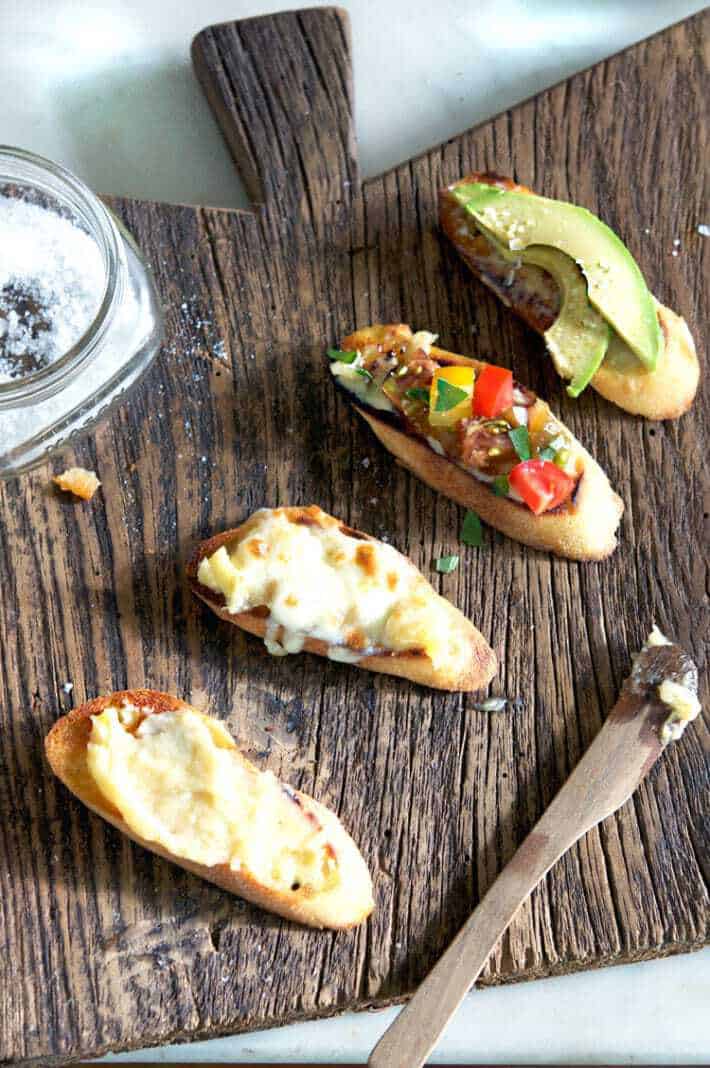 From the bottom up:
Toasted baguette with roasted garlic. Delicious. If you've never tried the other ones.
Toasted baguette with roasted garlic, topped with brie or mozzarella cheese and broiled.
Toasted baguette with roasted garlic, diced tomatoes, torn basil leaves, sea salt and a drizzle of olive oil across the top.
Toasted baguette with roasted garlic and avocado slices. Generously salt. A stunning creamy, rich creation.
That's just to get you started. I'm sure you can think of a million other ways to dress up a baguette. And according to my calendar you have exactly 2 days to do it.