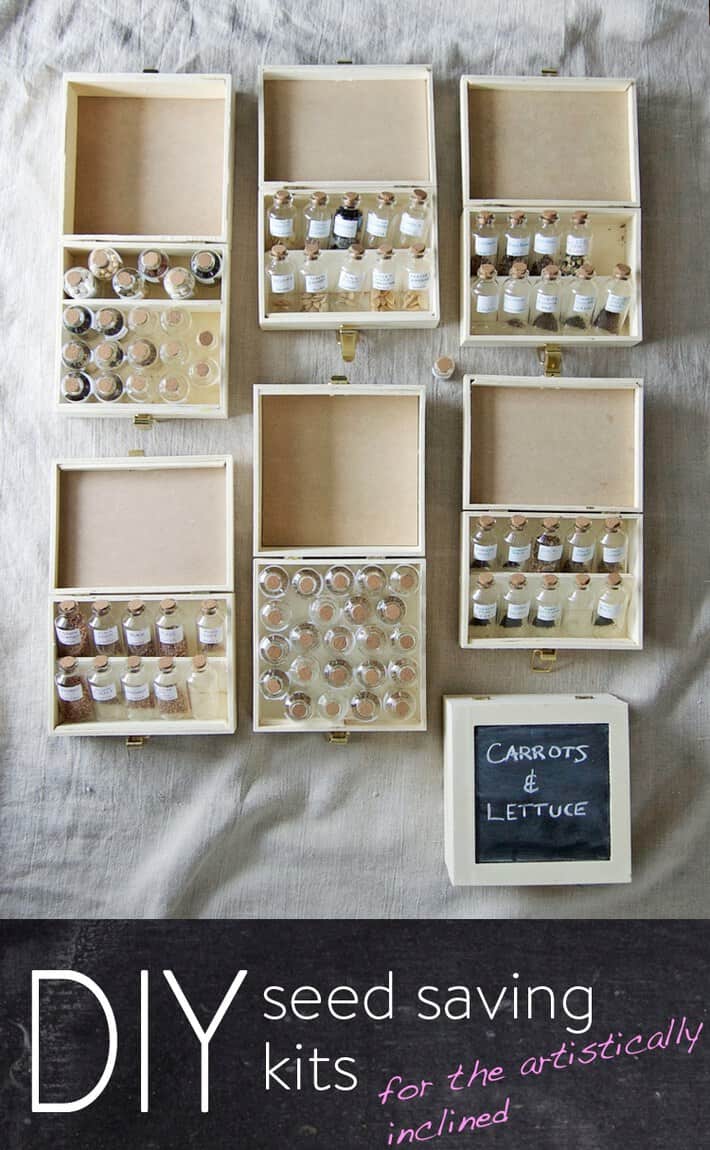 I think maybe the greatest misconception among my readers is that I have my shit together. I do not. My house is usually a mess, I own 17 pairs of safety glasses but can never find any of them, and I recently turned down a date with a guy because his couch was ugly. There was a picture of it on Facebook. He just wasn't right for me, it never would have worked. I just don't see myself with someone who owns a velour puffy couch.
Also, I often knowingly wear a shirt with a coffee stain on it, only to exclaim Oh! Look at that! I must have *just* done that! when someone pointed it out to me later in the day. I even pretend to try and blot it.
My shit is not together. My shit is all over the place. Oh! You too? Yeah. None of us have our shit together, no matter what Instagram leads you to believe, so don't worry about it.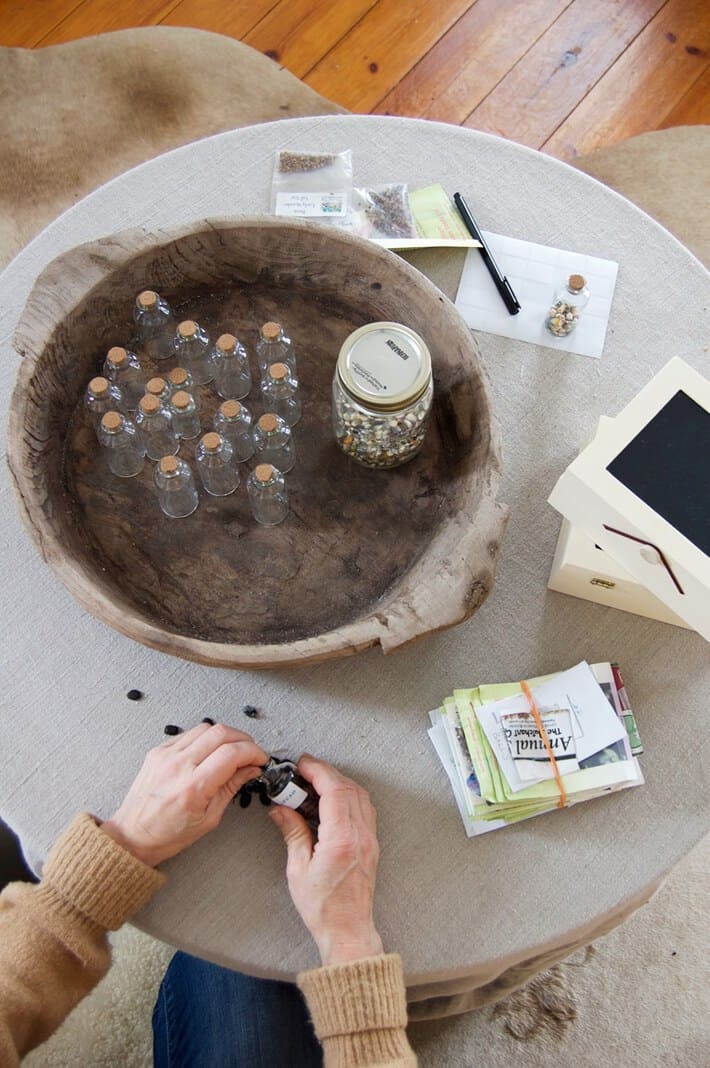 My vegetable seeds for instance. They were quite literally all over the place. Some packets were in boxes, some were in bags, and some were in my secret hiding spot which is also apparently a secret from me.
Then out of the blue, like a strike of lightening, or more appropriately a strike of Luffah, I had it all figured out. I needed to get my seeds out of their packets where I couldn't see them and into glass vials. Those vials would get put onto a small shelf I would built, organized according to vegetable type.
That was a stupid plan so I didn't do it.
It was stupid because glass vials are see through (which I wanted) but seeds will last longer if they're stored in the dark.
Plan B. Don't put the seeds on a shelf, put them in boxes, which will not only keep the seeds in the dark, but they portable for carrying back and forth to my 2 garden plots.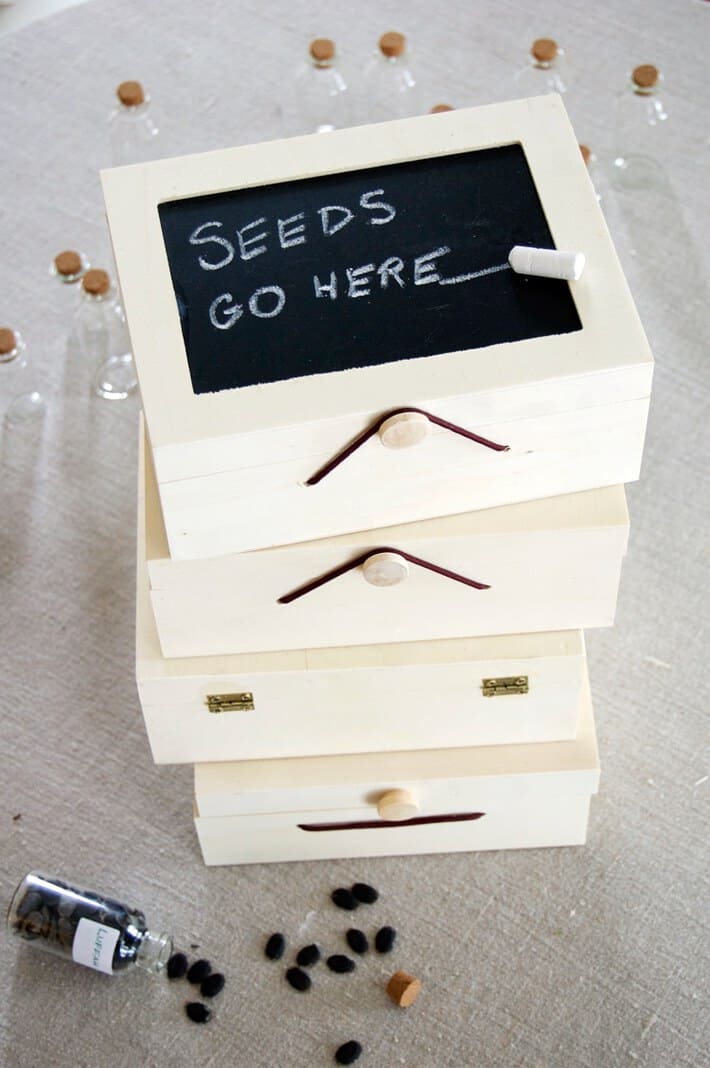 I found my little boxes at Dollarama in Canada, but most craft stores or dollar stores have these kind of boxes. THEY ALREADY CAME WITH THE CHALKBOARD ON TOP. I must have done something right in a previous life.
IF YOU ARE A SANE PERSON (who possibly owns a puffy velour couch) WITH LITTLE REGARD FOR AESTHETICS AND VERY FEW OBSESSIVE/COMPULSIVE TENDENCIES THIS IS ALL YOU NEED TO DO. PUT YOUR SEEDS IN VIALS, LABEL THEM, THEN PUT THOSE VIALS IN A BOX. EVEN A SHOE BOX WILL DO.
Look who's still here! Good for you. Some of my best friends are mental.
Me? I wanted these seed storage kits to make me smile every time I looked at them. Which I couldn't do unless I tinkered with them a bit.
The first thing I did was add labels to all the vials, and used a different colour of magic marker for every seed type. Red for tomato varieties, purple for radishes, green for greens and so on. That way if I had a bunch of vials on the table I could quickly grab all the red ones without even having to look at the words on the labels and throw them in their "tomato" box.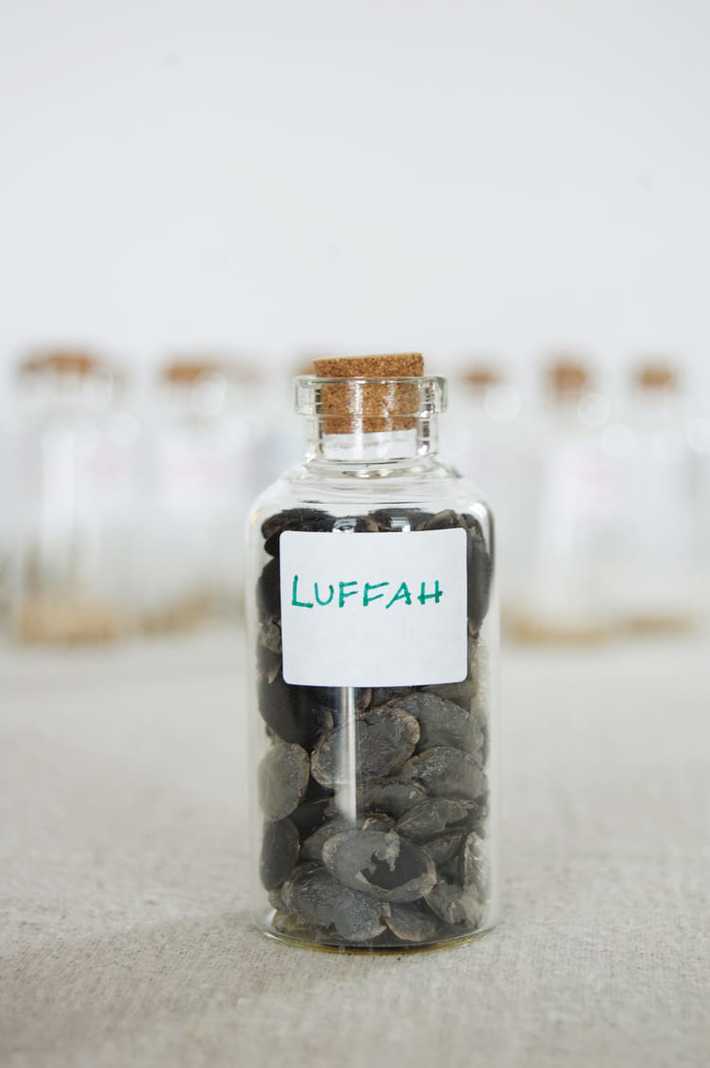 These vials also came from Dollarama where they sell for $1.25 for 3. You can buy almost the exact same ones on Amazon but they're $4 for 3. So unless you only need a few, try to find them at a local craft store.
I mean, come on. Look at those little seeds.
The boxes were fine. They weren't perfect but they were fine. I wasn't in love with the brown elastic band/wood knob closing system. They just, ... they looked a bit too much like faces.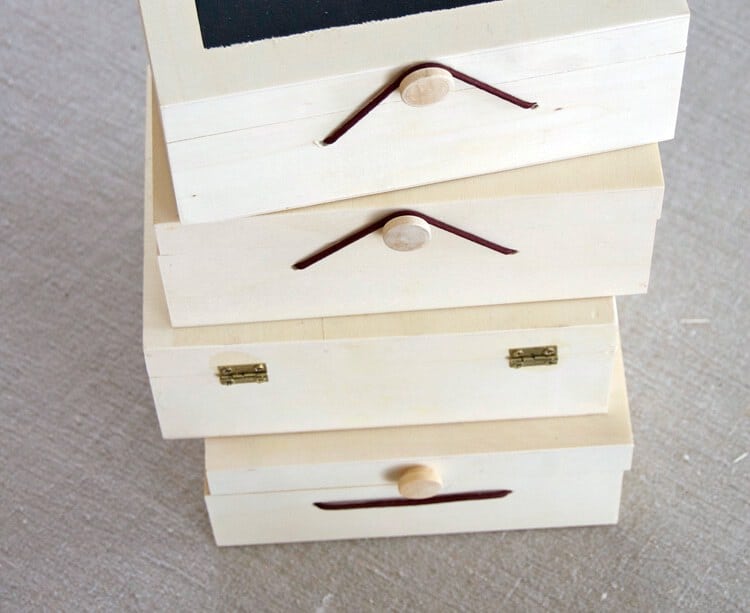 So I spent 14 hours on the Internet figuring out what the name of this type of flippy latch is so I could do an online search for those at my local hardware store.
If you ever want them, they're called draw latches. Or draw catches. Not flippy latches.
You can get a set of 4 in chrome for $6.99 on Amazon. Or a set of 2 in brass (like mine) for $11.
The other issue I had with using the boxes exactly as they were, was that my glass vials were a bit too tall for the lids to close. If I laid the bottles down the lid would close, but I could fit WAY more into the box if I stood the bottles up.
So I bought a few extra boxes, took them apart and made one box out of two of the deeper box bottoms. This gave me enough room to stand my bottles upright.
I didn't double the size of all the boxes, just a few for the seeds I knew I had a ton of and needed to be able to fit a lot of vials in the box. Like tomatoes. And salad greens.
All the other boxes just got new clasps, I filled in the holes where the elastic band originally was and in some of them I added a little sort of shelf so the bottles could lay back a bit.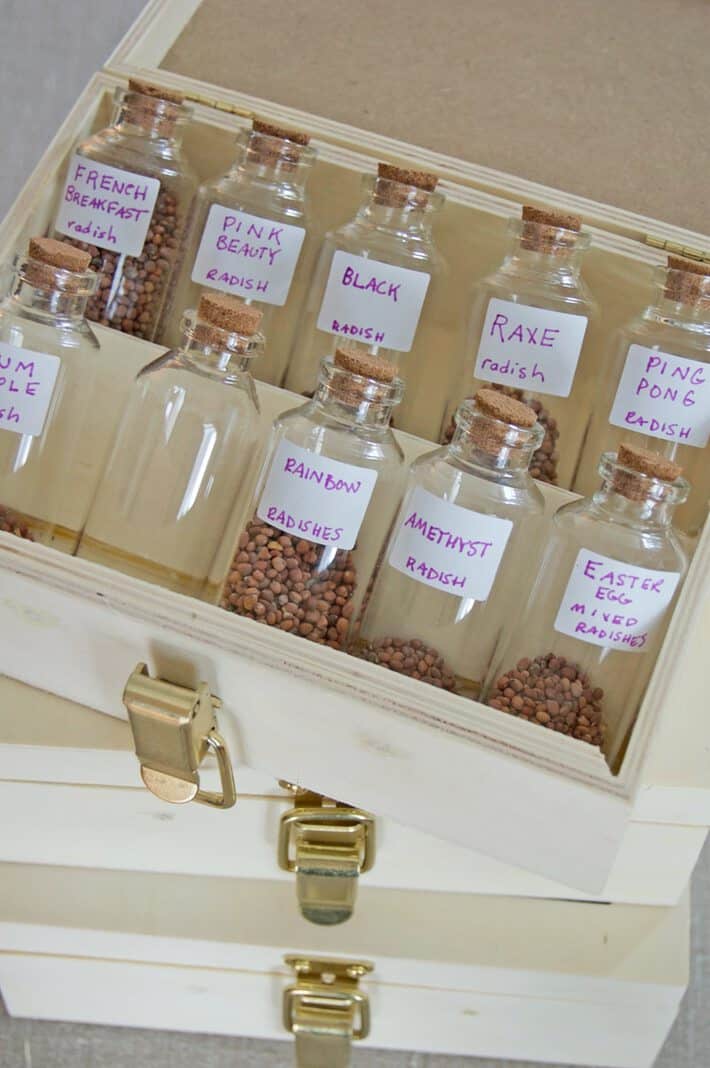 That's another place those extra boxes I bought came in handy. I took them apart and used parts of them for things like that little shelf.
I also glued some of them to the parts of the boxes the draw latch screwed into to allow more material for the screws to dig into.
No same person would do all this by the way. Nor would they turn down someone of considerable wealth and kindness because their couch was ugly. But there you have it.
Like I pointed out, I did something right in a previous life, because the boxes came with a piece of chalkboard on the lid.
Then I must have done something seriously wrong in a previous life because 2 days later I went back to this same Dollar Store and they had slightly larger boxes with ... you guessed it ... flippy latches.
But I can't dwell on that sort of thing.
Need to know what's in the box? NO problem. It's written on the lid. Changing what's inside the box? NO problem. Wipe off the lid and relabel it. (the bigger boxes with the latch that I came across a couple of days later didn't have the chalkboard on them)
Yeah, I know you're wondering about this. My sister gave me this silver chalk holder yearsssss ago. But you guessed it ... they sell them on Amazon for $5. I love this thing.
I also love my seed kids kits. Probably more than I should. Like, probably I should save this kind of love for humans.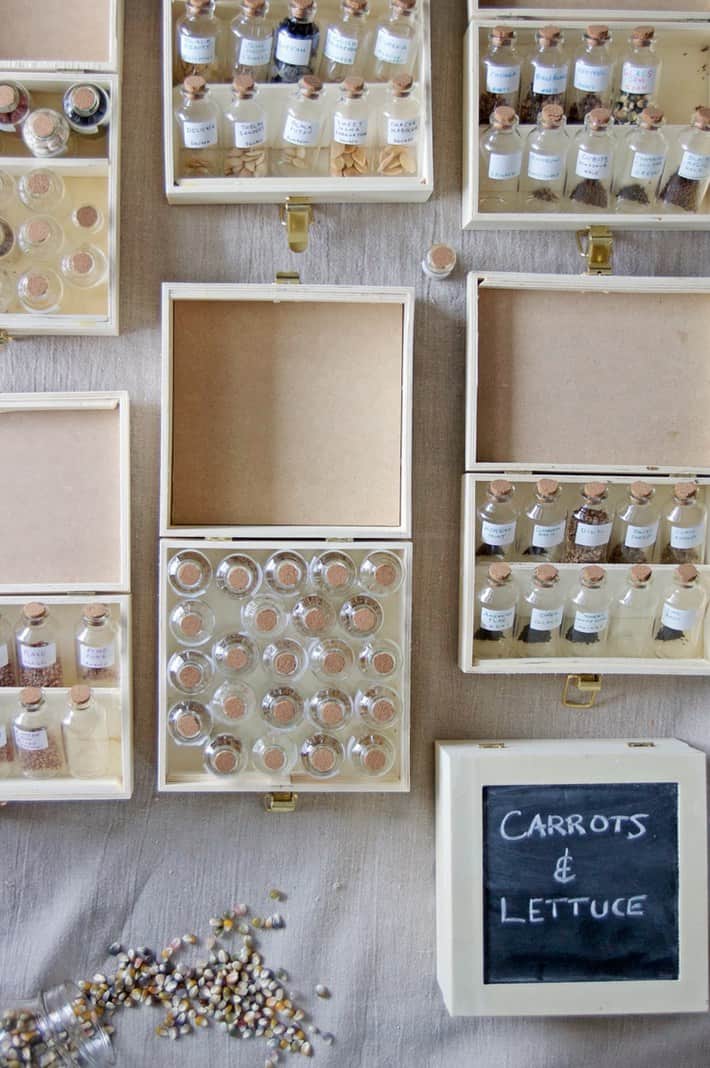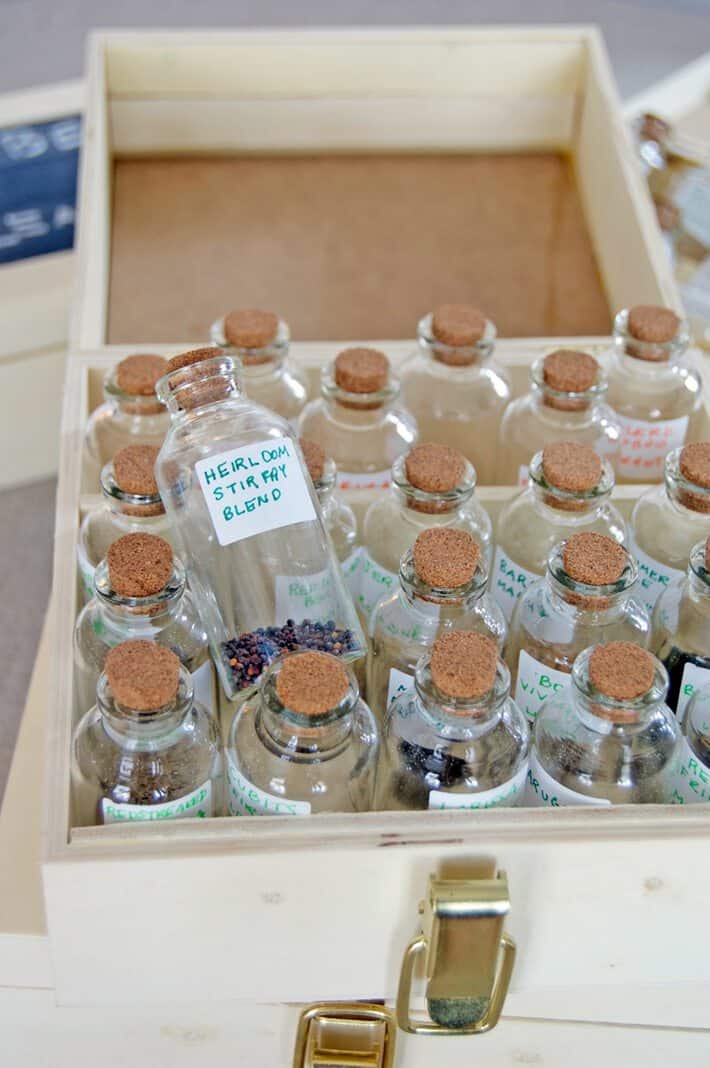 Part of what makes this system so good for anyone who gardens is the fact that you can look right at the bottle and see how many seeds you have. And when the jar is empty you know you have to get more.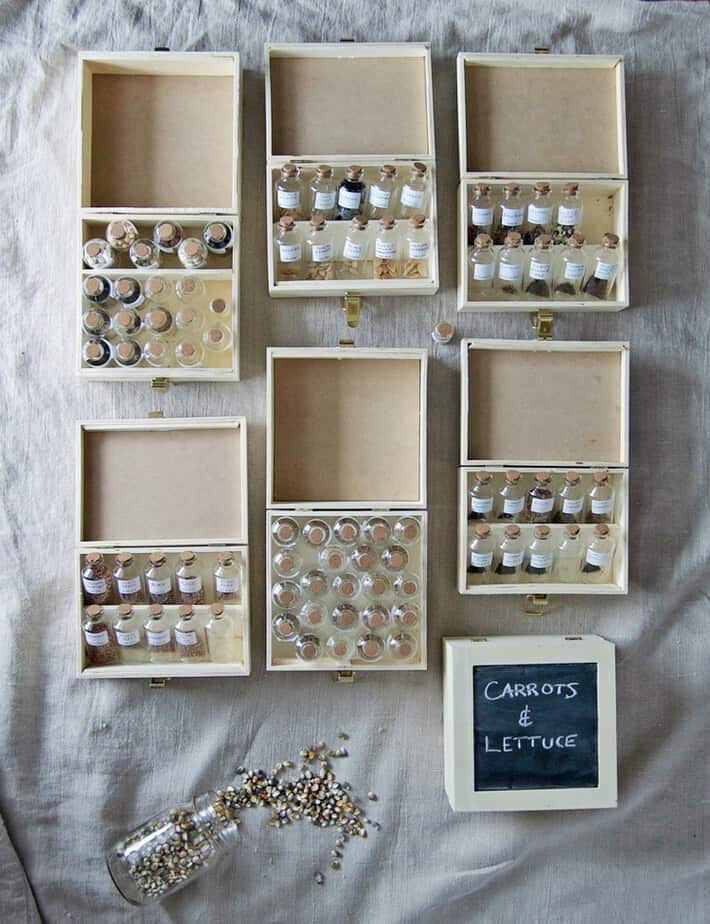 Finally. A seed saving system figured out. It took me years but I got there.
I may have done it with a stain on my shirt ... but I got there.
And you will too.