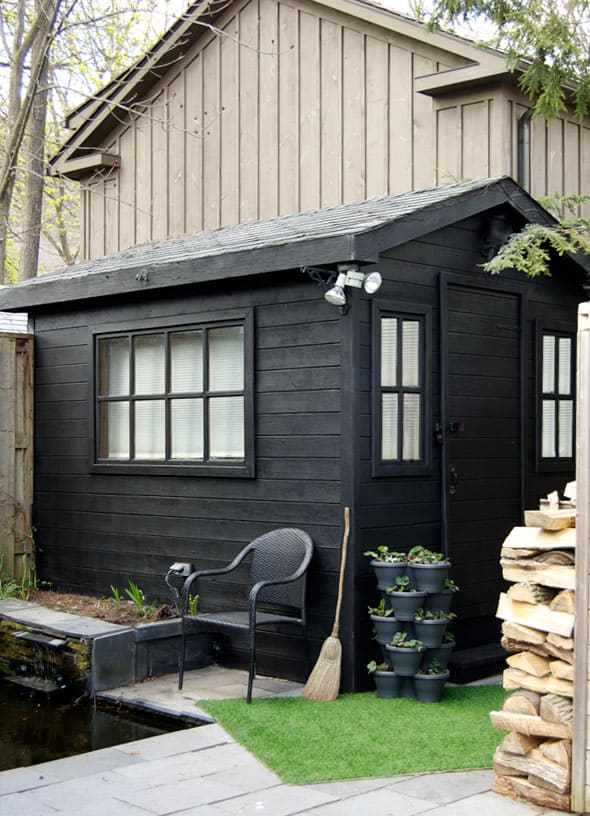 This is a sponsored post. That means someone is paying me to write it. So why read it? Because it's about a product that's so great I contacted the company to ask them if I could do a sponsored post for them, as opposed to the other way around.
They didn't contact me. I contacted them. And here's why.
When I decided this was going to be the year of painting everything outside, I knew I was going to need a better plan than a) painting everything with a brush and roller myself b) hiring a stranger to do it or c) hiring my cats to do it. I don't mind hard work blah, blah, blah, but I'm sick of spending every minute of every spring and summer building, fixing and breaking things. This was going to be the year I didn't have a single big thing to do. So I wanted to figure out a way to make these jobs go as quickly as possible leaving me in a good mood to enjoy the summer and not turn into a broken down, scribble of swear words.
I'm not sure how the thought came to me but I started researching paint spray guns. I had 3 big painting jobs. Picket fence, front porch and potting shed. So I was willing to spend a bit of money on the gun but didn't want to go too nuts. That research led me to the $89 Wagner paint gun which had good reviews.
I picked it up at Home Depot and by the next day I was spraying. It was great. I used it to do my picket fence because that's the first thing I had to get painted. Once the plants around it started to grow I wouldn't be able to get anywhere near the fence for the wall of leaves.
Neighbours stopped and asked me about it and I told them how much I loved it, then it got to the point that I was pulling people over who weren't even interested in it and telling them how much I loved spraying paint.
SO. As soon as I was finished my fence I contacted the company (Wagner) to tell them how much I loved it and asked them if they'd be interested in doing a sponsored post with me. They said yes. And would I like to try out their more advanced sprayer?
Yup. Yup I would.
This is what's known as the hero shot
A week or so later the Wagner 890 arrived in the mail. I painted my potting shed with it and then I sent the company another love letter.
I was a bit worried I wouldn't like it as much as my $89 one. But I did. It was like going from a very reliable but no options car to a fully loaded Mercedes. That sprays paint.
The 890 came with 2 spray heads, one for big projects and another one for finer detail work. Each head has multiple adjustments to make the flow change directions, spray harder, softer, more paint, less paint ... you get the idea.
But here's the thing that makes this gun the winner. And I didn't even know it was a feature until I unpacked it.
YOU DON'T HAVE TO THIN YOUR PAINT WITH THE 890.
Anyone who has used a paint spray gun knows it's a pain because you have to thin your paint otherwise it won't run through the sprayer. You do not have to do that with this gun. I *did* have to do it with the $89 one.
You still have to filter your paint so there aren't any blobs in it to block the sprayer.
I used a trouser sock to filter. Because I always like to do things in the most professional of ways. If you want to be a little more traditional you can use an actual paint filter which you can either buy or beg from your local auto body shop. I'm not sure why the sprayers don't come with a small supply of paint filters but that would be about the only suggestion I have for Wagner. Include a few paint filters.
And just so you know even brand new paint can have the odd blob or guck in it. See?
My potting shed has needed a clean up since the day I moved in. At one point it matched all the raised beds around my backyard which were cedar, but I switched those out for raised beds painted in a gray/black many years ago. I therefore decided I wanted to paint my potting shed the same gray/black colour. I'm going for a sophisticated modern feel in the backyard and the only thing holding me back was the cedar shed. On the upside the shed was cute. On the downside the shed was cute.
Here's a timeline so you can see exactly how long things took compared to the days it would have taken with a regular brush and roller.
Also here's a WOW list. The things that make this thing great.
WOW list
No need to thin paint
2 different spray heads for different jobs
Multiple settings for paint coverage, air flow, paint direction etc.
Comes with a BUILT IN air compressor. It's right in the carrying case
Makes painting fun. No joke. F.U.N.
Prep work
2.5 hours (scraping the shed a bit, taping out windows, door hinges and putting up plastic to prevent overspray from getting on the fence and my flagstone patio, pre-straining paint)
Spending a bit of extra time doing realllyyyy good prep work will save you hours and hours of clean up in the end. Things like taping out windows properly.
Remember to cut off any overhanging tape otherwise once you paint, you'll have a bald spot where the overhanging tape was.
Total painting time
1.5 hours. Tops.
No joke. I timed it. It technically took me longer because I had to stop and take pictures and run out into the street screaming at people to come watch, talk to the police and let them know there was no emergency, everything was fine I was just excited, by the way did they want to see my new paint spray gun?
It took 7 minutes to paint each side of the shed. (Because it's in a corner my shed only has 2 visible sides). I did 2 coats of primer on both sides. So we're at 28 minutes. Then I did 3 coats on each side of the shed with my actual colour, gray/black. That's an additional 42 minutes at 7 minutes per side. now we're up to an hour and 10 minutes. There were a few things to slow me down like dragging out the ladder, refilling the paint container, which needed to be refilled several times.
I realize that's a lot of numbers so just know this. I painted my shed in about the same amount of time it would take to eat a really big cookie.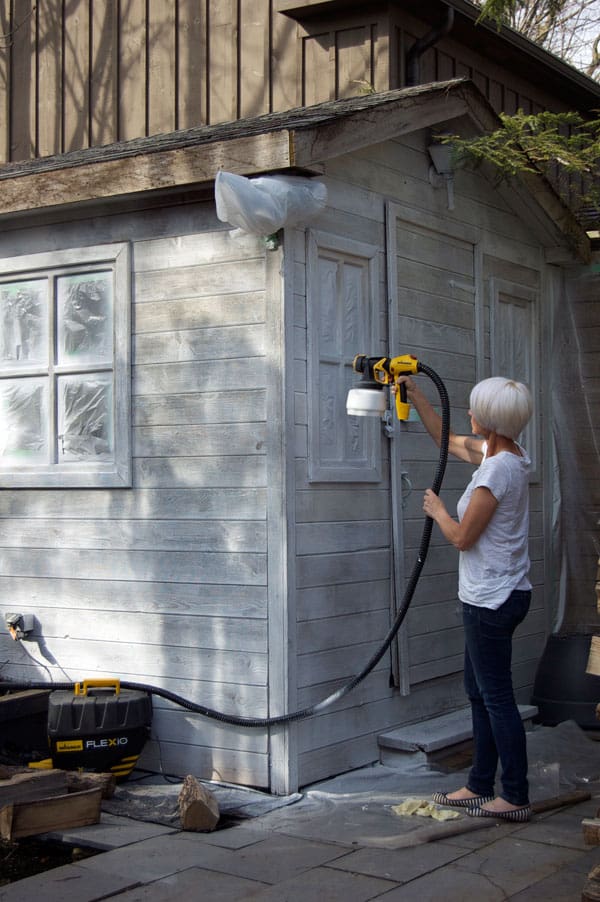 This is me priming. I primed right over the light fixture above the door because I'm replacing it this summer.
I thought cleaning the thing was going to be a huge pain but it only took about 10 minutes to clean the sprayer when I was done so that wasn't as horrifying as I thought it was going to be.
Wanna buy one? You can buy it here if you're in the States. If you're in Canada, the Flexio 890 isn't available yet so the Flexio 590 is your option. You can buy it on Amazon.ca but at the time of posting this blog it's cheaper to buy it from Home Depot.
I absolutely 100% recommend this thing. I even painted a wicker love seat with it the other day because I knew it would do such a great job of getting into all the crevices. It only took 10 minutes, not counting the amount of time it took me to find a neighbour's porch with a wicker love seat on it.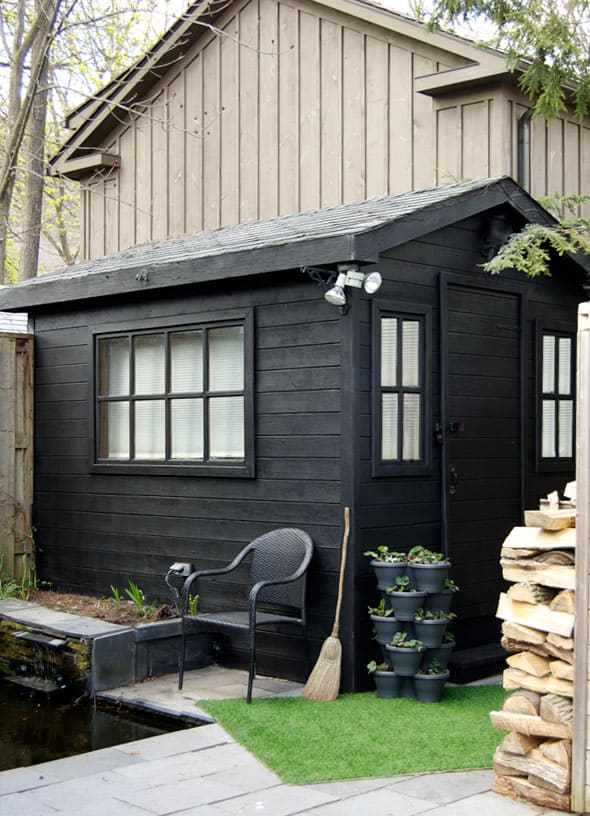 Done.