There are days when I sit down to write a post and I have nothing to say.
I guess technically it's writer's block, but it doesn't really feel like that. It feels more like gardener's block. It is gardener's block. I'm working on my front porch today since my front porch is clocking in at around 85 degrees.
The house is clocking in somewhere between boiling oil and a wool blast furnace.
I have everything set up comfortably. A bottle of water at my side, my laptop sitting on a makeshift table made out of a wicker bench and a vintage suitcase. I have the telephone, my camera, my cell phone and some gum.
And the garden.
The front yard vegetable garden is just sitting there flirting with me. Screaming out "HEY! I'M KALE! YOU COULD PICK ME NOW.". That slutty, slutty kale is always trying to get my attention. And it works. Kale is a smooth talker.
All it takes is the wink of a leaf and I'm jumping up, running into the arms of the Kale. When I've devoured Kale, I move onto some pea porn and then my sweet, sweet, sweet potato.
Try as I might, I can't seem to ignore the call of the wild ... leeks.
Clearly coming outside to escape the heat so I can get some work done isn't going as planned.
So I may as well just get into it, forget about any clever, funny, entertaining writing and just get to the pictures.
When I planned this vegetable garden way back when, I knew immediately that I was going to grow beans. Even though I don't really like beans. They get cold too fast. But I DO like the look of beans growing.
I decided right away that I was going to use a technique that involves setting a row of bamboo poles and running string in between them. I picked a spot, bought the bamboo poles, hammered them into the ground , ran the string ... made sure it was all picture perfect ... and then I tore it all down and ran to my fence and decided to do something else entirely.
I ran in slow motion with a fan blowing my hair back.
I figured it would take up way less space to grow the beans vertically up my fence on strings. I planted the beans at the base of my fence and a week ago I noticed they were starting to pop up, so I decided I'd better get moving on the whole string thing. Otherwise I'd end up with a bean nest.
I got my string, some scissors and sat on the ground staring at the beans and the fence. I wasn't sure how I was going to do this. Seems simple enough, but ... it wasn't. I needed the strings to attach to the top of the fence. Which was easy. I have a rail up there I could just tie the string to.
Then I needed something to hold the string in the ground. I didn't want to put nails or anything in the bottom of my fence to tie the string to, so now I had what's commonly known as conundrum.
That's when I went on a Google Search and found this idea.
Tie the strings to a rock!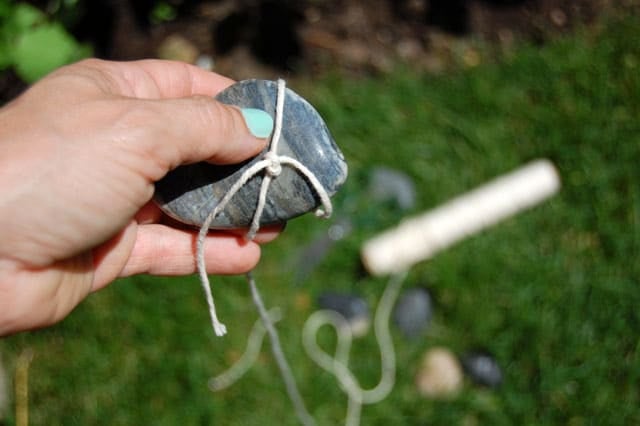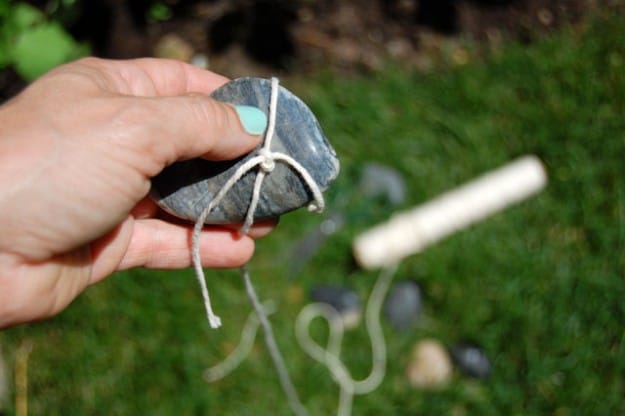 Then tie the strings to the top of whatever you're letting your beans grow up (porch, fence, house, neighbour's car) with the rock falling at the base of each bean plant.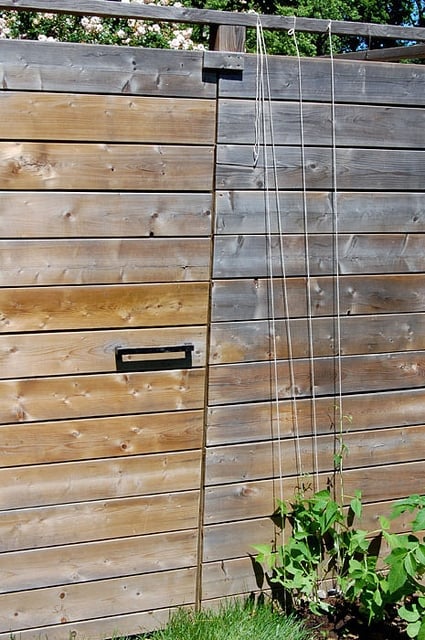 The beans will curve around the string and follow it up the fence/porch/house/car.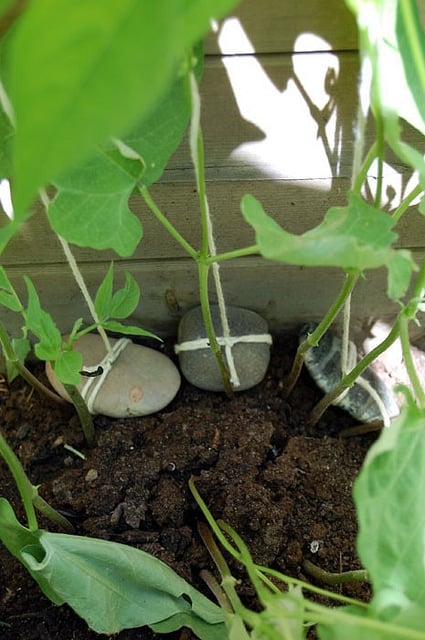 And then I partially abandoned this idea, and went with a new idea.
Make a pattern on the fence. Something free form.
To do this, I had to ... wait for it ... put nails in the fence.
I know.
I thought I'd try something simple and if it works next year I'll do something elaborate. Like a trellis pattern or a to scale, monochromatic reproduction of the scene from Seinfeld where Jerry chases the old woman for her Marble Rye. Or something.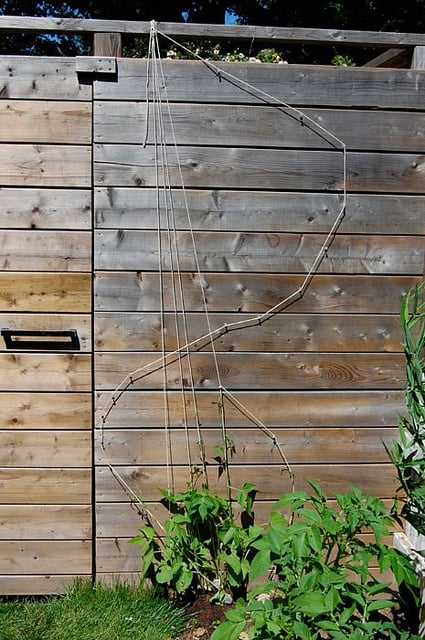 In one week, this is how much the beans grew.
I expect by next week they'll be reaching over the fence and grabbing anything smaller than a 7 year old for lunch.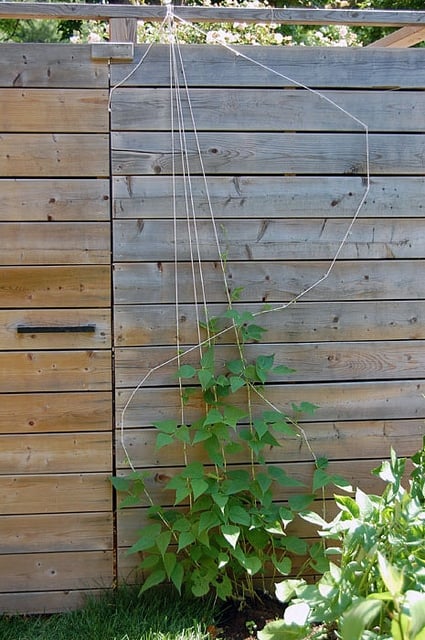 Every so often just check to make sure the vines are making their way up the string. You might want to check to make sure the odd toy breed of dog isn't tangled up in there as well.
Hurmph. Pole beans. They're an aggressive bunch. They could learn a thing or two from Kale.
→Follow me on Instagram where I often make a fool of myself←