This thick, rich chocolate banana smoothie is the power breakfast for those of us who'd rather be eating Cocoa Puffs but can't. 'Cause we're supposed to be the grown ups. Added grown up points because it also has zucchini!
For the past decade I've had two go-to breakfasts on the roster in my kitchen. Scrambled eggs for the summer and Overnight Oatmeal for the winter. When I get sick of either of those I resort to staring in my fridge for 20 minutes in the morning and then eating whichever jar of pickles isn't hidden in the back.
It is currently summer in my particular hemisphere of the world and I am currently sick of scrambled eggs. So when a gardening friend posted about a way to use up extra zucchinis by putting them in a banana smoothie I tried it. And it was quite gross.
So I came up with this recipe instead.
---
How to Make a Chocolate Banana Smoothie
The Chocolate Banana Smoothie
Frozen banana, Zucchini, cocoa, ice cubes, yogurt, a bit of sugar and milk. Blend these things together and you have a chocolate banana tasting smoothie with the added benefits of a green smoothie. Use this recipe as your guide and change it however you want. Take out the sugar, add more sugar, use soy milk or chocolate almond milk to up the chocolate flavour.
The Chocolate Banana Smoothie (with Zucchini 'cause you're a grown up) mixes up in a blender in no time and tastes very much like a chocolate banana milkshake. You cannot taste zucchini. At all. I made sure of that.
Not that I'm opposed to Zucchini. I'm not angry at it. Nothing of the sort. Zucchini has never been anything but nice to me, but I'm not one of those "Oooooo green smoothie's are so refreshing and delicious" kind of gals. I'm one of those, "Fry up that Zucchini in butter and cover it with parmesan cheese." kind of gals.
So why add the zucchini then? Because Zucchini is good for you, raw vegetables are good for you and Zucchini plants can burp out a Zucchini a day in peak season.
Oh. Did I mention a glass of this smoothie is only 161 calories?

Because it is. Oh. You don't count calories? Nice! Good for you. I don't when I'm eating bags and bags of potato chips but that means I have to when I eat anything else. It's how I maintain a balanced diet and level of sanity.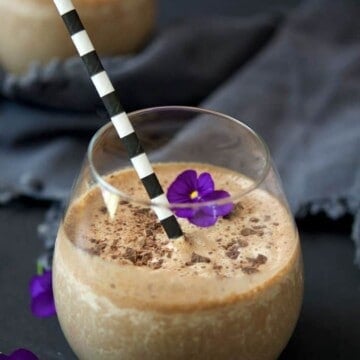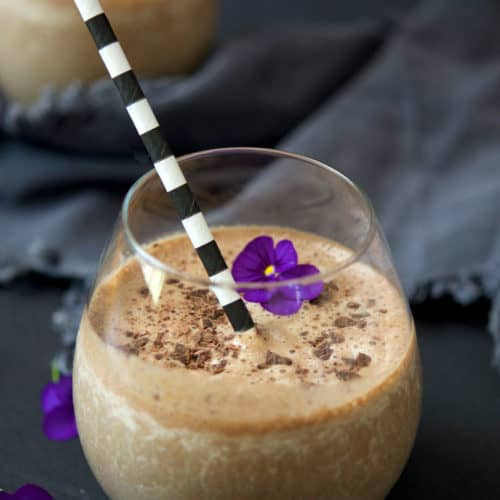 Chocolate Banana Smoothie
This thick, chocolatey smoothie has just a hint of sweetness and starts your day with several servings of fruit, vegetables and dairy.
Print
Pin
Rate
Ingredients
1

banana

frozen

½

zucchini

(about a full half cup)

½

cup

Greek yogurt

7

ice cubes

standard sized, around 1 cup

2

tablespoon

cocoa

2

tablespoon

sugar

¼

cup

milk
Instructions
Add first 6 ingredients to a blender and blend until smooth.

Drizzle in the milk, adding less or more depending on the thickness of smoothie you prefer.
Nutrition
Calories:
161
kcal
|
Carbohydrates:
33
g
|
Protein:
8
g
|
Fat:
1
g
|
Cholesterol:
3
mg
|
Sodium:
39
mg
|
Potassium:
536
mg
|
Fiber:
3
g
|
Sugar:
23
g
|
Vitamin A:
195
IU
|
Vitamin C:
13.9
mg
|
Calcium:
107
mg
|
Iron:
1.1
mg
I normally make this and drink half in the morning and the other half around lunch. It'll keep in the fridge for a few hours but isn't quite as thick because the ice melts a little bit, but if you stick it in the fridge right away it'll still stay fairly thick.
Honestly, the chocolate shavings on top are just for the pictures. I never, EVER do this in real life. Ditto for the viola on top because seriously. If I happened to be serving this to someone I'd put the viola on top but not the chocolate shavings because they get stuck in the straw.
And there you have it. A low calorie chocolate banana smoothie AND a way to get rid of your abundance of zucchinis.
Because being a grown up doesn't mean you have to pretend to like green smoothies.
→Follow me on Instagram where I often make a fool of myself←