A recipe I've been sitting on for 4 years! Rhubarb Fizz with sweet/tart bubbles that dance on your tongue.
The above line is the perfect example of how bloggers can just make stuff up. I have no IDEA if these bubbles will dance on your tongue or not because at this point, my own Rhubarb Fizz hasn't finished fermenting. But my hope is there will be bubbles Jitterbugging across my tongue momentarily.
This recipe, you see, is one that was given to me by a fellow gardener several years ago. I kept it on file knowing I'd make it just the very second I got the chance. That chance happened 4 years and 2 weeks after receiving the recipe.
It's one of those things you keep putting off because you feel like it's a bit of a bother, but when you do it you realize it really isn't. Like making croutons. Or ripping up all the floors in your house, re-building part of them, then refinishing the old floor boards underneath. No, hold on ... that's not right. That is a bother.
Rhubarb Fizz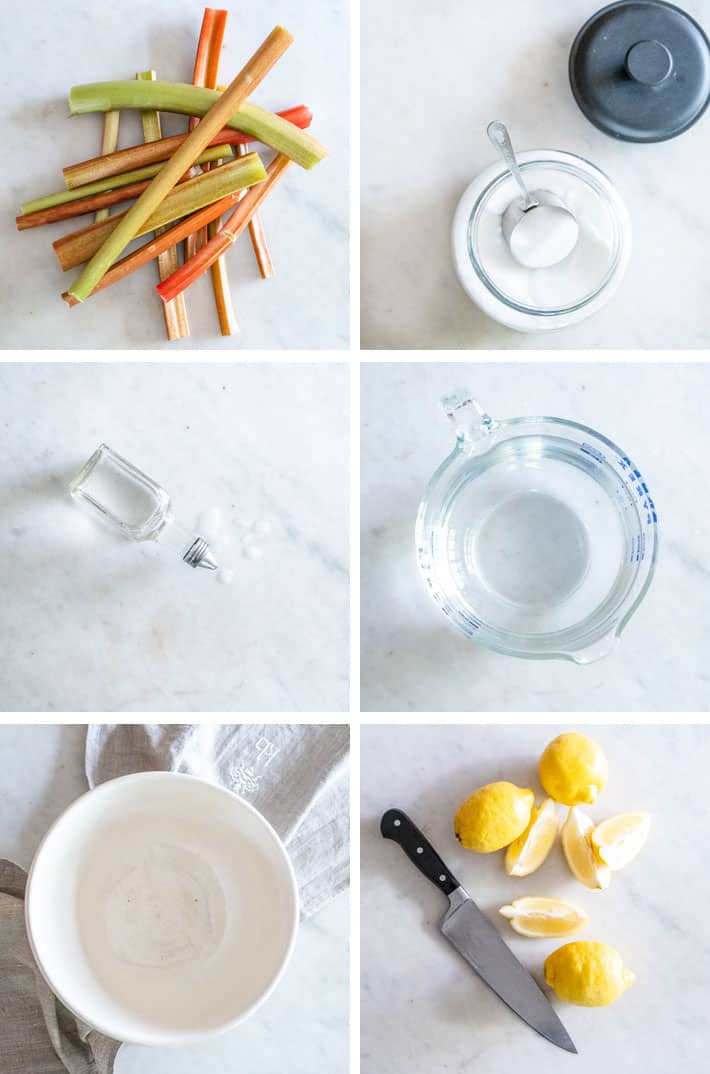 For this naturally fermented drink all you need is rhubarb, sugar, lemons, a bit of vinegar and water.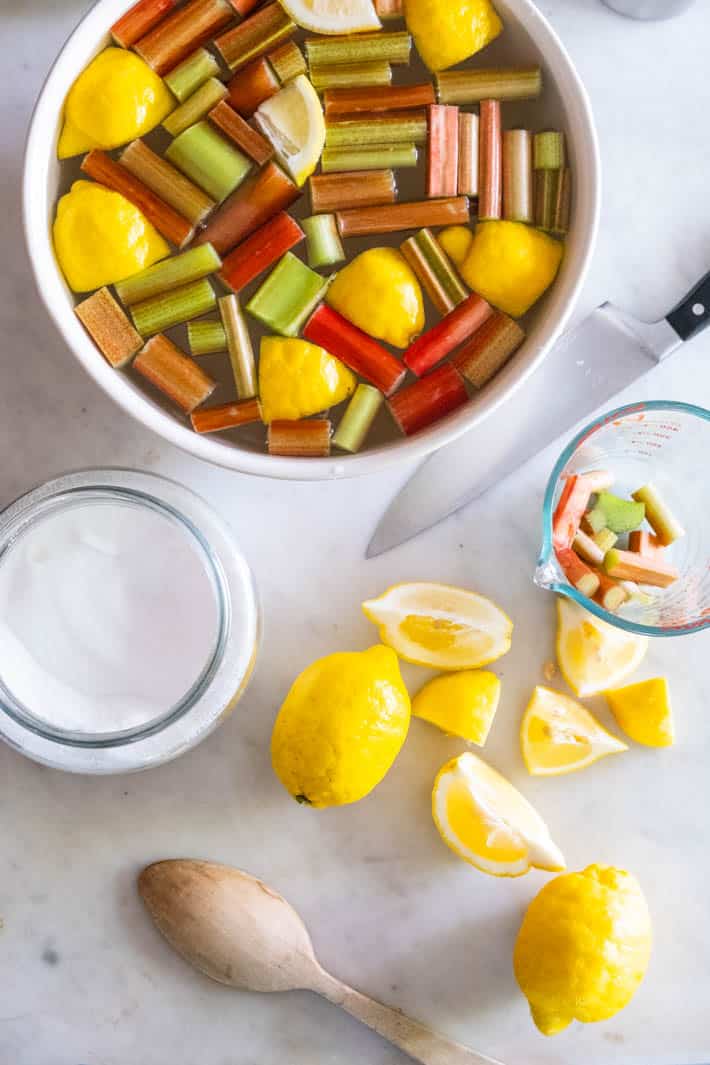 If your rhubarb plant is new or a bit sickly, you should really stop picking from it in June. But if it's big, healthy and just won't quit you can pick from it all season long. Mine is absurdly big, healthy and robust. If my rhubarb plant were a movie star it would be The Rock.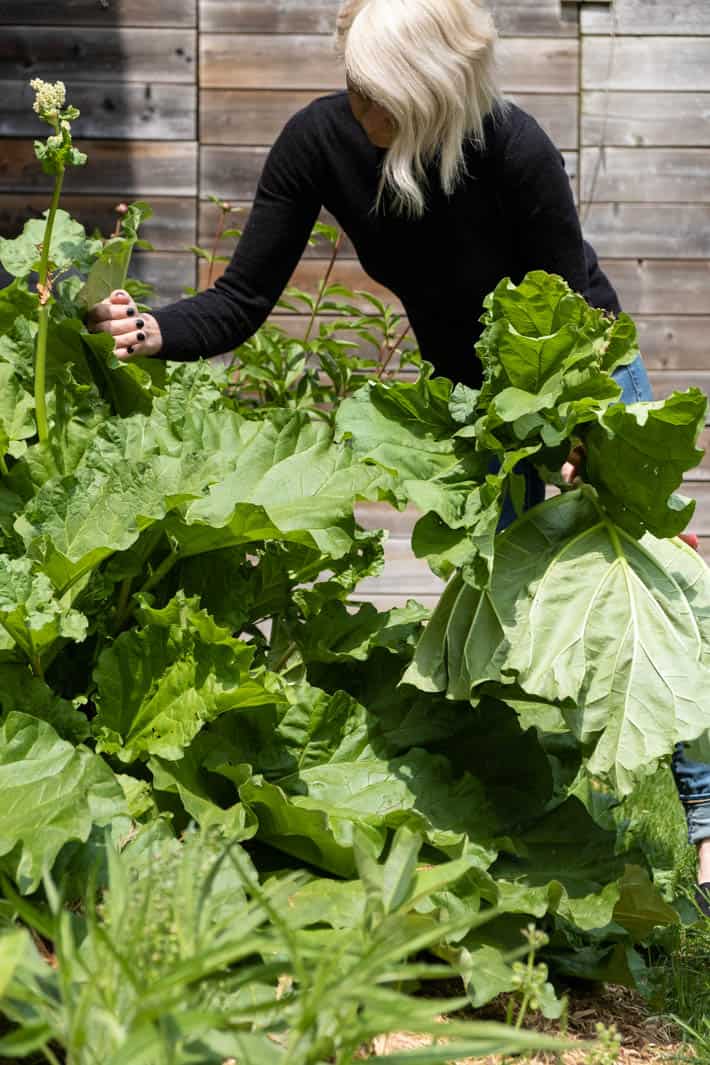 It's as simple as chopping everything up and stirring it together in a bowl or food grade container like a bucket or lemonade dispenser.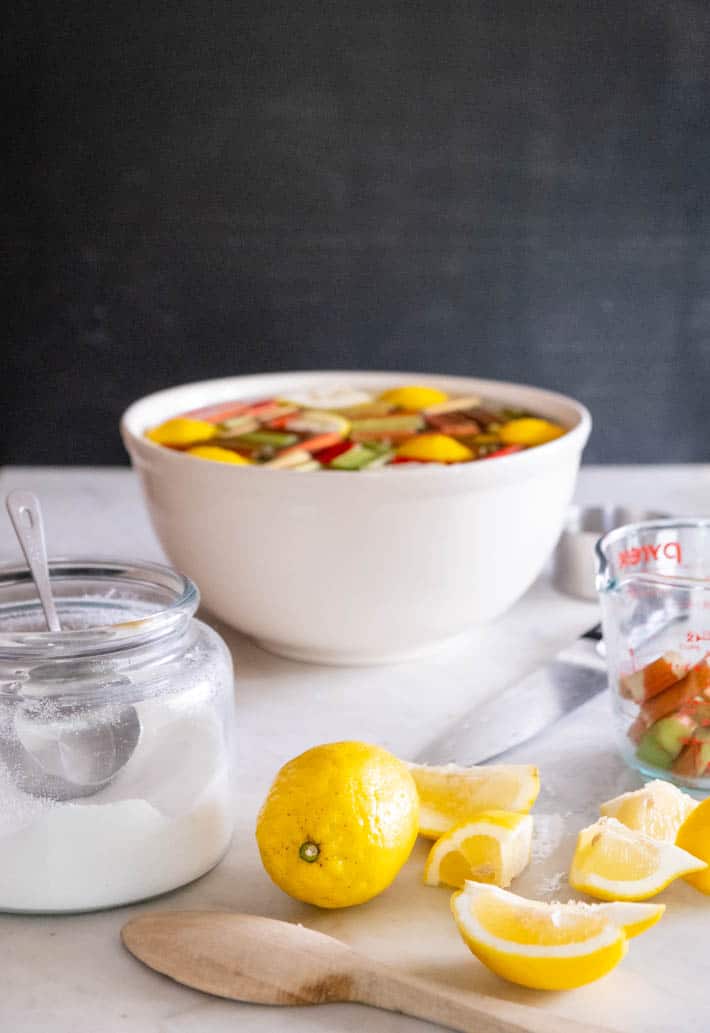 You let it sit covered for 2-3 days then bottle it. It must then rest for 2 weeks.
To bottle the rhubarb fizz you need bottles that are meant for things that are carbonated. That means glass bottles with swing stoppers that will expand a bit with carbonation and not explode. Home brew beer bottles would work well too.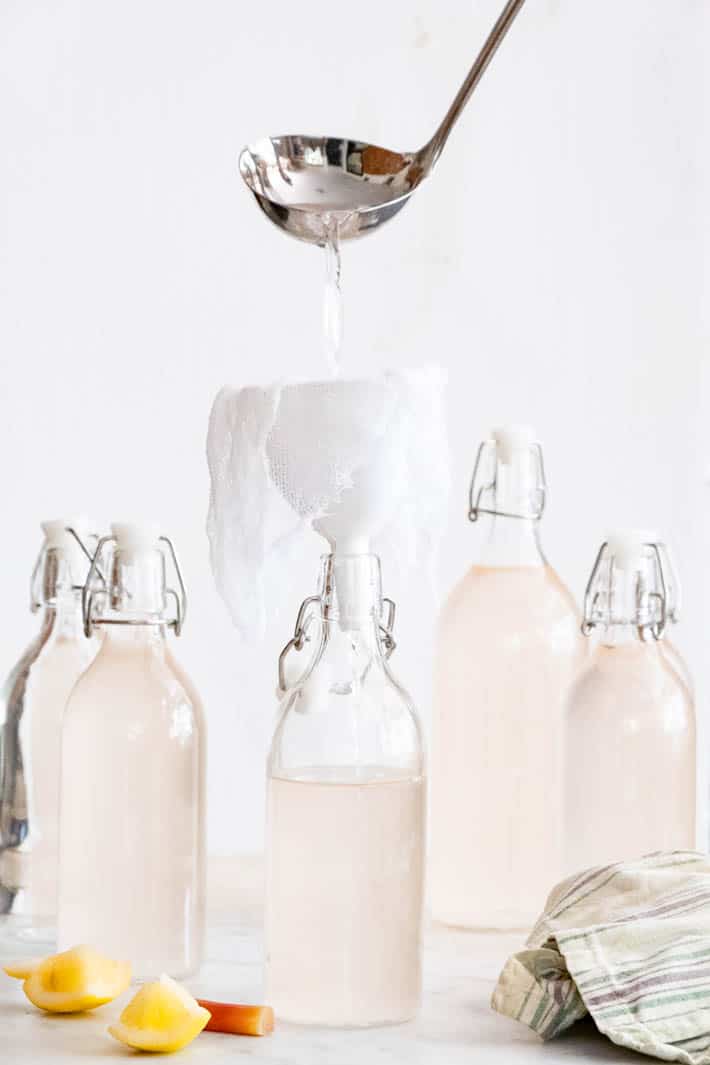 You can get glass bottles with swing stoppers on them at Ikea and if you're in the U.S. swing stopper bottles are cheap on Amazon. I love the shape of these ones that are $17 for 6 bottles. In Canada the bottles cost twice as much on Amazon so it's a better deal to get them at an Ikea if you have one close to you.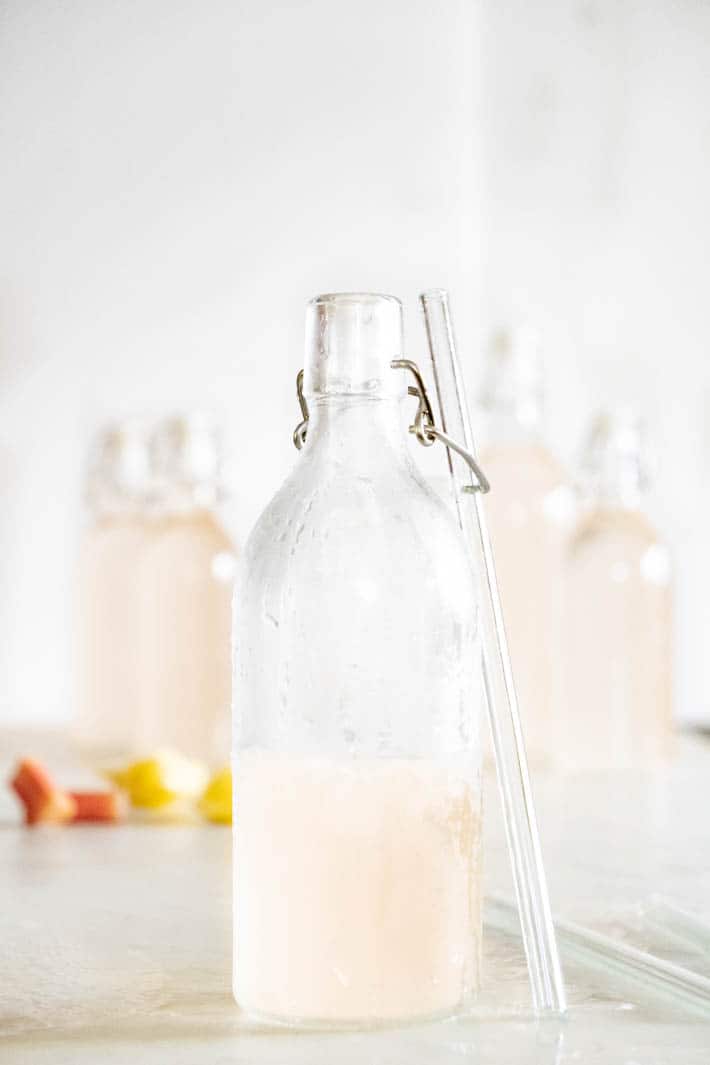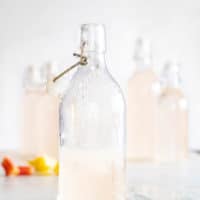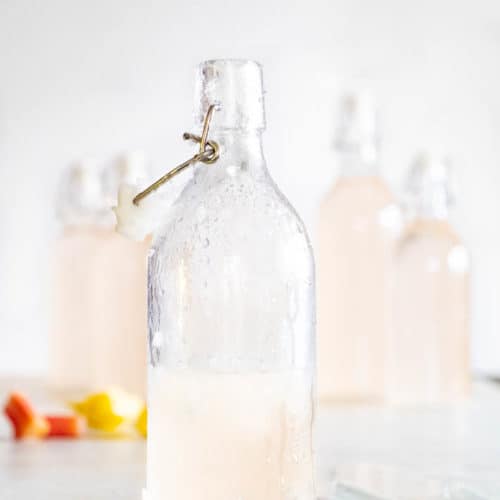 Rhubarb Fizz
A naturally carbonated fizzy drink for summer.
Print
Pin
Rate
Servings:
8
16 ounce bottles
Ingredients
16

cups

water

3

cups

rhubarb

chopped into 2" pieces

3

cups

sugar

4

lemons

chopped

11

tablespoon

vinegar
Instructions
Mix everything together and let sit, covered for 2 days.

Strain the juice away from the fruit. (you can also put the fruit in cheesecloth and squeeze out the juices in there)

Bottle the Rhubarb Fizz in bottles meant for carbonation and let sit for 2 weeks.
Nutrition
Serving:
1
bottle
|
Calories:
319
kcal
|
Carbohydrates:
82
g
|
Protein:
1
g
|
Fat:
1
g
|
Saturated Fat:
1
g
|
Sodium:
29
mg
|
Potassium:
206
mg
|
Fiber:
2
g
|
Sugar:
77
g
|
Vitamin A:
60
IU
|
Vitamin C:
32.3
mg
|
Calcium:
68
mg
|
Iron:
0.5
mg
UPDATE NOTE: I've never had this go beyond a mild fizz, but some readers have experienced major carbonation. Explosive carbonation! Please scroll down to the bottom of DeannaCat's Kombucha post on Homestead & Chill to read about how to properly check and burp your carbonated bottles prior to opening them.
---
Tips:
To pick rhubarb grab it by the base of the stalk and pull upwards with a bit of a twist. (don't cut it with scissors)
The more pink the skin fo the rhubarb you use, the more pink the drink will be.
Keeps for approximately 1 month. I would refrigerate but apparently you don't have to?
Pressing the rhubarb and lemons will make the juice cloudier. If you want a clear fizz, don't press and use any of the fruit.
The gardener who gave me this recipe said the odd bottle might not work, so always give a little taste first.
---
And now, with you as my witness I'm going to try this Rhubarb Fizz for the first time ... stay right there, I'm going to run downstairs and taste it.
.
.
.
.
It's delicious!! Bubbles danced on my tongue.
→Follow me on Instagram where I often make a fool of myself←