So I hate pot lights.
Much like my hatred of fingerless gloves there's really no explanation for it. I just do.
It should therefore not surprise you that I am getting pot lights.
I have to. The kitchen is incredibly dark and the only light in it is supplied from a single light hanging over my countertop. A crystal chandelier.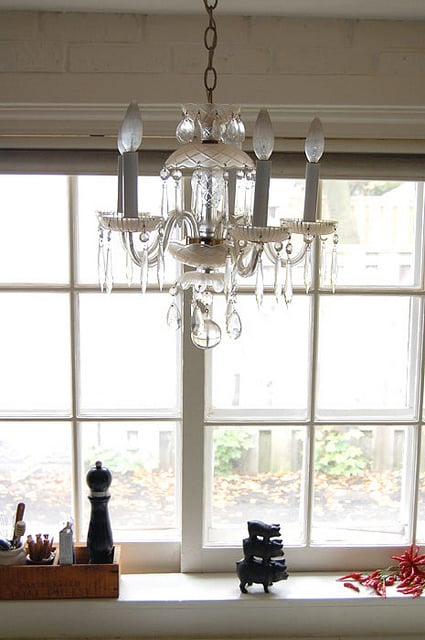 Because of the diminutive size of my kitchen, I don't feel like I can have pendant lights hanging everywhere which leaves me with ceiling huggers or pot lights.
I went with fingerless gloves. I mean pot lights.
I love my old chandelier, but if I'm redoing my kitchen I want to redo my kitchen. So the chandelier is coming down and will be relocated somewhere else. Also, a crystal chandelier isn't the most appropriate lighting choice for a kitchen that's constantly being cooked in. I bet if I scraped my chandelier at this very moment I'd have enough grease on it to whip up a batch of corn fritters. At the very least I could keep a small McDonalds franchise running for about for a week and a half.
Which means I get to pick out one single pendant light to replace the chandelier that's coming down. I, of course, have a budget. But since I'm only getting one light and am not deducting the cost of pot lights from my budget because I don't really want them and they aren't considered satisfying ... I can splurge a tiny little bit on my pendant light.
I started off my search on the Home Depot website because I figured it would be the cheapest. Shockingly it had a lot of great options. Sorry Home Depot ... don't mean to be insulting. But this is the era of Pottery Barn and Restoration Hardware. Sometimes it takes a bit of reminding that you can get similar looks from big box stores.
Granted, I also found some great stuff from places like West Elm, Crate & Barrel and School House Electric.
Behold my favourites ...

4. Polished brass and White Glass globe
9. Oil Rubbed Bronze with gold interior
Last night I ordered one of those lights. If you guessed choice # 8, you're wrong.
I ordered the Hammered Brass Pendant from Crate & Barrel. The round one.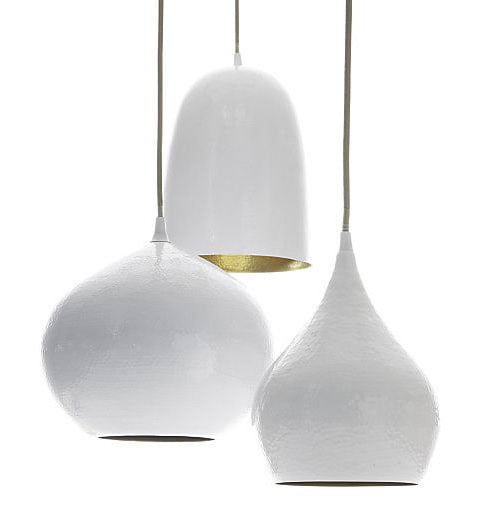 If I could have afforded it I would have ordered this entire cluster. But I couldn't. The cost of the single pendant lamp to be shipped from Crate & Barrel in the States was $300. That includes something called "Border Free" shipping, which means there aren't any surprises. The duty, taxes, shipping etc. are all included in the cost. So you aren't sitting in your little Canadian house wondering how badly you're going to get randomly screwed when what you ordered shows up. I'm talking to you "Broker Fees".
I love this light. And clearly if I ever lose interest in it in the kitchen, it also looks good in a living room. A Crate & Barrel living room anyway.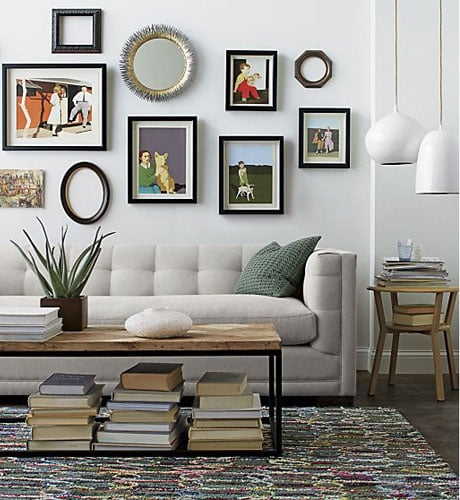 Part of the reason I went with this particular light is because, (even though I haven't told you this yet) the look I'm going for in my kitchen is a sort of modern Scandinavian Farmhouse. I may have made that term up. Basically a lot of white and natural wood. There will be a mix of clean, modern pieces and rustic pine. The rustic I have covered. So for my lighting I knew even thought I love the barn lights, I needed something more clean and modern to create the look I was going for.
That's my first little design lesson by the way. Being open to options is important but so is staying true to your original vision. So if you can't decide on what to buy when you love a few different things, ask yourself what works best with your original vision.
Unless your original vision involves pot lights and fingerless gloves. Then it's time to rethink your vision.