I made a naked cake.
A cake that is naked.
Naked cakes sprang up at hipster weddings across the land last year.  Since I am neither a hipster nor getting married there was no reason for me to have a naked cake.  And I made a frowny face that lasted a full year.  But when I realized Betty would need a cake for her 80th birthday I rejoiced.  Turn that frown upside down.   I was finally going to be able to strip.
I made an 8 layer sponge cake which I thought was a chiffon cake but evidently is a pound cake. Apparently what I think of as a sponge cake is not what the British think of as a sponge cake.  I didn't know. I don't speak cake.
So I had an 8 layer lemon verbena "sponge" (actually pound) cake.  In between each layer I spread thick layers of homemade lemon curd and vanilla Swiss Meringue Buttercream.
The outside was decorated with fresh lemon verbena leaves, local raspberries and green tails Amaranths from my cutting garden. Also there's the bunting banner I made  which I unabashedly copied from a similar banner I saw on ... wait for it ... this is so weird ... Pinterest.  I know.  A bunting on Pinterest.  That's almost as rare as a wart on a witch.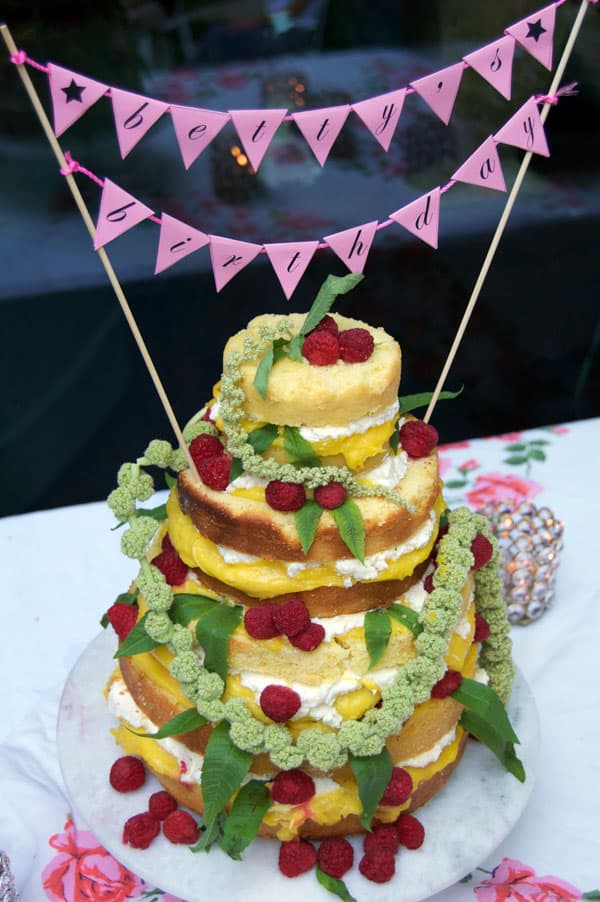 It was a thing of beauty this cake.  Allow me to explain how it made it's journey to my sister's house, a 10 minute drive away.
I placed the cake, marble cake stand and all, into the trunk of my car.  I sat the cake stand on a non slip pad and closed the trunk.   The hot, sweaty, festering, trunk.  It was like placing the cake into the armpit of a dry cleaning business.
And then I prayed.  And then I realized I don't actually have a religion and had no one to pray to. So I prayed to the one person I thought could really understand my anxiety.  I prayed to Martha Stewart.
I started the car, put my hazards on, took a deep breath and slowly stepped on the gas.  Now I had a problem.  The cake was melting at a rapid pace but if I went anything over 10 km an hour I risked the cake falling over.  But the cake was more likely to fall over if the icing and curd melted.
Then I had an anxiety attack inside my car, did some thrashing, banging, hitting myself on the head ... you know, that sort of thing and cried in a way Martha Stewart would never.  At the very moment I was about to get really dramatic a deep calm came over me and I felt a hand on my back nudging me forwards. Thanks Cake Boss.
14 hours later I made it to my sister's house with a puddle of cake in the trunk.  Just kidding.  Both the cake and I made it to the party with only a bit of melting and slanting.
As you can see, by the time she saw the cake Betty was slanting a bit too, so to her the cake was straight.
The biggest question everyone seemed to have was how do you slice a cake like this?  Well it's pretty straight forward. You don't slice it. Everyone gathers 'round and smashes their face into it.
At least that's what I suggested but nobody went for it.  80 years olds can be annoyingly stuck in their ways.
What you're looking at is really 4 cakes, stacked on top of each other.  I cut the top cake in half and that made 2 slices.  Then the next cake was cut into 4, making 4 slices.  And so on.
And then everyone smashed their faces into it.
If you're a hipster, getting married or turning 80 I highly, completely and enthusiastically recommend a naked cake. It's a horrible travelling companion but it makes a great entrance.
Have a good weekend!