I know. It's a big, scary looking thing but once I explain it, it'll be about as scary as a chocolate covered cotton ball.
Which is actually incredibly scary. You'd think it was a nice round chocolate you were biting into but inside would be horrid squinchy cotton. Like running fingernails down a chalkboard but for your teeth.
So, we've all been there I'm sure … hung a nice full sized cow on our wall only to have it fall down in the middle of the night, scaring the farts right out of the cat. It happens. But it doesn't have to.
For some reason people are under the impression that hanging things on the wall is frightening. I think it's the whole things falling off of the wall scenario we've all lived through. But that's only because you're using the wrong drywall anchors. I've used them too. I'll admit it. Those plastic coloured anchors that you hammer into the drywall. You keep screwing and screwing your screw into it and it just keeps spinning and spinning because it isn't actually grabbing onto anything. But you hang something off of it anyways even if it doesn't seem like it's going to work because you paid for it and installed it and can't think of any other way to do it. Then your cow falls down.
It's because those plastic anchors aren't really meant for drywall. They're usually meant for solid walls like concrete. They *can* in certain circumstances be used for drywall but you're taking your chances.
Enter the hollow wall anchor. In this case the classic "Molly Bolt". THESE are the only drywall (sheetrock) anchors you should use. They are the best. How do I know they're the best? Just ask Bessie.
These are my favourite anchors. Yes there are others like screw in anchors and toggle bolts and a bunch of other things, but these are my favourites so that's why I'm talking about them and telling you to use them too.
When you buy a box of Hollow Wall Anchors there are 3 things you need to look for on the box: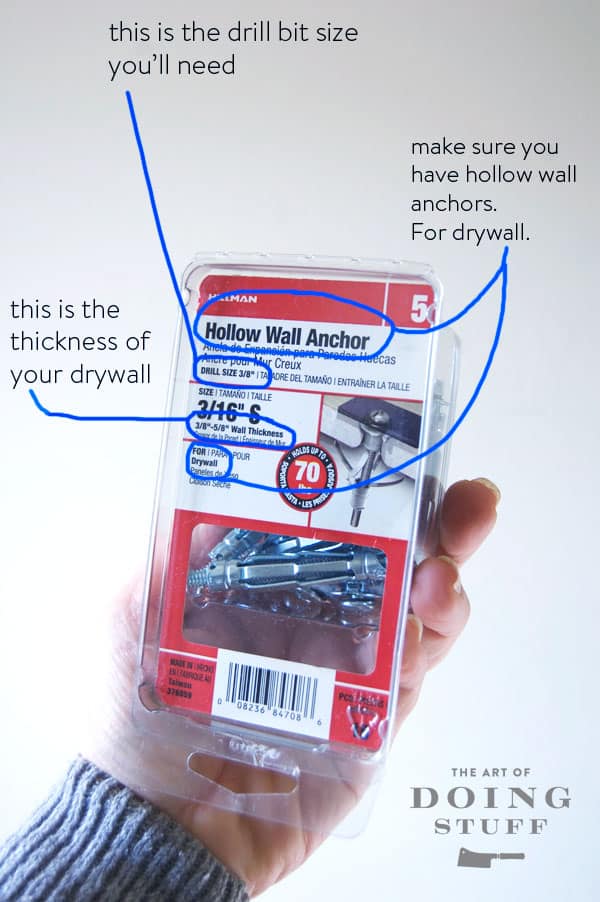 What to look for in Hollow Wall Anchors
Make sure what you're buying is indeed a Hollow Wall Anchor for drywall.
Make sure they're the right size for your drywall. This box is good for drywall that is 3/8ths to 5/8ths thickness. (there are other Hollow Wall Anchors that are for very thin materials like hollow doors)
Note the size of the drill bit that they recommend you use and make sure you own one!
Also best to make sure you own a drill.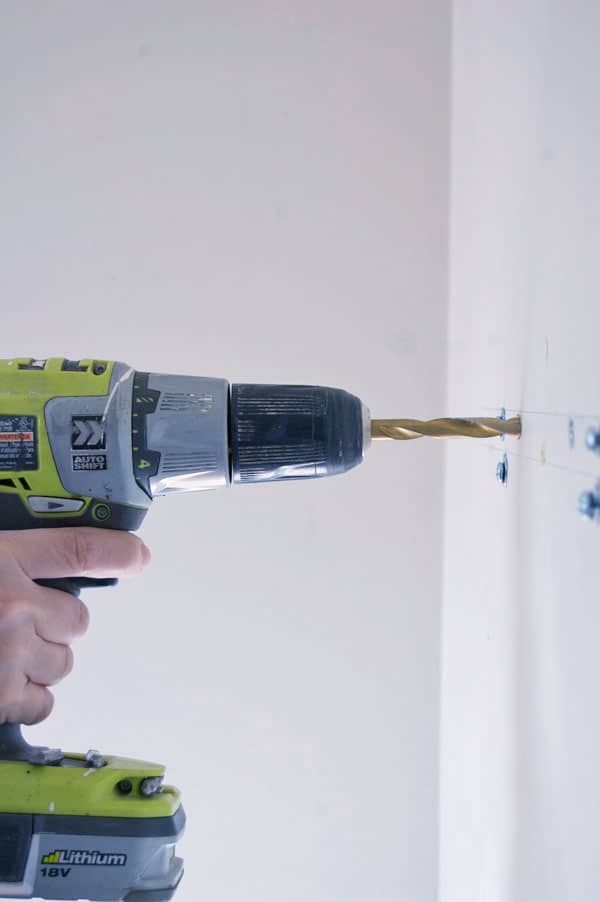 Mark the place on your wall where you want to hang something. Using the right sized drill bit, drill your hole. DON'T go wiggling all over the place with your drill. Hold it stead and drill straight in and pull straight out. If you wiggle you'll actually drill a larger hole.
Take the Hollow Wall Anchor out of the package and hammer it straight into the wall. You don't have to adjust it or fiddle with it or anything. Just whack it in there.
If you look back up at the first picture I showed you you'll see that there's tiny teeth under the flat edge of the anchor. These will grip into the outside of the drywall so make sure you hammer it in good.
Now you get your screwdriver and start screwing the screw in. I know it looks like it's already in (and it is) but what you're doing at this moment is creating Hollow Wall Anchor magic.

As you screw the screw in, a sort of flange is being pushed out at the back of the drywall. The more you turn the screw the tighter and tighter the flange gets. Just keep turning until you can feel some good resistance. It may take a while and you might get bored.
Once you've screwed it in to the point that you feel the resistance of the flange (I'm not really sure that's the right word to be using) against the back of the drywall you can start unscrewing the screw. Again. Totally boring.
I recommend doing it by hand though and not with a drill because you don't have enough control over the drill and if you screw your Hollow Wall Anchor in too tightly you could end up squishing your drywall and ruining it. Just do it by hand. Super exercise for your wrist anyway which will come in handy the next time you slap someone.
If you're only hanging a mirror or picture then you can just pull the screw out enough to get your wire picture hanger over it.
If you're attaching something to the wall like a bar or TV mount you might have to remove the screw entirely and then, yes, screw it back in again.
And don't worry. Undoing the screw doesn't do anything to the flange. It stays rock solid. That baby's in your wall for good now.
Seriously. To remove it you have to just hammer it into the wall and cover it up with drywall compound. Yes. I know. That's scared you even more. You will now never hang anything on the wall again.
You say that now, but one day you'll be driving around the countryside, hit a cow by accident and then what? How do you think you're going to hang it?
I hope you paid attention to all of this because tomorrow I'm going to show you something you're going to need this little Hollow Wall Technique for a DIY I'm posting about on Wednesday.
A DIY that one year ago saved my life.