If you're having any sort of plumbing problems the first thing you need to look at is the kind of toilet paper you're buying. Switching toilet paper brands is the secret to resolving clogged pipes that most plumbers know about - *but don't tell you*.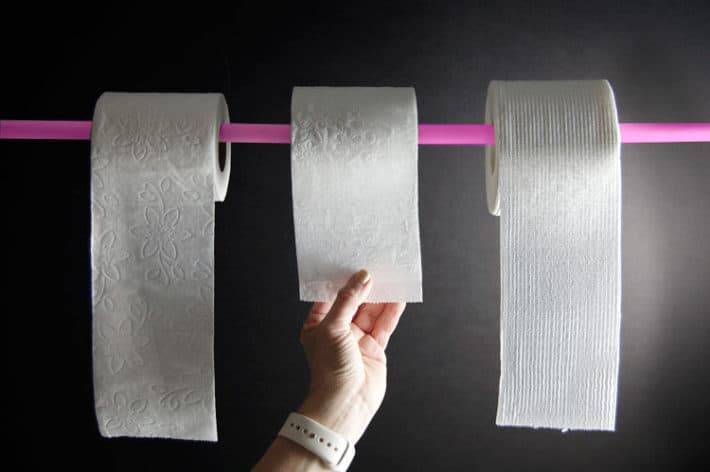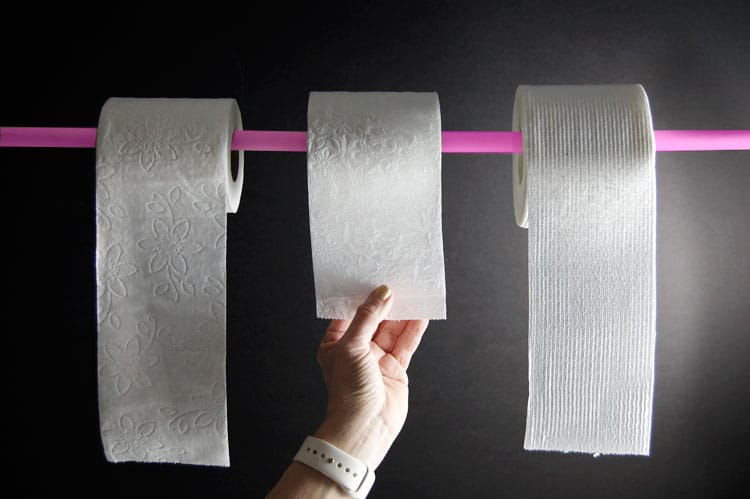 In today's political climate it's easy to pinpoint the differences between all of us. Fundamentally though, we're all the same in the most important ways. We love our family, we strive to be good and we have all watched, frozen in place, as the toilet water starts rise instead of sink after flushing a big one.
Nothing can set you into fight or flight mode like a blob of poo slowly lifting higher and higher toward the rim of the toilet bowl.
How does a dignified person prevent this sort of thing from happening? By being aware of a couple of tips.
2 things that can cause toilet backup.
Using the wrong toilet paper
Using an older model of a low flow toilet.


---
If it turns out that you need a new toilet you should still use the paper I'm recommending here to prevent further problems. ALSO you can install your own toilet. It's surprisingly easy.
Toilet Paper
So let's talk about the toilet paper. Because everyone likes to talk about toilet paper right? If you're an especially fancy speaker I'm talking about toilet tissue or bathroom tissue.
The most important quality for your toilet paper isn't if it has lotion, is thick, is soft, or is on sale. The MOST important thing is ...
Does your toilet paper dissolve?
Toilet paper that doesn't dissolve just sits in a clump in your plumbing. And if it gets caught on something like a jagged edge or corner in your pipes it will stay there for a longggg time, allowing more and more paper to get stuck and caught on it, creating, eventually a big mass of undissolved toilet paper blocking your sewer line.
And then one day you'll flush the toilet and instead of the water in the toilet bowl going down, it will start to move UP. Towards you. As you stare in horror, desperately trying to remember what to do (turn the water supply to the toilet off immediately) you'll wonder why, WHYYYYYYYY is this happening to YOU?
It's happening because your toilet paper doesn't dissolve in the pipes. At least that's the likely culprit.
THIS IS ALSO WHY YOU SHOULD NEVER FLUSH PAPER TOWELS, TAMPONS OR FACIAL TISSUE.
They don't dissolve and will eventually cause a clog.
---
The Toilet Paper Test.
I tested 5 various brands of popular toilet papers like Charmin, Cottonelle, Kirkland brand (from Costco) as well as lesser known brands like cheap store brand toilet papers and Cascades.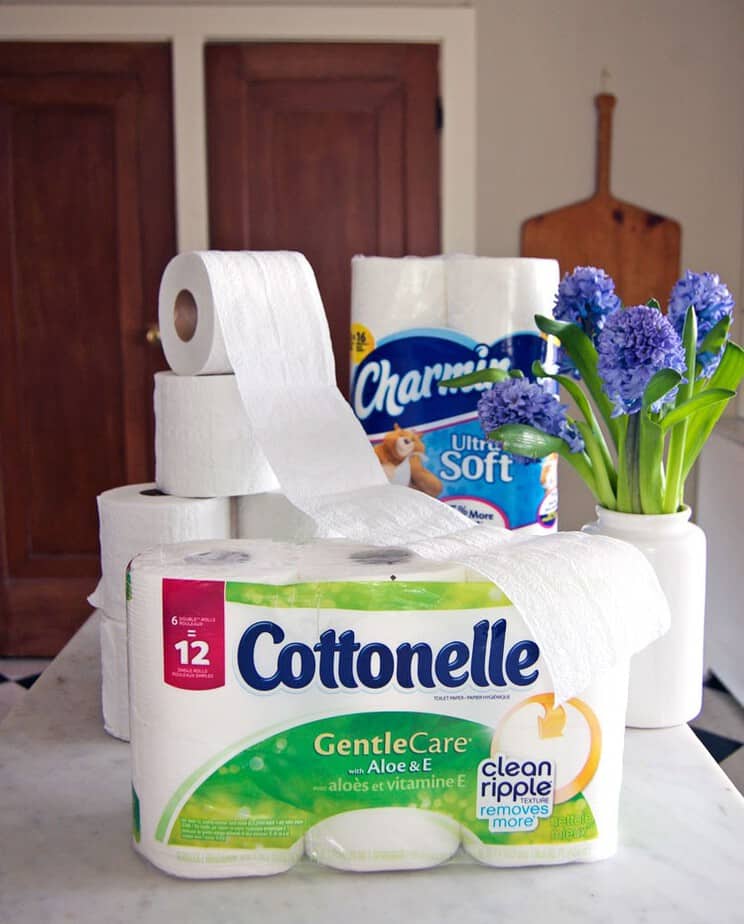 To run the test I put 2 sheets of each toilet paper into its own clear glass vessel and then added 2 cups of water to each.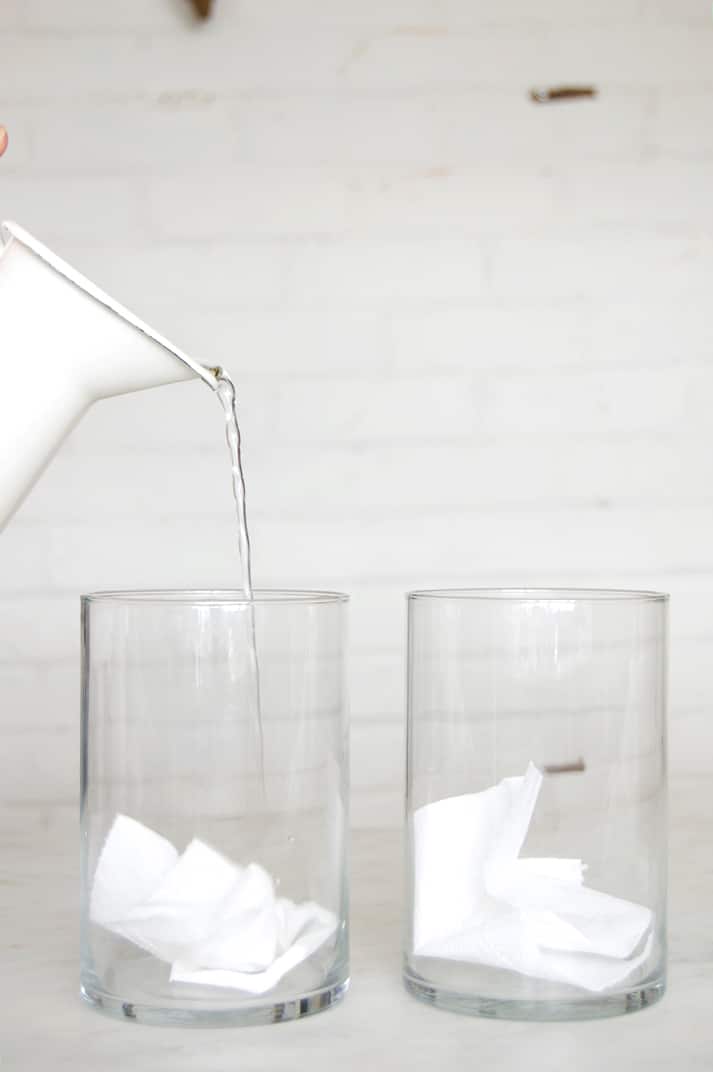 20 minutes later I stirred each one vigorously to see how well they had broken down.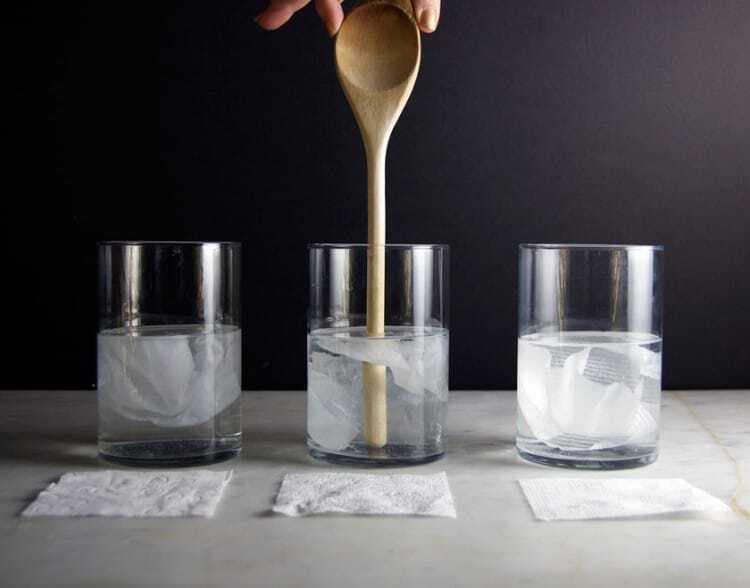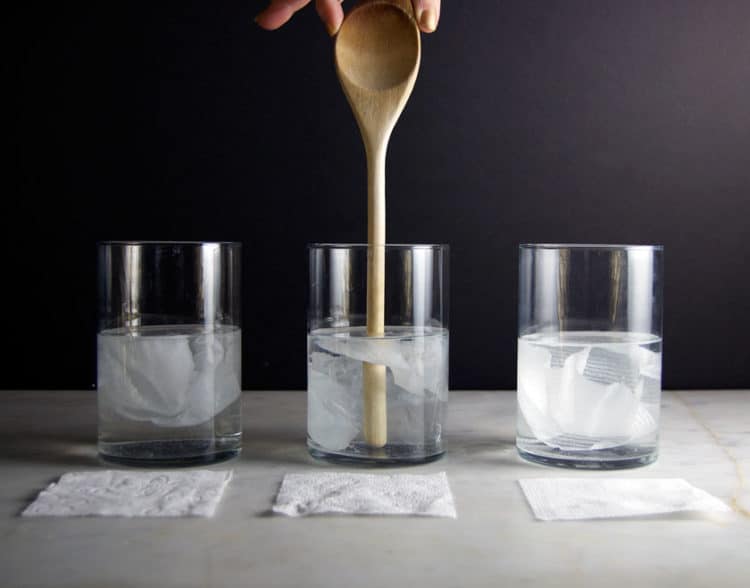 The Toilet Paper Test Results.
After sitting in water for 20 minutes and then being stirred vigorously to replicate flying down plumbing pipes, only ONE type of paper dissolved.
The Cascades brand toilet paper for the win. ✔️
All of the other toilet papers including Charmin, Cottonelle and Kirkland brand failed the test. Some of them were particularly stubborn and didn't dissolve at all while others just didn't dissolve completely.
Why is this?
More than the brand, in this case Cascades, the reason for a toilet paper dissolving well is behind how the toilet paper is made and what it's made of. Cascades is made with recycled paper.
Any toilet paper made with 100% recycled paper will dissolve almost completely. It is the best toilet paper to use.
Instead of being made up of long, strong fibres, recycled paper has short fibres that easily break apart into short little pieces.
The tinier the pieces are, the less likely they are to get caught on the edges, rough spots or corners in your plumbing. No getting caught means no clogging means no running from the bathroom being chased by a lava-like flow of poo.
What exactly is recycled toilet paper made of?
Recycled toilet paper isn't made up of used toilet paper. It's made up of post consumer recycled content (PCR). The bad part of that is the fact that this includes papers that have BPA in them.
Things like credit card printouts and lottery tickets are made with paper that has BPA. Those things are then added to the other papers that consumers recycle (like cardboard) and end up getting BPA into the recycled paper.
HOWEVER the amount of BPA is minimal (we're talking parts per billion) and if you're going to weigh pros and cons, the pros of using recycled toilet paper far outweigh the cons. The BPA in recycled paper is insignificant compared to what we come into contact with on a daily basis.
---
Take a look at some of the results of the toilet paper test.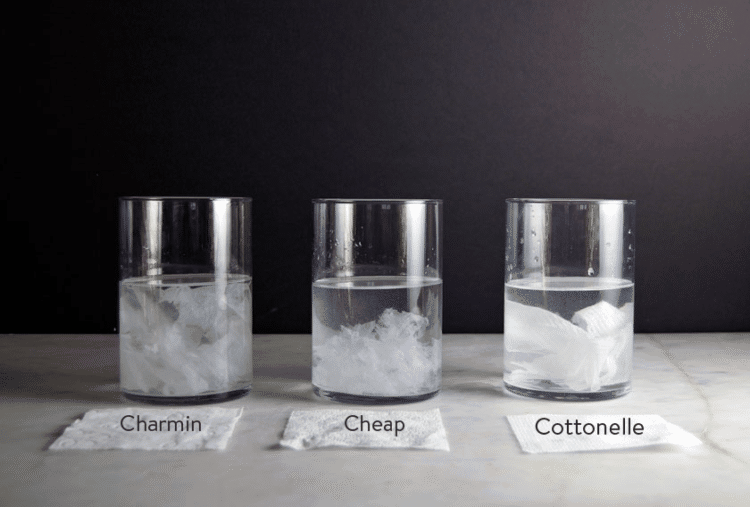 From left to right:
Charmin Ultra Soft looked like a standard premium toilet paper. Its packaging claimed that it's a "no plunger" toilet paper. Meaning it won't clog your pipes. Presumably that means it will dissolve easily. It did dissolve better than other premium brands, but it still didn't dissolve entirely.
Cheap Store brands can break down but sometimes it's just because they're very thin, 1 or 2 ply papers. People are in love with their bums, so nobody wants to sacrifice bum chaffing for healthy plumbinb pipes. Even worse, 1 ply can tear apart WHILE you're using it.
Cottonelle with Aloe and Ripples was the thickest, most premium brand and it did NOT dissolve at all. This paper would clog your pipe in days if you already have trouble with old, rusty pipes. It's no wonder; the Cottonelle looked more like a blanket than toilet paper.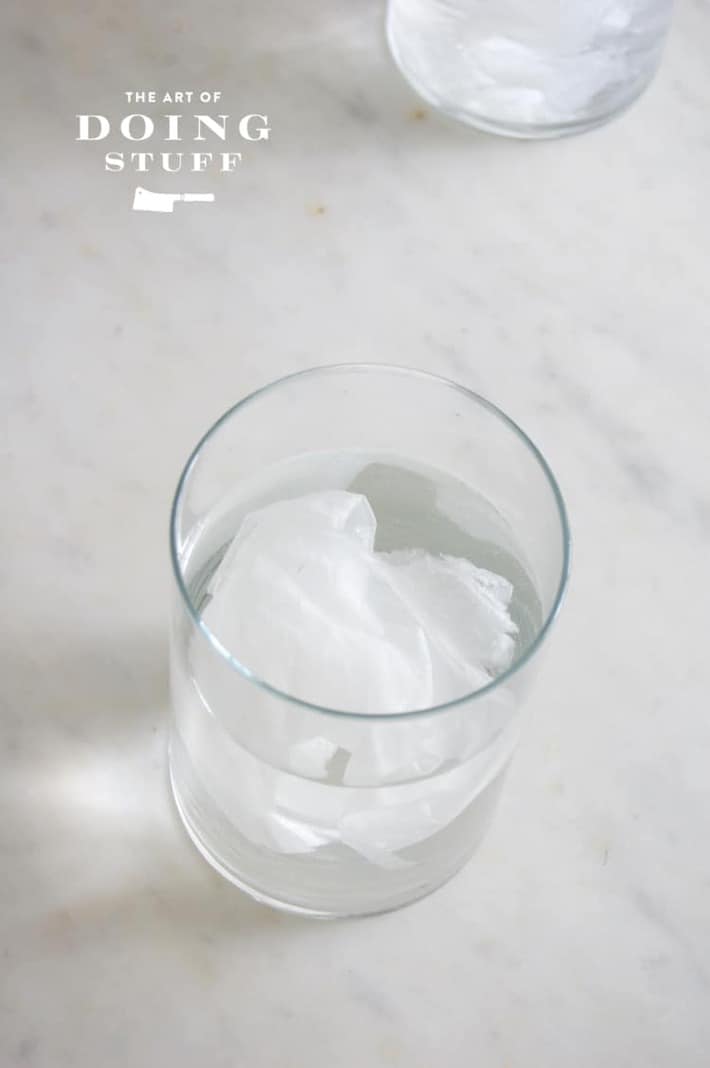 Kirkland Brand toilet paper (above) remained completely intact after sitting in water for 20 minutes but it dissolved fairly well after whirring it around with a spoon.
Cascades (the 100% recycled fibre) toilet paper had started to dissolve just from sitting in water (as shown in the photo below) with no agitation. After agitating there were no pieces larger than a dime left.
Conclusion?
Buy toilet paper that says it's made from 100% recycled material. No matter the brand, it should dissolve completely in your pipes.
If you have real trouble with your plumbing backing up or clogging, do a test yourself with any new toilet paper.
---
Testing Toilet Paper.
Rip 2 sheets off and place them in a jar.
Add 2 cups of water and wait 20 minutes.
Stir the jar. If the paper has dissolved with no large pieces it won't clog your pipes.
---
Extra Tips
Obviously if you have a septic system, THIS is the kind of paper you should be buying as well.
The amount of toilet paper you use isn't the issue. Even if you limit yourself to 3 squares a day, if you're using a paper like Cottonelle that doesn't dissolve at all, it's going to build up over time and clog.
If your toilet is a low flow toilet from when they were first introduced, pay attention to it. If it doesn't seem to be flushing well it probably isn't. Replace it with a newer model that has a higher MaP (Maximum performance rating). You can click here to read about MaPs.
If you notice your toilet bubbling when you're having a shower YOU ARE IN EMERGENCY MODE. You are only a couple of flushes away from your toilet, bathtub or sink filling with backed up crap. Get your pipes snaked by a plumber IMMEDIATELY if you notice this happens.
---
Do NOT be afraid to install a new toilet. I've done it a few times. Granted, I'm a handy kind of person but almost anyone can install a toilet.
If you have the strength to lift it, everything else is a breeze. I've done a whole easy to follow step-by-step tutorial with video on how to remove and install a new toilet.
The toilet I installed is an American Standard Studio with a MaP of over 1,000 and it has enough suctioning power that if you flush it while sitting down, it could turn your belly button from an outie into an innie.
I hope this information helps you at some point in your life. Speaking as someone who has lived through the horrors of a plugged toilet and thousands of dollars in sewer line repairs I would like to save you from what I went through.
This kind of information can save lives.
Or at least wallets and bathroom floors.
And maybe lives, actually. I'm sure there's a person out there who has had a heart attack after seeing the $10,000 estimate for replacing their sewer lines. When really ... all they needed to do was buy better, dissolvable toilet paper.
Several years ago I paid thousands of dollars to replace my sewer lines. A year later my toilet backed up AGAIN.
No one told me this by the way. Not one of the several contractors, plumbers or sewer line repair people that came to my house during a year long fiasco with my plumbing EVER mentioned that it could just be my toilet or my toilet paper.
Until one guy. After visiting my house for the third time he told me to switch toilet paper. He could see it hadn't dissolved and had hooked onto the rough surface of the old sewer pipes. He also told me to get a better toilet with more flushing power.
If he had told me that during his first visit I would have saved thousands and thousands of dollars.
I guess the turd time's a charm.

→Follow me on Instagram where I often make a fool of myself←