Last summer I grew heirloom dried beans and this summer I finally cooked some up and taste tested them. The results? A clear winner among the beans and a delicious bean salad.
Dried beans are having a bit of a moment. I mean not a kale or a quinoa moment but a moment nonetheless. Part of the reason for that is the rise in those wacky vegans and vegetarians. Then there are the rest of the wackies (myself included) who only eat meat a couple of times a week either for health or ethical reasons. Or maybe that's all you crave. That's a good answer too. Not every decision you make has to have some sort of moral superiority issue attached to it.
BEANS are a good substitute for meat in terms of nutritional values and even consistency. Beans DON'T have some of the essential amino acids that meat does which means even though they have high protein values they're an incomplete protein. Just so you know. But don't worry about it. They make up for it by having zero fat or cholesterol.
Plus you can make old fashioned baked beans with them!
But really the number one reason I've been getting into dried beans is because they're pretty.
See? I told you not every decision you make has to be based on what'll make you look like a better person on social media. Sometimes you can just be the asshole who likes pretty things.
These particular dried beans I got from blogging friend Crystal from Wholefed Homestead. They are rare and in some cases *extremely* rare bean seeds.
Which is why it was so very upsetting when I killed every single one that I planted last spring.
Not on purpose of course. I just didn't protect the seedlings from whatever ended up eating them down to the dirt. Luckily I saved a couple of each of the seeds and could replant them. Other than the flat white beans which I sourced from another Internet friend Karen, at Michigan Heirlooms.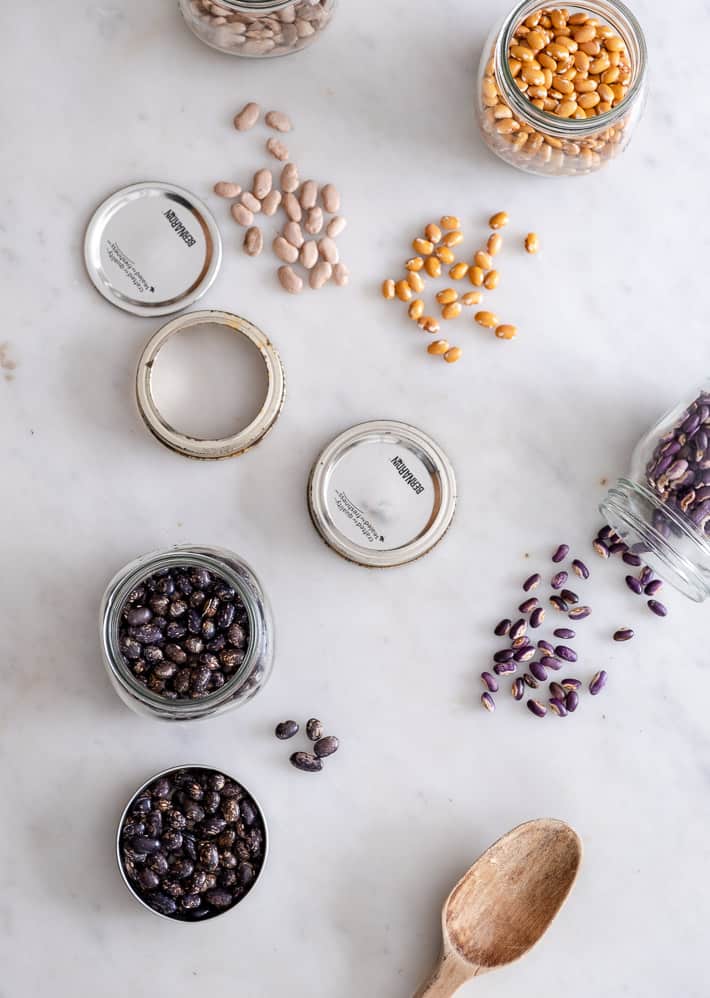 Rare Beans
Top left (flat white beans) - Lengua de Lobo (Wolf's Tongue)
Top right (yellow & white beans) - Zuni Gold
Middle left (dark purple with specks) - Stangenbohne Rassacher Kipfler
Middle right (light purple) - Blooming Prairie
I did end up completely losing one called Stangengohne Whitsenhausen, which was probably the most beautiful bean. It's the bean in the upper right corner of this photo in sort of sherbert colours. I will make up for my loss by just eating actual sherbert.
I cooked up my varieties in separate pots and started tasting.
HOW TO COOK DRY BEANS
People have all kinds of fears about cooking dried beans because you have to think ahead and presoak them. But guess what? You don't really have to presoak them.
Just boil them. If you're making a bean salad you really just need to boil the beans in slightly salted water.
You don't need to presoak them overnight, you may just need to increase the time you simmer them.
They'll take between 1-2 hours of simmering depending on the bean and how old it is. All you're doing is reconstituting the bean. You just have to keep checking them to see if they're done. When they're done the skins will curl up when you blow on them. Also they'll break in half easily and be soft and creamy when you bite into them.
All of these beans took different amounts of time to cook and tasted completely different.
Side by side comparison of cooked versus dried beans
Sadly, as you can see, beans don't retain their spectacular colour after cooking. Which let me tell you DOES take a lot of the fun out of it, but it was expected. Each bean cooked up to various shades of brown.
What was most surprising to me is that there was a clear, runaway WINNER in terms of taste and texture.
I really didn't expect there to be much difference but there was.
The extremely rare Stangenbohne Rassacher Kipfler (dark purple with speckles shown at the top of the last photo) was hands down the most flavourful and creamiest bean. Which makes no sense! Why would the RAREST bean be the best? You would think the rarest bean is the rarest because it kind of sucked and everyone stopped growing and eating it.
That's not the case here. It's a great example of why seed saving and sharing is so important. We as a human race are DEPRIVING OURSELVES OF GOOD FOOD.
Idiots.
The beans were all good and I love to have the variety so I'm going to take the few beans I have left and grow more of each of them next year.
This was about ⅓rd of my haul from last year. It wasn't a great year for my dried beans what with some random pest eating them alive at the beginning of the season.
And here's the rest of my harvest from last season if you're interested.
If you're wondering, you grow dried beans exactly the same as you grow regular beans. You just don't pick them until they've dried on the vine. Simple. Then you get to sit with a pile of them in the fall popping them out of their pods.
After the taste test I mixed up all the beans and made the easy bean salad I make all the time.
The only ingredients are lemon juice, olive oil, feta cheese, beans and red onion. And a sprinkling of salt of course.
It's filling, delicious and can be a whole meal or a side dish. Plus you can make and dress it in advance then leave it in the fridge to "steep" for several days.
Ingredients
beans

dried or canned

Feta cheese

olive oil

lemon juice

red onion
Instructions
If using dried beans, bring beans to a boil in salted water and then let simmer until tender. You may need to add more water as they cook. Cooking time varies from 1-2 hours depending on the bean.

Drain the beans and drizzle a generous amount of olive oil over them and do the same with lemon juice.

Taste to see if additional salt is needed, sprinkle the beans with salt and mix.

Top with feta cheese and thinly sliced red onion.
Notes
You can use any canned beans for this as well. Just rinse and drain the beans. It's especially good made with 100% chick peas.
Please. For the love of all that is holy, help give dried beans their moment in the sun. I think Kale has been hogging the spotlight for quite long enough. What with the fact that no none even likes kale, it seems like the right thing to do.

→Follow me on Instagram where I often make a fool of myself←