You might think a pergola is a pergola.  It is not.  They range from ugly to really ugly to stunningly beautiful. If you're looking for the stunningly beautiful type,  here are 10 great options to inspire you.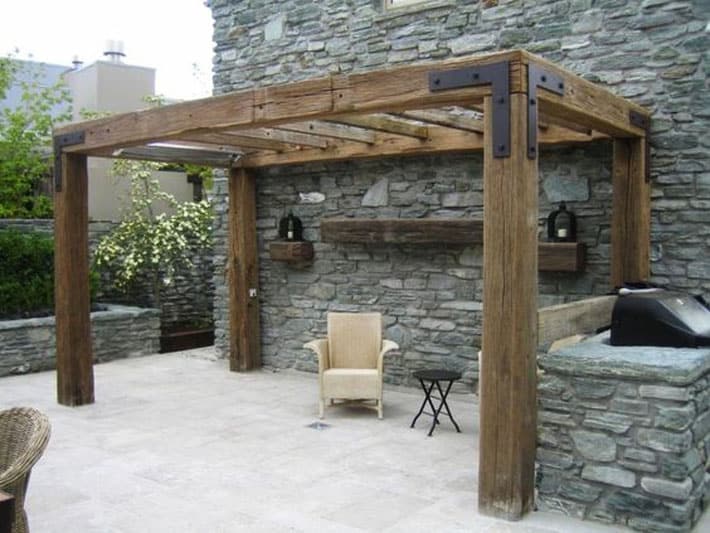 Here's the thing with Canada. As soon as spring hits, the catalogues and flyers start showing up in the mail with pictures of happy families standing around a grill grinning like lunatics. In some photos they're sitting stiffly on outdoor furniture with sweaty glasses of lemonade in their hands. Everything look shiny and clean and wonderful.
It's all a lie. If they wanted to portray real Canadian outdoor living in their catalogues they'd show a photo of a woman with her head out the car window screaming at everyone to get out of her way as she runs 15 consecutive red lights in an attempt to get home before the surprise rain storm hits and soaks all of her family's outdoor cushions to the point that they weigh 742 pounds each.
You never see a photo like that.
Canada you see, is not really meant for outdoor furniture. Not the upholstered kind anyway. The only way around it is to throw a tarp over your furniture when you're not using it *just in case* it rains or to build a pergola and throw a tarp over that.
Most pergola's from home improvement stores come with a cover over them or a retractable shade but ... those aren't recommended for heavy rain or leaving out in bad weather. You're supposed to wind them up out of the way to protect them. Even though they're supposed to be protecting your outdoor cushions so you don't have to wake up in the middle of the night to thunder, trudge outside, get into a fight with a raccoon, trip on the hose and bust your lip while attempting to cover your furniture with a tarp.
Uh huh. As you may know, I built myself a copy of the Restoration Hardware Aspen collection furniture a couple of years ago. Here's the post on it. The furniture cost very little to build. A few hundred dollars if I remember correctly. The cushions? They were somewhere around $1,000 to have made.
That's just with regular foam and fade resistant fabric. I could have opted for waterproof fabric and foam but that would have jumped the price of my cushions up to around the price of a 5 vials of Martian eyeballs. So I cheaped out.
This is the area I want to protect with a pergola.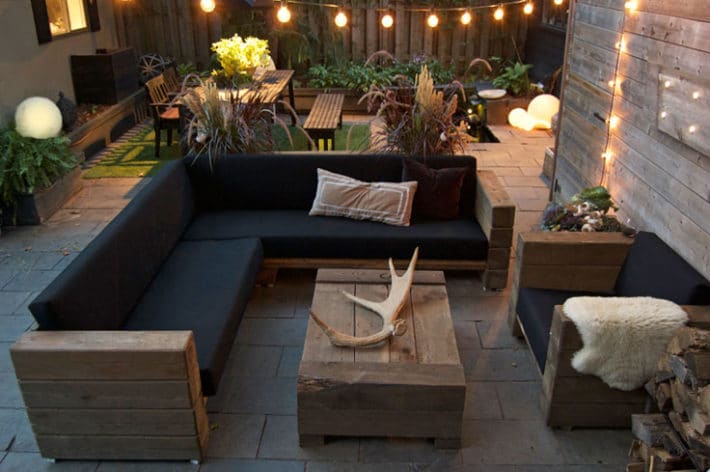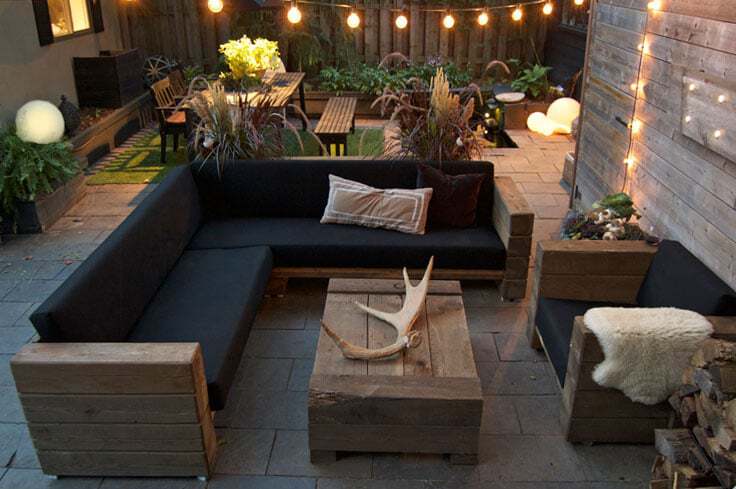 "Now I am that woman screaming home to throw a tarp over her cushions. I am that woman kickboxing a raccoon at 1 in the morning. I don't want to be that woman anymore. Which means I have to build a pergola.
And then I have to figure out a way to make it waterproof without blocking any sunlight into my house and keep the cost under a nuclear warhead. Good luck to me."
Those are the words I said to myself 4 years ago. FOUR YEARS.
I spent a lot of time on Google and Pinterest marvelling at all the pergolas I couldn't afford to build. But they did provide some great inspiration which I've ignored for the past 4 years. I just haven't had time to build or buy a pergola.
However, a couple of nights ago my sister and brother-in-law showed up at my house at 9:30 at night with 4 pergola pillars. Not an actual pergola. Just 4 black pillars that at one point belonged to someone else's pergola.
I believe they found them at my favourite store - the garbage. That was all the incentive I needed. THIS is the summer I make a pergola.
It turns out there are more pergola designs out there than you can shake a catalogue at. And now that I have 4 pillars to turn into a pergola I have some decisions to make.
I could leave them as is, or cover them in wood, make them modern, make them traditional. Whatever I want. Having 4 random pillars also gives me the opportunity to make the pergola the exact size I want. I don't have to stick with a store bought 10 x 10. Or 12 x 10. If I want I can make my pergola 12.74 feet long by 8.45 feet wide. I won't. But I could.
I'm looking for something rustic and modern at the same time. These (including the one at the top of this page) are 10 of my favourites.
no source for this image other than the spammy site I found it on, which I refuse to link to.
I love the shape and harshness of the design of this one up top.
Designed by Marnie Lewis
I mean this is just something else. From the chairs that are bums to the cantilevered steps leading to the outdoor fireplace. It's stunning. Nothing at all like I could have but it's still inspirational.
I really like this. I like it a lot. This retractable awning is soft and if made out of a waterproof fabric could actually ... dare I say it ... be a viable option for me.
All I have to do is figure out how to make a retractable roof for my 4 pillars.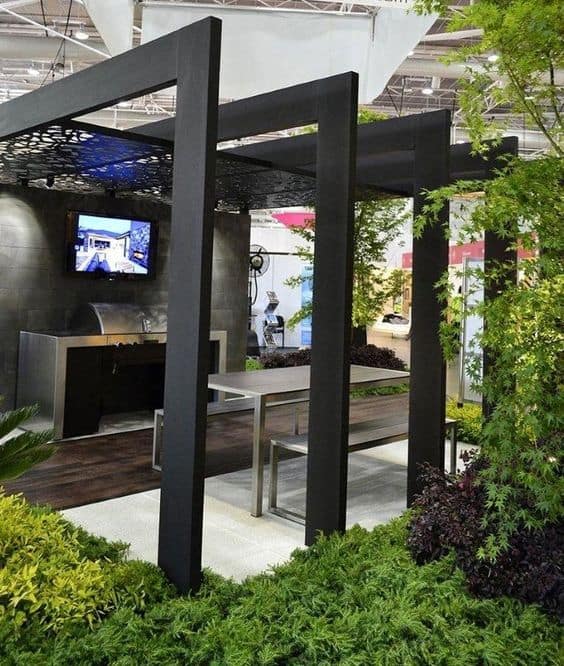 I don't love all the squiggles on the roofing material but I do like the use of 2"x8"s (or whatever they are) as the posts. As a nature lover and someone who will choose to be outside rather than inside 99% of the time I'm embarrassed to say I'm digging the television outside.
I used to have a tv in my backyard and there's nothing like watching a baseball game out in the backyard.
no source found :(
This one is kind of a problem solver. It's a pergola with a glass roof. But glass seems kind of risky what with the raccoons prowling and pooing and my regular roof.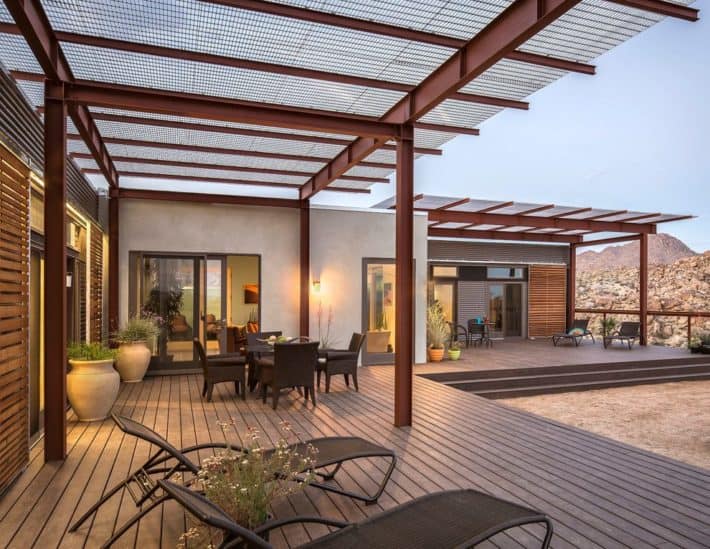 This pergola roof seems to be some type of wire mesh which would give a tiny big of shade. But no protection for cushions.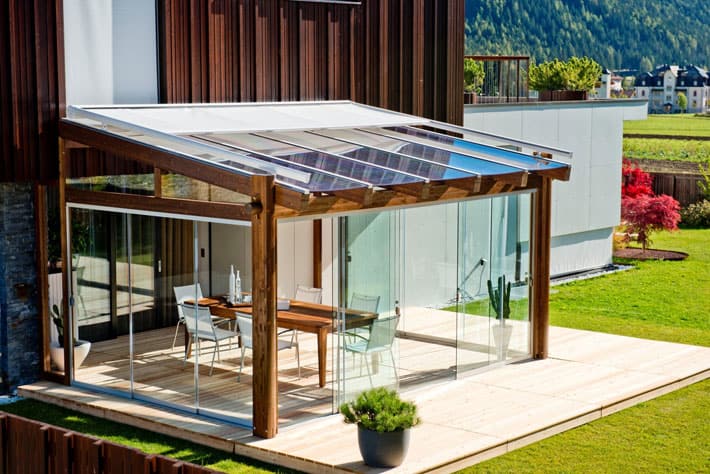 source
I can't quite tell from the photo but this room (take a closer look, it's all encased in glass) could have either a glass roof or a polycarbonate roof. A lot of pergolas and gazebos are being outfitted with polycarbonate roofs lately. They're a plastic material in sort of a honeycomb pattern that comes in clear or a variety of colours allowing light through them but no rain.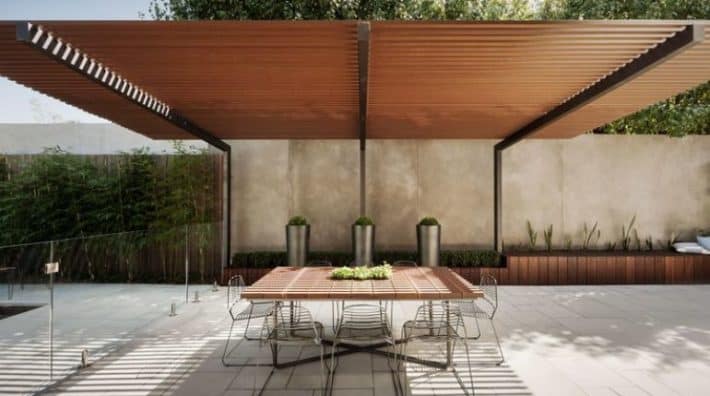 sources all spammy
Yeah. I can't have this but I like it. I have a thing for concrete fences and walls. I love them. I'd do exceptionally well in prison.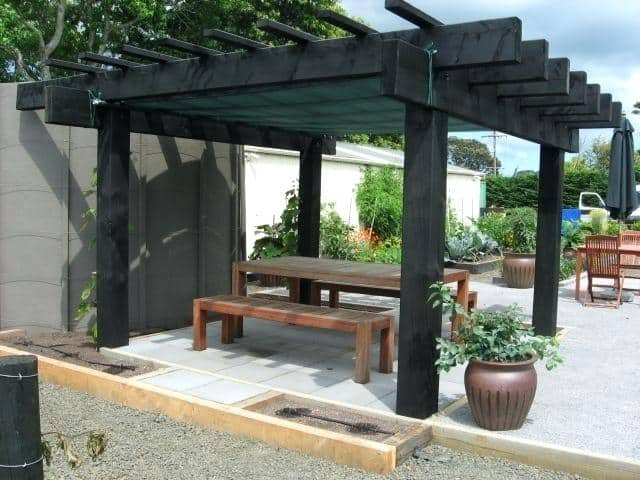 again ... all sources spammy
This is a real combination of contemporary with a traditional pergola style in terms of the roofing. Maybe too traditional for me, but I do like the black.
Why all this worry? All this debating and planning? Why put up a pergola at all?
Function. Like I said, having a way to protect your outdoor furniture and cushions from the rain and other elements is a necessity in this climate. Depending on where your patio furniture is located in your yard, protecting it and you from the sun is also necessary.
Defining the space. Putting a pergola around an area of your yard instantly creates a focal point and
Enjoyment. Half the time in the summer when it rains, it's just raining. It's not a massive thunderstorm with squirrels flying through the air. It's just a bit of rain. With a pergola that has a roof on it, you can be outside cozy in your little outdoor room in the rain.
Watching baseball.
→Follow me on Instagram where I often make a fool of myself←