Asparagus!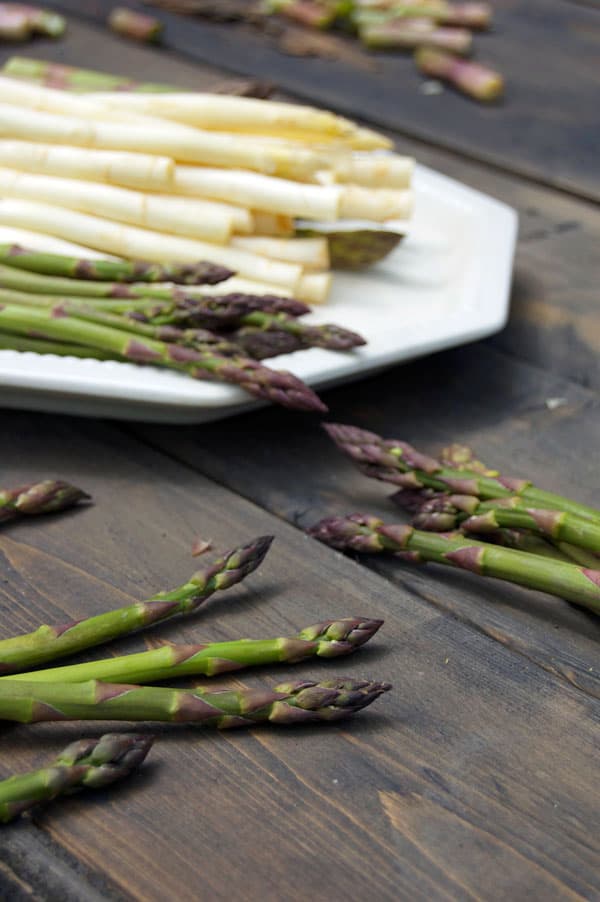 I don't mean to boast, (but really I do) but I have quite a knack when it comes to growing asparagus.  For those of you who don't know, Asparagus is one of the very few perennial vegetables around.  Asparagus is started either from seed or from tiny Asparagus crowns that have to be planted in a nursery bed, kept free of weeds and left to grow for several years before you can harvest from it.  So it's not a beginner plant.  You don't get any immediate satisfaction from it and it needs to be babied a bit in the beginning.
I'm sure you all know by now that I'm not a beginner gardener, so my success with Asparagus is due in no small part to my years of experience.  I've been growing asparagus for 6 years.
Those spears you see?  They were lovingly coaxed from the soil and picked just 2 weeks ago by some asshead professional Asparagus farmer because it sure as hell wasn't me.  I've been growing asparagus for 6 years and I've received exactly one asparagus spear the thickness of a strand of spaghetti. Not even spaghetti.  Spaghettini.  
I suck at growing Asparagus.  SUCK!
This isn't one of those blogger tricks where they pretend to be "not perfect" so everyone can relate to them.  Yes.  Bloggers do that.  Not me, but other bloggers.  Tricky bloggers.  This is a bona fide, I suck, moment.  I. Cannot. Grow. Asparagus.
Exhibit A.   This is the Asparagus I grew  a few years ago.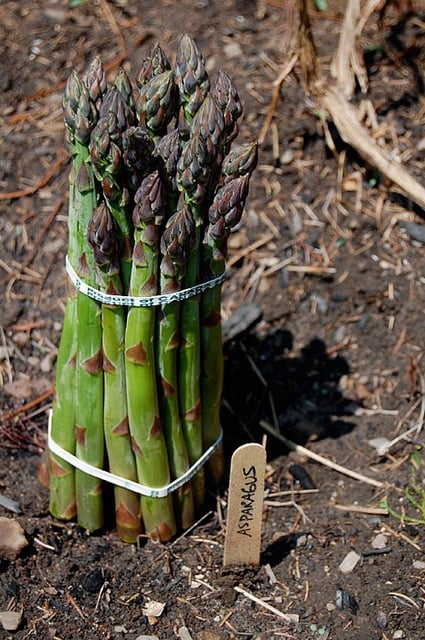 Luckily for me I know I can't grow asparagus so when asparagus season rolls around I'm smart enough to go out and buy it when it's in season instead of thinking mine will magically sprout from the soil.
Yet.  I'm going to try again this year.  This year, I'm going to start all over again and start asparagus indoors from seed.  (my original experiment was starting asparagus from crowns that I bought)  I bought the seeds for what's known as an all male hybrid asparagus.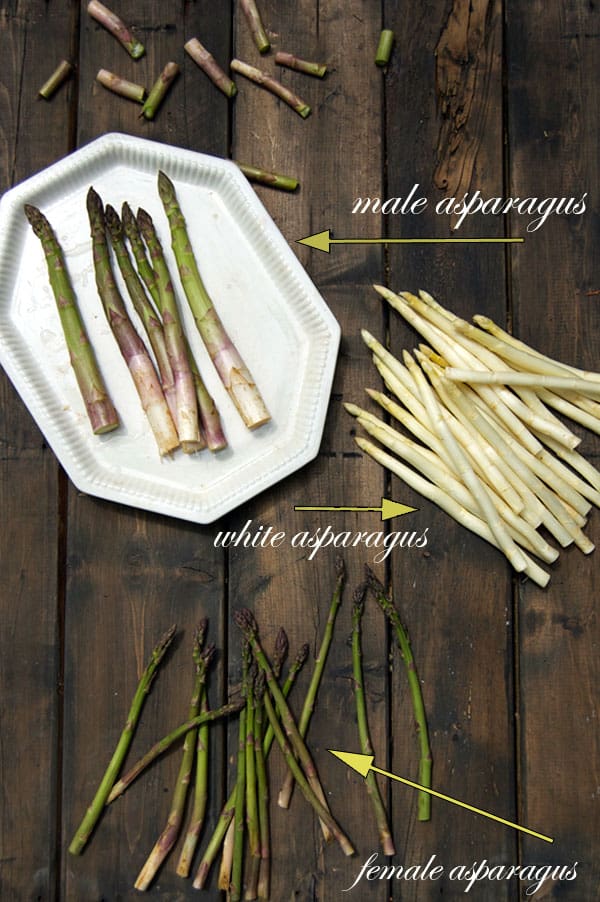 Because there's boy asparagus and girl asparagus.  A girl asparagus plant will produce thinner spears because she's concentrating on reproducing, which in this case means seed pods and therefore lots of asparagus babies. The only thing cuter than an asparagus baby is a Chinese cabbage baby.
Male asparagus plants on the other hand don't care one whit  about making babies they just want to grow up big and strong themselves.  So they only concentrate on making big, thick spears.  Male plants don't have to produce seeds so none of their energy goes towards producing them. It only goes towards making spears.
So I bought "Guelph Millennium" asparagus seeds which produce only all male spears.  These are fairly new on the market and were developed just over the hill from me at the University of Guelph.  It took 12 years for them to develop this seed.  So it should be foolproof.  Although these seeds haven't met this fool.
They are your regular, plain green variety of asparagus plants.  WHITE asparagus is the same thing incidentally. It's just been grown in darkness which means it doesn't develop the green colour because it doesn't develop chlorophyll.  Purple asparagus is a variety of asparagus that grows purple all on its own without doing anything special to it. The same way some tomato varieties are different colours.
The other thing about all male hybrid asparagus plants is they don't self seed which in the case of a hybrid is good. When a hybrid plant self seeds you don't get an exact reproduction of the original plant, you get a version of the original plant which is always a weaker, worse version.  With female plants you constantly have self seeding happening which is why your asparagus bed will spread so quickly, but it's spreading with an inferior product.
By the way.  Just for fun, there are other people (professional people from Universities and stuff)  who say Male plants do NOT grow thicker spears, they grow thinner spears and more of them, while the female plants grow fewer, thicker spears.  So basically the exact opposite of what I've said.  I based my information on what OTHER professional people from Universities and stuff said.  No one can agree on the thick versus thin point which I find curious because I mean, it's asparagus. How difficult can it be to figure out?
I'm leaning towards believing what I've said because I'm clearly very intuitive about asparagus.  I mean 6 years and one spear?  That's an almost impossible feat that no other asparagus growing  has been able to accomplish I bet.
I'll grow them indoors until they're transplantable and then I'll move them outdoors to their final location in a raised bed filled with compost.  I'll test the soil pH, plant them properly on little mounds of soil and stare at them hopefully.
For the next 6 or so years or so.  If yet again I'm not successful, I'm going to do what anyone with brains would do. I'd just declare it a special variety.  Watch for Karen's Invisible Asparagus coming to a seed catalogue near you soon.
[shareaholic app="share_buttons" id="5342563"]