O.K.  Fair warning.  The writing portion of these posts is going to get shorter and shorter the closer we get to Christmas.  Even though I got everything done I wanted to by the Christmas Pledge deadline I'm still screwed.
I have no idea how this is possible, but it is and I don't want to hear anything more on the subject.
And I can't write when I'm stressed and rushing.   The words are stubborn and just don't want to come out when I'm  trying to hurry to get them out.  Not unlike a poop.
So bear with me.  And my words.
This year's wrapping.  To be honest with you, this year's wrapping doesn't differ a whole lot from last year's wrapping other than it's a little bit worse.  So that's something I guess.  Not quite as fun, not quite as eye catching and nothing really to write home about.  Certainly not on the good stationary.  Frankly, this year's wrapping is barely worth a text message let alone the embossed cardstock with matching envelopes.  That you stole from your last hotel stay.
The gift tags however?  That's another story.  The gift tags are fantastic.  In fact that's one of the reasons the wrapping is so subdued.  I really just wanted the tags to be the star of the show.  And the bows.  Which aren't really bows so much as crap I found at the bottom of my chicken coop.  This is sounding very elegant already isn't it?  Boring, bland and possibly shit covered.
I KNOW HOW TO DO CHRISTMAS.
I guess since I'm letting it all hang out, now would also be a good time to tell you that I'm a thief.   Both my idea for my bow and tags were stolen, STOLEN I SAY, from the Internet.  'Cause I'm a dirty, rotten thief.   Plus I can recognize a good idea when I see one. And why come up with your own good idea when someone else already did?
The idea for the "bows" came from Pinterest.   I searched for a half an hour trying to find the original "pin" but couldn't.  If YOU are the original creator of these, not someone who saw them on Pinterest and copied them (found a lot of those) lemme know.
The idea for the tags came from the ever popular Mrs. Brooklyn Limestone.
O.K.  onto the show ...
Plain brown paper, string, white and red satin ribbon.
Looks nice enough ...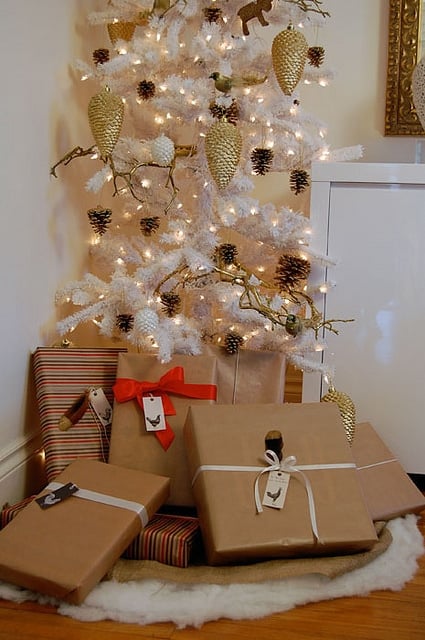 But this is where I'd like to draw your attention ...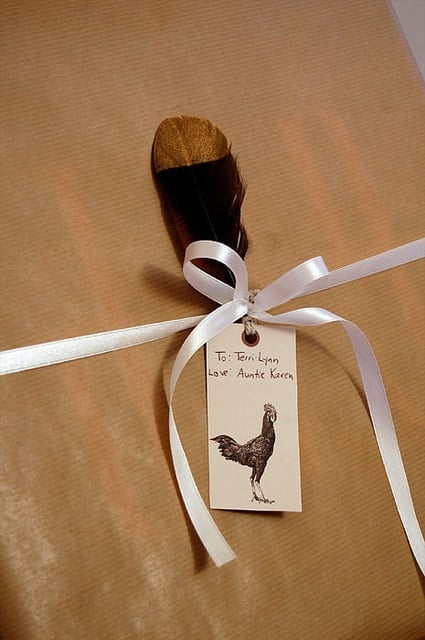 The tags are inspired by the ones done by Mrs. Limestone at Thanksgiving, but hers were a woodland theme.   And to everyone who wanted to know what I was going to do with all the feathers my chickens lost during moulting?  This is what I did.
All I did was lay the feathers flat,  covered up all but the tip of the feather with a block of wood, and spray it with my handy 24k Gold spray paint.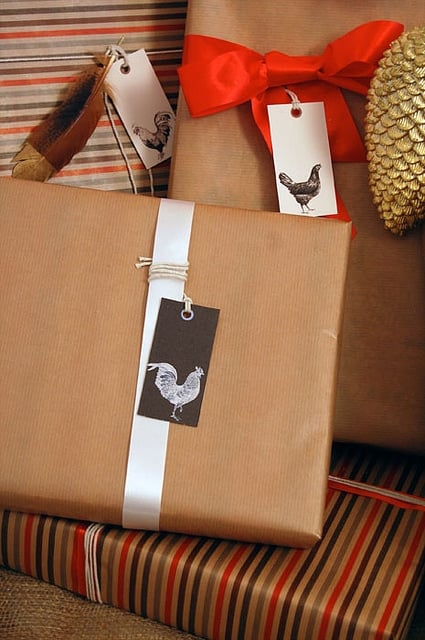 The tags I made by copying sketches of chickens I found on Google Images.  Which I probably shouldn't even be showing you on this site, because they're copyrighted images.  Which is why I can't give you your own to copy.  Because ... I'm a thief, but a thief with principles.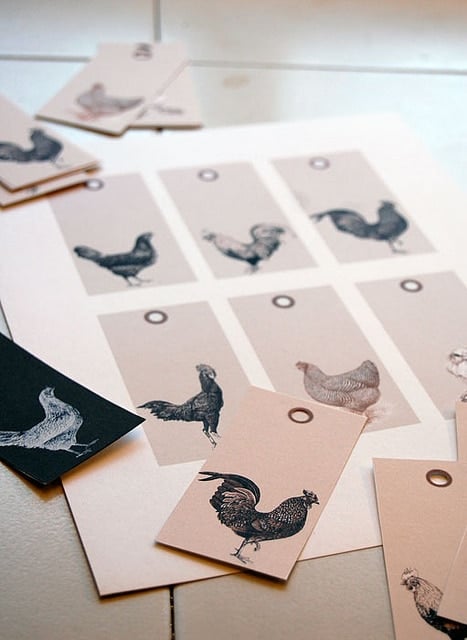 I can however give you the link to the beautiful woodland tags from Mrs. Brooklyn Limestone.   They have a similar feeling to mine.  Which can be explained by the fact that I copied her.  Instead of chickens she has deer and foxes and such.  Just click here to see them and print your own.
Kay that whole thing about the writing getting shorter and shorter the closer we get to Christmas?  I'd like to revise that sentence.  It shall now read "the writing will be getting badder and badder the closer we get to Christmas".  'Cause clearly I'm still prolific.
I figure by December 20th or so you'll be getting 2,000 words of nonsense followed by a fart noise.  Something to look forward to.
Merry Christmas.