Frazzled by how to get your house festive without the use of more f words? 11 easy and inexpensive Christmas decorating tips for a fantastic holiday season.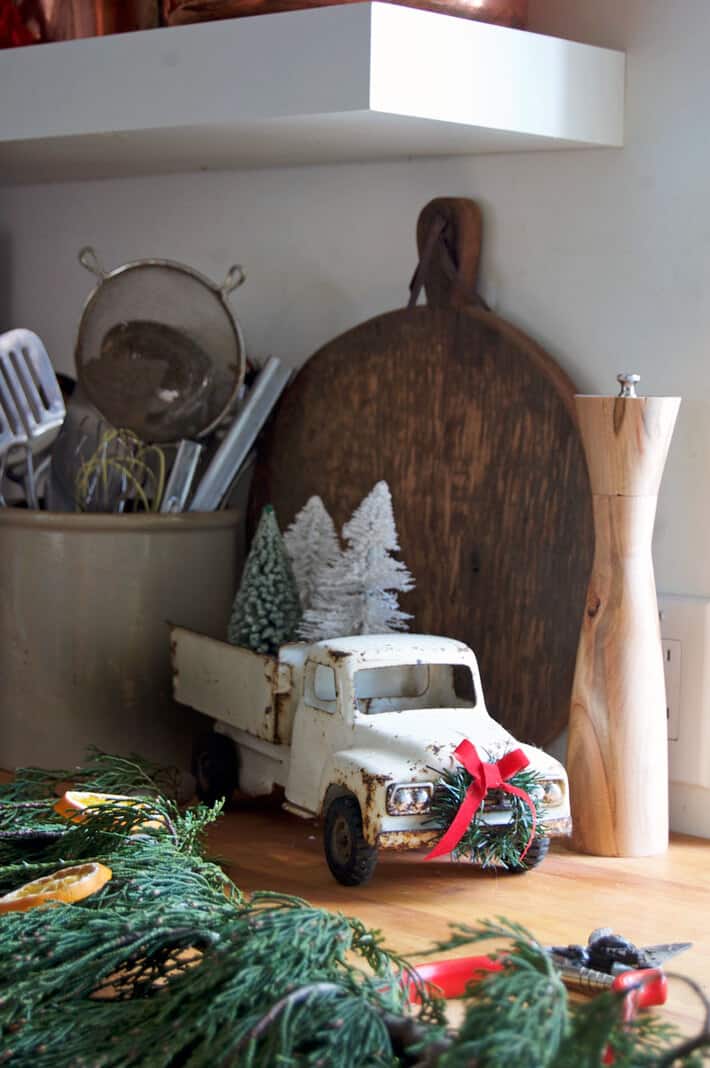 I bought this house when I was 28 years old. I lived at home and worked in Toronto saving all the money I possibly could so I could afford to buy a house. I looked into living in Toronto for a little while but my first salary as a television host was around $28,000 a year. By Toronto's standards that wasn't even enough to bribe the guy living in the sewer to let me bunk with him.
After looking at countless houses for 9 months I found my home and on December 18th I moved in.
Because I'd been living at home I owned almost nothing. I didn't own a plate, or a cup, or a couch. The one thing I did own were Christmas ornaments. So on December 19th I walked into my new home with 3 boxes of glass ornaments and I put up a Christmas tree.
The load of Christmas decorations I own has grown from 3 boxes to what seems like half a basement. Every year I go through them and decide which ones I should keep and which ones I can get rid of. Which is your very first tip by the way.
BONUS TIP: JUST BECAUSE YOU OWN IT DOESN'T MEAN YOU HAVE TO PUT IT OUT.
I still have the same glass ornaments I walked into this house with and I'll never get rid of them. I didn't decorate with them this year but I did 2 years ago and I'm sure I will again in the future. So they stay. But in the same box I have a bunch of older decorations that I loved at one point but kind of roll my eyes at now. I used to try to find a place to just stick them but now I realize just because I own them doesn't mean I have to put them out. If I don't like them or don't have room for them I either don't put them out or I get rid of them.
In no particular order,
10 Christmas Decorating Tips
as told by a Christmas addict.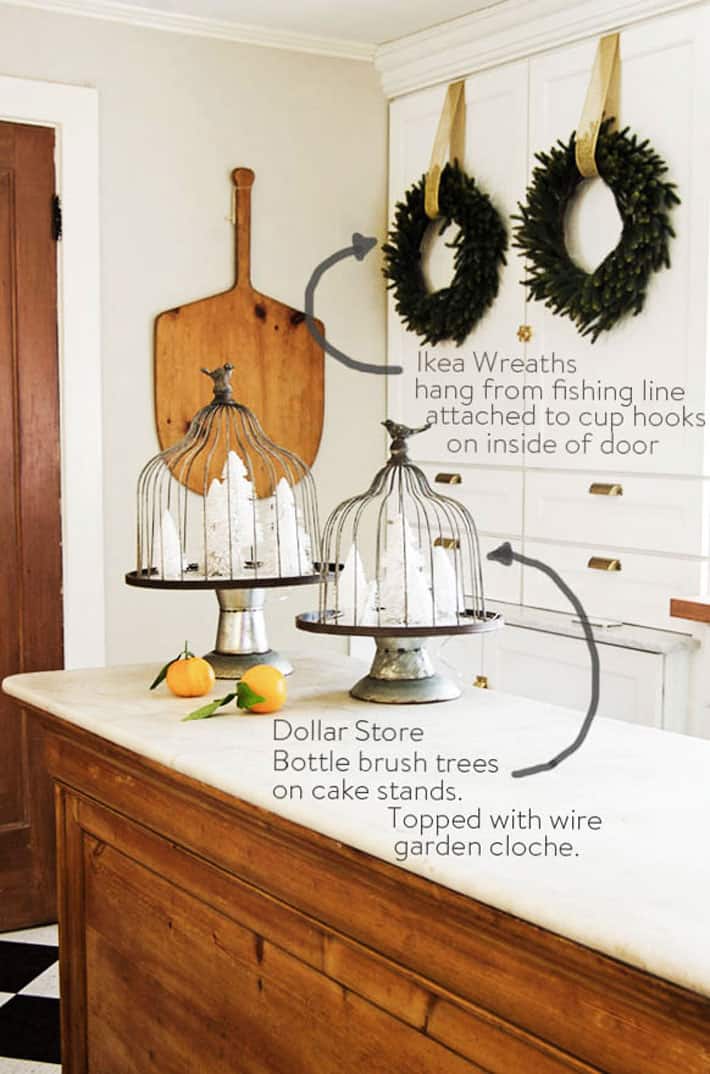 1. To hang a wreath from cupboard doors, install a screw in cup hook or a 3M sticky hook on the inside of the cupboard door. Wrap fishing line around your wreath then hang it from the cuphook on the inside of the door. To make it look like it's hanging from ribbon just wrap ribbon around the wreath and attach it to the cup hook as well. It'll look like the wreaths are hanging by the ribbons but they're actually being supported by the fishing line.
2. FOR EVERY CHRISTMAS PIECE YOU PUT OUT, TAKE AWAY A REGULAR ACCESSORY. Keep a Rubbermaid bin or cardboard box with you as you decorate, placing all the regular accessories into it. Then when you take Christmas away you'll have all your regular stuff together in one spot making it easy to put out again in January.
3. Sometimes all you need to do is add a little Christmas colour. I had these berry sprigs that I bought for a wreath but didn't like them in it. Which is a good thing because they look a million times better bunched in a vase.
4. ADD SPARKLE. I like a rustic Christmas more than anything else but even I make sure there's some glitter going on. You can get glitter from candle holders, a bowl of glittery pine cones, shaking an exotic dancer around your house, wine glasses or using sparkly ribbon on top of a burlap table runner.
5. Keep your Amaryllis or Paperwhite upright by surrounding the plant with twigs. The twigs stop the leaves and flowers from toppling over when they get too tall. Also … I get my glitter fix.
6. SCENTED CANDLES or plugins. If it smells like Christmas it'll feel like Christmas. I'm still looking for the world's best scented candle. I don't even care how much it costs at this point. If I could find a candle that smells as strong in the room once lit as it does when I smash my nose into the unlit candle I'd be a happy girl.
---
update – It turns out the world's best scented Christmas Candle is Frasier Fir by Thymes. It is OUTSTANDING. They also make hand soap, car fresheners and reed oil dispensers all in the delicious Frasier Fir scent.
---
7. Santa doesn't have to barf on your room to make it seem festive. In the case of my bedroom just adding a sheepskin mat to the floor and a cheap Ikea Christmas tree make it cozy and holiday-like.
8. PUT YOUR LIGHTS ON TIMERS. Just do it. Inside, outside … doesn't matter. Do 'em all.
9. Ornaments you already own are the cheapest way to decorate. Put them in bowls, mugs, vases or baskets. In this case, my antique egg basket holds my antique ornaments.
10. DOME IT. Glass cloches (otherwise known as domes) are available everywhere now. Big, small, it doesn't matter. Slip a glass dome over just about anything and it looks great and makes the thing inside seem as special as 5 legged cat. Only cuter.
11. The snowy scene on my sofa table is just a platter with white Dollar Store trees and plastic snow sprinkled in. That's it. And everyone loves it when they see it.
My final bonus tip is Pine Cones. If you can shove, hang, prop or display a pine cone in or on it DO IT. They're cheap, festive and available everywhere from stores to the street. If you're fancy you can buy the big ones that are covered in gold glitter.
The most important thing to remember when you're decorating for Christmas is, you really can't go wrong. It's pretty forgiving and pretty hard to make a mistake. I mean, we put entire, full sized, living trees in our rooms and don't think a thing of it. What other time of year would this seem sane to us? Then we cover it with flashing lights.
So no. You really can't screw up Christmas decorating. Just have fun, make it cozy and shake that ho, ho, ho around.

→Follow me on Instagram where I'll be sharing a lot more Christmas stuff.←