The fella: What is it?
Me: Quinoa.
The fella: What is it?
Me: Quinoa. It's an ancient grain. All the people who eat things we've never heard of eat it.  You know.  Hipsters.  'Sposed to be better for you than rice or potatoes.
The fella: But what is it?
Me: Don't worry about it. It's round rice. Just eat it.
The fella: Round rice? That's fun.
½ hour later ...
The fella:  That was gross.
Me:  Yup.
The fella:  What was that again?
Me:  Gross.
That's the approximate conversation from a few years ago when I made Quinoa for the first time. It was also the last time I made it until last year when we underwent the dreaded, asshead, whole foods, takes 17 hours and knocking a cow on the head to make dinner, "meal plan". Not a diet. It was a "meal plan".
The meal plan included a recipe for Stuffed Peppers made with Quinoa instead of rice.   I gave them a shot, they were gross and I put the Quinoa back in the cupboard just behind the 7 year old "Family Pack" of Lipton Cup-a-Soup but slightly in front of the cardboard box of "potatoes".
Then last summer we went for dinner at a local restaurant which served Quinoa salad.  Out of the blue that's what the fella ordered for an appetizer.  He must have been having one of his adventurous days.  Or he thought Quinoa was French for chocolate cake covered with chocolate sprinkles, filled with chocolate pudding on a bed of Chunky Monkey ice cream.   He loved it (the Quinoa salad).  He loved it a lot.
He loved it so much it led to an assault.  More on that later.
Seems all those years ago I was making quinoa.  I was making it gross.
Quinoa's kindda like rice.  Or tofu.  You need to add stuff to it to make it more than just a lump of something on your plate.
As we were leaving the restaurant the fella saw a man with food stains all over his clothes walking in.  Now, I would have assumed this guy was just a messy eater.  The fella assumed he was a "cook", and grabbed the fella by the lapels and said "HEY!  Are you the one griddling up stuff?"  Or something like that.
Quite possibly on the verge of making another stain on his clothes, Jeff Crump, owner of several high end restaurants around town said ... Yup.  I'm the owner and chef.
The fella:  WHAT'S IN THAT QUINOA SALAD??!!!
Jeff:  Um ... er ... um ... well there's quinoa and some lemon and some oil and um ...
While the shake down was going on, I had my iPhone out recording all of the ingredients.
A few days later I scratched out some semblance of the recipe and we've been eating it ever since.   It's not as good as the one in the Bread Bar restaurant but it's good enough for you people.
HAH!
So ... do you have yourself a bag of Quinoa with no idea what to do with it?
Do this ...
Gather your Ingredients ...
1 cup Quinoa
1 Tbsp. White Wine Vinegar
3 Tbsps Olive Oil
2 Green (spring) Onions (sliced thin)
1 Cup drained and rinsed black beans (scant)
1 Cup drained and rinsed chick peas (scant)
1 - 2 jalapeno peppers (diced super-fine)
Lemon (for juice)
Feta Cheese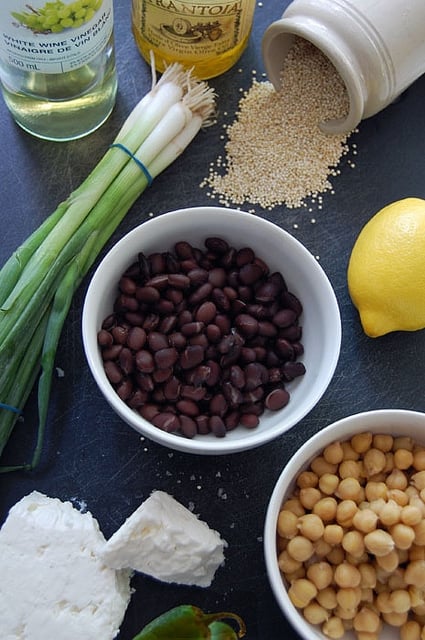 Cook the quinoa.  For this recipe I just use the immersion method.  Dump your cup of Quinoa into slightly salted boiling water (uncovered).  The amount of water doesn't matter.  4 cups or so.  Simmer for 13-14 minutes.  Drain.
Add quinoa to a big bowl, mix in vinegar, olive oil, green onions, black beans, chick peas, jalapeno peppers and a big squeeze of lemon juice.  Crack in some pepper, add a sprinkle of salt (not too much) and top with feta cheese.  Taste and adjust salt if needed.  (remember the feta cheese is really salty, so you may not need to add salt at all)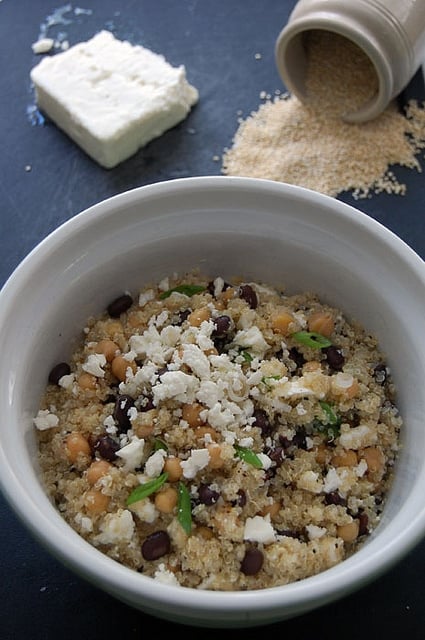 The first day this salad tastes O.K.  The second day, it tastes like something that would prompt  you to grab someone by the lapels and scream "WHAT'S IN THAT QUINOA SALAD?!?"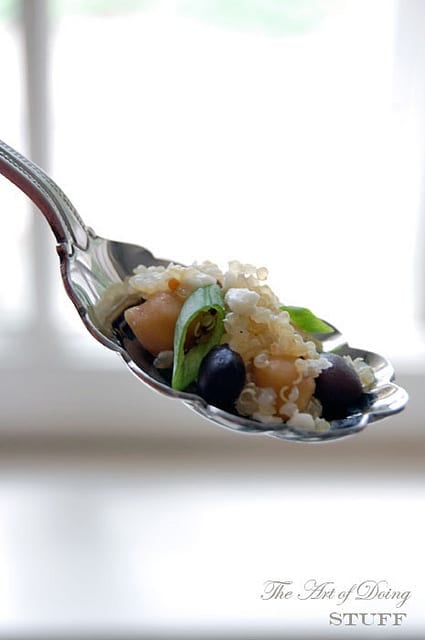 Jeff Crump by the way, is the chef who graciously let me use his pizza dough recipe on this site.  The one from his fantastic Earth To Table cookbook.  Jeff Crump has no idea my fella was the one that accosted  him for his organic, Quinoa and fresh feta salad recipe, and I plan to keep it that way.
Quinoa?  What's that.
Amendment: Many people are commenting that Quinoa needs to be rinsed. While that used to be true, it no longer is. Most commercially processed Quinoa now comes with the bitter, outer shell already removed. Unless you're buying your Quinoa from a local farmer or sometimes in bulk, you do not need to rinse and soak your Quinoa.
→Follow me on Instagram where I often make a fool of myself←