Today's puzzle comes from a visit I had to a local 2 acre historic kitchen garden. Dirt paths and fields of rye are especially enticing as I dig out from the 3rd snowstorm in 1 week.
Hello Saturday people! How are you?! I'm so glad you're here! Are you ready for the glorious and sparkling weekend ahead of you? You go getter!
I'd love to continue this enthusiasm but as it happens I used up all my enthusiasm shovelling snow this week so if you don't mind I'd prefer to just be miserable. It takes less energy than feigned perkiness.
Did I mention I own a snowblower? At least I used to. I have to store it at Betty's house during the summer because I genuinely have nowhere to put it at my house. It is BIG - and I don't have a big garage.
I do not have any garage.
Since the snowblower requires a truck and at least 250 lbs of solid, heaving, body weight to lift it, I haven't picked the snowblower up from my mother's to bring it back home for the winter since the fella left.
So 10 years.
That's how many years it took me to admit that I was never going to go and get it and use it again.
The snowblower wouldn't have helped very much with the first storm anyway because all the snow was hidden underneath a layer of iceberg. Which brings up an interesting point for any of you who don't live in a part of the world that regularly gets snow.
There Are Different Types of Snow
Yes it's true. And the type of snow that falls depends on a lot of factors, but the main one is temperature.
Cold = Dry snow
When it's cold and the temperature is more than a few degrees below freezing snow is dry and only has a small amount of moisture in it. This makes snow light and fluffy. Powder snow. It weighs about the same amount as air so it isn't hard to shove.
It's also no good for snowmen or snowballs. It won't pack.
Just Freezing = Wet snow
When it's just at the freezing mark (32F/0C) snow has a higher moisture content which makes each flake wetter and heavier. Wet snow. It's heavy and is takes more energy and strength to shovel.
It makes excellent snowmenpeople and snowballs.
Flash Freeze
When wet snow falls and then it gets a few degrees colder out (like overnight) that wet snow will freeze into blocks of heavy, impossible to move, chunks of ice.
This combination of possibilities dictates what kind of shovel you use to hit yourself over the head with.
So today I'll be heading into my basement to do some seedling work.
(A post on how to pot up your seedlings is coming up this week)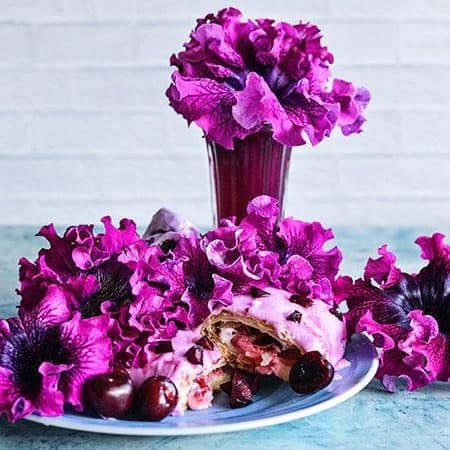 Grow Room Plantings (so far)
Cosmic Cherry and Giant Rose Petunias (those petunias that taste and smell like cherries)
Evening Scentsation Petunias (have a scent of hyacinth, honey and roses)
Pot-a-peño (compact jalapeño peppers that are meant for growing in pots)
Biquinho Red & Yellow Hot Peppers
Leutschauer Hot Paprika Pepper
Txorixero Sweet Paprika Pepper
REMINDER FOR PEPPERS
Peppers take a long time to grow and need a long season which means you have to start them early if you want to grow them yourself.
REMINDER FOR DAHLIAS
If you're in zones 5, 6 or 7 and you saved dahlias, you should take them out of storage in a couple of weeks so that they can warm up and start to form their eyes.
Please enjoy this week's puzzle, a moment in time from the Dundurn Castle historic kitchen garden. A 2 acre working garden that features only varieties that were available when the garden was first constructed (pre-1850 varieties only).
I took the photo the day they invited me to harvest some of their rye to take home. I did take it home, threshed it and then used the rye for grinding into flour to make rye bread.
Which is a lot more fun than shovelling snow for 5 hours in one week.
The 25 piece puzzle
Because you have chubby fingers.
The 100 Piece Puzzle
Because you have absurdly slim fingertips.