Tiny gingerbread houses on a pillow of vanilla bean ice cream. These make ahead edible snow globes are the cutest, easy Christmas dessert in the land.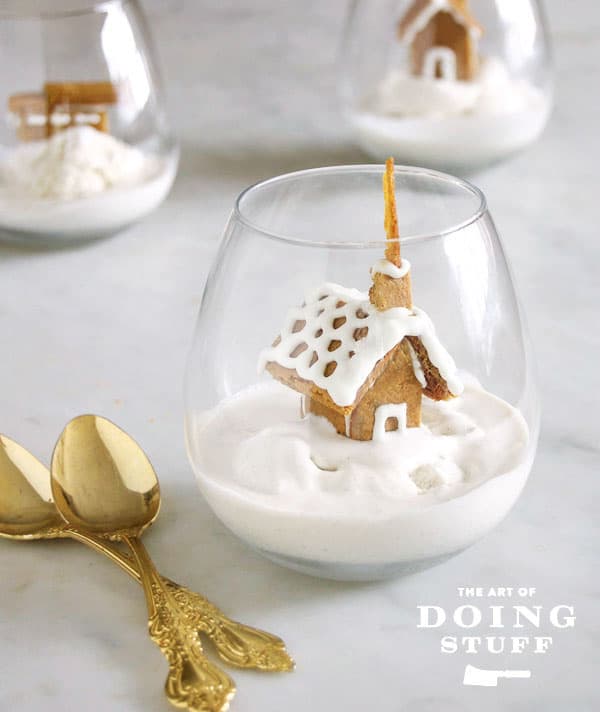 Today I have for you a winter dessert that's so much fun and so easy to make that I've taken the liberty of including the link to the Nobel Prize website so you can take the next obvious step and nominate me. Might I suggest your nominations be either in Physics or the Peace Prize. Dealer's choice. I expect to be very busy fielding calls from them shortly so let me quickly run you through how to make your own edible snow globes.
These little holiday desserts are easy to make even though they look mind bogglingly impressive. I make these for my annual Christmas Eve party, but they'd be a perfect Christmas Day dessert if your family isn't into plum pudding.
---
And if you aren't confident in your tiny house making abilities (which is ridiculous because I KNOW you can do this), then you can make regular gingerbread cookies and serve them so they look extra special on a cookie stand like the one I made a few years ago. You can read the full cookie stand tutorial here.
---
Make your favourite gingerbread dough (or use the recipe I've included lower down in the post.) Press the dough out into a large rectangle and then roll it it until it's very thin. Around ⅛th of an inch or even less. I like to roll mine out on Parchment paper. Then you can just slide the entire hunk of rolled out dough, along with the Parchment paper onto your baking sheet.
Bake a little less than according to the recipe directions.
For cookies, I like the gingerbread to be hard and crunchy. But for these snow globes, you need them to be a bit softer so you can cut into them with a spoon when you're eating them.
After the gingerbread has cooked, immediately start cutting it.
** You're cutting the shapes after the big, whack of dough has cooked. Not before.**
The finished houses are TINY. Teeny tiny. So cut some strips that are 1" or less wide. These will be the sides of your house.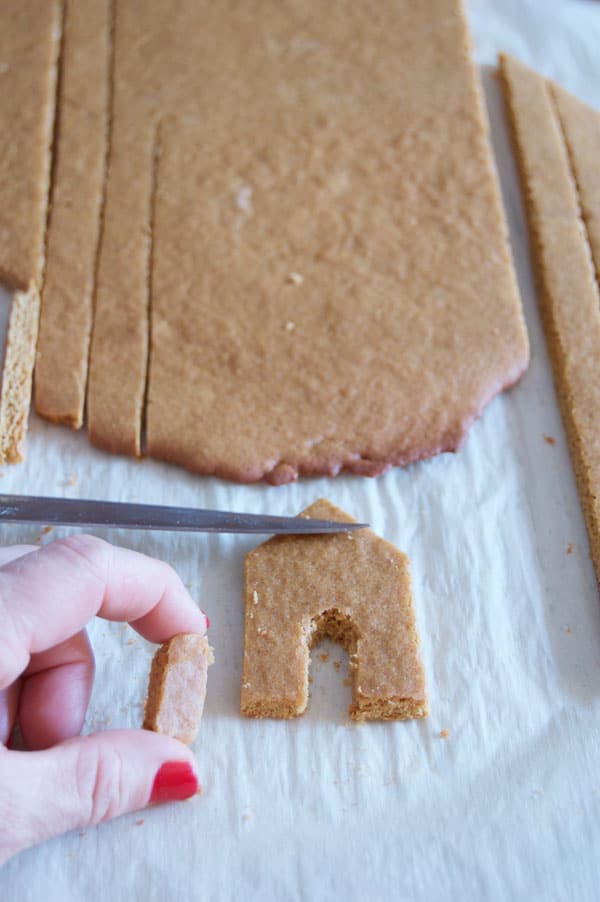 You can use a pizza cutter or a paring knife for cutting. Because the gingerbread is quite soft when you take it out of the oven you can do fairly precise cutting with it, like cutting out doors and windows.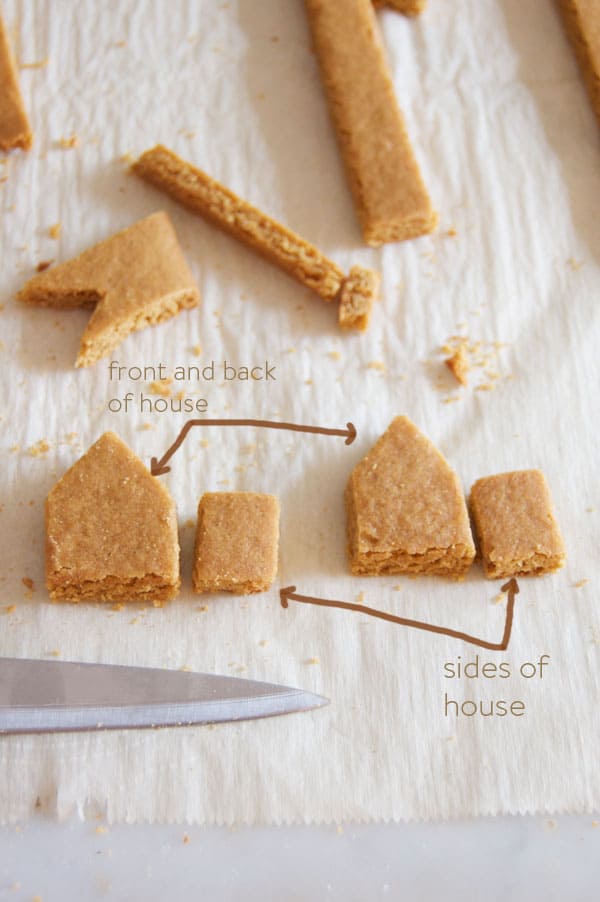 ---
For a basic house shape you'll always use these shapes: two square pieces for each side of the house & a pointed square piece for the front and back of the house.
---
You can make the houses as big or as small as you like. And you can make any shaped house you want.
To make the roof cut 2 pieces that are slightly larger than the sides of the house. You can also wait to cut the roof until you've "glued" the house sides together.
The glue you use is Royal icing. It works great. If you're doing a great BIG gingerbread house you can also melt toffee to use as glue.
Make sure you glue the sides like you see me doing it here. With the sides behind the front piece, not on either side of it. Otherwise your house will look unfinished from the front and be very wide. Maybe even double wide.
The left photo shows the depth of the house: almost 1.5". The right photo shows the front of the house, which is only 1" wide.
Cut, trim and shave your pieces as you need to. If your roof seems too thick for example, you can slice the thickness right in half to make the roof a bit more delicate. In the photo above, the right side of the roof has been thinned and the left side has not.
A paring knife works best for this. If your gingerbread starts to harden WORK MORE QUICKLY. Also you can use a breadknife to cut gingerbread that's getting hard and brittle.
Once your house sides are sturdy and the royal icing has dried a bit you can add the roof and a chimney.
Then you can finish decorating the house or adding tidbits like a steeple to make it seem like a tiny chapel. Use long, needlenose tweezers for delicate work like applying the razor thin steeple. Hey! Did you hear I'm going to be nominated for a Nobel Prize? Yeah, it's kindda all over the news by now I think. So embarrassing.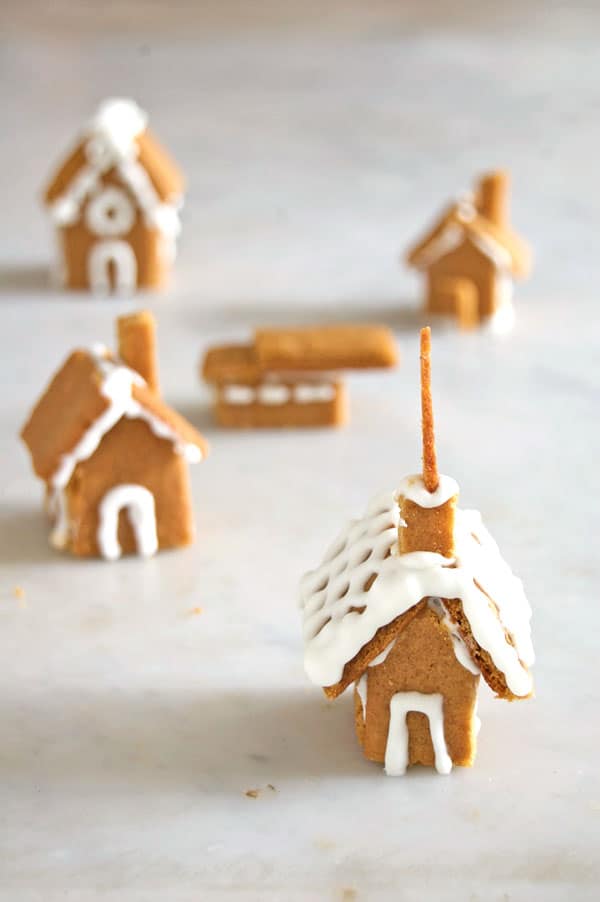 You can spend as much or as little time on these houses as you want. I'm sure you're happy I've given you that kind of freedom. Normally we Nobel Prize winners are kindda dictatory. Not me though. I'm more of an "of the people" kind of Nobel Prize winner.
You also don't have to make conventional gingerbread house shapes. Like midcentury modern? Make a midcentury modern gingerbread house.
The houses can be made days in advance. If you use an icing recipe with raw egg whites you just have to keep them in the fridge. If you use one that uses meringue powder you can just keep them in an airtight container. The night you're going to serve them just plop a couple of scoops of vanilla ice cream in a glass.
Let it melt a tiny bit before you put the gingerbread house on top. Serve as is, or top with some chopped pistachios like I did in the photo above. For Royal Icing I don't really use a recipe. I just add 1.5 cups of powdered sugar to my Kitchen Aid with one egg white and ½ teaspoon of vanilla and mix. If it needs a bit more thinning I add tiny bits of water at a time until it's the consistency I like.
It should be thin enough to pipe but not so thin it's runny when you pipe it. Then I add 1 tsp. of artificial, clear vanilla. If you use real vanilla which is dark brown, your icing won't be pure white.
Edible Snow globes
Tiny gingerbread houses on a pillow of vanilla ice cream served in a glass.
Print
Pin
Rate
Ingredients
Gingerbread
½

cup

shortening

½

cup

butter

softened

½

cup

sugar

1

teaspoon

baking powder

1

teaspoon

ground ginger

½

teaspoon

baking soda

½

teaspoon

ground cinnamon

½

teaspoon

ground cloves

¼

teaspoon

salt

1

egg

½

cup

molasses

1

tablespoon

vinegar

3

cups

flour

all-purpose

chopped pistachios
Royal Icing
1 ½

cups

powdered sugar

1

egg white

½

teaspoon

clear vanilla

If you use regular vanilla extract which is brown, your white icing won't be pure white.
Instructions
Beat the shortening and butter on medium for 30 seconds. (whether you're using a hand mixer or a stand mixer) Add the sugar, baking powder, ginger, baking soda, cinnamon, cloves and salt. Beat until combined. Beat in the egg, molasses, and vinegar. Finally, beat in the flour little by little. Divide the dough in half, form into 2 discs, cover and refrigerate for an hour.

Preheat the oven to 375 degrees F, (190 C). Roll out one disc of dough to ⅛" on parchment paper into a rectangular shape. Bake the first batch for 5 minutes and the second batch for 4 minutes. (the second batch will cook more quickly) If the edges start to brown remove the gingerbread from the oven. You want the gingerbread to be a bit soft once it has cooled, not hard.

Cut the gingerbread rectangles into several 1" strips. Cut those strips into the sides, front and back of your tiny gingerbread houses. Glue together with royal icing.

Cut gingerbread rectangles for the roof pieces. They should be slightly deeper than the house itself so they overhang. If the roof seems too thick, shave off some of the thickness of the gingerbread. You can carefully cut the roof piece in half to make it half as thick.

Once the royal icing has set on the house, you can glue the roof on with royal icing as well.

Finish the houses with chimneys, steeples, or you can even create little mid century modern houses. Just let your imagination run wild.

Store the houses in an airtight container in the fridge.

When serving day arrives, spoon a good amount of vanilla ice cream into the bottom of a glass and let it melt a tiny bit. Add your gingerbread house on top of the ice cream, and sprinkle with chopped pistachios. Serve with a spoon.
This really is the most fun I've ever had in my entire life. Ever. Not just making while making gingerbread, I mean it's the most fun I have ever experienced in my life. Well, this and winning all of the Nobel prizes of course.

→Follow me on Instagram where I often make a fool of myself←