Without a doubt, without any bit of hesitation or yammering I can tell you that the most difficult decision I've had to make during this entire kitchen renovation is ... where to put the stupid television.
I still hate where I put my television in the living room 2 years ago, so I can't totally be trusted with this sort of thing.
I can't decide if I want a big television, or a smaller one, should it be hidden, shown off, on the counter, on a wall?
I thought I had it all figured out. 3 times. 3 times I thought I knew exactly where the television should go and then some niggly little thought wormed its way into my brain and I reconsidered my decision.
I used hunks of cardboard and put them throughout the kitchen to see how I thought I liked them. Generally speaking I found I didn't like hunks of cardboard anywhere.
You'd think that once televisions became ultra slim, flat, and only 3" deep they'd be easier to deal with. But they're still big black holes.
So I finally took to the Internet to see if I could come up with anything there.
I found a few things I liked and two definite possibilities, along with a bunch of other things that wouldn't work for me, but were really interesting ways for incorporating flat screen televisions into your house or apartment.
Like this ...
I don't have any bookshelves in my kitchen, but I love this idea of putting a framed picture on a hinge that just opens up like door to reveal the TV.
The biggest issue I've always had with this sort of thing is that I'm not sure I'd ever be closing up the frame. I mean I guess I could close it up at night before I went to bed, but I'd probably be opening it up again the next morning.   So it seems kind of pointless for me.
This is another idea that won't work for me but it's brilliant and beautiful.    Black television?  Paint the wall black.  I love black walls to begin with and this gives me a reason to do it somewhere.  Which I might.  Mainly because it will divert my attention away from my current television dilemma.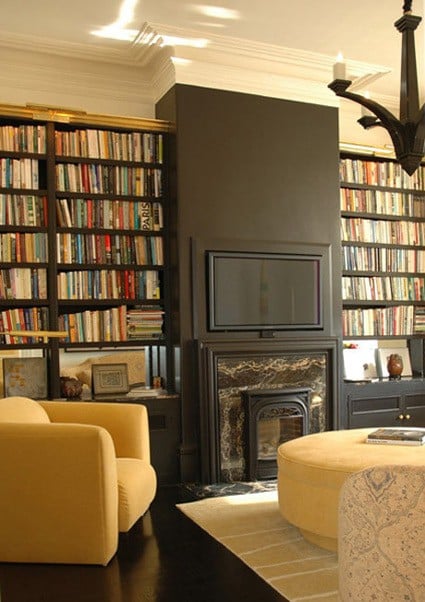 Yet another idea I can't use came to us from no other than Tricia Rose of Rough Linen! There I was browsing the Internet for interesting flat screen stands and up came a post from Remodelista.com gushing about Tricia's DIY television easel.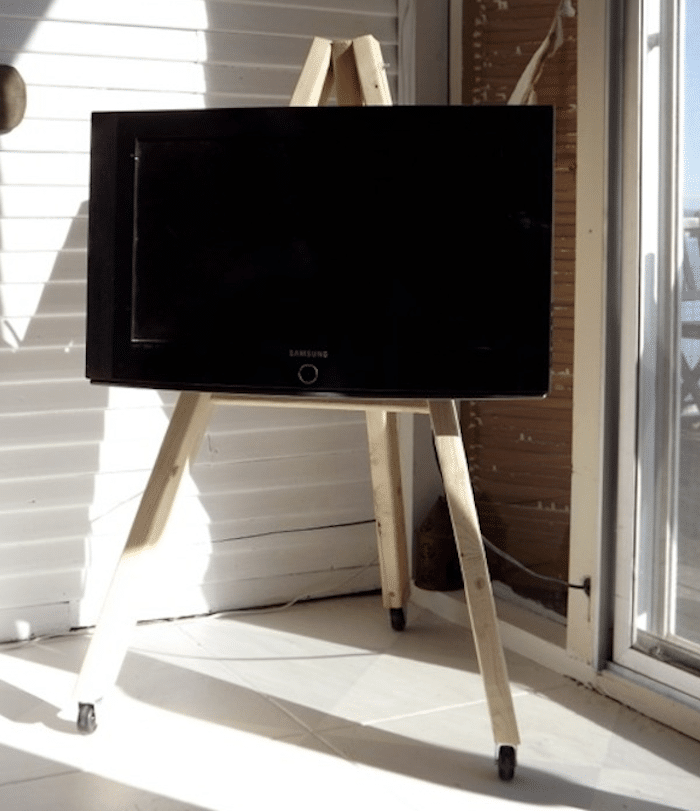 See the full DIY here.
That post in turn led me to a slew of other TV easels.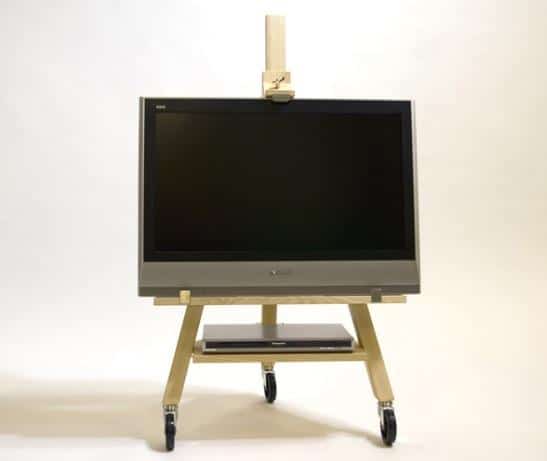 from Restoration Hardware
These were way too big for my modest sized kitchen. I mean I'm not Joan Collins. BUT ... they gave me an idea.
I could use a small, tabletop easel to put my television on the counter.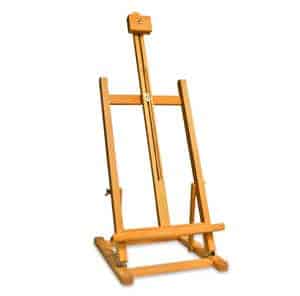 This one is only $20 from Curry's art supply store.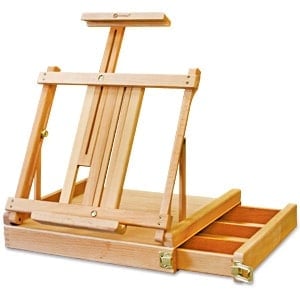 Or there's this one that even has pull out drawers where you could put the remotes.
$50 from Curry's
Both of these would work for me if I decide to put a small television on my counter in the corner, like this ...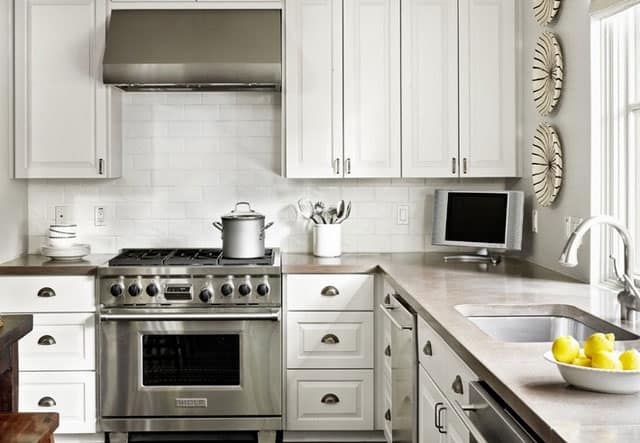 (no this is not my kitchen, and no that is not my Wolf stove)
I also looked into under cabinet televisions but they average about 8" wide, so just large enough for a small family of moles to watch comfortably.   Then I discovered under cabinet television mounts!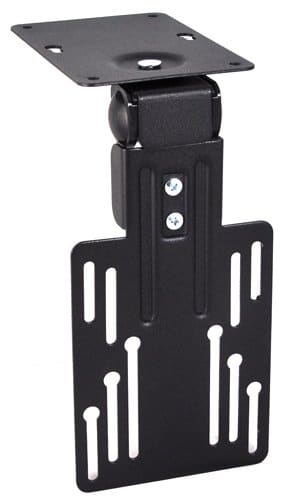 from Amazon
With these you can turn any television into an under cabinet television that can be pushed up, out of the way whenever you want.
Another thing people seem to be doing, which would work really well for some people, is mounting their television on the inside of their cabinets, either leaving the doors on, or in some cases taking the doors off entirely.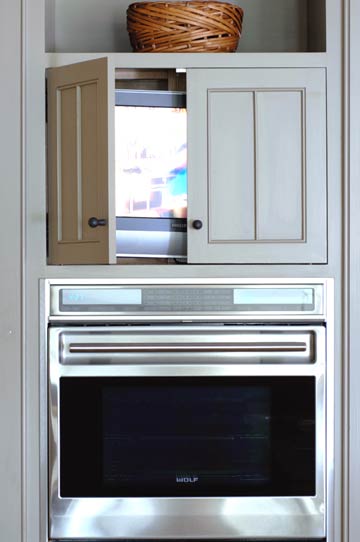 from BH&G
Then there's the option of using my big brick wall for a large television.
(please excuse the crap iPhone picture, and no ... I haven not yet figured out the whole ceiling/wire/crown issue
and I just hung the wood pizza peel and 2 copper pots to see how I liked the idea of filling the wall with pots)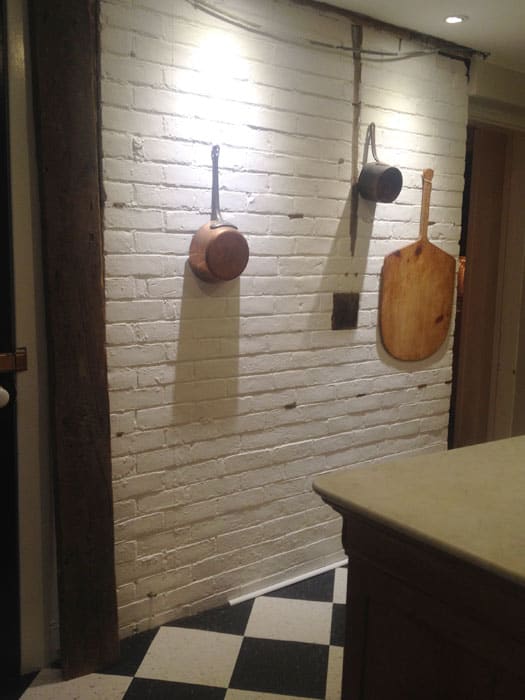 My brick wall is right across from my island (which you've seen tiny bits of in recent posts) but isn't easily visible from any other part of my kitchen.  My sink is on the opposite wall so I'd have to turn my head completely around a la The Exorcist to see the television, and it's also at a 90 degree angle from the rest of my counter.  So, 80% of the time I couldn't see the television unless I made an effort.
But like my kitchen designer Carol Reed pointed out, it would look great on the brick, worked into a gallery wall.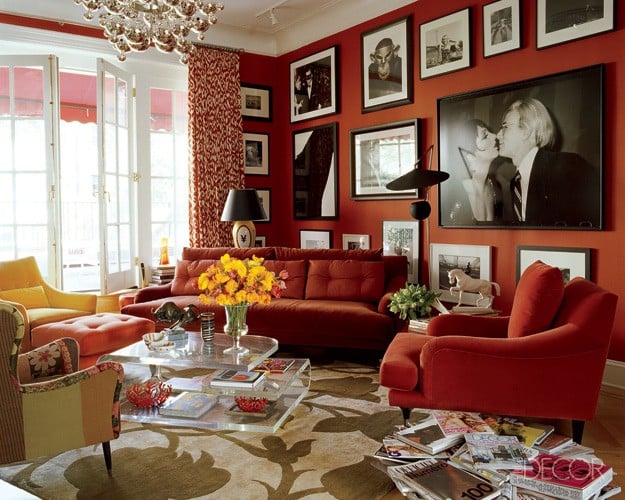 via House Revivals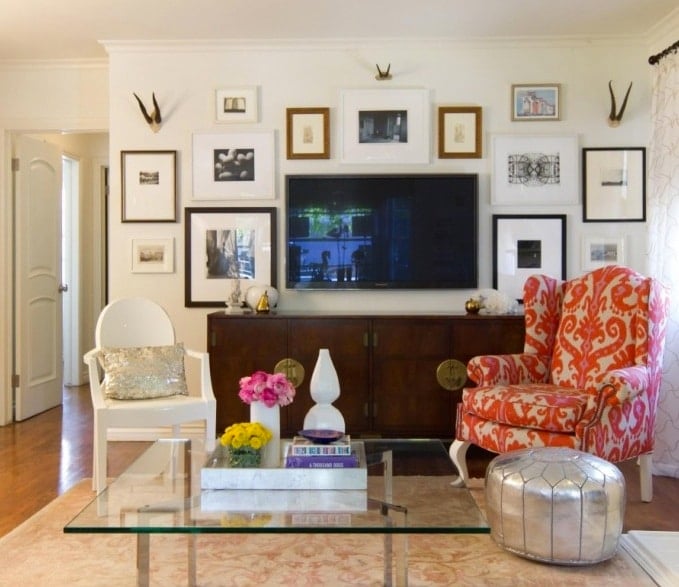 via DecorPad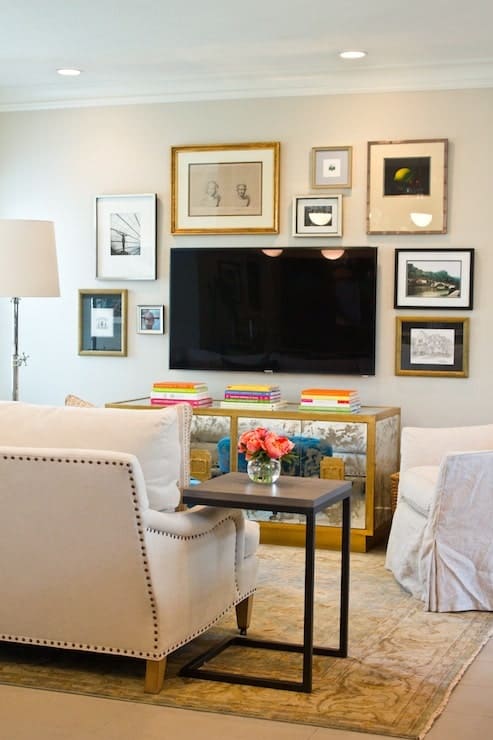 via DecorPad
It's a great idea and would look great but that wall could be used as a display for so many great things.  And I could change it up whenever I wanted to.  But not if I have a television in the middle of it.  But the television gallery wall would look great.  But so would copper pots.  But so would the television gallery wall.  But so would wood cutting boards and rolling pins.  But so would the television gallery wall.
Plus there's the issue of wiring the television onto a brick wall.  If only I had a plug right there.  Oh wait.  I did.  In insisted my electrician, Dave remove it.
He said "Maybe you should leave this plug in case you ever need it".
I said "NO.  Don't be stupid.  I will never need a plug there.  I hate it. Remove it this instant."
And so he did.
Regardless, I could work around that pesky problem if I ever did finally decide that I'd like a big flat screen television on that wall.  But I seem unable to make this decision.
So for the time being I'll be in the living room, staring at a wall, holding a bucket of black paint.
I'd never ask you to share a chocolate bar, (that's crazy talk) but if you liked this post ... please share it.
[shareaholic app="share_buttons" id="5342563"]