Have a new apple tree but no idea how to take care of it?  Here are the 3 things you need to know.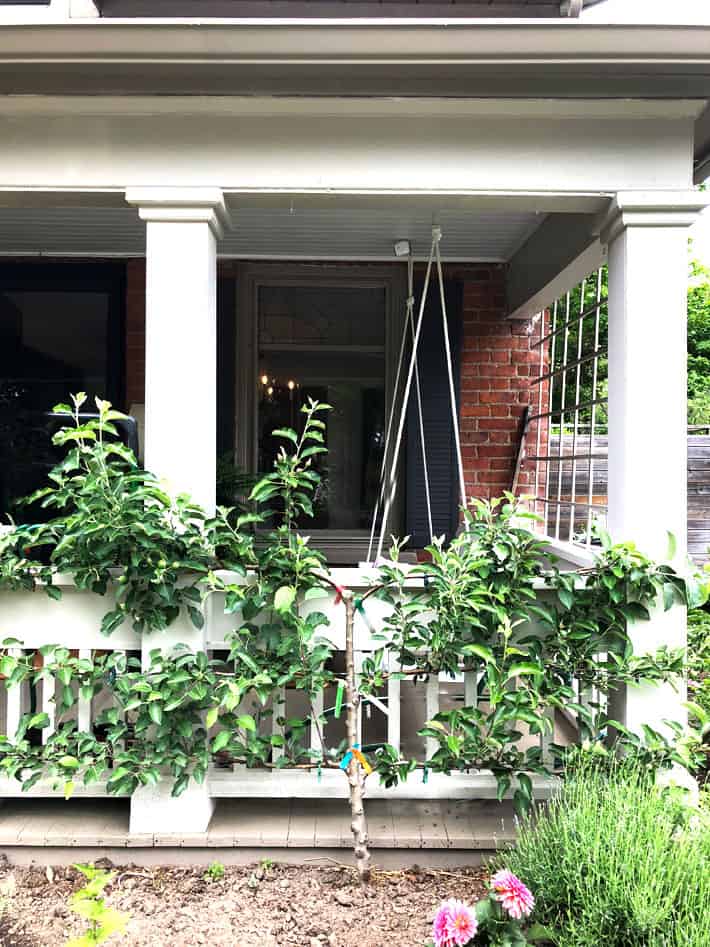 Two years ago some very important things happened to me. I gave up coffee - this lasted for one day at which point I deemed it stupid and useless while cuddling a bag of coffee beans.  I gave up on hoping Lenny Kravitz and Lisa Bonet would get back together - this freed up a lot of time to hope Madonna and Sean Penn would soon reconcile.
A Beginner's Guide to Apple Trees
And finally ... I planted two apple trees.  So far so good with those.  When I planted the trees I had no idea what to do next. All I knew was I had wanted espalier apple trees so I put them in the ground, grabbed a coffee, and started my research.
It used to be that getting an espalier apple tree was something you either had to make yourself or go to a specialty nursery for. Now apple espaliers, and other fruit trees like pears, are available at most nurseries and even some big box stores that have garden centres.
If you have *just* bought an espalier tree and are standing there blinking at it wondering what you're supposed to do with it now, read my step-by-step post on how to plant and support an apple espalier.
The 3 Things You Need to Know About Growing Apples
1. You need to cut off around 80% of your apples.
I  know. It's horrifying.  But thinning your apples is the best way to get good apples.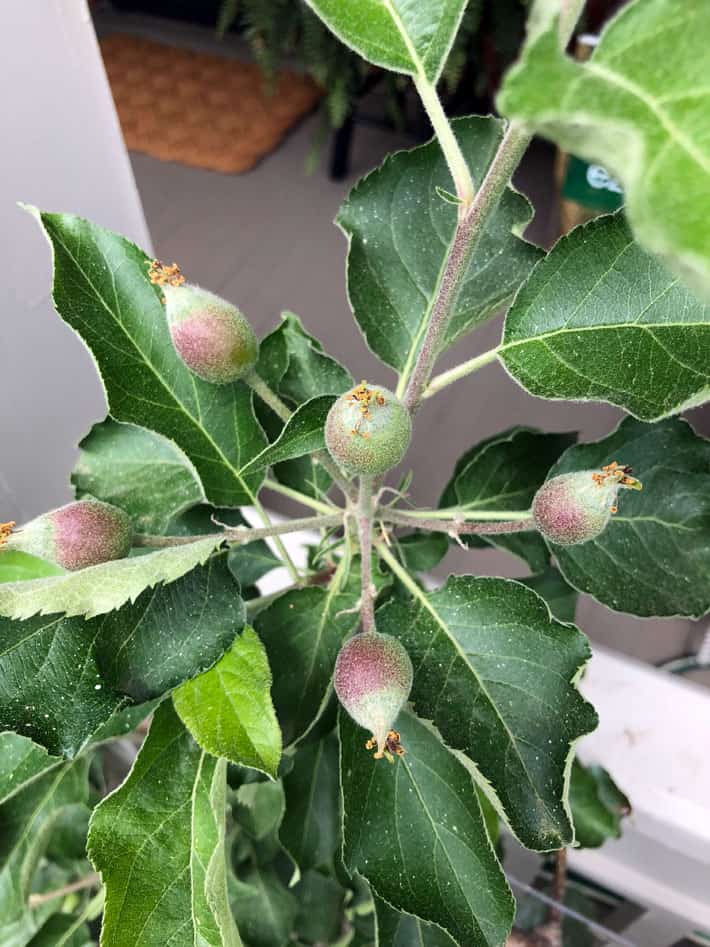 Apple trees set flower clusters in the early spring and then these flowers (if they're pollinated) turn to fruit.  Most clusters consist of 2-6 apples.   You need to whittle that down to one.  You heard me.  You NEED to swallow that lump in your throat and cut off all but one of those apples from the cluster.
Why do you need to do this?
The reason apples need to be thinned is because growing fruit takes a lot of energy and the more fruit on the tree the more energy it takes for the tree to grow those. No matter how healthy it is, that tree just doesn't have enough energy to produce 6, healthy, huge apples.  So if you don't thin them you end up with 6 measly, tiny apples that are more prone to disease and pests.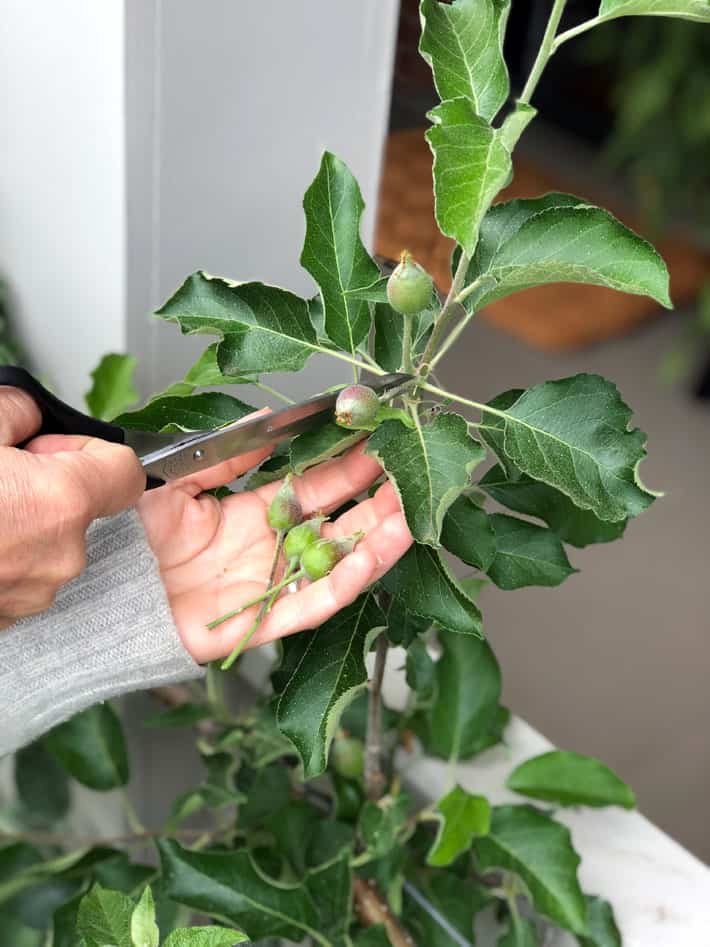 By thinning down to one apple per cluster you're giving that apple the best chance at survival and the best chance at growing to a nice size.
Thinning your apples also helps even out your trees fruiting cycle.  Apple trees tend to produce HUGE amounts of apples one year and not so many the next.  By thinning the fruit you balance the trees energy  out a bit and are more likely to get an even production of fruit every year.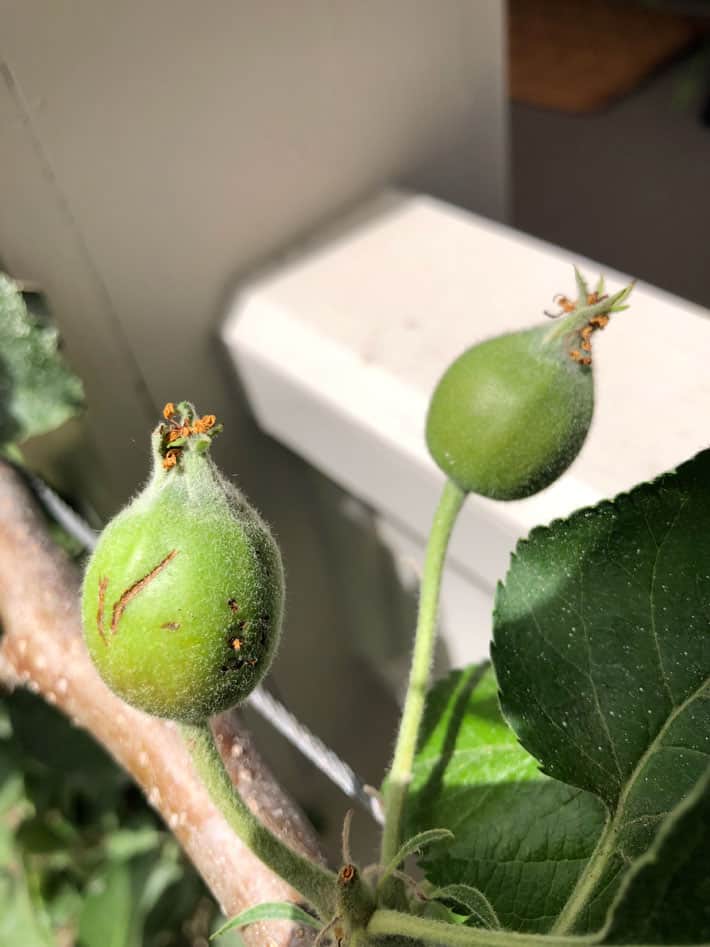 How do you pick which ones to cut away?
The centre apple is *usually* the King's Apple.  The biggest, strongest apple.  Not always, but usually, that is the one you leave.
What if it isn't the biggest strongest apple?  Then snip it away and leave the bigger one.
What if the biggest one is blemished?  Then snip it away and leave the smaller, but scar free apple.
What if two apples are the exact same size and both perfect?  Then pick the one with the thicker stem.
What if they have the same sized stem?  Then pick the one that gets less shade from leaves and the most exposure to sun and air.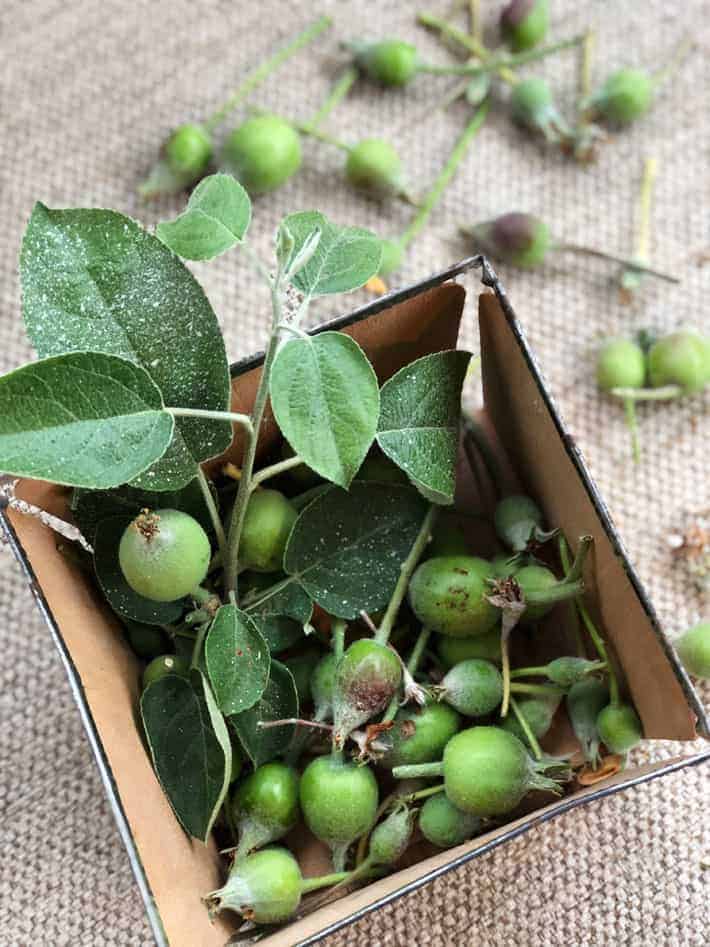 Seriously. At least 80% of your apples will be gone.  And it'll be hard, but know that in the long run it's for the best.  Just like a Sean Penn and Madonna breakup.  It's sad at first but eventually one apple will go on to date the Princess Bride and the other will develop an English accent.
2. Always Use Protection.
Commercial apples are sprayed something like 8 times a season to keep pests and disease away.  Either pesticides or Kaolin clay are used to protect the apples. In the case of organic growers, it's Kaolin clay that's sprayed on the trees but it isn't available just anywhere and you have to spray your apples 3 coats of clay once a week for 4 weeks to combat pests.  That seems like a bit of a "thing" when you only have a couple of very small apple trees in your yard.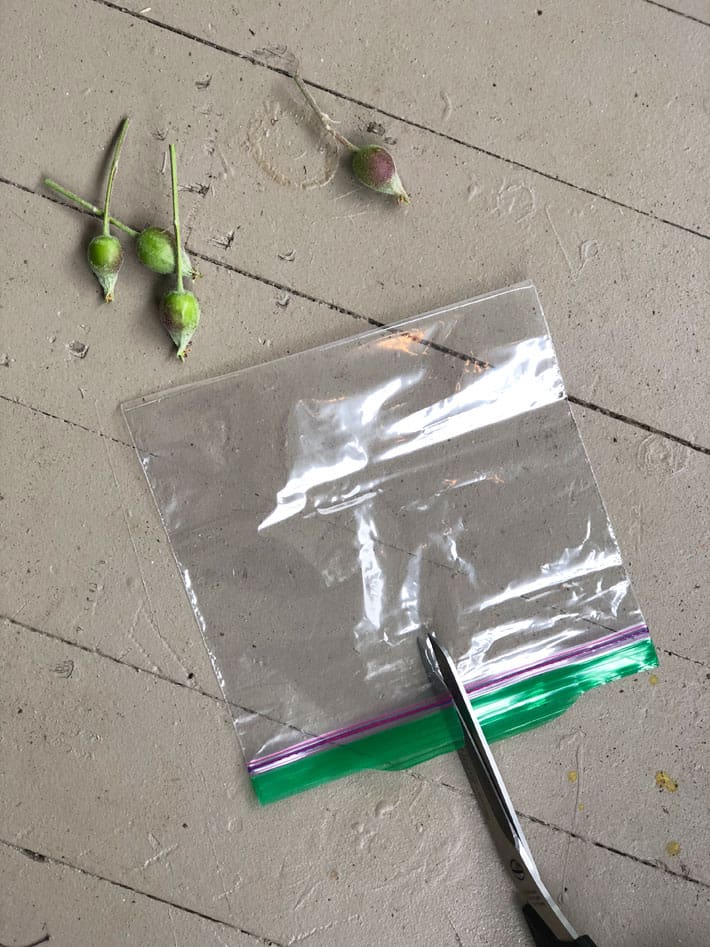 The solution is covering all your thinned apples with protection.  Bag 'em.
Just place a regular ziploc sandwich bag over each apple. 
For the best fit you can cut a slit in the opening of the bag to leave room for the stem to stick out.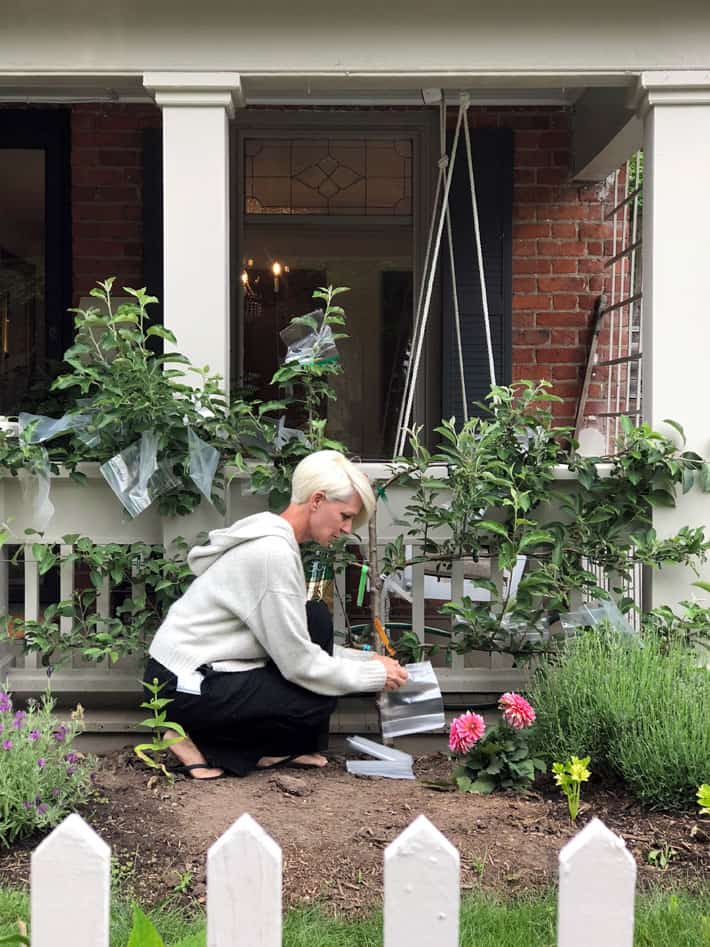 Last year I had about 8 apples to deal with. This year my 2 espaliers have over 70 apples.
Just slip the baggie over the apple and zip it up.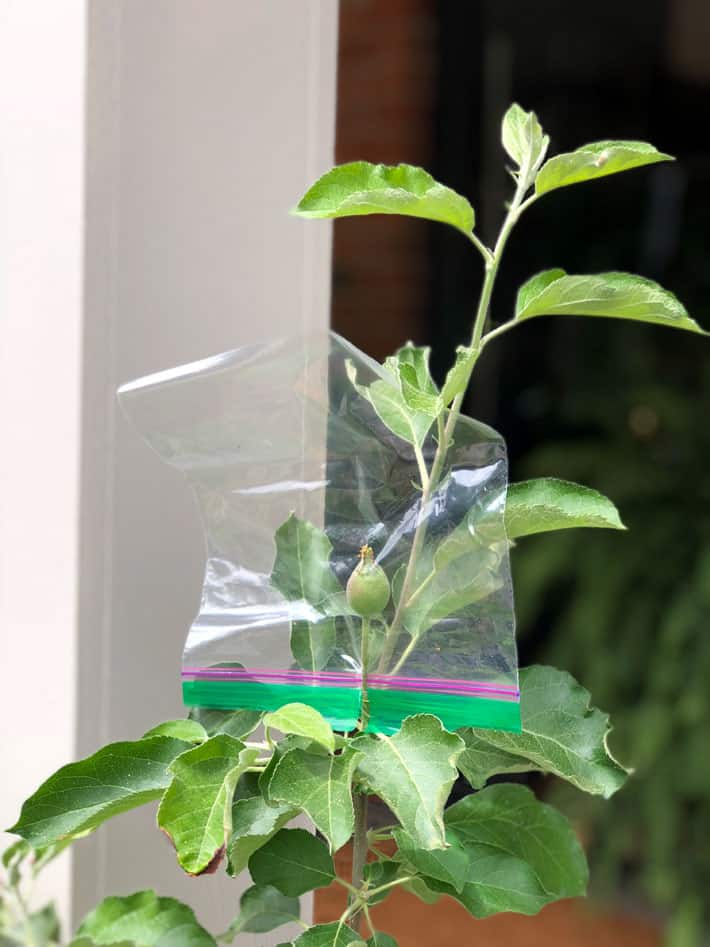 You can also use brown paper bags apparently but that would involve stapling the bags together over the apples, plus I'm not sure how well paper bags would hold up outside all summer long.  The other advantage to using plastic bags (yes, I know ... plastic) is that you can see through them so you know what's going on under there.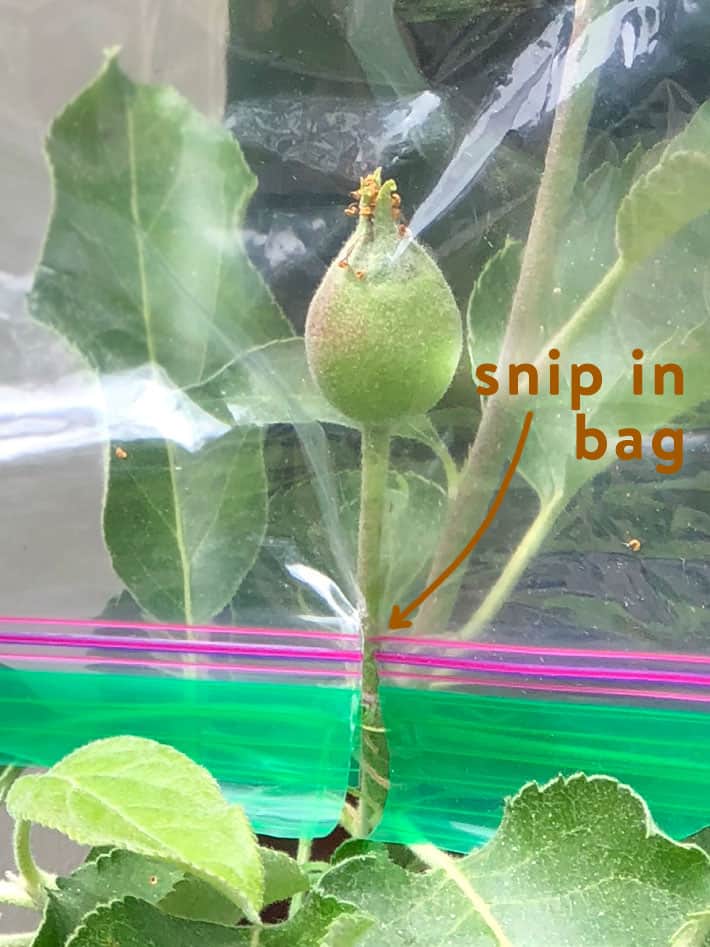 These bags stay on all season long.  I had good luck using this method last year but be warned that apples will continue to drop even after bagging.  So I've started with around 80 apples, but in the next few weeks the apple might continue to thin itself and I could still lose many of them.
If I go down to 60 apples, that's still half a bushel of apples from two tiny trees.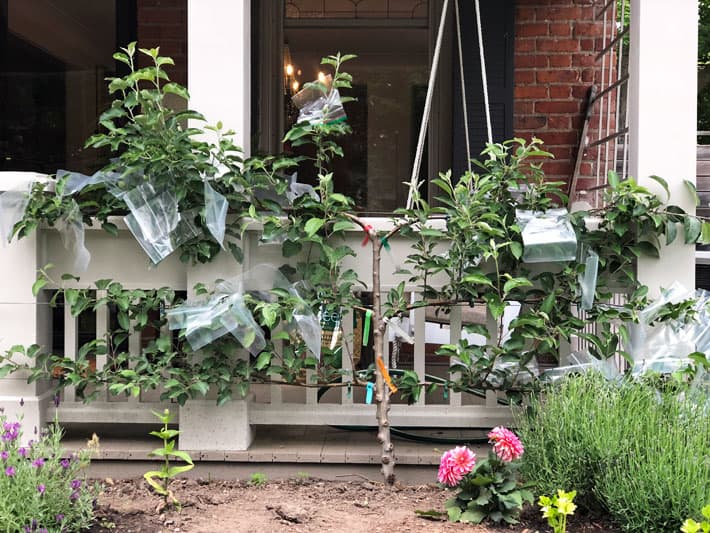 I understand my two beautiful espaliers now look like condom dispensing machines.  That however is the price you have to pay for healthy, disease free apples at the end of the year.  No glove, no love.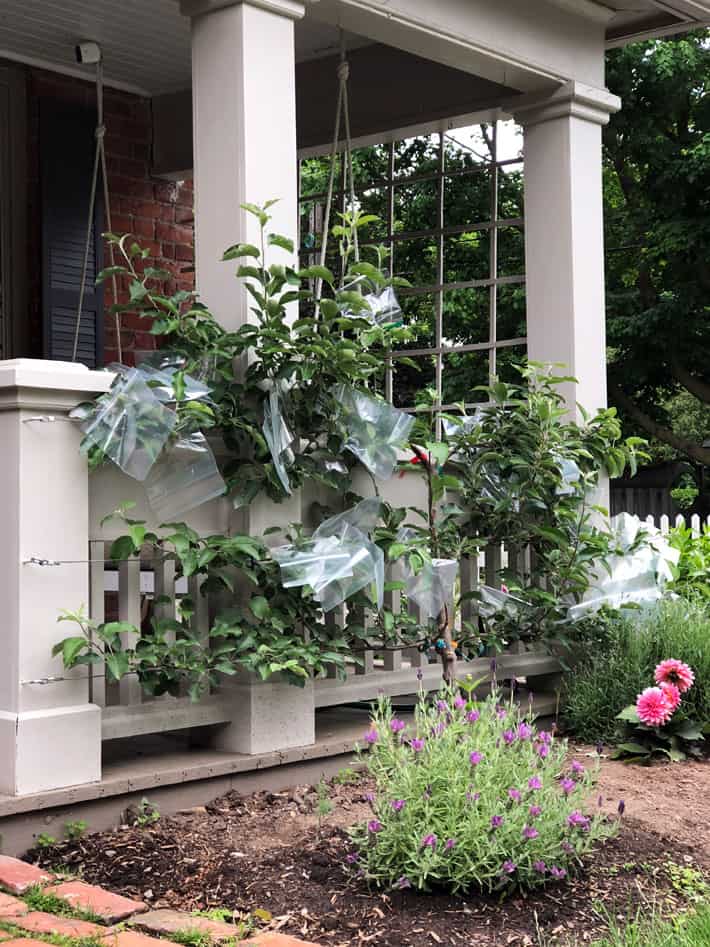 3. Summer Solstice Snipping.
To keep these espalier apple trees small you need to prune them at a very specific time of year and it's contrary to what used to be typically advised.  Older advice is to prune in the winter when the tree is dormant.  But newer research, especially for keeping trees small, shows you should prune during the summer solstice.  Do this whether they're an espalier or not.
If you want your fruit tree to stay small, prune it during the summer solstice, NOT in the winter.
Here's my full step-by-step on how and what to prune off of your tree.  
If you want to learn all you can about small fruit trees I recommend getting the book Grow a Little Fruit Tree, which a reader recommended to me when I first got my trees.
If you want to see Lisa and Lenny back together I recommend focusing on something more attainable.  Like not giving up coffee.
→Follow me on Instagram where I often make a fool of myself←