As a matter of fact decorating your chicken coop is TOO a thing as you're soon going to find out. But don't worry, if you don't have a coop all of this can be applied to a shed, backyard or garage too.

Surprise! It's one month until Christmas! I know. It happens every year. Nothing ... nothing ... nothing ... hmm ... Christmas is coming in the sort of far off, can't be bothered to think about it, distant future.
BAM!! CHRISTMAS IS HERE OUT OF NOWHERE! WHO COULD HAVE SEEN THIS COMING?
What's next? UFOs? Parachute Pants? Easter? God only knows what's lurking around the corner.
---
If you're one of those people who thinks "A month??? Christmas is still AGESSSSSS away, you crackpot! Feel free to let me know when Christmas is *actually* close. Snort.", then I'd like to introduce you to Maureen.
Maureen thought a month was a long time until Christmas too. Ages! So she scoffed at people who were already getting ready for Christmas and forgot about it until 2 days before the big event. Out the door Maureen flew in a panic not knowing where to head or what to do first.
As it turns out it didn't matter because before she even made it out of her driveway Maureen fainted from the stress of it all and couldn't be revived by smelling salts until well past Valentine's day; worse than that, while in her coma-like stress state no one plucked Maureen's one chin hair and by the time she woke it was 3 feet long.
The end.
---
I'm sorry to tell you such a scary story but I want you to have a relaxing Christmas so I want to make sure you don't leave things until the last minute. I haven't yet decorated my coop for the season but I'll be adding something to it this week like I have in seasons past. I will not be waiting until 2 days before Christmas.
Here is everything that's good about classic Christmas decorations with the added sparkle of genuine chicken poop. Backyard chickens are always cute, but it takes a certain something to make what's essentially a litter a box, shine.
Yes. Garland can make anything, ANYTHING look fantastic - even chicken poop.
Ditto for bows. And this is coming from a very unbow person. I don't even like them on my running shoe laces.
Throw a sprig of greenery or a burlap bow on anything utilitarian outside like feed buckets. If you don't have a chicken coop add it to a shovel or broom handle by the door.
In the coop photo at the top of this post, all the decorating is done outside of the chicken coop, around the gates, framing the coop.
Below, the actual coop is decorated with lights, garland and swags which is the direct view I have from my dining room window.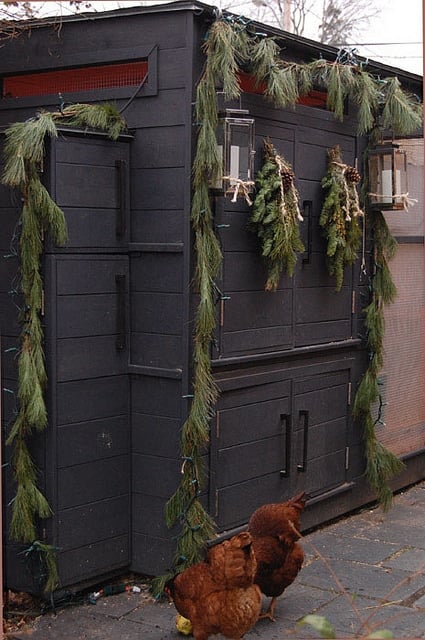 Obviously you don't want anything flammable or harmful to the chickens going onto your coop. My chickens showed no interested in eating this pine garland. They were interested in the apple on the ground.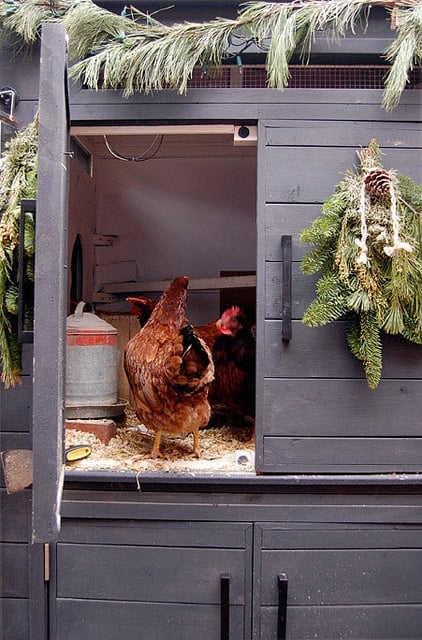 If you have a chicken coop (shed or other outbuilding) that you can see from your house why WOULDN'T you decorate it?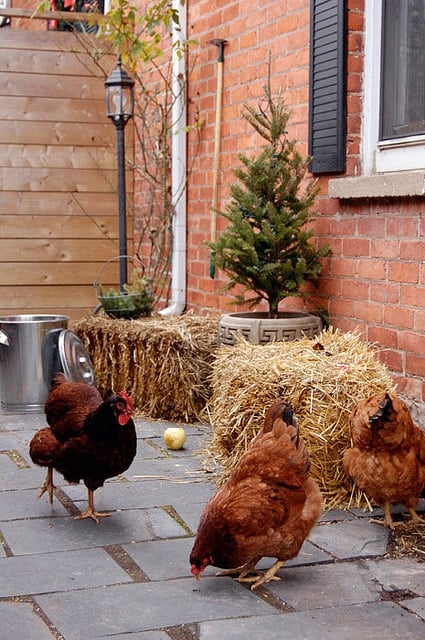 In the case of a chicken coop it's something you walk up to and see every day. And chances are you see your shed out of one of your house windows too so LIGHT it up. Put garland on it, a wreath, twinkle lights and bows.
This year you might not be seeing a lot of other people's homes. You might not have family around. You might not go to parties or dinners or restaurants and it might make you sad.
The very least you can do for yourself is give yourself a pretty, cozy, comforting view that you can look at the entire month of December donned in flannel, watching Netflix and drinking hot buttered rums while quietly laughing at Maureen.
→Follow me on Instagram where I often make a fool of myself←