The rain rolled in but that didn't stop the antiques from coming out at Canada's largest antique show - The Christie Antique & Vintage Show.
I didn't buy it. AND I HAVE NO IDEA WHY. Add it to the list of the many things I've seen at antique shows over the years and still have full-body-sweats-regret because I didn't buy them.
We got to the field really early this year. That means you get first pick of some of the best things at the show. This Louis Vuitton briefcase was one of them. It was worn to perfection. I picked it up, and that's all I can remember. The only explanation I can think of is I hyperventilated until I passed out then snapped out of it to find the briefcase in someone else's hands.
That is why all antique booths should be required to supply oxygen, defibrillators and snacks in their tents.
I take some comfort in the fact I'll get to see the briefcase again and again in the nightmares I'll have about it for the rest of my life.
Now that you know what I *didn't* get, you can start guessing what I did get. 5 of the 7 things I bought at the show are in the photos below. So as you're scrolling see if you can guess what they are.
Copper always attracts my attention but other than one handmade, historically old copper pot, I don't buy them if they cant' be used in the kitchen. For one thing the older ones are lined with lead. Um, no. And the ones that are lined with tin are usually in bad shape on the inside and need to be retinned.
For the past few years I've really wanted someone to teach me how to retin copper pots since it's SO hard to find someone to do it. If you know someone who can teach me let me know!
That one's a jam pot so it's supposed to be completely unlined.
Corbels are there every year.
Jesus always loves you at the antique show. There's no shortage of religious items. Ever.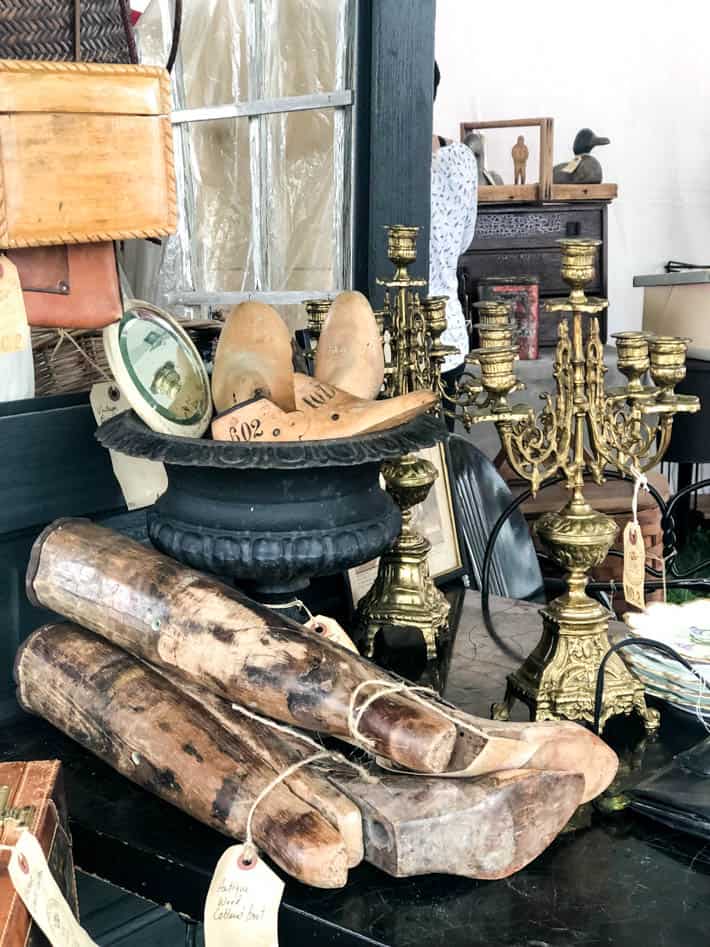 My favourite combination; ornate gold, rustic wood and black.
My least favourite combination. This woman and my briefcase. I'm sure they'll be very happy together. I wish them well in a totally insincere way.
I'm just kidding, she seems like exactly the kind of person who should own my briefcase and I'm happy someone who really loves it got it. But if you're reading this nice lady and you ever want to sell that briefcase ...
You don't even have to spend a cent at an antique show to come away with something of value. You can come away with ideas for free. Who among us doesn't want to replicate this viola tea service?
And then there was this scoop which I thought was cute for the chickens treats. As I looked closer at it it seemed to be made out of some kind of a can. Obviously now I want to make a can scoop.
In case you missed Friday's post, this is what we dealing with at the show. Nonstop rain, mud and wet. Then the sun would come out. Then we'd get a monsoon. Then the sun would come out.
A potential suitor for my life sized oil painting, Margaret.
Vintage chicken paraphernalia is everywhere if you look. Scales, egg holders, feeders, feed sacks.
In past years the Christie show leaned more in this direction with larger pieces of older furniture in various styles. Now things are really heavy on the farmhouse look.
Everything in this booth was beautiful. I asked about the mirror that you can barely see in the top right of the photo, but it was sold. And I tried to convince one of my sisters to buy the huge lamps. She almost bought them but walked away and thought about them through the entire show but didn't end up going back and getting them. I'll ask her when I see her today how she's enjoying her lamp nightmares.
One of the prettiest things at the show, these embroidered, lace silver pouches. Plus a cool bug book.
A few years ago the trend was wire baskets. They're still popular but this year a lot of the wire pieces were in the form of chairs and mesh outdoor furniture.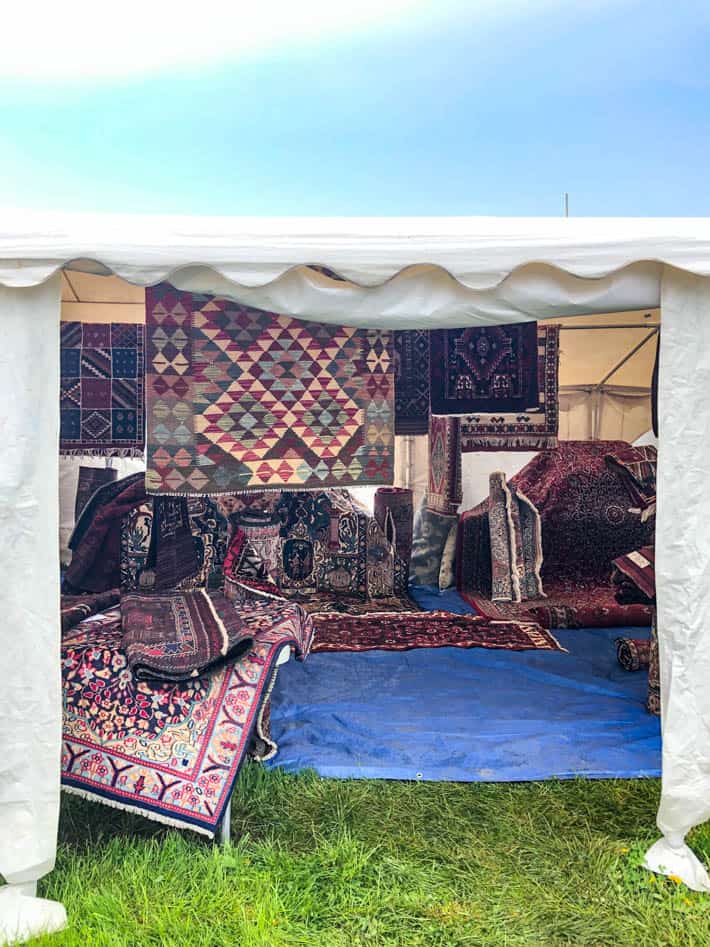 The rug guy.
Yet another reason I can't have bees. I have a hard enough time restraining myself from buying all the antique chicken related stuff.
Me. After 8 hours at the show.
If you're never gone into one of these textile booths do yourself a favour and stroll in. The people who run fabric booths are insanely knowledgeable about textiles and dating them. You'll look at one chenille bedspread and think it looks identical to the one next to it, only to have the owner explain how this one has a stripe that's slightly narrowing, completely changing the date and origin of it.
"Fries. Always french fries." (read the full story behind that french fry quote here)
My sister Pink Tool Belt stood looking at this for a while until she finally asked, "Is it a school desk or a Ouija desk?"
I actually went looking for a potential antique couch (although I haven't eliminated the English Roll Arm Sofa as my sofa of choice) but because of the weather a lot of the dealers didn't bring some of their bigger pieces.
These would have looked great on my briefcase.
If you think a vintage toy truck doesn't match your decorating, you're wrong. A vintage toy truck matches everything.
This is the moment at around 3:00 when people started clearing out or heading under tents for cover. A few minutes later the wind whipped up and the rain came down so extreme that it was scary.
Always fun stuff in the Picnic Antiques booth.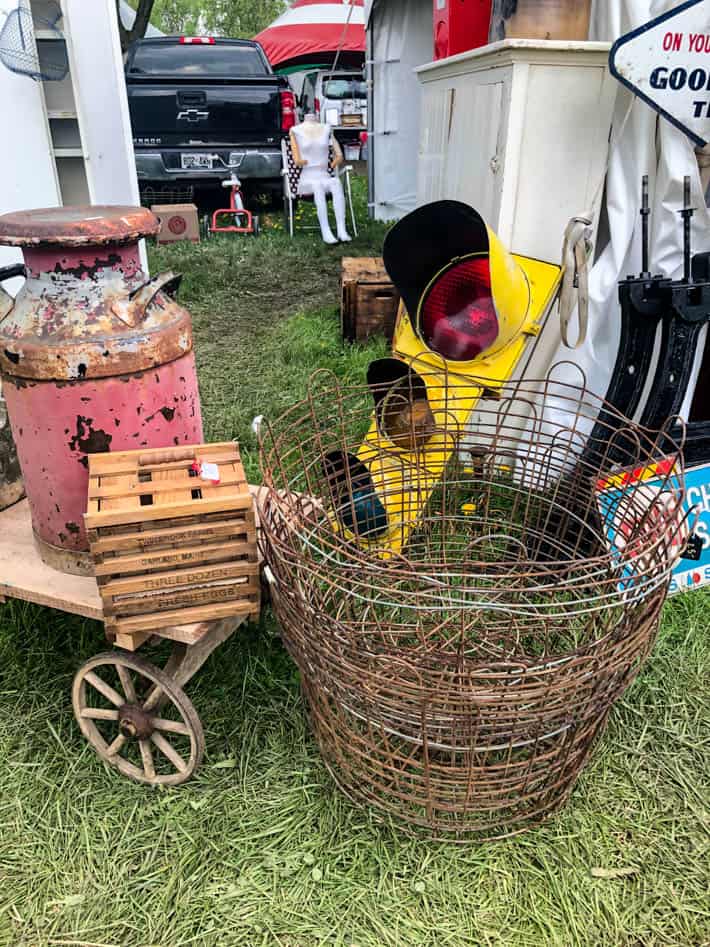 Junk always looks better when it's piled beside more junk.
Straw was put down everywhere throughout the day to stop people from slipping banana-peel style on all the mud.
Just everything. I visit this booth every year and sign. It's a perfect blend of rustic, pretty and deranged.
I liked these bodies while I was at the show, but it's only now that I'm looking at the photograph that I realize how much I love them.
Luckily this vendor (Objekts Antiques) sells at an antique market that isn't far away from me so I could go and pick a few up.
It's not for everyone this booth, but I've bought things from the vendor in the past and so has Miss. Mustard Seed. She bought an antique German grain sack from the booth's owner Atta. Calm down, she wasn't at the Christie show, she bought it from Atta's Etsy shop.
Finally. We started with the one thing I didn't buy but should have and now we have what I did buy but shouldn't have.
Ginormous, ornate brass andirons. They were only $15. I like them but when I put them in my fireplace when I got home they looked ridiculous. Too much, don't really match the style of the hearth and mantel, and they're very very bossy in there. However, all isn't lost because one of my Instagram readers said she was a set of these andirons on the porch of a house in the Southern US supporting a long planter box.
So I have options. In fact, my sister uses one in her house as a doorstop.
Let me know now if you can name the 5 things I bought. Actually I bought more than 5 things because I have no self control (I'll be showing you what I got in a week or so) but only 5 are seen in the photos. I didn't include the garish andirons in that number or the french fries, which I obviously bought because ... fries. Always french fries.
Everything I got is in the main part of the photos, not hidden in the background. Have fun!
→Follow me on Instagram where I often make a fool of myself←