After ohhhh about a decade or so I finally bought a permanent light fixture for my dining room. I tried to talk myself out of this particular light for the past 10 years.  I ended up buying it anyway.  The George Nelson Bubble Light. Behold.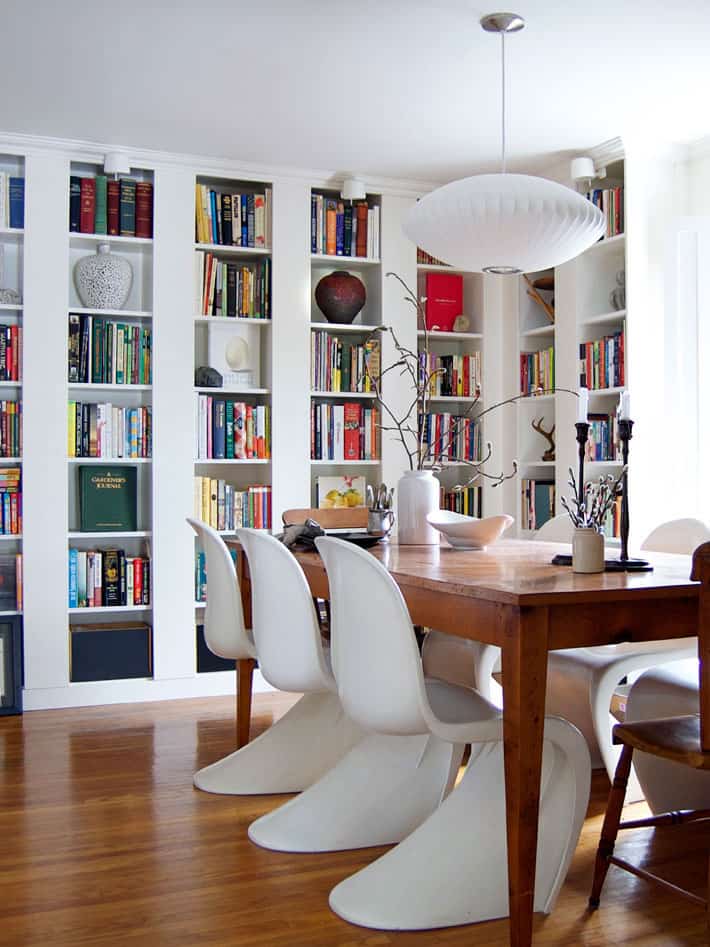 This has been a rock solid few weeks of getting stuff done that I've wanted to do for a decade.  Got rid of the ugly curtains, made the world's most perfect window treatment, interior shutters, bought and hung my new dining room light AND cleaned my cats' water bowl.
So why did I spend a decade trying to talk myself out of this masterpiece of a light? It's perfect in my dining room.  Idris Elba positioned over the dining room table wouldn't be more perfect than this George Nelson Bubble lamp. Yet, for an entire decade I avoided it.
The George Nelson Bubble Light
We've seen this bubble lamp over and over and over and over and over again.  Maybe not quite as much as the Eames Lounge chair or, for a time, sweatpants with the word "Juicy" on the bum, but we've seen it a lot.  That was part of my opposition to this light.  It was everywhere.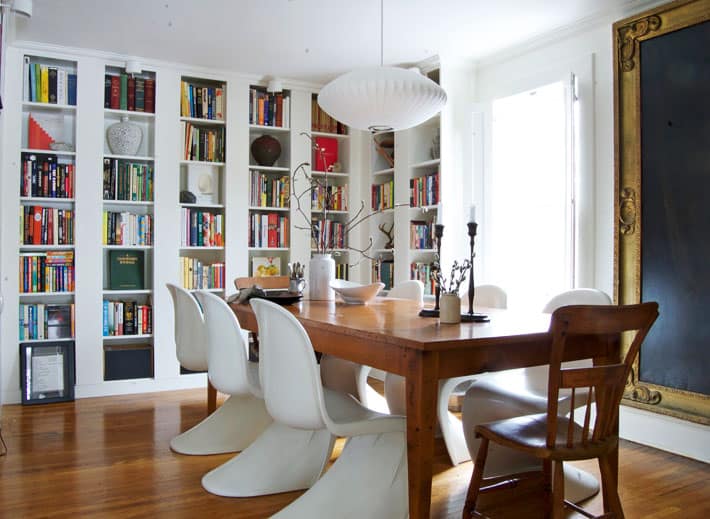 Yet. I kept thinking about it. And every time I did I'd do an eyeroll and tell myself to get an original thought in my head.  Maybe a group of stuffed monkeys hugging, with lightbulbs in their mouths could work.  You could pull one of their tails to turn it on and off.
I kept thinking.
Last year I went through a collection of possibilities in this post on dining room lighting options, all of which I loved but only one was right for my dining room and I knew it.  Yet I still didn't buy it.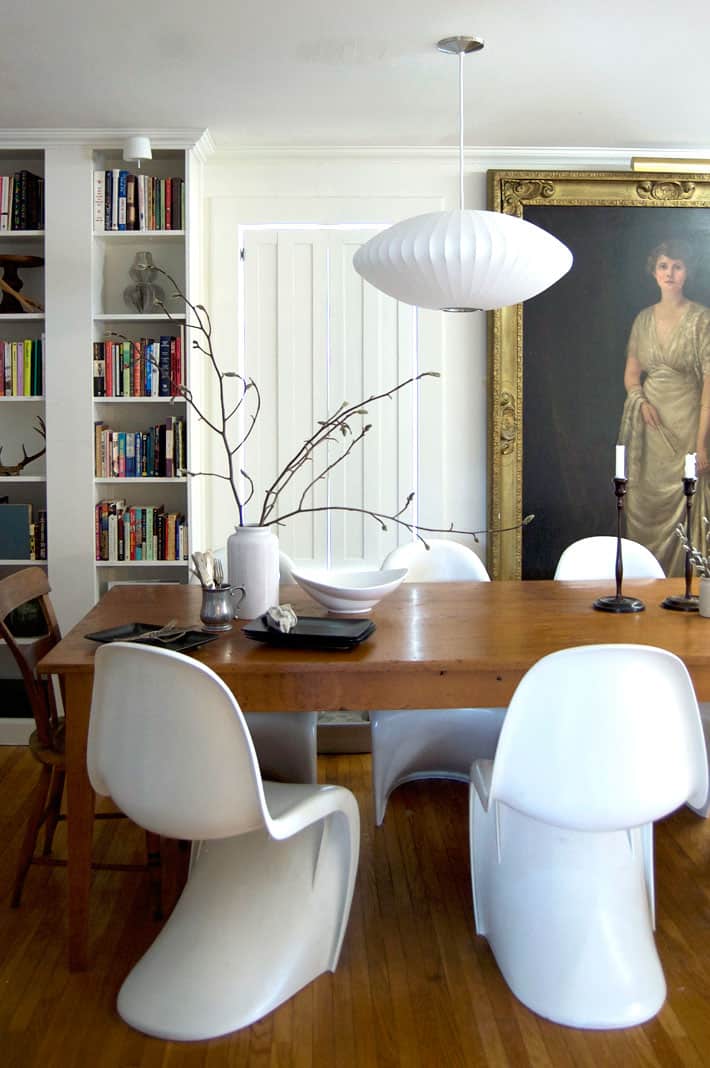 In that post there were a couple of light fixtures I liked better than this bubble lamp but I also knew they wouldn't look as good in my room as this one does.  The multi-faceted gold one still haunts my dreams.
So why does this George Nelson Bubble Lamp work?  It's the right balance.  By that I mean the size is good compared to the table, the chairs and the room.  The shape is also good.  Everything in the room is square except the chairs. The round light mimics the roundness of the Panton chairs and their colour too.
The lines running up and down the bubble lamp mimic the lines in the shutters and lines of the bookcases. Plus it gives the light texture.  When you decorate with white you have to pay a LOT of attention to bringing in texture.  That's why the white brick wall works so well.  It adds a texture to the wall that wouldn't be there if it were just plain drywall.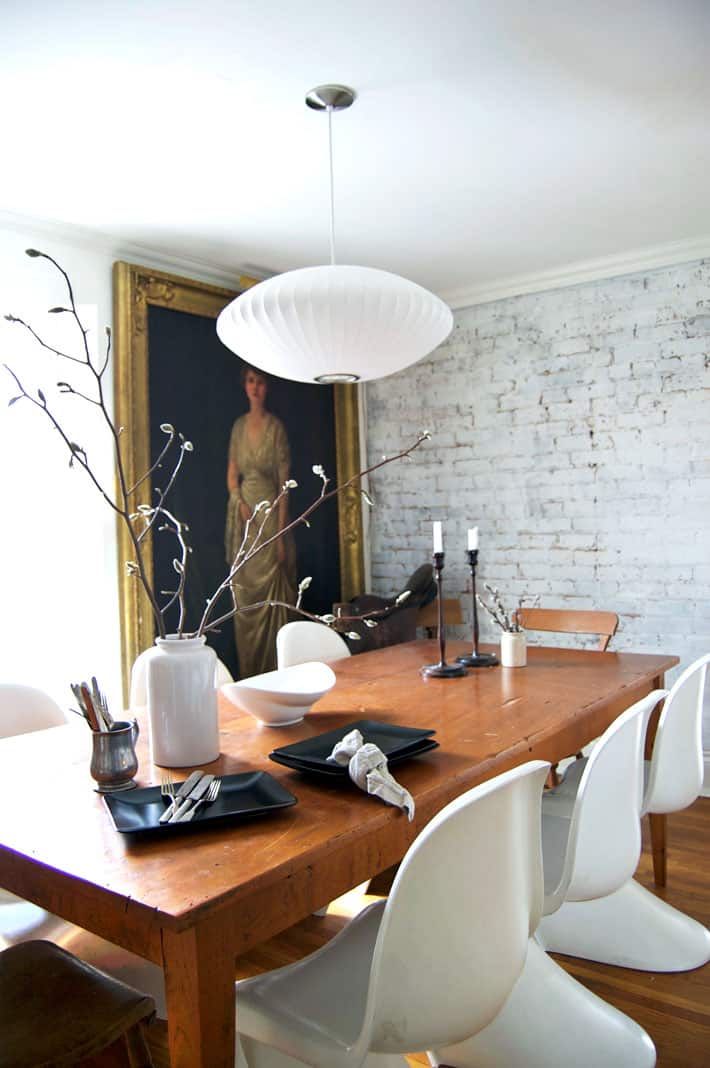 The light is also the perfect contrast to the ornately framed oil panting.  You know ... Margaret.  Margaret commands attention so the light had to be able to play nice with her.  Maggie can be a bit bossy.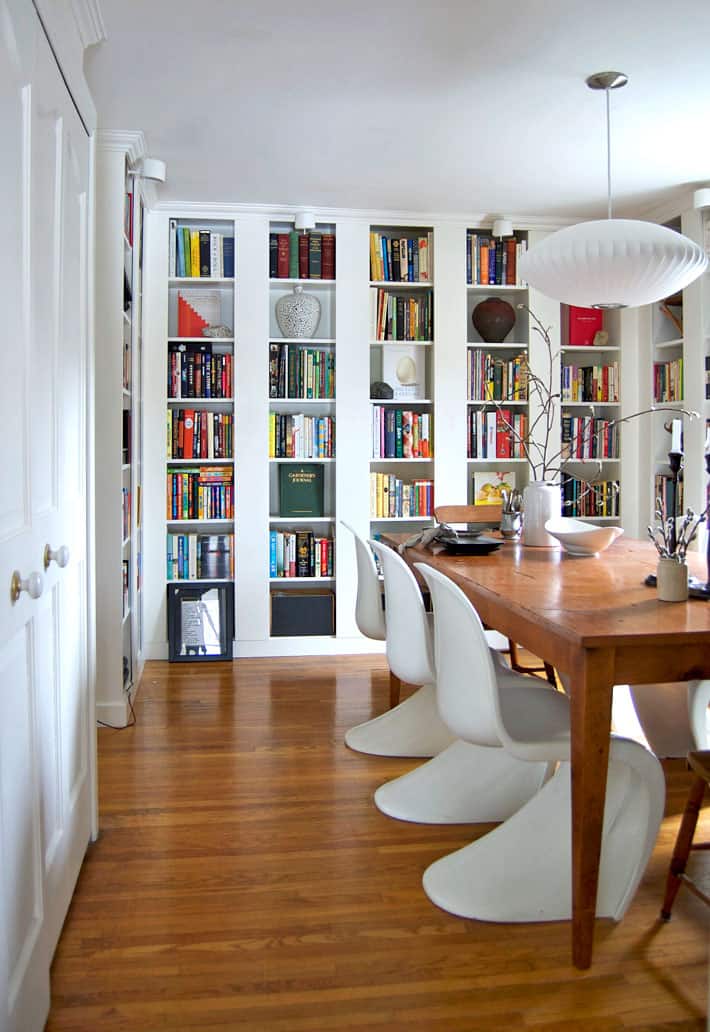 The other thing I love about this light is the fact that there are no exposed bulbs.  Exposed bulbs glare. They can never produce a soft light.  So a chandelier, like the one I have in my foyer, will add sparkle and a lot of light, but it will never create a delicate glow.  The bubble lamp, even when the dimmer is turned right up, is never harsh. It just bathes the room in light.
Very much the same way Idris Elba would.  Although I suspect turning Idris on every time I walked into the room would be more involved. And of course his exposed bulbs wouldn't be problematic.
As it turns out, I probably should have just bought this light a decade ago.  The lesson in this for me, and for you, is if you love something just let yourself love it.  Just because a lot of other people love it too doesn't diminish how nice it is.  Don't shy away from something just because it's popular.  Or just because it isn't popular.  It's your house, your life and you should fill it with things that make you happy.
Just maybe not things that could lead to kidnapping charges.
→Like to Sweat, Swear and do Stuff? GET MY POSTS emailed to you 3 times a week←