If you make sourdough bread you know all about the "discard". The portion of sourdough starter you throw out anywhere from every day to once a week. By adding just another few ingredients to that glop, you can make artisanal crackers.
And by "artisanal" I mean, they'd be expensive if you sold or bought them in a store because they have the word artisan in them.
Calling your new favourite crackers Artisanal also lets you get away with any number of abnormalities in them like uneven edges or burned spots.
For instance, you may also have artisanal tea towels in your kitchen. Or after COVID some artisanal hair.
To make these sourdough crackers you won't need anything weird other than perhaps the actual sourdough starter discard which is in fact, very weird.
Sourdough starter is full of secrets. How many bubbles it has and where they are hold the secret to how strong the starter is. A tiny bit warmer in the kitchen and you'll get a much faster rise out of it with less "sour" flavour.
What is Sourdough Discard?
But the biggest secret about sourdough starter that no one discusses IS THE FACT THAT SOURDOUGH STARTER IS LITERALLY GLUE.
It is flour and water. Paste. That means that sourdough discard is also glue.
---
Therefore, when you stir, drip, rinse or fling any of it anywhere - it glues itself to whatever it lands on. If you wipe it up right away you're good, but if you leave it to dry you're looking at a permanent adhesion of flour to your floor, sink, spoons, jars and even your artisanal hair.
If the sourdough enthusiast can avoid pouring the discard down the sink or into the garbage then they have less of a chance of gluing themselves to their kitchen floors.
Now that I'm a champion sourdough starter cracker maker, I can just pour the starter into its own bowl and stick it in the fridge
O.K. everyone ready to make glue crackers??
Parmesan Sourdough Cracker Recipe
You're just going to mix together some flour, salt, butter, sourdough discard and parmesan cheese.
You just mix and work it with your hands until you have a dough then refrigerate it to firm up.
Roll it out, brush it with some half decent olive oil and sprinkle it with parmesan and salt.
You can either leave the sheet without scoring it and break the crackers into bite sized pieces after cooking or you can pre-cut the crackers before you bake them.
I find pre-cutting them helps them to cook more evenly, so that's what I do.
Bake for around 30 minutes or until the edges are browned and the tops are golden.
I didn't roll mine out quite enough on this batch so they're a bit puffier.
To gift them put them in a cookie tin or cardboard candy box with the original parchment paper you baked them on (just because it looks nice and browned around the edges like the crackers).
Who knew that one day ...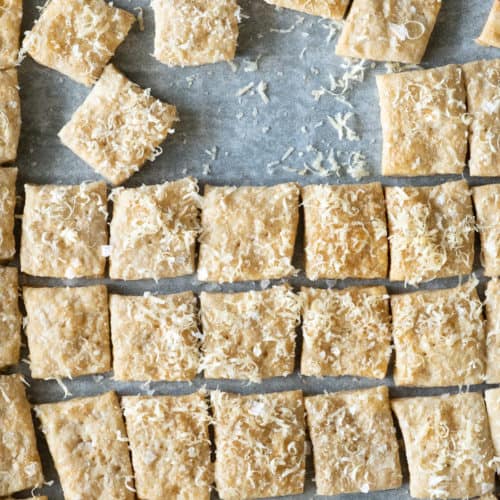 Sourdough crackers.
An easy, practical way to use up that sourdough discard.
Print
Pin
Rate
Ingredients
1

cup

flour

(113 g)

½

teaspoon

sea salt

1

cup

sourdough discard

227g

3

tablespoons

butter

1

teaspoon

olive oil

pepper

20

grams

grated parmesan cheese

5 g to be reserved for sprinkling

olive oil

for brushing

coarse salt

for sprinkling

pepper
Instructions
Mix together the flour, salt, sourdough discard, butter, 1 teaspoon olive oil and 15 g of parmesan cheese. Give a good grinding of pepper. I use my hands to work it into a smooth dough. (the remaining 5 grams of parmesan is reserved for sprinkling the dough later)

Shape the dough into a rectangle, cover with plastic wrap, and stick it in the fridge for at least 30 minutes to chill and firm up.

When you're ready to bake heat the oven to 350°F.

Lightly flour your rolling pin and the top of the dough. Cut the dough into 2 equal pieces then roll each of them out to about 1/16" thick. That's around the thickness of 2 credit cards stacked on top of each other.

Lift the dough and parchment onto a baking sheet then brush it with olive oil, sprinkle with coarse sea salt and the remaining 5 grams of parmesan cheese. Finally do a few grinds of fresh cracked pepper on top. For thin crackers you'll need 2 baking sheets for cooking. One for each dough you roll out.

Cut the dough into squares or rectangles.

Bake the crackers for 25 to 30 minutes or until they're nicely golden on top.

Let cool then store in an airtight container.
Notes
The amount of crackers you end up with depends on how thin you roll them out. Thicker crackers will get you 60 or so, rolling them to the proper thinness will get you about 100 1" square crackers.
If after cooking the crackers seem gummy inside, stick them back in the oven and check every 5 minutes.  You really can't overcook these, but you CAN undercook them.
Nutrition
Serving:
6
crackers
|
Calories:
48
kcal
|
Carbohydrates:
1
g
|
Protein:
1
g
|
Fat:
1
g
|
Saturated Fat:
1
g
|
Cholesterol:
1
mg
|
Sodium:
18
mg
|
Potassium:
1
mg
|
Fiber:
1
g
|
Sugar:
1
g
|
Vitamin A:
12
IU
|
Calcium:
3
mg
|
Iron:
1
mg
... you would grow up to be that weird kid who eats paste.
Good for you.