THIS right here is the genuine, authentic recipe for Montana's famous antojitos. A Mexican street vendor favourite, antojitos ( which translates literally into snacks ) are the perfect party appetizer. Crispy on the outside, filled with gooey cheese on the inside.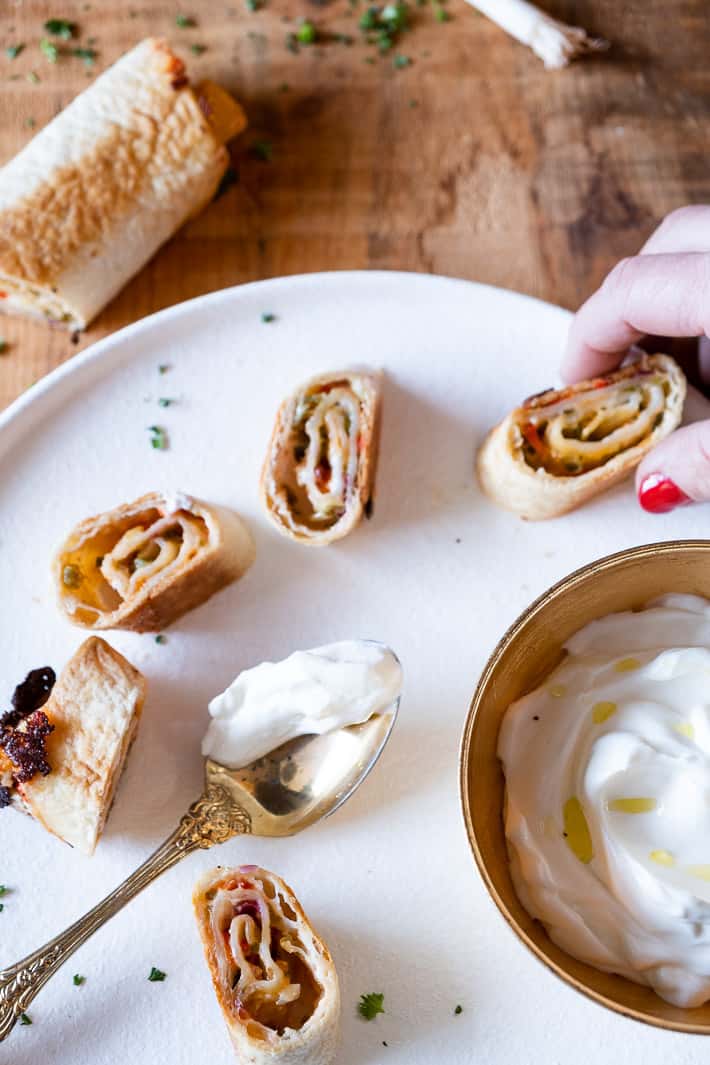 It was a bit of a "thing" for me to get this recipe so I do hope you'll make it.
For those of you who haven't heard the story, there was a certain fella in my extended family whom we referred to as Uncle Shifty. It just suited him. Because he was shifty.
He used to manage a Montana's restaurant chain where they served deliciousssss antojitos. Really good antojitos.
At the time of his employment at the restaurant we didn't see Uncle Shifty on a regular basis, but when we did he'd sometimes show up with an antojito or two. Once for Christmas he showed up with 30 of the snacks.
Sadly I didn't have room in my freezer for them so I gave away 5 steaks to free up space. Yes. They're that good.
Every time I got one of those crispy slices of creamy spiced Mexican perfection I'd scarf it down, throw my hands in the air and scream "done!", Survivor-style. The drawback to this (aside from looking like a lunatic) was I never took the time to actually look inside one to see what made it taste so good.
So after years … and I mean years of asking Uncle Shifty what was in these chain restaurant antijitos I got the entire recipe. Or more specifically earned the entire recipe. It was a struggle on many levels.
When Uncle Shifty would call the house I'd ask about the antojitos. One phone call with him I might get the first 3 ingredients and then a story about his new car.
The second phone call I might get the oven temperature and a recap of his latest sexual escapade. This went on and on. I heard a lot of things I didn't need to know in order to get this recipe and now I'd like to share it with you. The recipe that is, not the accompanying stories.
You do not want those.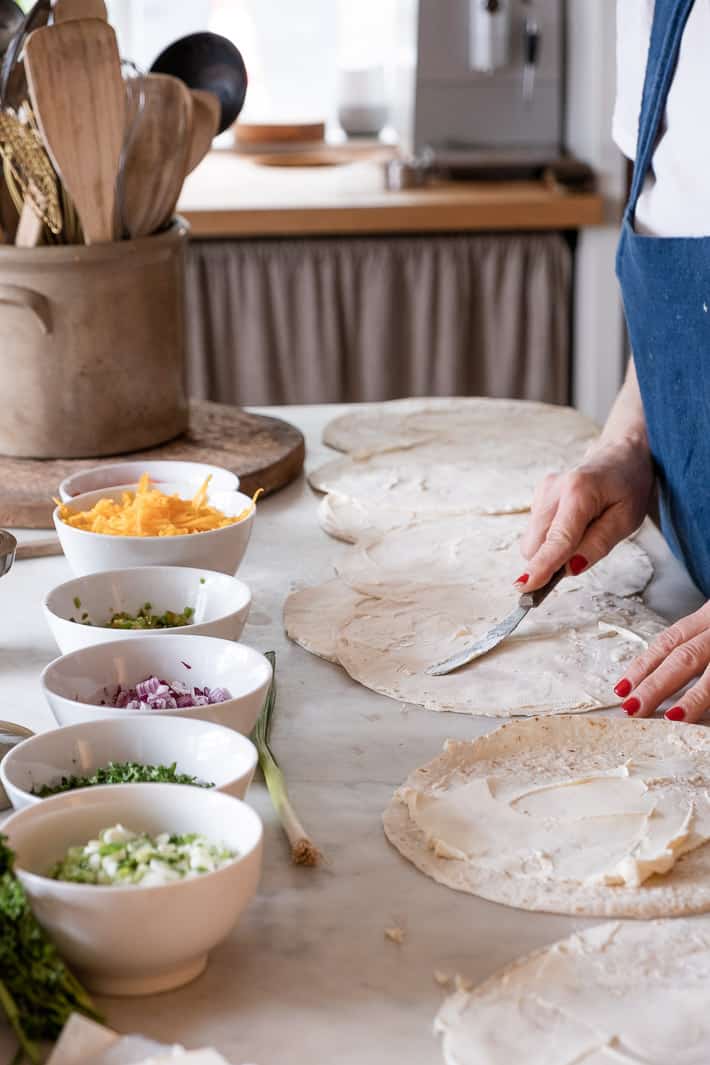 What are antojitos??
Don't know what an antojito is? Don't worry about it. If you like tasty, delicious appetizer treats you'll like em. You dip them in sour cream!
They're the ultimate finger food full of diced vegetables, hot sauce, peppers and lots of cheddar and cream cheese. Best of all you can eat them with one hand while jumping up and down on the couch, while leaving your other hand available for holding a beer. This is a virtue that comes in handy during Superbowl season.
A tortilla gets slathered with cream cheese first, and then you start piling on the rest of the toppings.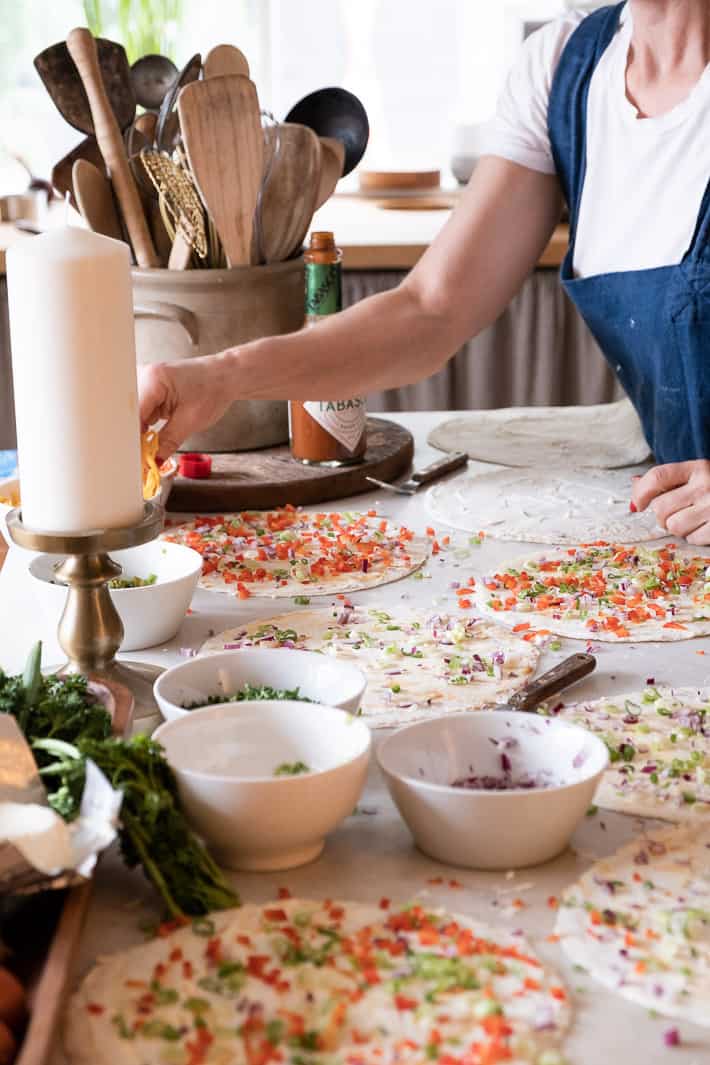 Add finely diced peppers and onions over the cream cheese.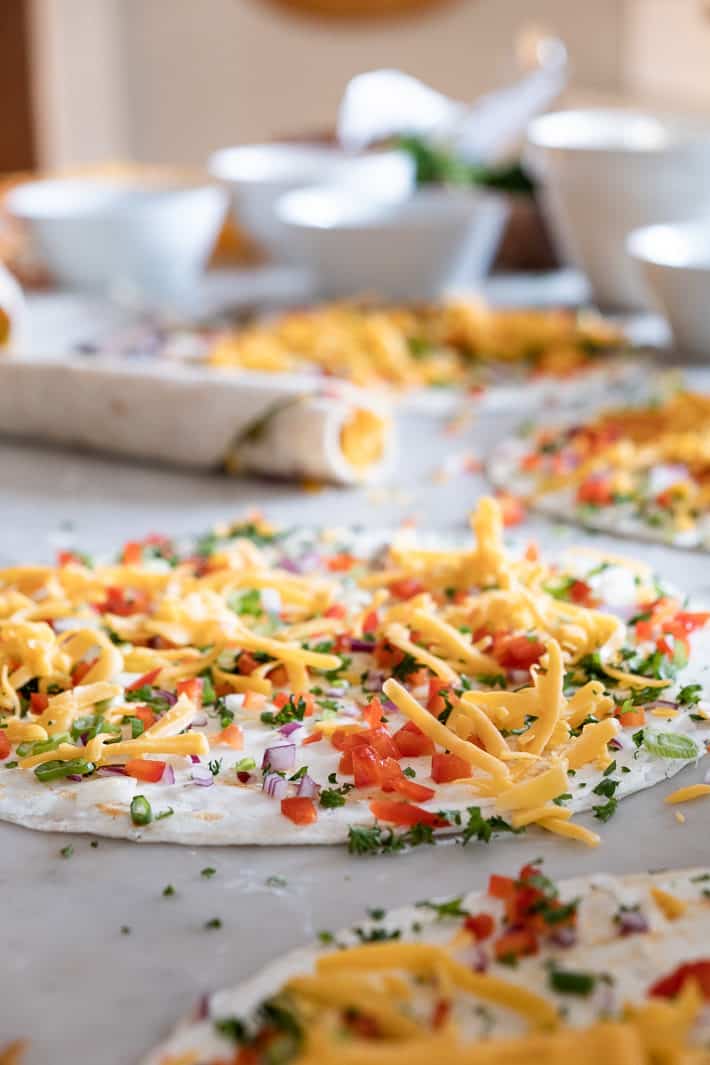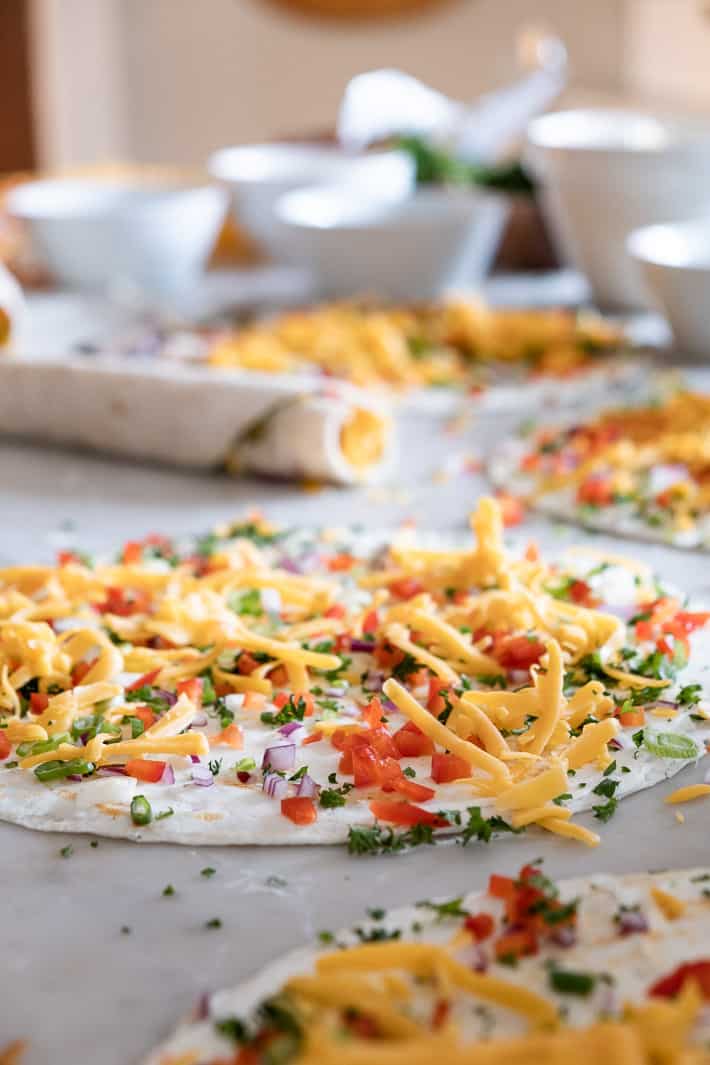 You can never go wrong with a handful of cheddar cheese. Ever.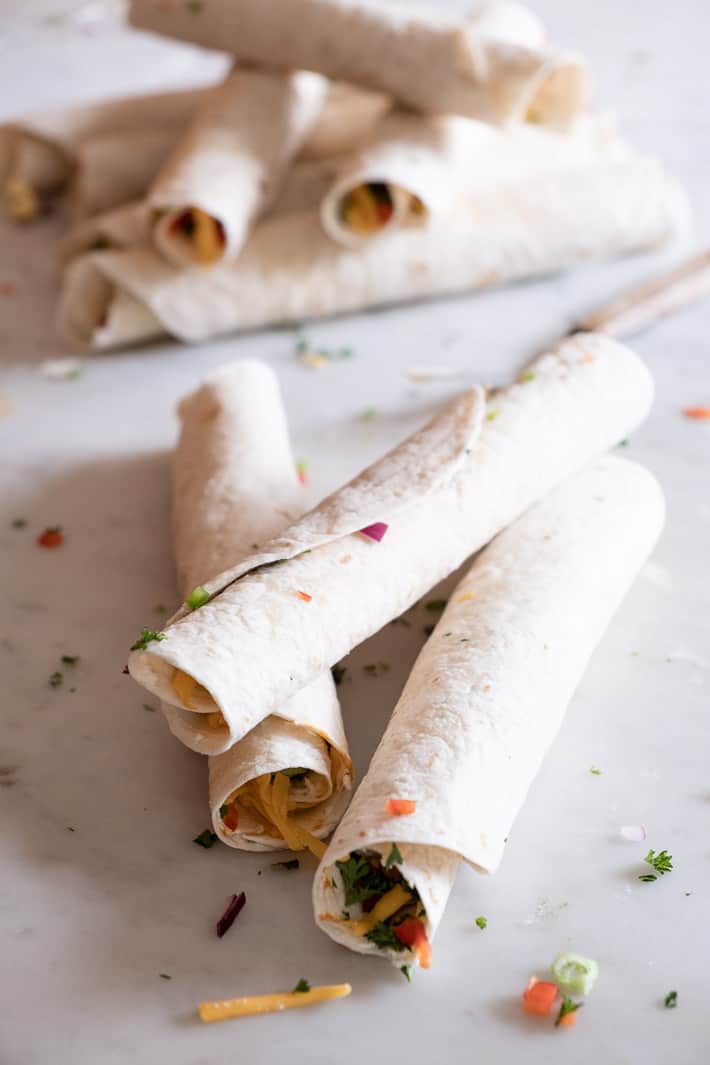 Then it's just a matter of rolling them up like a cigar and baking them in the oven.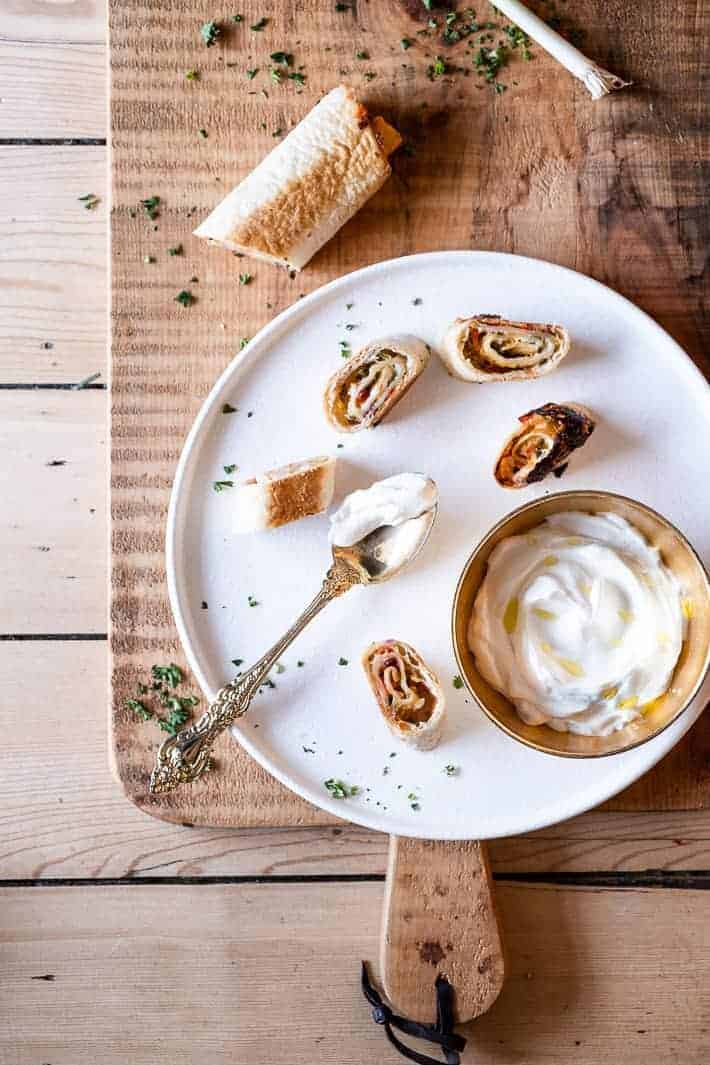 I make a TON of these for every Christmas Eve. I always fully intend to serve them all but at the last minute throw ¾'s of them in the freezer for myself when no one is looking.
They're that good. They're greedy good.
Montana's Antojitos Recipe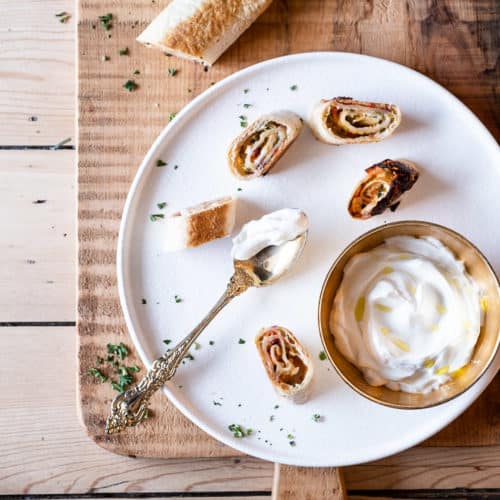 Antojitos
These crispy on the outside, filled with flavour and gooey on the inside antijitos can either be a meal themselves, or a nice side to a Mexican meal. But what they're BEST for is an appetizer. These antojitos can be preassembled then frozen until you're ready to cook them.
Print
Pin
Rate
Ingredients
8

large

Flour tortillas

white crisps up the best but whole wheat if you lean that way

1

package

Cream cheese

either spreadable, or regular left out to soften a bit

16

Pickled jalapeno peppers

diced very fine

2

jalapeno peppers

diced very fine

1

red pepper

diced very fine

1

red onion

diced very, very small

1

bunch

green onions

sliced very thin

1.5

cups

Shredded cheddar cheese

1

bunch

Parsley

chopped fine

Hot sauce

Melinda's is the actual brand used in the chain, if you can't find it use Tabasco, or Frank's Red Hot Sauce
Instructions
Spread tortilla with a layer of cream cheese. Not too little, not too much.

Dot with hot sauce. Use a lot of you like things hot, use little if you don't. Using a small icing spatula or knife, spread the hot sauce out over the whole tortilla so it's even.

Systematically top with remaining ingredients. Because you have so many ingredients, you don't need to load them on. Just a nice amount. Your tortilla should be filled with toppings but not so full they're building up over each other. Go easy on the jalapenos if you don't like too much heat.

Roll the tortilla up like a cigar. A big fat cream cheese filled cigar.

Lay seam side down on a cookie sheet and bake for 20-30 minutes at 350 degrees. For extra crispiness brush the antojitos with olive oil before cooking.

Once the antojito is cooked and has cooled slightly, slice on the diagonal into 6 to 8 pieces. Serve with sour cream.
Notes
It's important to dice all the ingredients very small and evenly so they cook through. If they're too big they'll be uncooked and crunchy. You may have some leftover ingredients (red onions and peppers) and may need to dice up some more (pickled jalapenos).
Nutrition
Calories:
374
kcal
|
Carbohydrates:
33
g
|
Protein:
12
g
|
Fat:
21
g
|
Saturated Fat:
10
g
|
Cholesterol:
53
mg
|
Sodium:
587
mg
|
Potassium:
128
mg
|
Sugar:
2
g
|
Vitamin A:
1200
IU
|
Vitamin C:
25.6
mg
|
Calcium:
186
mg
|
Iron:
0.8
mg
There are things I now know about Uncle Shifty that I can never unknow so please, do me a favour and share this recipe with everyone you know. It will ease my mind to know that what I have endured will have helped at least one person to have a tasty snack.
My mind is even FURTHER eased by the fact that this year? I might not have to share them at all.
→Follow me on Instagram where I often make a fool of myself←