This Bacon Wrap recipe includes bacon and cheese. If you need to know more than that we probably shouldn't be friends. It's a salty bacon appetizer. With cheese. What crazy person wouldn't love that??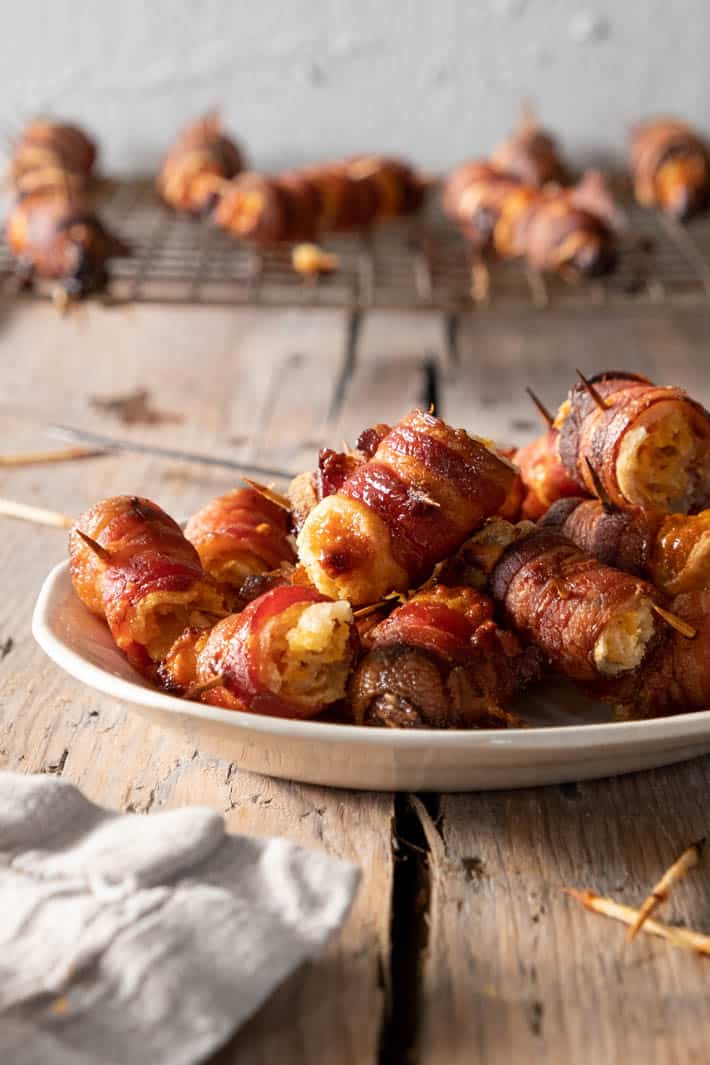 I try not to let a year go by where I don't remind you about this disgusting recipe. If you were to tell someone the ingredients to the famed bacon wraps I serve my family at Christmas every year, you probably wouldn't be met exclamations of delight.
Instead, after explaining to your guests that these tasty little treats are made with bacon, sweetened condensed milk, Worcestershire sauce and dijon mustard, the best you could expect is for one out of 10 people to just pretend vomit, as opposed to actually vomit.
Of course this means you can never tell anyone what these are made of until after they've tried them. Kind of like beef marrow. Just spread it on toast and feed it to someone. Then after they've scarfed it down and licked their fingers clean, declare "HAH! YOU FOOL! THAT WAS THE MARROW OUT OF THE MIDDLE OF A BEEF BONE! GROSS, GROSS MARROW! HAH! But it's good isn't it? Omg. Why would you throw up like that? That's very rude."
So that's fact #1 about Bacon Wraps. The ingredients sound horrifying.
Fact #2 about bacon wraps is once anyone tries them, they will ask for the recipe.
These are not for the food snob. These are not for those who only eat healthy. These are for people who are FUN!
Bacon Wrap Appetizers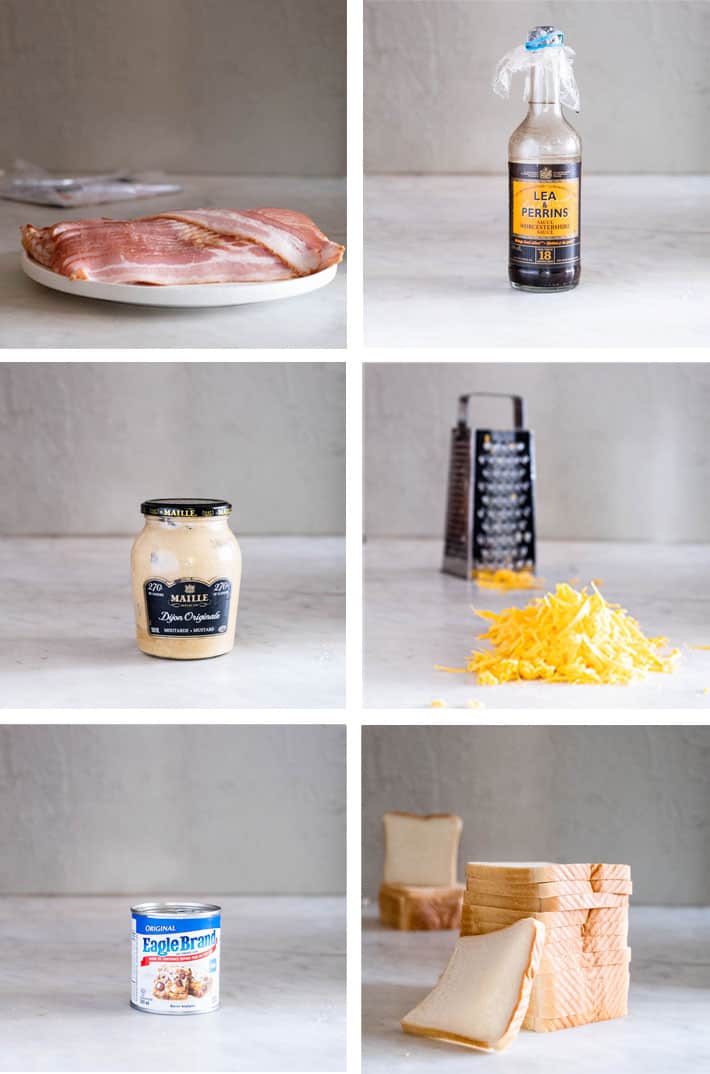 Just look at those ingredients. I mean, they makes no sense at all.
Condensed milk, Worcestershire sauce, and mustard???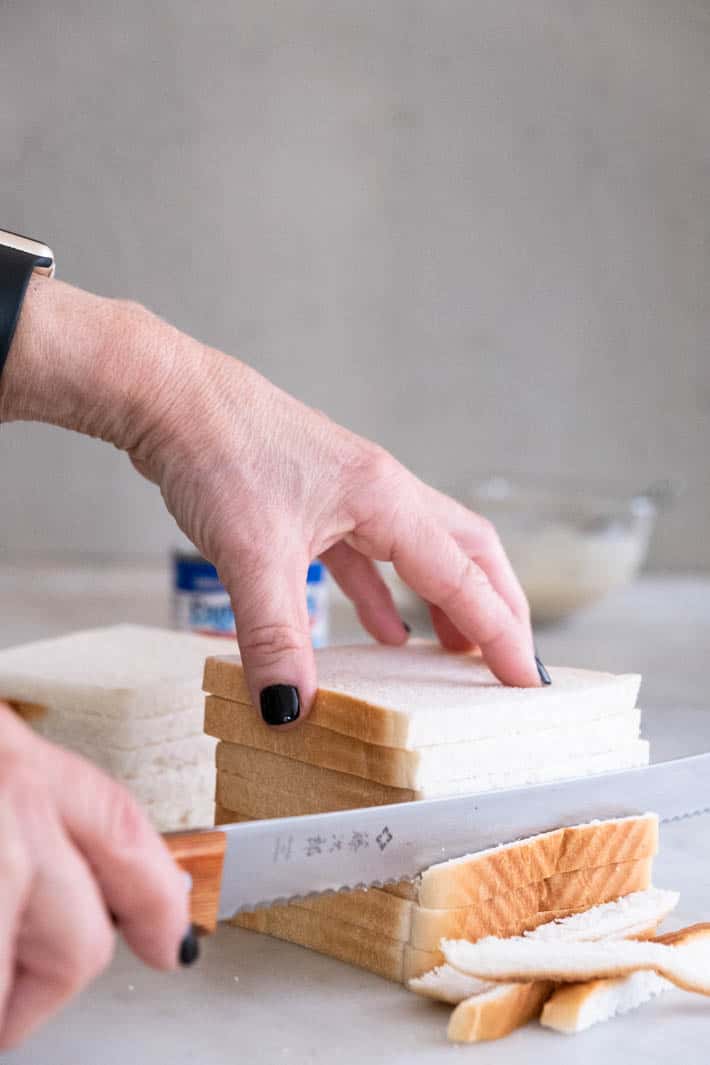 The bread make sense. Everyone likes bread.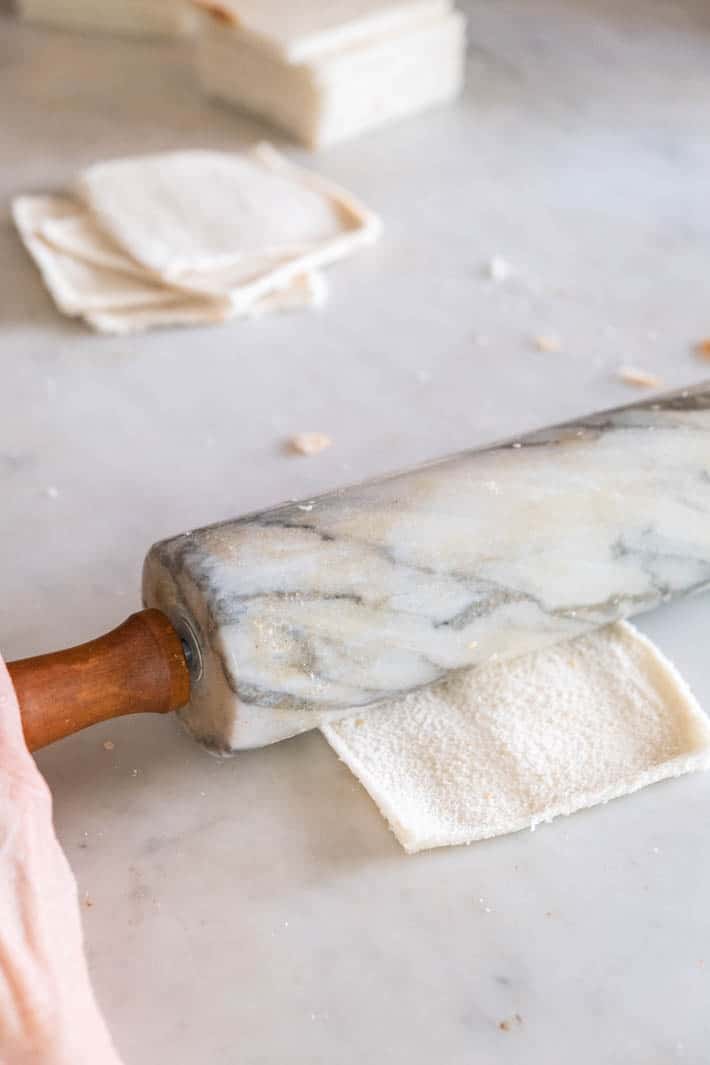 You roll the bread out as flat as you can. If you have a heavy marble rolling pin, now's the time to take it out.
How to assemble Bacon Wraps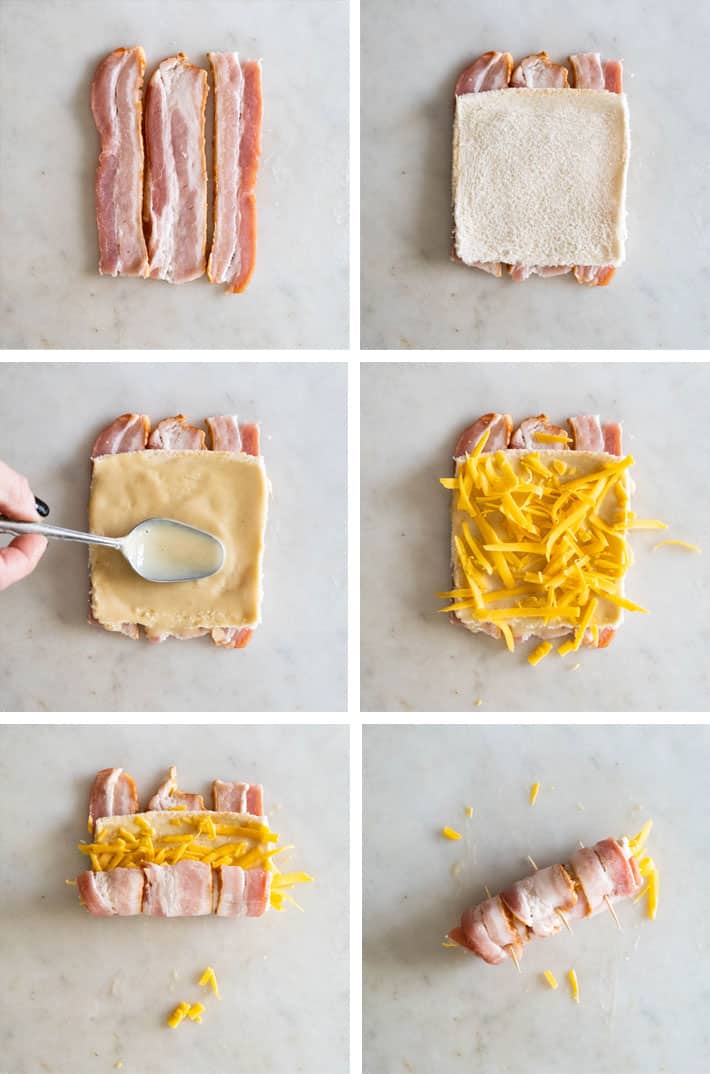 You lay 3 strips of bacon side by side (each piece has previously been cut in half), lay the flattened bread on top, cover with a heaping tablespoon of condensed milk mixture and a sprinkling of cheese. Roll 'er up and your bacon wraps are ready to cook.
---
TIP: It's fastest if you do these bacon wraps in an assembly line style. Lay out all your bacon, then bread, sauce, cheese, then roll.
---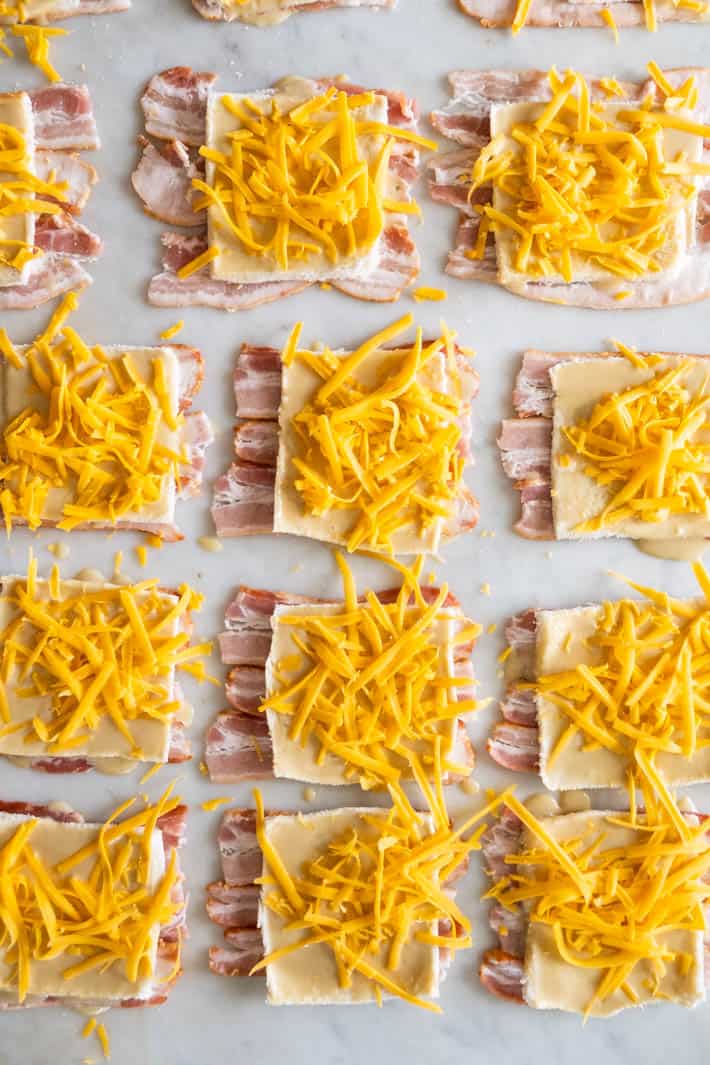 Before baking them, you have to secure them with toothpicks because they puff up and toast and get GLORIOUSLY greasy and gooey. Which makes them kind of want to explode if you don't have them secured with a toothpick.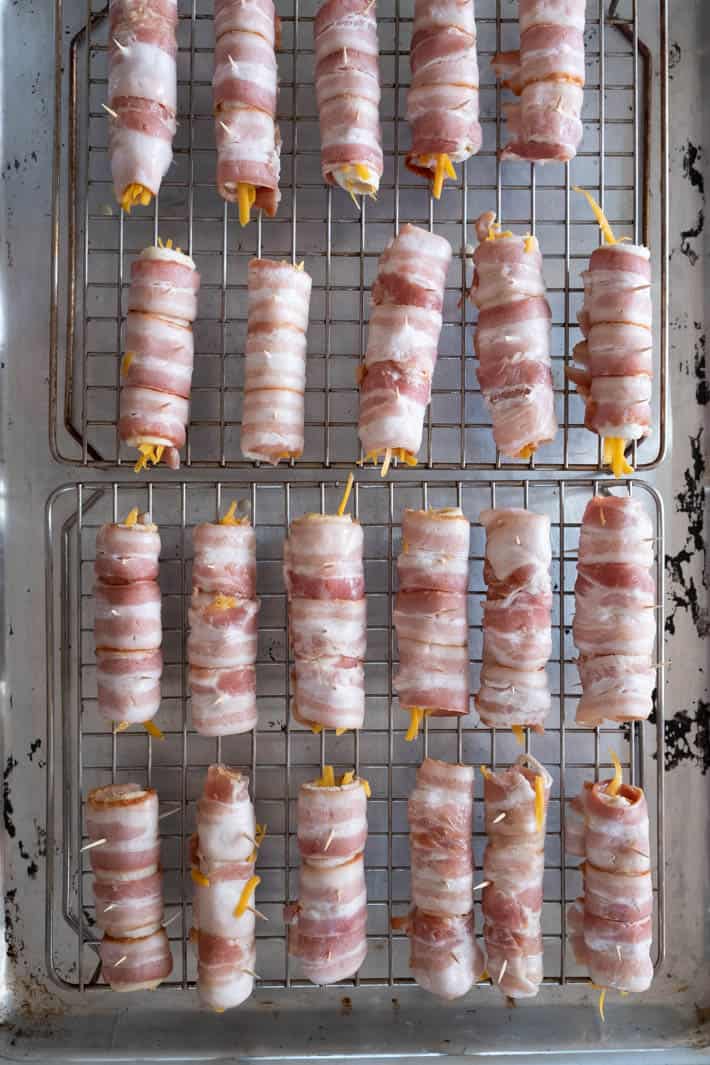 Place them on a rack over a cookie sheet & bake until irresistible.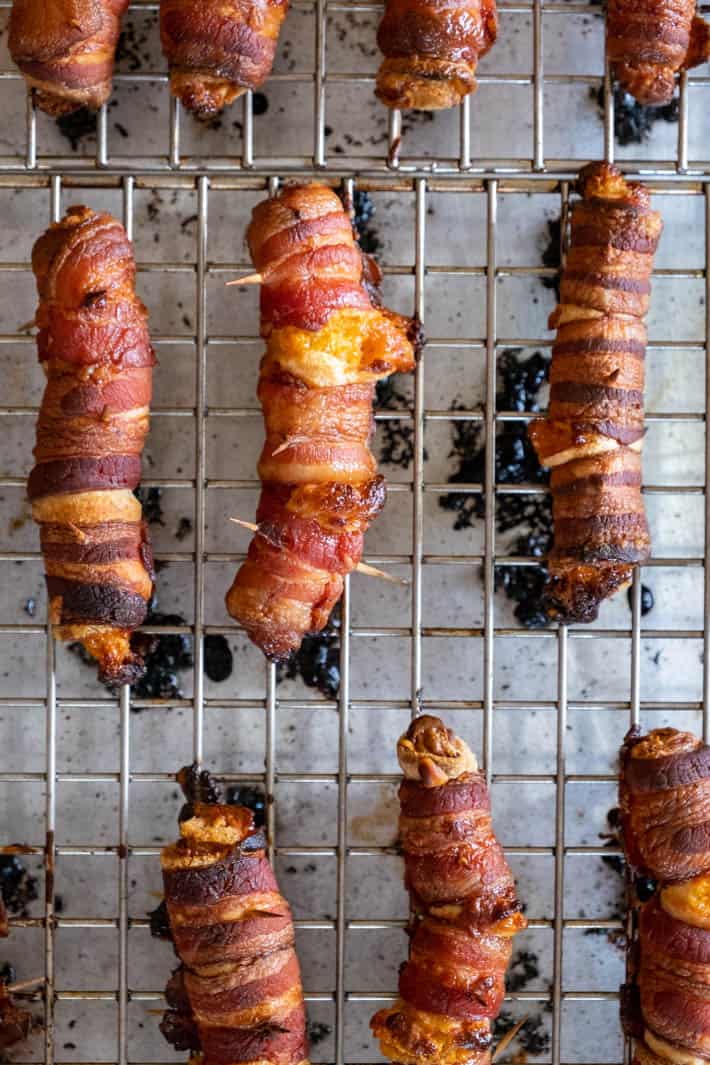 You can cut these into pieces if you want but they just break apart very easily. Or, I mean, why cut them into pieces at all. Basically they're bite sized even if you don't cut them into 3. Basically.
These are my families favourite Christmas appetizers. Salty, crispy, gooey and slightly sweet.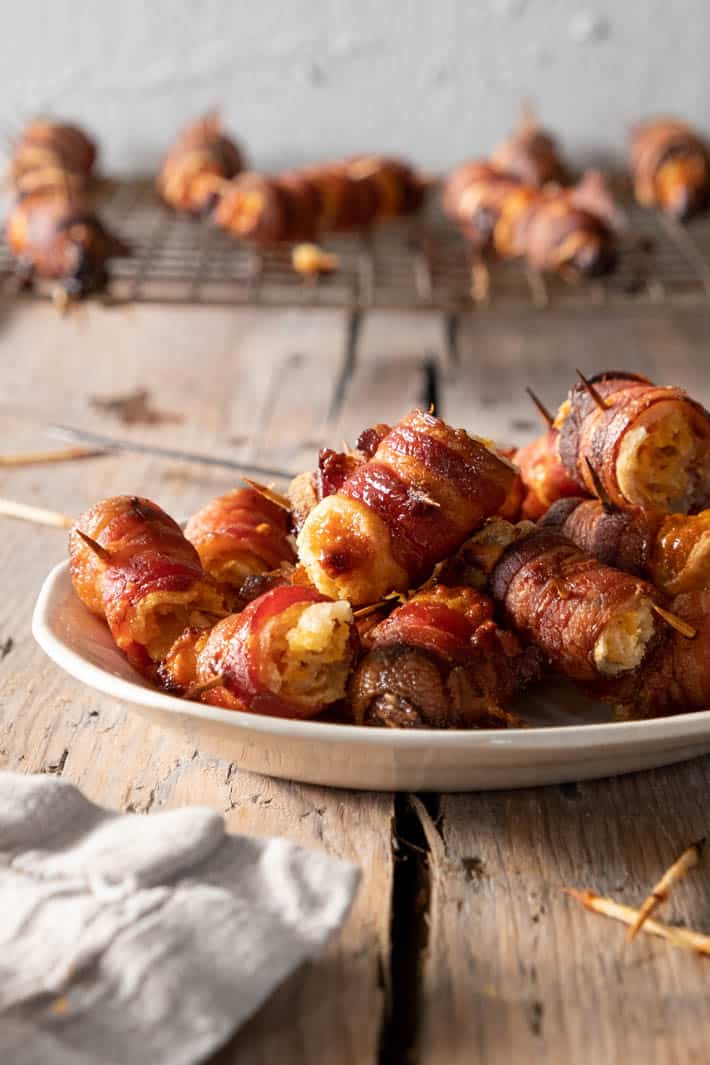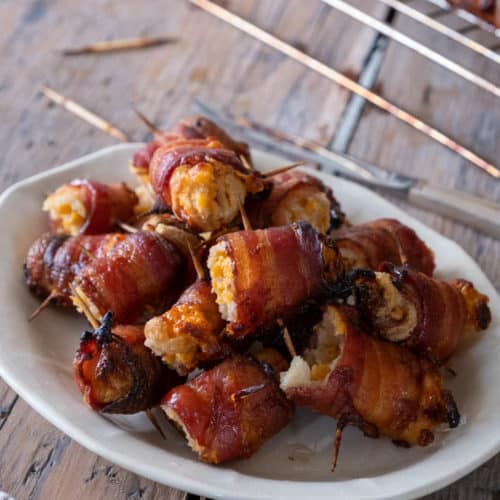 Bacon Wraps
You'd never think this mix of ingredients would make SUCH a delicious appetizer but it does. I've never met anyone who doesn't love a bacon wrap.
Print
Pin
Rate
Ingredients
1½

pounds

bacon

each piece sliced in half

20

slices

white bread

crusts cut off

¼

cup

dijon mustard

1

can

sweetened condensed milk

2

cups

cheddar cheese

old, shredded

1

tsp.

Worcestershire sauce.
Instructions
Mix together condensed milk, Worcestershire sauce, and dijon mustard.

Flatten bread with rolling pin.




Lay 3 strips of bacon side by side.

Lay single piece of bread on top.

Smear with a large tablespoon of condensed milk mixture.

Top with a fingerful of shredded cheese.

Roll up tightly.

Secure each bacon piece with a toothpick.

Lay bacon wraps on a rack over a tin foil lined cookie sheet to catch drips.  Also line the bottom rack of your oven.

Bake until bacon is cooked to your liking (approximately 45 minutes - 1 hour)
Nutrition
Serving:
3
pieces
|
Calories:
319
kcal
|
Carbohydrates:
24
g
|
Protein:
11
g
|
Fat:
20
g
|
Saturated Fat:
8
g
|
Cholesterol:
41
mg
|
Sodium:
481
mg
|
Potassium:
187
mg
|
Fiber:
1
g
|
Sugar:
12
g
|
Vitamin A:
179
IU
|
Vitamin C:
1
mg
|
Calcium:
206
mg
|
Iron:
1
mg
QUESTIONS/ANSWERS
Can these be frozen? You bet! If you have any left over.
Can you cook these ahead of time? Yes indeed. Just reheat them in a blazing hot (500) oven for a couple of minutes. Don't use the microwave to heat them up. They'll go weird and chewy.
What if I don't like bacon? Can I use something else? What??!! NO. Who ARE you??!
Where are the jalapeños in these bacon wraps? That's a different kind of bacon wrapped delight. You can see my recipe for Jalapeño poppers here.
I bought the bacon last week when it was on sale, I have the sauce, the mustard, sweetened condensed milk and bread. All I need now is to psych myself up to make them but NOT eat them. They need to go straight into the freezer until Christmas.
Or a very persistent craving.
Enjoy.
→Follow me on Instagram where I often make a fool of myself←