The Cadbury Easter Creme egg has had more of an impact on my psyche than the time I got a spiral perm. That story, plus an alarming fact about this tasty treat.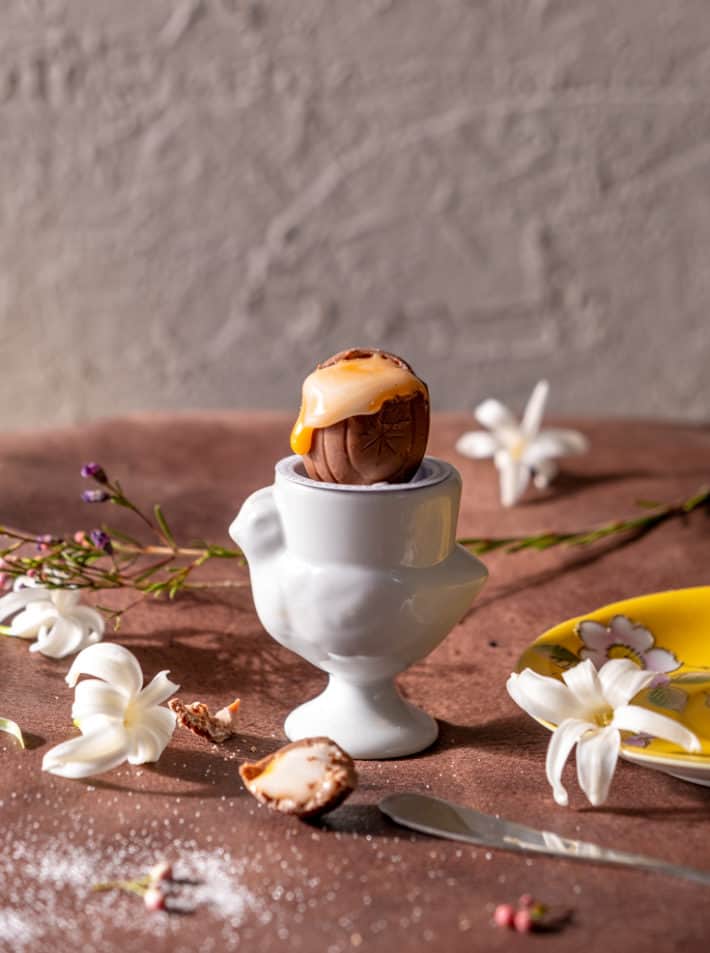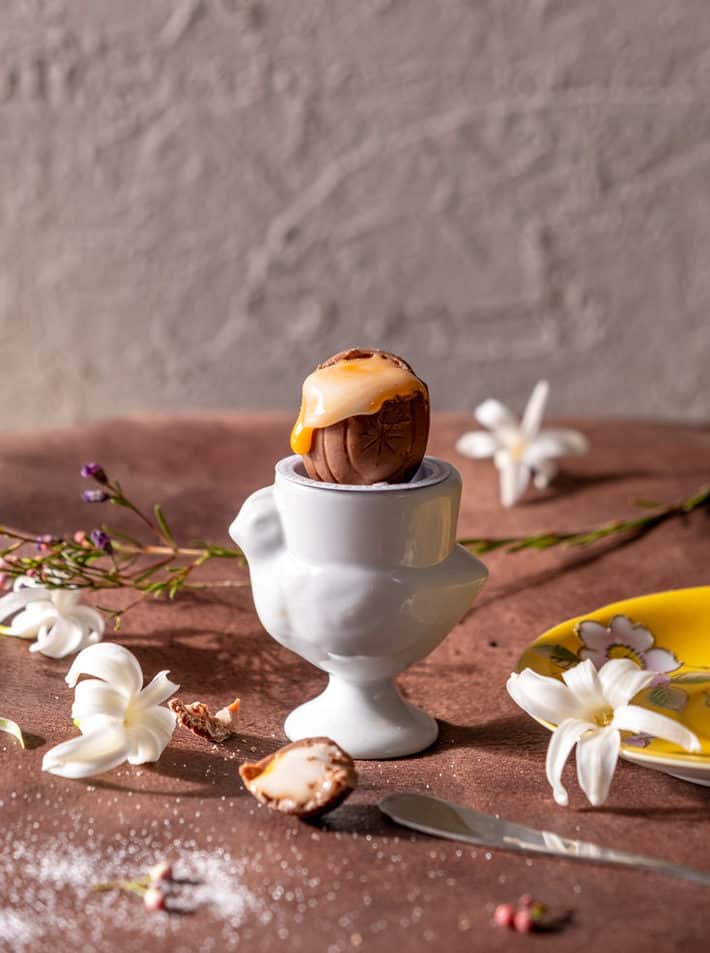 Is this the kind of Easter morning breakfast you indulge in? No? Me neither. But this scene doesn't even come CLOSE to a truly alarming Easter Creme Egg fact. ( Skip right to the facts.)
---
I used to feel "off" every time March marched around. Irritable, listless, just not myself. Why all the melancholy you ask? It was the time of year. Spring was in the air, the sun was shining, the days were longer and flowers were gathering the strength to burst through the soil. It was just awful.
This feeling of emptiness crashed down on me every year because I had no one to buy me ... an Cadbury Creme Egg. Some women want diamonds. I want an inexpensive chocolatey treat I could easily buy myself.
But that wasn't the point. I wanted someone to BUY IT FOR ME.
When I was young my father would give me an Easter Creme Egg (and weirdly, several sticks of hot pepperoni) every Easter. After that my boyfriend took over the Creme Egg duty and a couple of times prior to Easter he'd pop a couple out of his pocket while we were watching television at night.
It is the only Easter decoration I've ever loved.
After 7 long years of being stubborn, this year I decided to suck it up honey and I bought my own Cadbury Creme Egg. But in keeping with the surprise aspect of it, I tucked them (yes more than one) away in a drawer to forget about until I remembered them.
I'm sneaky like that. Combined with my perimenopausal forgetfulness I KNEW I'd be able to surprise myself.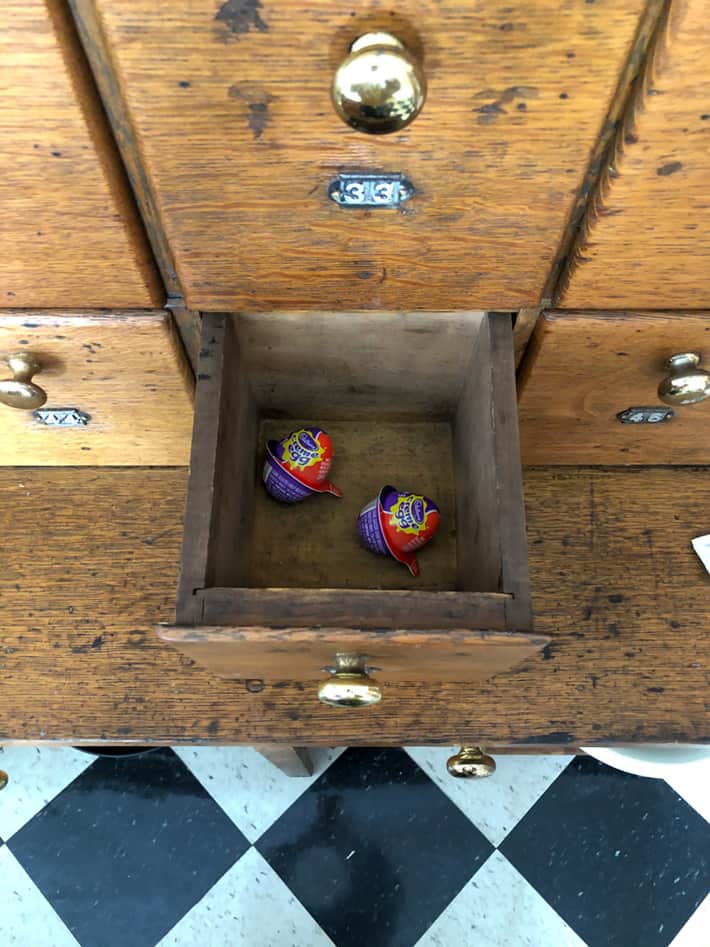 And I did.
For anyone new around here I can assure you that I am, generally speaking, quite independant. For instance, I buy my own toilet paper, dish soap, gas, and drill presses.
There was just something about not having someone to buy me that Easter Creme Egg that bothered me. Now it doesn't bother me at all. Now what bothers me is I've realized I can in fact buy my own. On account of this I've eaten 14 Easter Creme Eggs this year.
I fear if I don't find a new boyfriend or father soon that children will start poking me with sticks just to watch me ooze fondant.
FACTS ABOUT THE CADBURY CREME EGG
What IS it we love about it so much? And what happened 5 years ago that sent people screaming in the streets in a Cadbury Easter Creme Egg revolt?! All that and more coming up ...
The Cadbury Creme Egg is probably a lot older than you think it is. Not the one you bought at the variety store last week (although to be honest with you if the filling is solid I don't like your chances of it being certified fresh) but the Cadbury Creme Egg in general.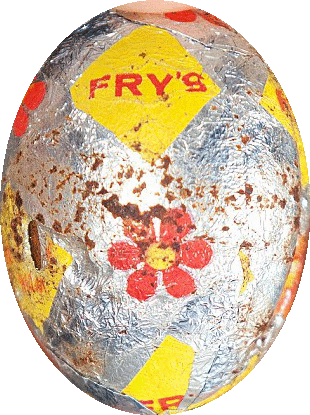 The Easter Creme Egg was first introduced in 1963, but it was called a Fry's Creme Egg.
In 1971 it was renamed as The Cadbury's Creme Egg.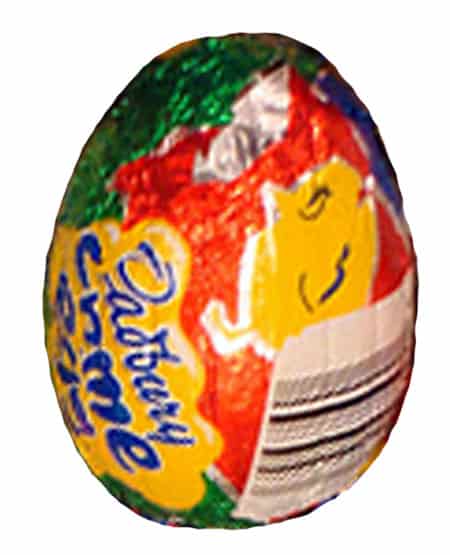 The Cadbury Egg's filling is a version of fondant.
There is a world record for the fastest eating of a Creme Egg. 8.6 seconds for a single egg. Doesn't seem all that impressive to me.
The foil packaging used to have a chick on it and was green, blue, red and yellow. Now the foil has no chick and is the colours used are purple, red and yellow.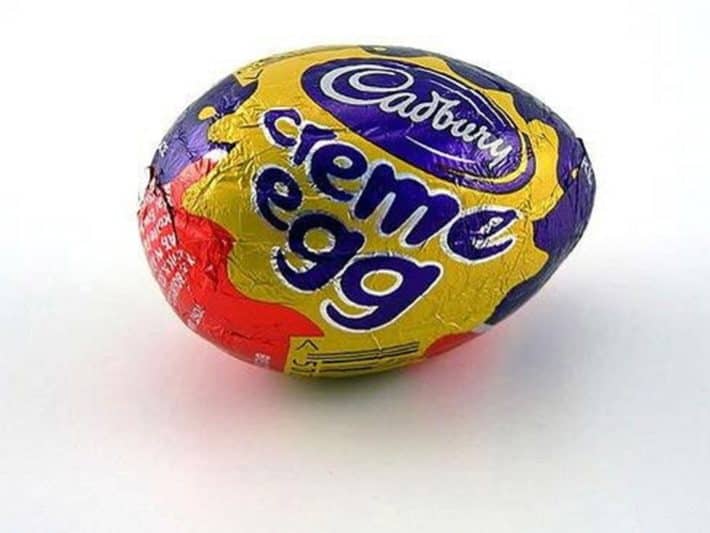 In Canada the Creme Egg is no longer packaged in the iconic foil, but rather in a stupid plastic shell which literally every single person in Canada hates.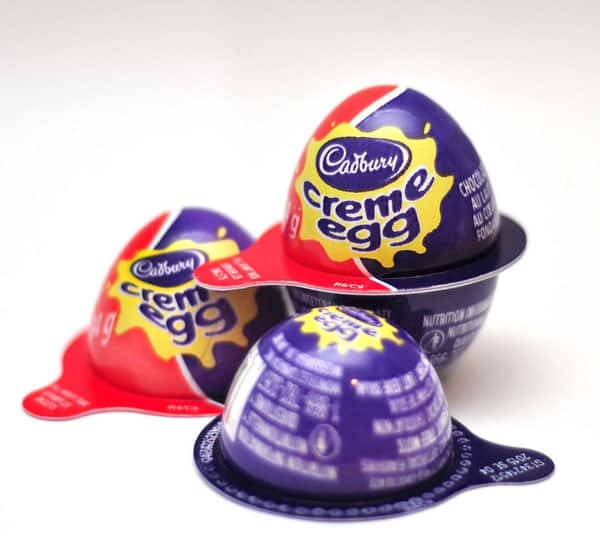 There is an elusive WHITE CHOCOLATE Easter Creme Egg. It went on sale in the UK in 2018 and then again in 2019. The catch? They were wrapped in the same foil as the milk chocolate ones so buyers had NO idea if they're getting the rare white chocolate egg until they unwrapped it. ALL white chocolate Cadbury Eggs came with a minimum prize of $100 British Pounds.
A single egg has 150 calories.
How long do you have to exercise to burn off those calories? Pftt. Who cares.
THEY ARE SHRINKING. In the UK where they originated the Creme Egg is actually 1 gram heavier than they were in the past but in Canada and the US the Easter Creme eggs have shrunk from 39 grams to 34 grams over the years.
2015 was the year of the great Cadbury Creme Egg debacle. The company announced it changed from using Dairy Milk to using Cocoa mix chocolate in their eggs. The world went wild with anger, people crying and screaming in the streets, ultimately boycotting the product in disgust. Creme Egg sales dropped by 12 million dollars that year. ....... What Cadbury didn't mention was the product was always made from a Cocoa mix chocolate. They had only tried the Dairy Milk for a while before realizing the more expensive product didn't make their eggs any better.
It is "Creme" egg. Not "Cream" egg.
But MOST alarming is this one Cadbury Easter Creme Egg fact.
In April of 2019, this hit the shelves in the UK. If you have children in the room you might want to send them out for this next bit.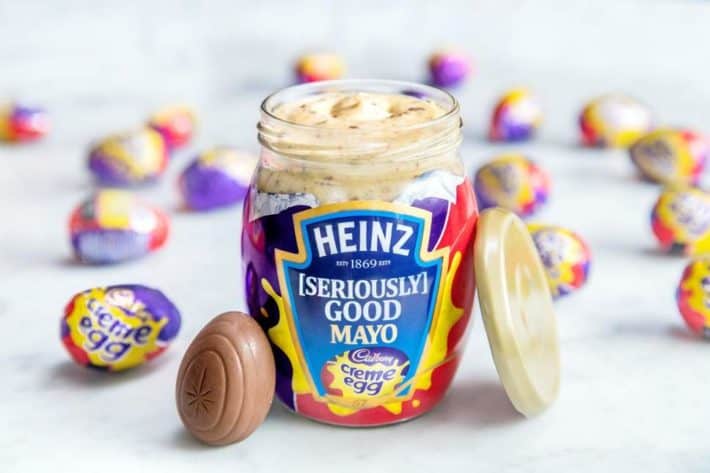 That's right. It's Heinz Easter Creme Egg flavoured mayonnaise. In other words, tangy, creamy mayonnaise that has a sickeningly chocolate and fondant spin to it.
The alarm this caused in the UK when it was introduced in 2019 resulted in various people dropping to the ground immediately curled up into the fetal position asking to be nudged when the nightmare was over.
Cadbury eggs in mayo?
What Are Cadbury Eggs Made Of??
The dark brown outer portion of the egg is coyly described as being made of "chocolate-like" ingredients.
The filling, is a a combination of a white and a yellow fondant that when placed together looks like an egg yolk and white. The fondant filling is an inverted sugar syrup concoction made by combining fondant with the enzyme invertase. It's the invertase that makes the centre runny.
Who invented the Cadbury Creme Egg?
This is an interesting story. It was the coming together of two companies that resulted in the creme filled egg.
Cadbury was started in 1824 when John Cadbury opened up a shop that sold tea, coffee and chocolate (for drinking).
In 1847 his competitor, Joseph Fry, starting making moldable chocolate in the form of bars.
This revelation sparked Cadbury to do the same, but it wasn't until 1875 that Cadbury created the first hollow chocolate egg filled with sugary treats. But not creme.
In 1919 Fry and Cadbury merged and in 1923 they introduced the very first creme filled chocolate eggs.
In 1963 what you know as the Cadbury Creme Egg was invented (called they Fry's Creme Egg). In 1971 the name was changed to the Cadbury Creme Egg.
What Exactly
It all brings me back to being a kid in Canada when someone at Hostess not only came up with the idea of Grape flavoured potato chips but convinced the company to make and sell them.
If I had to guess why the Easter Creme Egg has be so deeply and emotionally ingrained in my psyche I'd have to point to this.
I don't know how old I would have been exactly when this commercial came out but it would have been young. Maybe 7? I remember being enthralled with how happy everyone in it was. Having fun and wearing ice cream hats and roller skating their hearts out. The idea of the magical Easter Creme Egg representing happiness, fun and being with the people you love was engrained.
Now this single woman has to strap on her roller skates and find herself a variety store.
→Follow me on Instagram where I often make a fool of myself←