At the beginning of every summer, bumbling creatures across Canada poke their heads out, blink their eyes at the sun and make their way out of their groundhog holes.
Then we go to garage sales.
OR if you're like me, you make your way to Canada's largest antique show, Christie's. And this groundhog isn't the only one that marks the start of summer with a trip to Christie's. Thousands of people show up every year to marvel at, ponder and buy weird things covered in dust rust, and very occasionally ... sparkle.
People wander around asking whatever happened to gramma's such and such that was JUST like this one, or why did I ever throw that out?! But far and away the most popular statement echoed around the show all day long was "What the hell do you think that is?". And more often than not, some head would pop in from somewhere and tell you exactly what it was.
In fact, I dare say, if there's a single thing in your house you're curious about all you'd have to do is grab it, go to Christie's, stand in the middle of an aisle and quietly mutter "What do you think this is?" just ONCE and you'd have an answer. Probably 12 answers. Even more fun, they'd probably be 12 different answers.
It was a cold one this morning and in fact there was a frost warning the night before. But by the middle of the day sweaters and mittens came off so my sister and I could focus on the antiques as opposed to runny noses. There's nothing less becoming than a groundhog with a runny nose.
Every year it's something different, but every year I'm on the hunt for something. Having something to search for a purpose at the sale makes it exciting because you aren't just looking, you're searching for that perfect thing that may or more not be at the sale. It could be just around this corner, or that corner, or it could be in someone else's hands right at this very moment.
Having something to hunt for at a flea market or garage sale makes it less like shopping and more like gambling. So more fun.
This year I was looking for a midcentury modern chair and ottoman. I saw one 2 years ago at the fall show but I didn't buy it. And now I regret it. I saw another chair and ottoman in the window of a store in downtown Hamilton 2 years ago. I didn't buy it. And now I regret it. So I swore this year I was finding a classic midcentury chair and ottoman and I was BUYING them.
The first thing I saw upon wandering through the gates was this.
And it went downhill from there.
This, by the way, is the form of a classic egg chair by Danish furniture designer Arne Jacobsen. A truly iconic piece. And home to a mischief of mice at one point apparently.
The day started with me trying to casually walk the aisles but about 20 minutes into the show I grabbed Pink Tool belt and told her I couldn't do this anymore, I had to run to the booth that always has the midcentury furniture before someone else bought my chair. The chair I knew had to be there. The Papa Bear Chair. Behold the image of one I've had saved to my computer for years.
But when we got to the spot the Midcentury Modern booth had been year after year, the Papa Bear chair wasn't there.
This was.

This weird doll thing that looks like it needs an exorcism was sitting where my chair should have been.
The whole booth was GONE. Gone. Gone girl.
So I was sad and I felt like going right back into my groundhog hole but I still took pictures of things along the way for you to enjoy. Plus I ate french fries. So there's that. Please enjoy.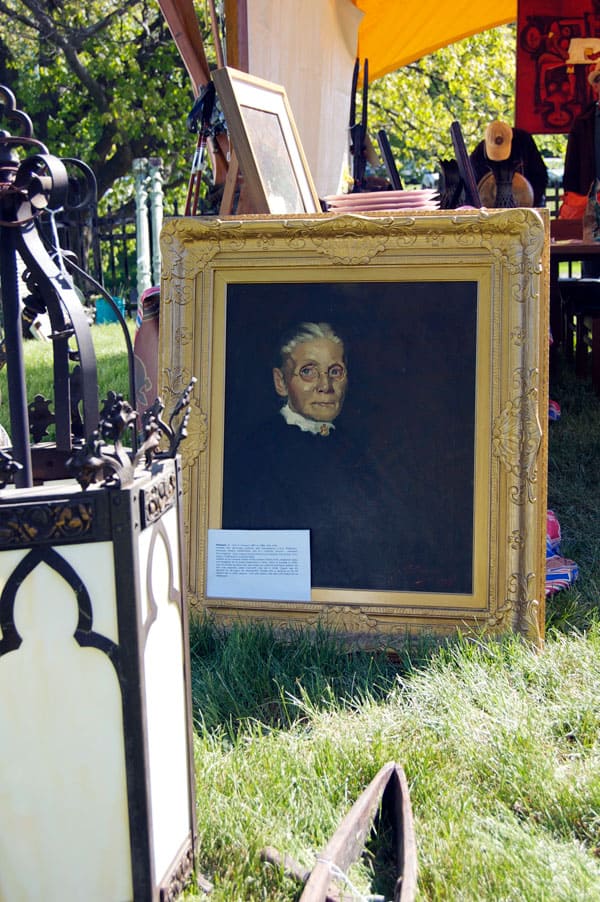 I loved this painting. At $450 should have bought it. This will be the thing I regret not buying next year.
Olden day bundle buggy.
Carpets. All of them were your typical blue and red except for this beautiful PINK one.
Notice everyone wearing coats, sweaters and long pants.
Vintage Corningware etc.
Metal tin. Yup. Just a cute, dirty metal tin.
Jadeite. Some old, some new, so you'd better know your stuff before you buy.
Silvery trophy and leather bound books. This is another thing I keep wishing I'd bought. I keep looking back at this photo wondering why I didn't check the price of the trophy and books.
I blame it on a severe Midcentury mental breakdown.
Vintage Louis Vuitton purses.
The hotdog head man who is there every year.
He never wins my business. My business always goes to the potato.
Considering this is the biggest antique show in Canada it's always interesting to see how many American things are there.
Bottle drying rack. Or hat.
Copper pots. They weighed a TON which is a good thing in a copper pot.
I spent the rest of the show looking for the horse.
Midcentury stuff. But not the kind of midcentury stuff I'm lookin' for. Although that chair would look great somewhere.
Just a bunch of stuff.
Mugs. (In case you thought they were not mugs)
Flow Blue has always been a favourite of mine. It's transferware that is blurred during the firing process. On purpose. Love it but it's expensive.
Hats!
Found the horse! No, wait ...
Probably one of the greatest things at the show was a big basket of Roy Rogers toy guns. More Americana.
Stacking luggage.
O.K. here we go ... my FAVOURITE thing at the whole show.
Are you ready?
Are you curious?
What do you think it's going to be?
It's a ginormous PICNIC BASKET!
For Downton Abbey-style picnics.
It was in perfect condition, was really reasonably priced and gleaming. Really the only reason I didn't buy it was because my lady's maid is a cat, and she could never lift this. Plus there's the issue of finding a meadow.
There was some pewter at the show but not as much as I was hoping for. By next year I predict there will be more of it.
Minnow bucket. For keeping one's minnows. Again, an American item.
Internal mannequin with part of his guts and penis missing.
Acupuncture chart. For those days when you want a really great adventure.
Ah HA. Moose Crossing. We are in Canada.
So I didn't buy a chair, I ate a bunch of french fries and ran into a few Art of Doing Stuff readers. On Friday I'll tell you what I brought home with me, how much it cost and what the hell it is.