** Tonight is Earth Hour! For those of you who missed this Earth Hour post I did last year, here it is again.**
Hold on a second … before you begin reading this, go grab a coffee or a cocoa, some nice comfy p'jamas and settle in for a long, heartwarming story. There will be love, betrayal and even a chase scene! We're talkin' real Hollywood stuff here. If you're reading this on the evening of March 26th, 2011 you might
have to do a couple of those things by the light of a candle or a glow stick. Like a pioneer! What fun!
You see, between 8:30 and 9:30 – for one hour – people are supposed to show their undying love for Mother Earth by turning their lights off. And that is exactly what I did 3 years ago for our big bulbous globe. I turned every single light off in my house … for 45 minutes. More on that technicality later.
I did this, even though I didn't have any children tugging at my skirt threatening to tell their teacher on me if I didn't. I did this because I wanted to do what I could for the greater cause. I wanted to take a part in a candle lit global revolution. I wanted to feel like I was in a Police video!
Also, this was something that could make me feel more highly evolved than all of my light burning neighbours, so that seemed like fun.
As the festivities got underway, I took a drive around the neighbourhood to marvel at how everyone had come together. Seems I wasn't that much more enlightened than everyone around me. The streets were dark. Even that guy a few doors down who never misses an opportunity to tell me "recycling's for suckers" every time I drag my green bins out to the curb had his lights off. Of course, he could have just "retired early" under a blanket of beer cans while watching a Monster Garage marathon.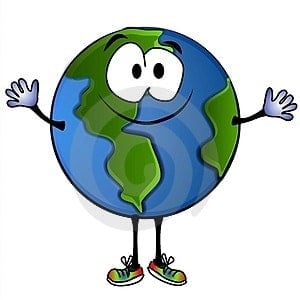 I got home and fumbled through the dark into my living room. I thought, it felt good to be taking just one measly little hour of my life to help the world, as I started a fire in the fireplace. And it wasn't just me … it was the whole world taking part to help save the planet. It was like we were all giving her a great big, green hug. Like something you'd get at a bar from a large, wobbly stranger on St. Patricks's day but without the fear of being vomitted on. I sat down by the glow of the fire and admired my neighbours dark windows.
I was already resolving to do this Earth Hour thing every year for the rest of my life. Even if it was inexplicably cancelled in the future – because of people burning their houses down from lighting candles, for instance – I was gonna do it.
I love feeling like it's the olden days, so this "turn off the lights" thing was perfect for me. It made me feel like Laura Ingalls. For some reason I got up to do something (quite possible look in the closet for a pinnafore) when I noticed something out of the corner of my eye. Of course, being pitch black in the house I couldn't see what it was. So I felt my way to the closet, running my hands along the walls for guidance, so I could grab a flashlight. There were 15 minutes left in Earth Hour so I didn't want to turn on a light for fear of being ridiculed by my neighbours. As I know I would ridicule them.
I made my way back to where I was and aimed the flash light in the general direction of where I saw something. It was around the tablecloth in my centre hall. I flicked the light on and immediately felt nausea that went from the tip of my head right down to my toes. You know that feeling when you almost fall down the stairs and your feet start to tingle from the fear? I had that.
There were CENTIPEDES crawling up my floor length table cloth. Lots of them. I ran to the nearest light switch and turned on a blaze of lights and screamed. There were centipedes everywhere. They were crawling up the inside and the outside of my tablecloth, they were on my stairs and making their way up the walls I had just run my hand across for guidance.
I really felt kindda sick now, my heart was pounding and my face squinched up into that Oh my God I see a bug look. That look is usually reserved for a single bug so this sight really kicked the bug face into high gear. I don't know if you can actually pull a nose muscle, but I'm pretty sure I did it that night.
Turning all the lights off wasn't only an "occasion" for me. It was a full-on festival of fun for the centipede army living in my walls. And they came out to party like it was 1999. I'm fairly sure one of them was even wearing a little purple satin coat.
And just like that I despised Mother Earth. I sunk to my knees, shook my fist at the sky and howled WHYYYYYYYY?????. I can be very dramatic when given the chance. I couldn't believe after all my work, all my effort she had done this to me. Betrayed me in this way. Because it was HER … it was SHE who created these little monsters that were crawling all over my home (and they weren't the cool Lady Gaga monsters). THEM I would have accepted with open arms.
Now, I love every animal ever made. Except centipedes. Centipedes are the Devil's work and should be sprayed with the most lethal thing you have in a can. Which this night was hairspray. With every light on in the house I ran around spraying everything I could, which wasn't very much because they're quite a fast moving bug, the centipede. It's in the name really. If they ever did decide to go the Lady Gaga monster route they'd make quite a group of dancers.
I'm sure this was quite a site for the neighbours. All of the street in the dark with mine lit up like it was on fire, and a perfect view of me running around with a can of hairspray, convulsing, jumping and screaming like a lunatic. I was like the street's personal silent horror movie.
After about an hour I had gone through 2 cans of hairspray and half a can of Raid that I eventually found. My house was sticky and had a quite a sickening stench to it. And for the most part the centipedes had just craned their necks around, looked at me and scurried into a crack to further their party back home. I couldn't sleep for days. Obviously 2 things would have to be done.
The next weekend I began the Great Centipede Purge of 2007. I threw out, cleaned, and sprayed my 170 year old basement with the most lethal chemical I could find. I'm not even sure if it was legal, but I don't really care. At all. I now routinely spray my house for centipedes which is the exact opposite of what Mother Earth would want. I really don't care. At all.
I think you'll be surprised to find out that I do still celebrate Earth Hour. One can't be completely selfish. I mean Mother Earth is also responsible for the pretty trees and flowers around in the springtime. And butterflies. Which are a very friendly and cute group of bugs. So yes, I still celebrate Earth Hour. And I still turn all my lights off. I just do it in my own special way. From 2 to 3 in the afternoon.