Forget dinky little dry erase boards, if you have LARGE ideas you need a LARGE dry erase board. With $40 worth of whiteboard paint and about one hour you can have an entire Dry Erase Wall. Which is much cooler.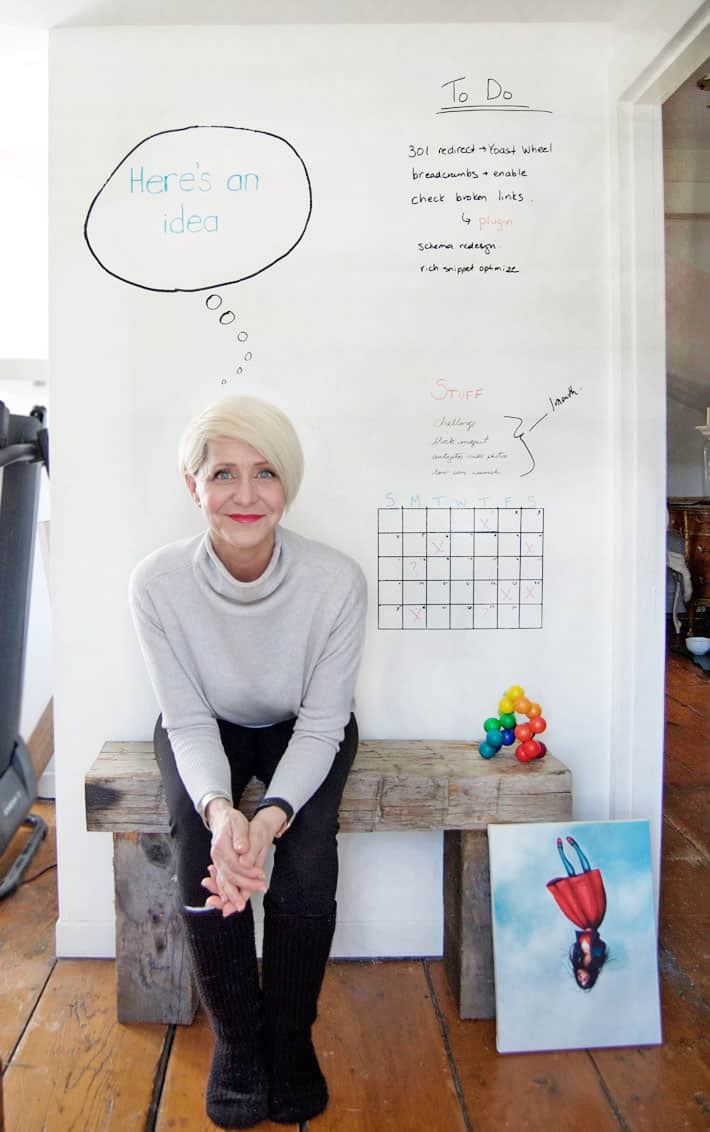 My name is Karen and I like to write things down. I do this on paper with a pen or pencil. I realize this puts me on par with someone who washes their clothes against a rock or still uses a DVD player, but I don't care.
This doesn't make me a bad person, it just means no one has come up with technology as good as a pencil and a piece of paper yet. I've tried writing "notes" on my tablet and scheduling things in my iPhone calendar but it just isn't as fast or easy as a paper and pencil most of the time.
So I keep good old fashioned notebooks and actual, "hang on the wall calendars" to keep track of my work stuff. Things like what software I need to update, what topics I'm going to write about – that sort of thing.
I wanted to consolidate everything so I could see ALL of it easily and quickly. I didn't want to flip through 4 notebooks and 2 wall calendars, plus whatever receipts and napkins I've written stuff down on. Yes. I wanted something even more rudimentary than a paper and pencil.
Hello DIY Dry Erase wall calendar. Or whiteboard. I call it a dry erase board, but apparently there are some of you who call it whiteboard. Weirdos.
DIY Dry Erase WALL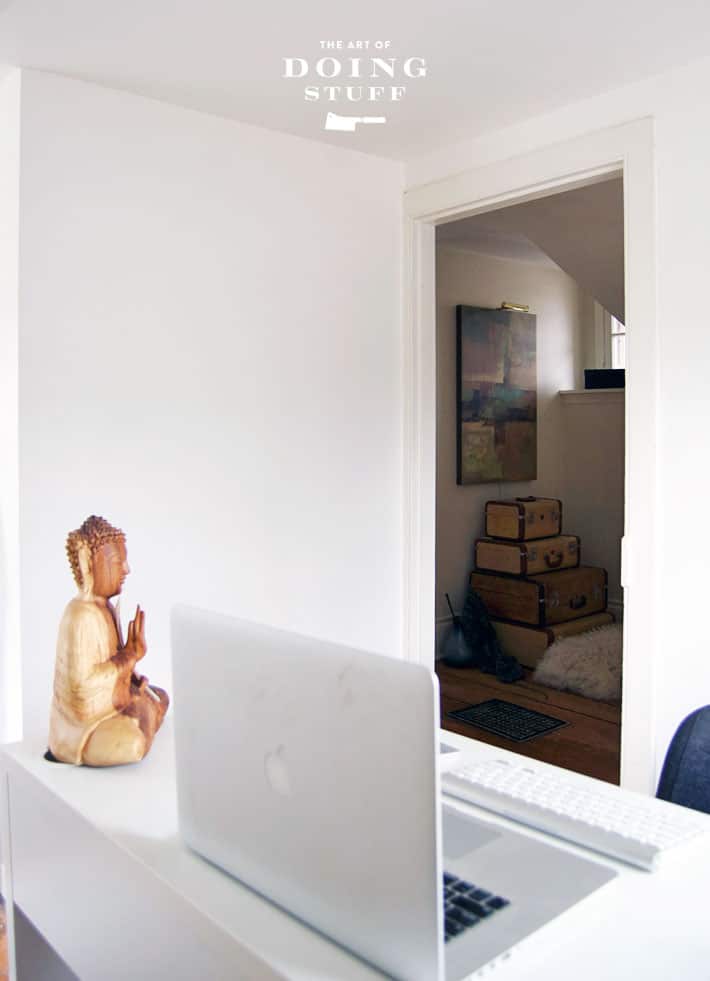 To the right of my office desk I have a completely blank wall. So my first notion was to run to Walmart to buy a Dry Erase board. But … that wasn't going to be big enough for all of my big ideas.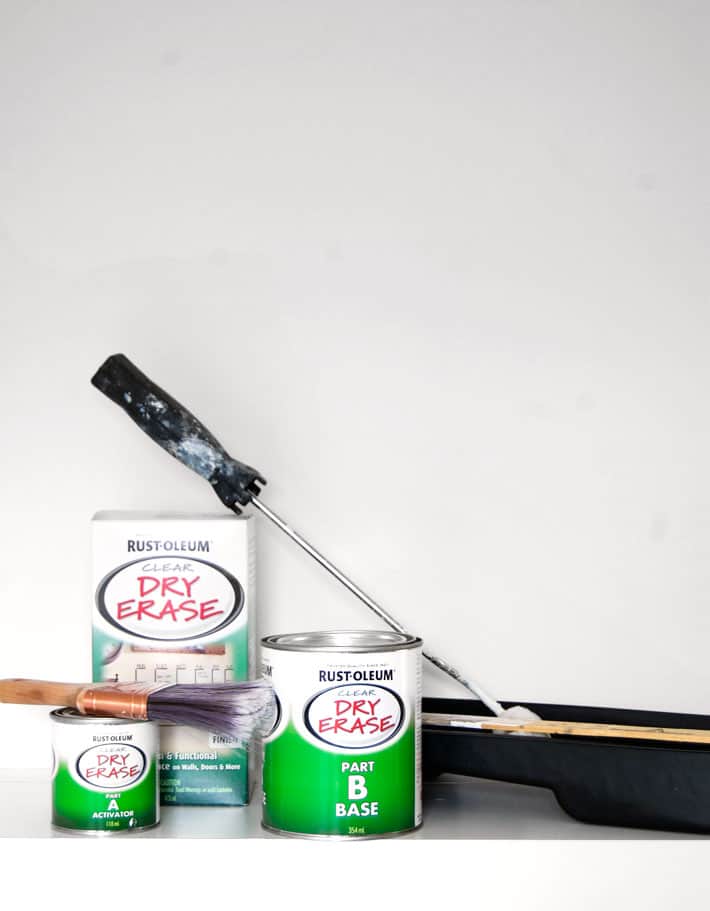 I did some searching and discovered that dry erase paint exists (it's also called whiteboard paint). Like chalkboard paint but Dry Erase.
If you're one of those cutting edge, always have the latest new fangled thing, you may have been introduced to this stuff some time ago. I completely missed its introduction to society though. I was probably out looking for a cure for smallpox or something.
Like I said, it's not a new invention, but it's new to me and that's all that matters. It was exciting enough for me to run out and get everything I needed to make an entire whiteboard wall in my office at that very moment.
Which sadly meant I had to leave my laundry only partially pounded, before running out the door.
My local hardware store had everything I needed and by that night I had an AN ENTIRE WALL FOR WRITING NOTES.
Materials
Dry Erase paint (comes with 1 can of clear paint, 1 can activator)
Paint brush
Paint roller (foam or microfibre)
Paint tray
Stir stick
Blank wall
Instructions
You need a smooth wall, so make sure you have that. Sand off any huge bumps and patch any holes.
Mix the can of activator with a stir stick. It's the smaller can.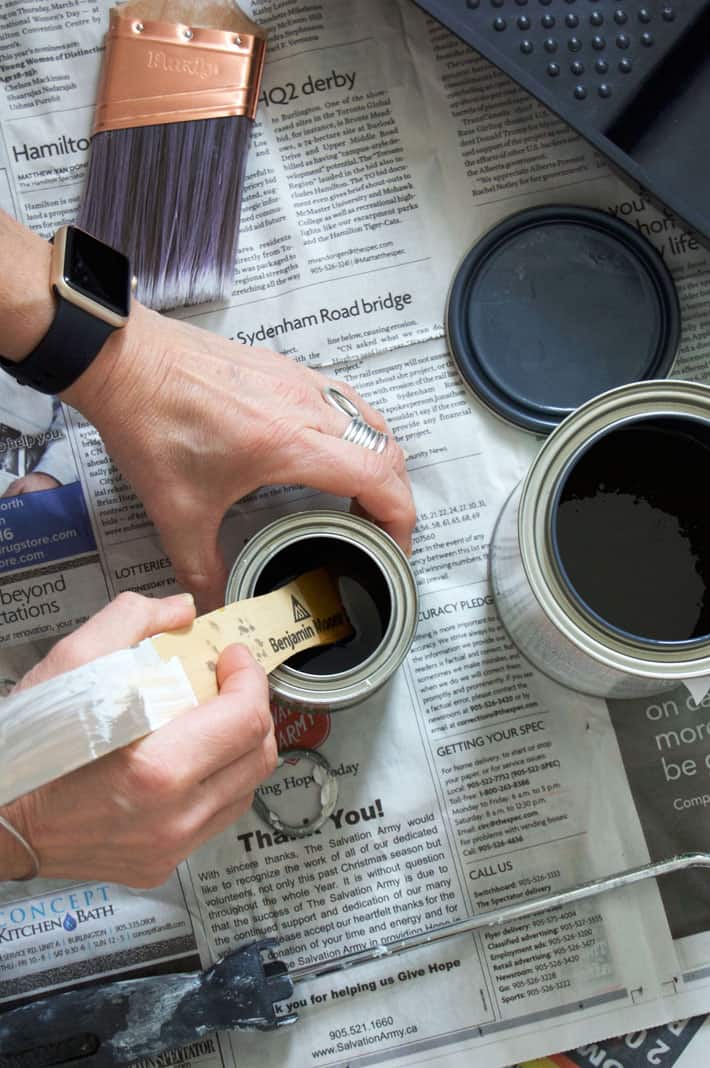 2. Pour the activator into the can of clear "paint".
3. Stir them together until they're completely mixed and emulsified.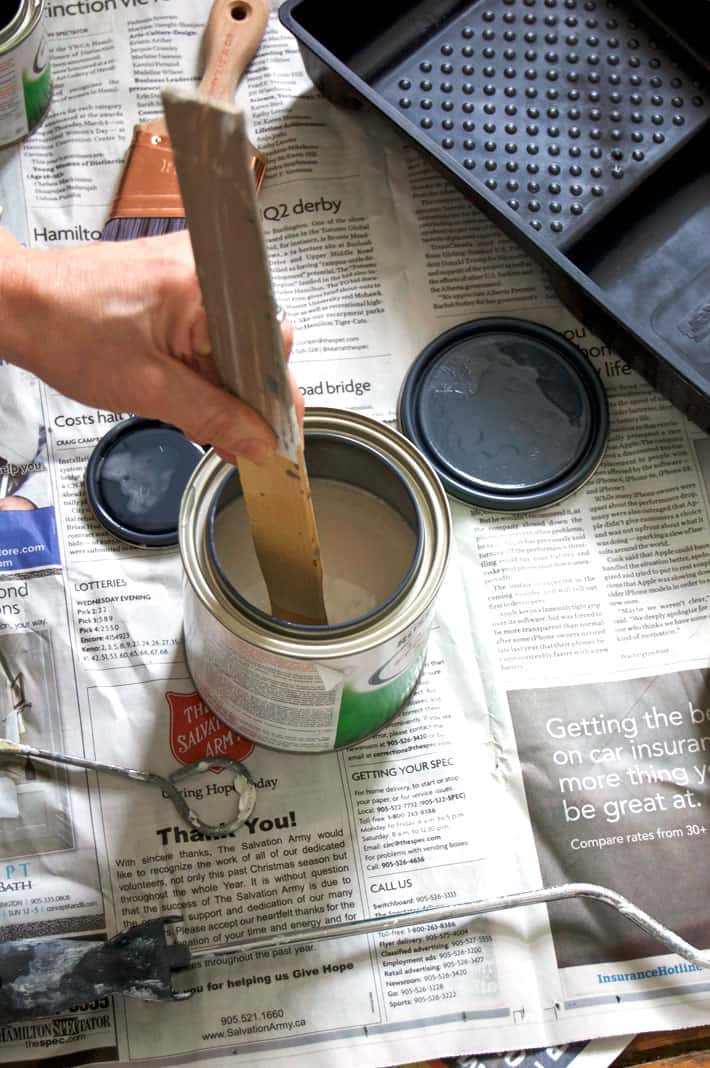 4. Pour your mixed can of paint into a tray. It will look white but once it dries it is completely CLEAR.
*This means you can paint over any wall and still see your original wall colour under the clear Dry Erase coating!*
(just make sure you buy the "clear" dry erase paint, it also comes in white)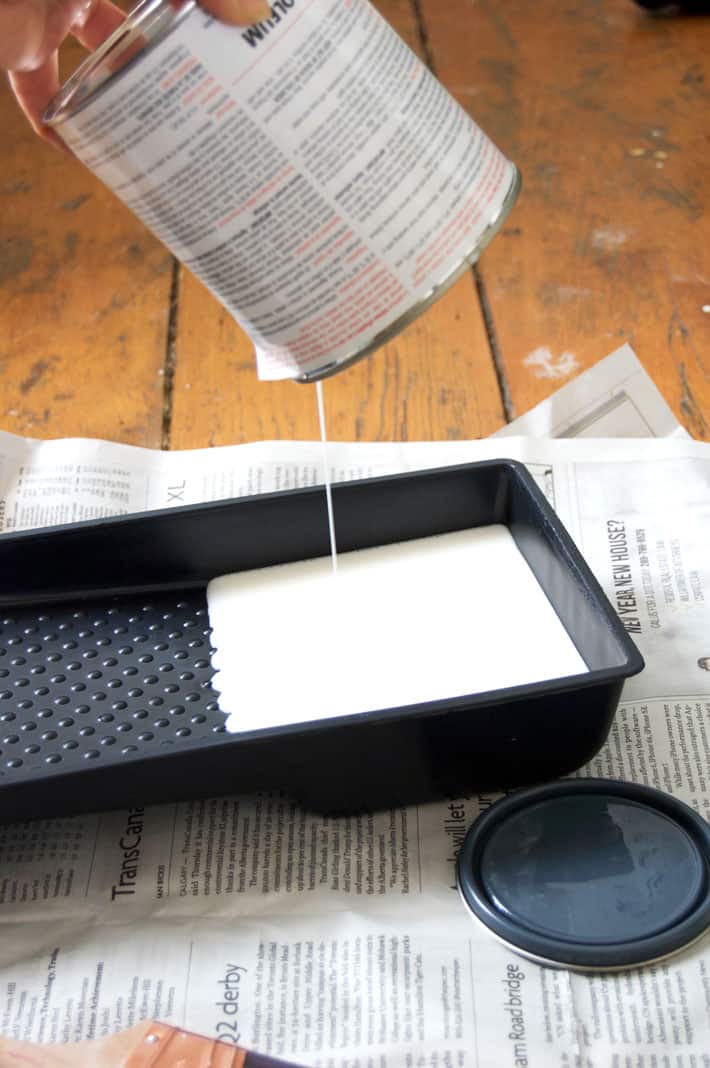 5. Cut in near the ceiling and edges. My office ceiling is VERY low so I knew I'd be able to write on the wall all the way up to the ceiling. If your ceilings are high you don't need to go that far up *but* there will a noticeable difference in the wall's finish because Dry Erase walls have a semi-gloss look.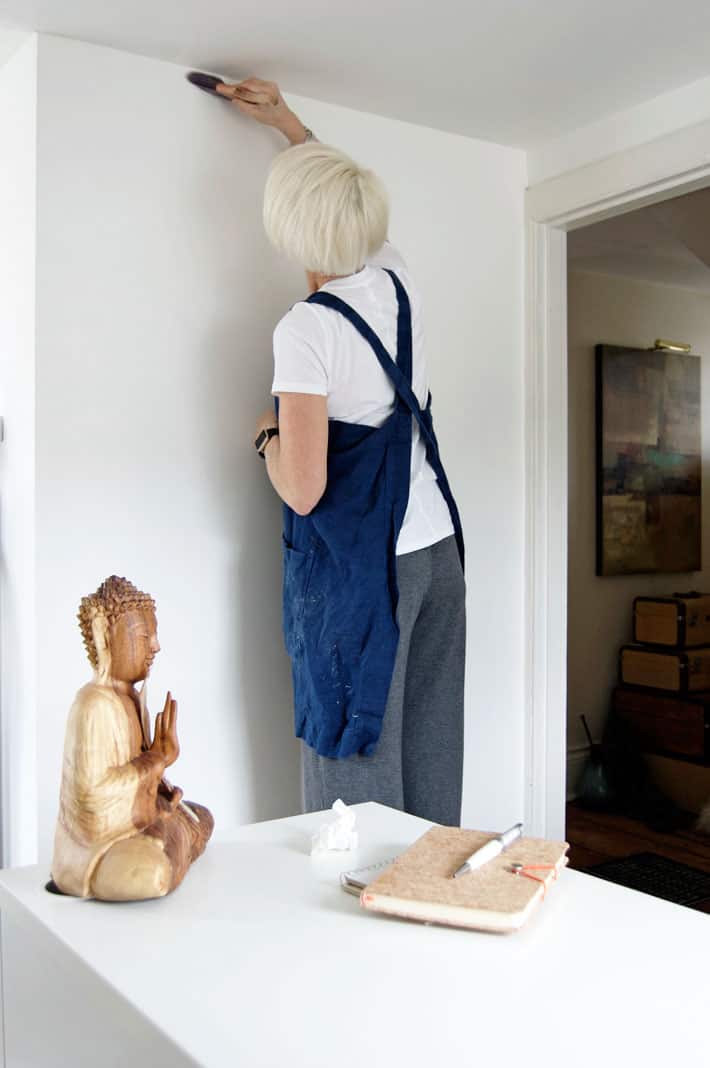 6. Carefully roll on the Dry Erase mixture making sure you cover every inch of the area you intend to use as a Dry Erase board. Make sure you do an even coat. If you're doing just a small portion of a wall, tape out the area you want to paint.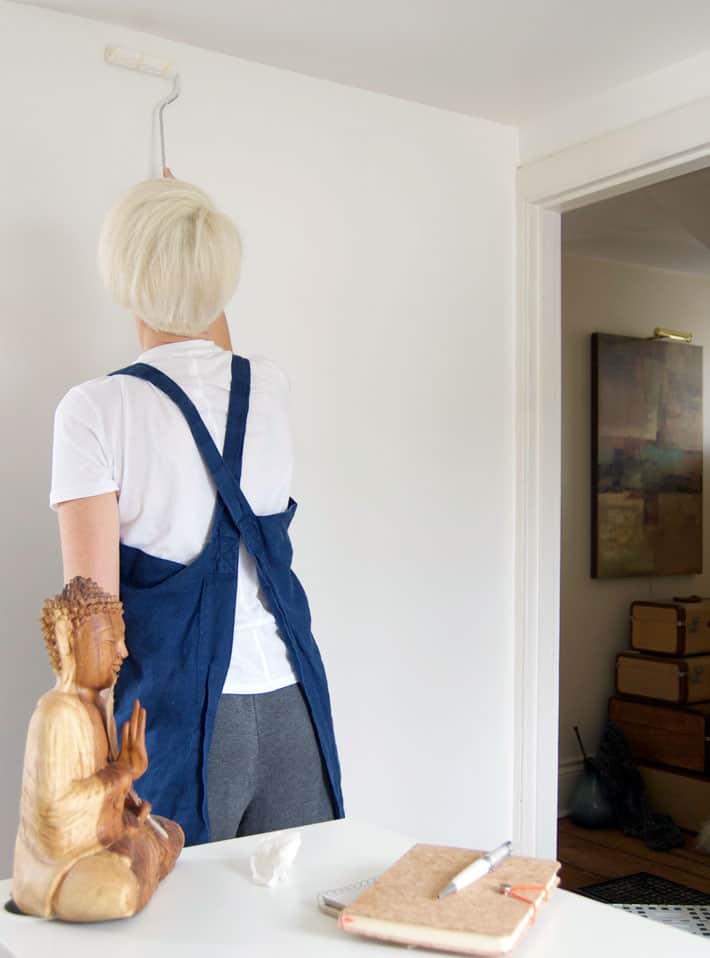 7. Let the wall cure for 2-3 days and then get busy scribbling. And erasing.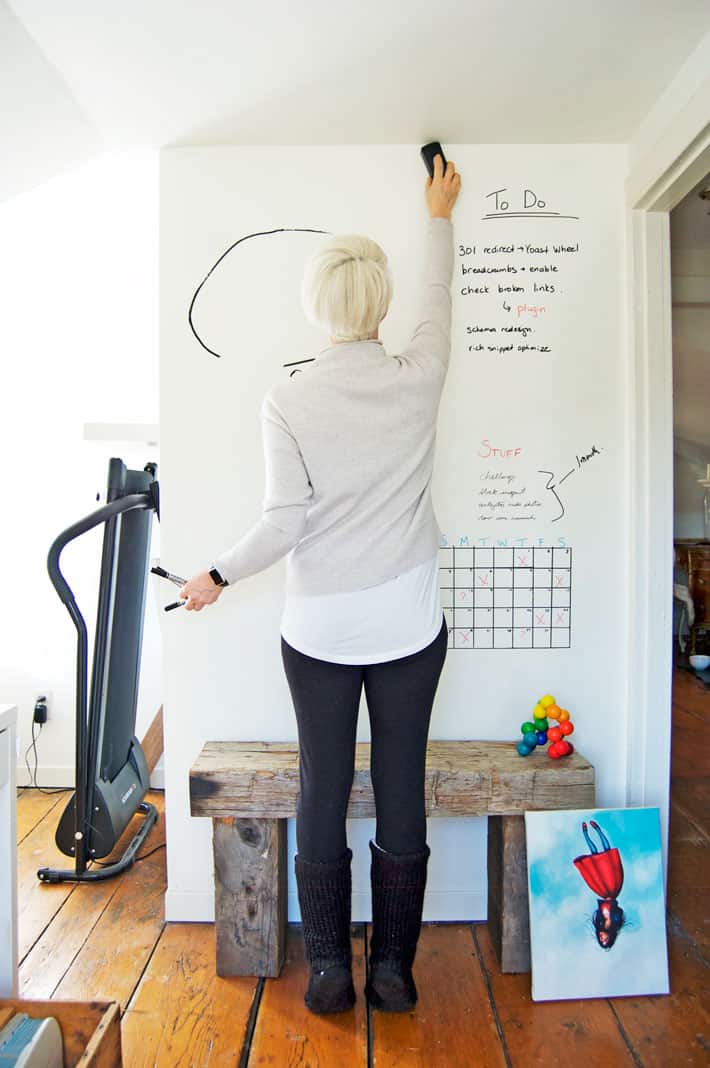 See that black thing over to the left of the photo? That's my DIY walking desk. If you work at a computer a lot all day, you should make one too.
---
TIPS
One can of dry erase paint sells for about $40.
I needed one can to do a 4′ x 6.5′ area (with a bit left over)
The board is cured after 2 days but I found it erases better if you leave it for another couple of days.
Rather than use a dry erase board eraser, use a microfibre cloth for erasing old notes. It works better.
To completely clean a Dry Erase board use 99% isopropyl alcohol. (This is great if you have an older board that has marker "ghosting" on it.)
I can't even begin to tell you how much I love this wall in my office now. I use it ALL the time and after 2 years it's still going strong. When I'm not pounding laundry on rocks that is.
Nope I can't carry it around with me like an iPhone. But I can't drop it in a toilet either.

→Go follow me on Instagram where I often make a fool of myself←