What I bought this year at Canada's largest antique show … and WHAT I PAID for it all!
Way back, a couple of weeks ago, I posted about my day long trip to the Christie Antique Show and asked you to have a look around the photos for what you think I picked up. This egg scale is now in my house. The clipboard and sofa are not. Those are the two things I intended to look for and buy at the Christie Show this year. But a soon as my feet landed on the field grounds, both of those things flew right out of my brain and made their way home, leaving me there, overwhelmed with all the other options.
vintage egg scale – $20
Any of you who are regular readers with a good eye, noticed the egg scale in my post on organizing my cabinets drawers.
So that was an easy one. But did you guess that I also picked up sticks?
Sticks – $1 each ($10 for 10 sticks)
That's right. I was peer pressured by Pink Tool Belt to buy a bundle of sticks. She walked out with beautiful white cast iron urns that were a fraction of the price they should have been, yet she encouraged me to pick up sticks. I have a plan for them. I'm either going to build an onion/garlic drying rack with them for my front porch, or a hanging herb dryer for my kitchen.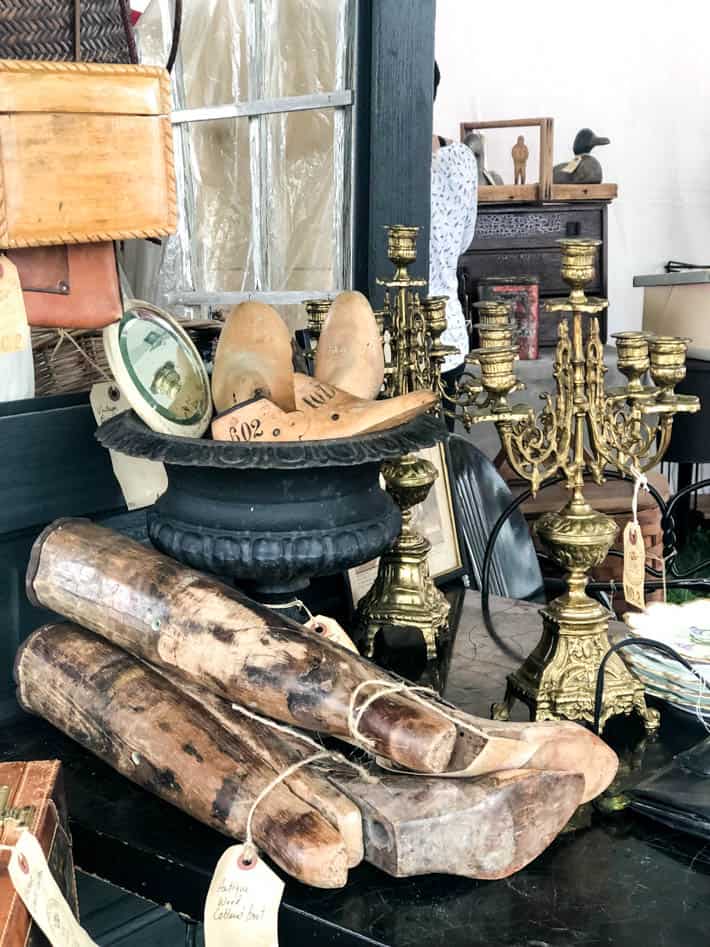 And then there's this photo. I could very well have bought ANYTHING in this photo and in fact almost bought the black cast iron urn (it came as a pair of urns). But I didn't get the urns, I let my sister Pink Tool Belt have them. I got the ….
Candelabras – $???
… brass candelabras. Which both of my sisters didn't like. And were quite vocal about not liking. I think they hated them. Which is weird because they're everything all of us normally love. I, on the other hand do in fact love them.
I especially like them with my farmhouse table and the white mid-century things in my dining room. The candelabras were $65 each, but now that I have them at home, I took another look at the tag and they were supposed to be $65 for the pair! So I'm going to have to email the vendor. Luckily I grabbed one of her cards before I left. Otherwise I wouldn't have any idea who I got them from.
This is another shot that could go either way. Did I get the cutlery pouches or the bug book?
Bug book – $5
The bug book for the win. I was sold on it from the cover and subject matter but when I opened it and found it's also filled with these great illustrations I decided I'd pay anything they wanted for it.
The rugs …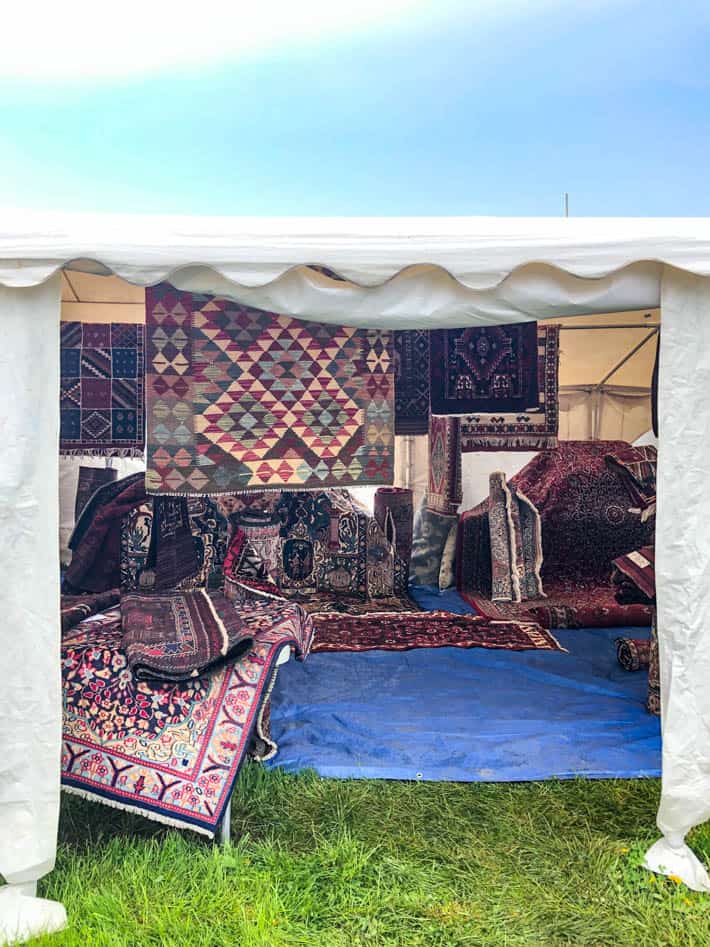 This is the rug guy that's at the show every year. For the past couple of years I've bought a rug from him every time I visit the show. I use them as a long row of scatter rugs from my front door to the back of the house.
Turkish rug – $90
And this next photo. What do you think I got from here?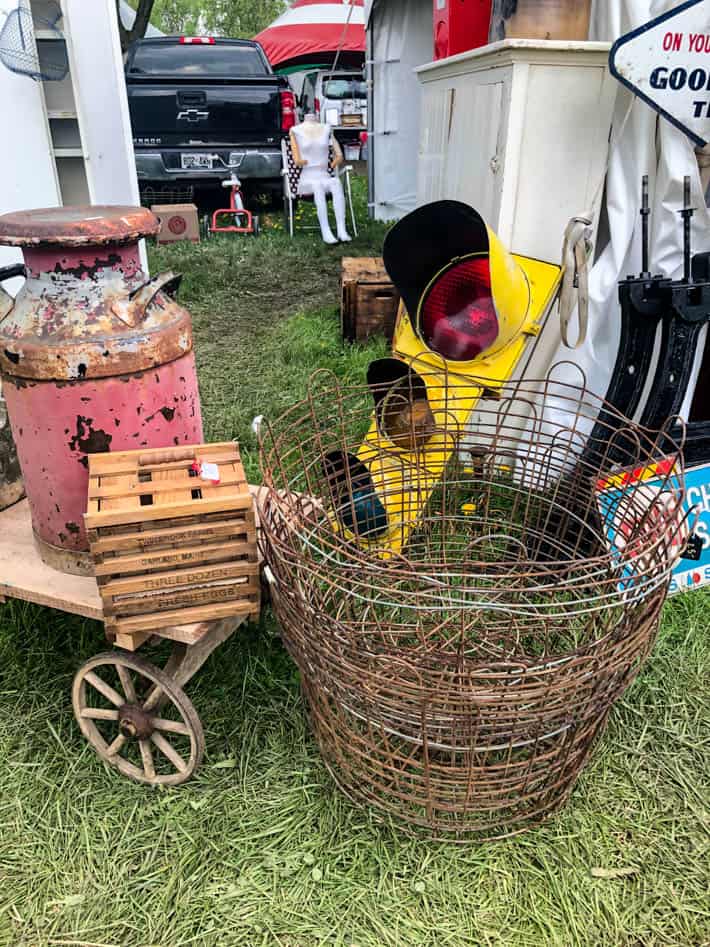 Egg crate – $40
I bought the egg crate. Because as I fully explained in this post, I very desperately needed an egg holder.
And now a couple of things that weren't in the photos from the Christie post. I also bought a bench. But not just any bench. I've been looking for a bench for a couple of years now but they were either too much money or the style wasn't just right. Not that I knew what the right style was, I just knew what wasn't the right style.
The bench I bought is a Canadian Armed Forces bench from their training facility.
Armed Forces bench – $120
I love this bench. It's painted and a little different than every natural wood bench you see in the way it looks because the legs are foldable. You can just fold them up and the bench turns into a flat piece you can store or carry anywhere.
I just like the way the hardware looks on it with the metal braces and the chains underneath.
Ironstone crock – $25
Finally, as I often do, I bought a piece of ironstone. This is just an inexpensive jug (some of them are hundreds of dollars) for keeping flowers in throughout the summer. In the winter, it might graduate to a pot for a tiny countertop Christmas tree.
And finally (I bought a LOT this sale) …
I got a bread box! A cream enamel bread box with a small glass knob.
There's a little over 2 months until the fall sale, which gives me 2 months to save up and 2 months to compile a list of things I need but will inevitably forget about the moment I get there.
Have a good weekend! (and did you guess anything I got?)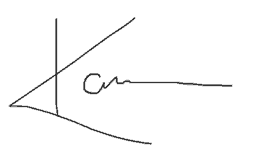 →Follow me on Instagram where I often make a fool of myself←