So I spent most of yesterday building one of those straw umbrellas. You know the type. You see them in the Caribbean or outside on the patios of your local Hooters bars. They're classy things.
I made mine out of Swiss Chard.
I've also fashioned 17 leisure suits, a hammock, 3 pup tents and a sort of wobbly fishing pole out of the stuff.
I have a lot of Swiss Chard.
If these were the olden days they would call me "Scurvy Sue" because people would walk for miles to get my Swiss Chard to prevent scurvy. As it is, they just call me Karen. That insane woman on the corner who lost countless gardening tools and 3 cats to the Swiss Chard patch. There might be a toddler in there too; I saw movement ... but it could very well just be another cat. Either way it's making some God awful sounds.
All this and I still have enough Swiss Chard to choke a dinosaur. One of those ones with the really long necks.
I have therefore taken to freezing my Swiss Chard so I can enjoy it in the winter, when I don't hate it so much. It's easy to do ... way easier than canning, and doesn't take much time at all.
All you have to do is blanch them (plunge in boiling water) then cool them.
I know a lot of you are thinking "But ... I freeze stuff all the time without blanching it, and it's fine". And you're right. It's fine. You know what else is fine? A store bought cookie. But does it compare to a warm, gooey, crisp around the edges homemade cookie? No. No it does not.
You need to blanch because blanching stops enzymes in their tracks. Or at least slows them down. Enzymes are live and unless you stop them from doing what they do your vegetables will lose their flavour, colour and texture. Boiling the vegetable for a couple of minutes slows down/stops the enzymes from working. So you get brighter, tastier, better textured frozen vegetables.
The same process can be used for most greens like Kale, green beans, Spinach, Collard Greens and more.
It's as simple as this ...

[print_this]
How to Freeze Greens
Gather your greens.
Wash them.
Prep them (take tips off of green beans, slice stems out of Kale, Swiss Chard etc.)
Plunge them in boiling water for 2 minutes. (3 minutes for Collard Greens)
Plunge them in ice water for the same amount of time.
Form them into bundles and freeze them. (either in baggies or with your Foodsaver)
[/print_this]
Pick em.
Plunk em.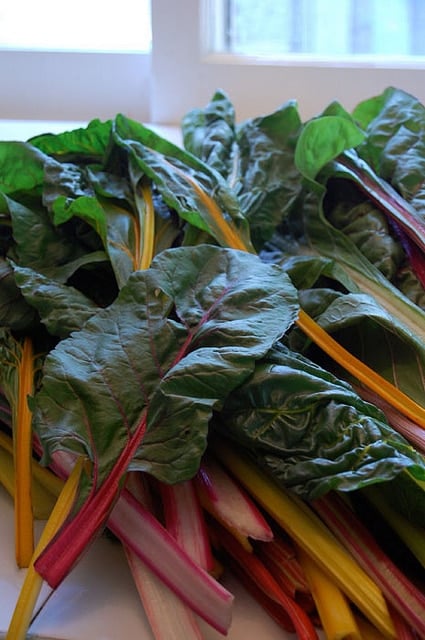 Cut the stems out of em.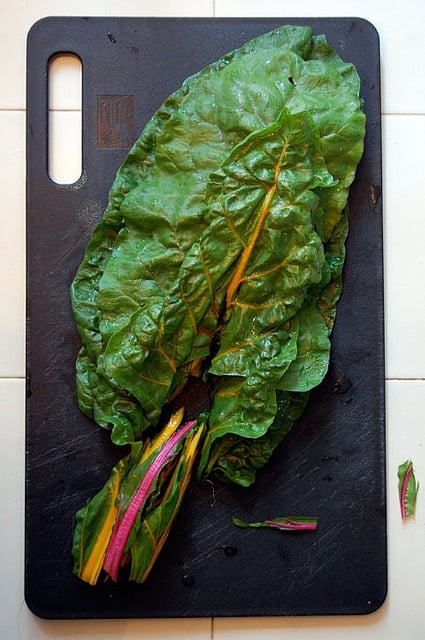 Blanch em. (for 2 minutes)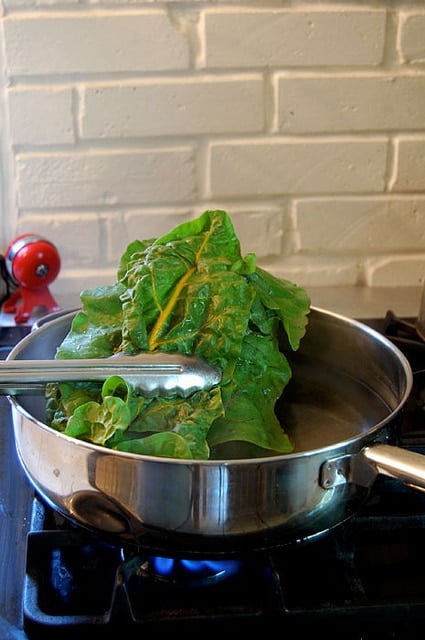 Ice Bath em. (for 2 minutes)
Bundle em ... then bag em.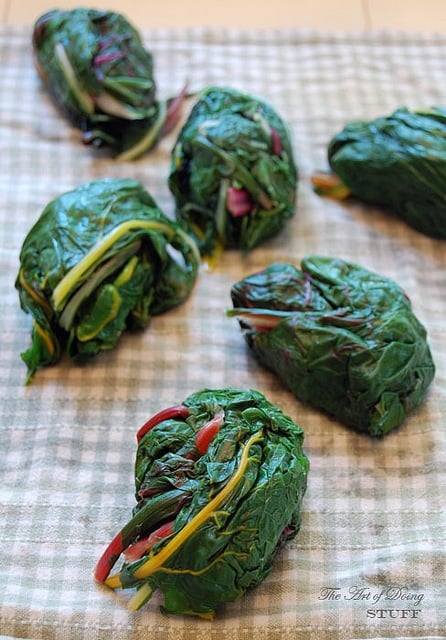 I know. Just like little Swiss brains.
And remember, even if you don't grow any of this stuff you can still use this technique with fresh produce from farmer's markets or roadside stands. You're way better off to freeze that stuff than to buy and eat the fresh imported stuff in the winter.
If you own a Foodaver (and you really should) you know that Foodsavering watery items is a struggle. The vacuum sucks up the water and the bag doesn't get a good seal on it.
A trick for using the Foodsaver with items like this with a really high moisture content is to freeze the bundles first and then Foodsaver them.
I do this freezing thing every so often with my green beans, beet tops and Swiss Chard. Great results with not a lot of time or effort.
Unlike the patio umbrella.