From now until December I'm going to be giving you the odd piece of unsolicited advice on what I'd like for Christmas. Today I'm telling you about the first thing I'd like. So go ahead and add me to your Christmas buying list now.
Just kidding.
You can do it later.
Just kidding.
I really want you to do it now.
Just kidding. I don't want to be added to your list at all because I don't want to give you my home address to ship things to.
The real reason I'm telling you what I'd like for Christmas is because if they're gifts that I would like then presumably they might be gifts you would like. Since we're essentially the same person and all.
Also, if you only read this blog because you're fascinated by me (the same way you might be fascinated by a side show performer), these gift tips will still come in handy if you happen to actually know anyone like me. Got it? If we could all, breathe, and take a moment I'd like to tell you that I have lied to you.
The lie took place in the very first sentence as a matter of fact. You see, I already own the thing I'm saying I'd like for Christmas. I bought it for myself this summer, but if someone had bought it for me for Christmas I'd have loved them like a dog loves a car window.
It's a Brix Refractometer.
Yes. It is SO a thing.
It's a gadget. And, I like gadgets. You know how some people don't care about gadgets and are perfectly happy to go through life owning just a spoon and a pair of shoes? That's not me. I like all things technical, gadgety and new. It's not that I always have to have the latest and greatest of everything, it's that I'm curious. I like to know how things work and test new methods and try new stuff.
Brix Refractometers have a HUGE range of uses and would be a great gift for wine makers, beer makers, beekeepers, vegetable growers and believe it or not, diabetics. I'll talk about all these uses more at the end of this post but for now I'm going to walk you through how I use my Brix Refractometer … for testing the vegetables I grow.
If you shop at Whole Foods you may have noticed that beside the various fruits and vegetables they have a sign with that particular food's Brix level. I do not shop at Whole Foods, but I've been told they have these signs. So. What is a Brix level you ask? Basically it's a reading of sugar levels. I say basically because it's much more complicated than that but for the regular food consumer it's O.K. to think of Brix at its most basic level: a measurement of the quality of a fruit or vegetable based on sugar content.
When I discovered that a Brix refractometer was really inexpensive at only $30, I had to have one so I could test all my vegetables. If you have good soil the Brix level of your vegetables will actually be higher. And the higher the Brix level the more resistant the plants are to pests. Plants with a Brix level of 12 or more found in their leaves are virtually insect proof. Levels of different varieties of the same vegetable will also differ.
To use the refractometer all you have to do is place a couple of drops of the juice from the vegetable onto the lens of the instrument. Then you close the lid and hold it to the light, looking through the lens the same way you'd look through a kaleidoscope.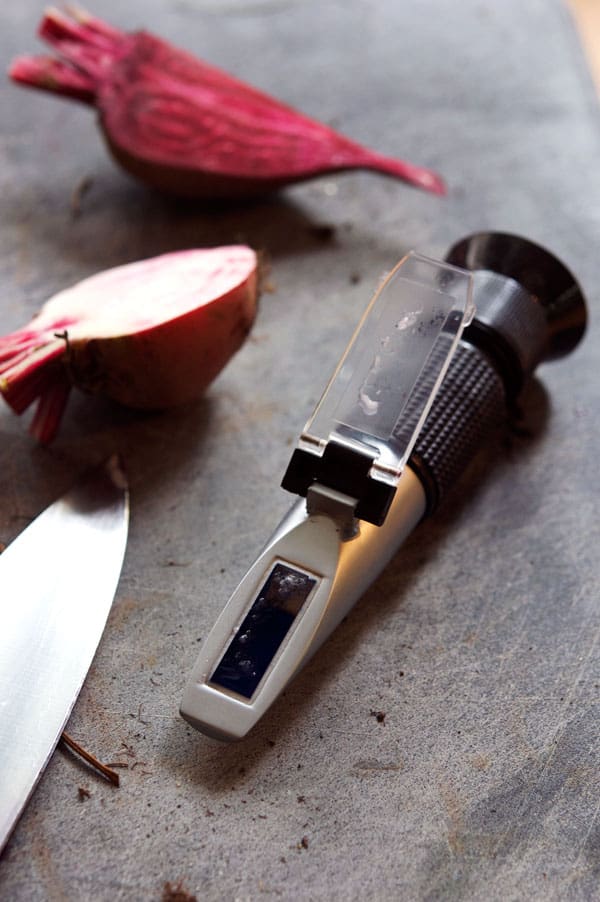 Right inside you'll see a line that marks the Brix level of whatever you're testing. Ignore my horrible shot of this, but it's really difficult to take a photo through the lens of a Brix refractometer.
All vegetables have levels that they range between. A Brix level of 4 for a tomato is poor and a level of 12 is excellent. Remember, this is measuring not just the sugar, but the nutritional value of the fruit. A higher Brix level also usually means more complexity of taste.
Let me tell you about my beet experiment.
At the beginning of the planting season, I, like many of you, looked up new varieties of plants to grow. I decided I wanted to research what the sweetest beet variety is. You know, the one that will taste the least like dirt. After some research I honed in on the Kestrel beet and bought the seeds. I planted it along with my tried and true varieties like Bulls Blood, Chioggia (Candy Stripe) and Cylindra beets.
They were all grown in the same soil under the same conditions so the only thing to make their Brix levels any different would be the variety of beet.
This fall I compared the Brix levels of all the beets with my Brix refractometer. I decided to compare the Chioggia beets and the Kestrels.
Beets are expected to test somewhere between 6 and 12 on the Brix scale. 6 is a poor rating, 8 is average, 10 is good and 12 is excellent.
The Chioggia beet, which always taste good to me registered a Brix level of 10. So that's a "good" rating for the beet.
The Kestrel registered a whopping 12 on the Brix scale, which is the highest a beet can be expected to get. It's excellent.
I've tested my tomatoes, some strawberries, and am kicking myself for not testing my sweet potatoes before and after curing. Sweet potatoes aren't sweet when you dig them out of the ground, they have to be cured for a month and a half to develop their sweet taste.
Since buying my $30 Brix Refractometer I've discovered a bigger and better refractometer. The digital refractometer.
It costs 4 times as much as my version of the refractometer but this one is DIGITAL. And it's more accurate than the other one. Plus it has a much larger range than mine making it useful for both produce and honey.
So remember up near the top of this post where I said I didn't really want you to buy me anything for Christmas and I was just kidding about it?
It appears that yet again, I was lying.
There are a TON of different Brix Refractometers on Amazon, and they aren't all the same so I've chosen the appropriate ones for the appropriate uses for you so you don't get confused. Different Brix Refractometers measure different things and different ranges of Brix. So one that's made for honey for instance, will take measurements from 58-80% Brix. Very high levels of sugar. While a vegetable Brix Refractometer will read a lower range of Brix. From 0-40% for instance. Wine refractometers will measure brix and alcohol content. Beer making ones will measure brix and some other weird beer making measurement that I have no idea about.
Here's your Brix Refractometer guide and links.
Put it on your list for