How to germinate and grow carrots. Carrots are notoriously difficult to germinate which is why so many people think they're hard to grow. They're not, they're just hard to germinate.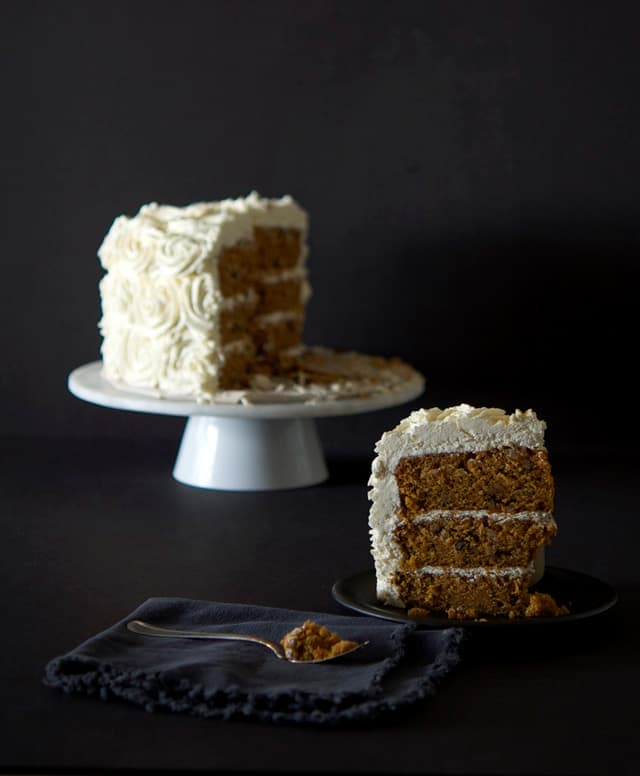 So what's with the picture of the carrot cake? It all ties in to germinating carrots. My former fella's favourite birthday cake was carrot cake with a cream cheese icing. It's what his mother used to make him.
Years ago my plan was to grow all the carrots I needed to make the cake for his birthday. An ambitious plan that went horribly, horribly wrong.
Why?
Carrots are a bitch to germinate. Also, the year I was planning to do this, the fella ran away and I never heard from him again until a week later when I texted him a photo of me pirouetting his things into the dump.
Carrot germination is sporadic at best if you don't take certain precautions. A clump will grow and then nothing else, then a month later a few more might sprout. Or sometimes they just don't sprout at all and you hate them.
You can fix your relationship with germinating carrots. Here's how.
How to Germinate Carrots
Carrots like 2 things to germinate. Darkness and moisture.
Like mould. Or a yeast infection. If they don't have either of these things even for a day, their germination rate can drop by 50%.
You need squares of cardboard, carrot seeds, and paper towels.
Place a very damp paper towel on a piece of cardboard (or anything else sturdy, the cardboard is just to keep the seeds stable).
Place your carrot seeds 2 inches apart across the whole paper towel until it's covered. You'll plant about 20-25 seeds per paper towel.* Since I plant a lot of carrot varieties, I label each board to know what's what.
Cover with another wet paper towel. Continue doing this with all of your seeds.
Stack the boards up and place the entire stack in a plastic bag and put it in a dark area.
Then wait.
You can also just scatter the hell out of the carrot seeds if you want to go a bit rogue.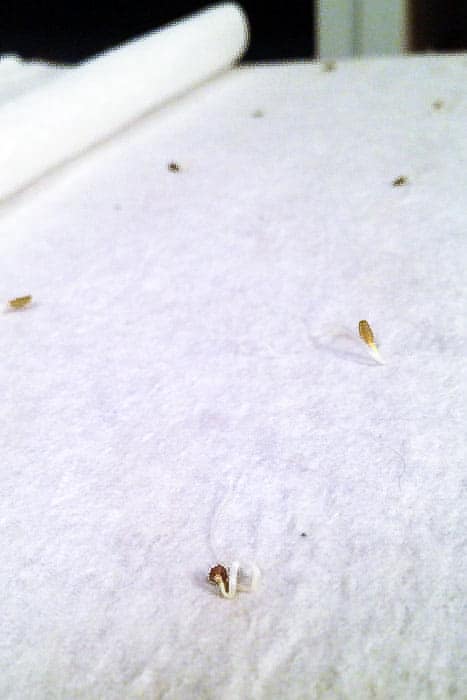 In 7 - 10 days you can check to see if anything's going on in there.
As soon as the seeds have germinated and have a tiny root on them you can take the piece of cardboard and paper towel outside. Carefully slip the paper towel off of the cardboard and onto your garden soil. Cover with a scant ¼" or less of compost or vermiculite so the seeds and paper towel don't blow away or get eaten by whatever eats things in your particular garden.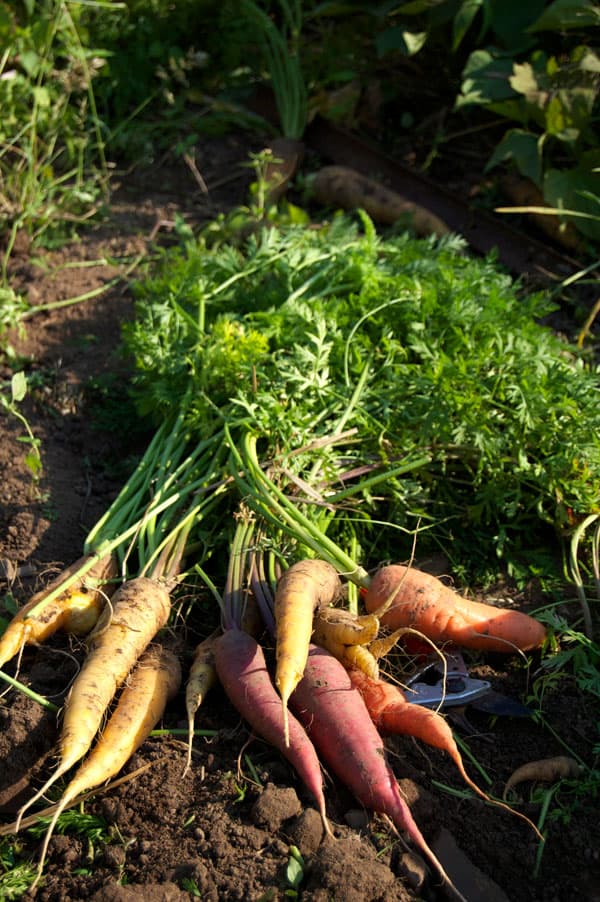 How to Germinate and Grow Carrots in the Field
Press seeds in wet/damp soil. (you can use your hand or a board and mallet like I am in the photo to press the seeds into the soil) Soil contact is important.
Cover the rows of seeds with wood boards.
Lift the boards after a week to see if any action is happening. Once you see seeds sprouting, you can remove the boards and remember to keep the area watered.
Lately, over the past 5 years or so, I've been planting my carrots in the field. One way to improve your carrot germination a lot is to oversow your seeds into wet soil and cover them with boards.
Covering your carrot seeds with boards will keep the seeds in contact with the damp soil, keep them dark AND prevent anything from eating them.
---
If it's ZUCCHINI you're having trouble take a look at this post to see if you might be growing them all wrong.
(most people grow them wrong)
---
When to Plant Carrots
Plant carrot seeds 2-4 weeks before your first frost-free date. This will give you a summer harvest.
Plant carrot seeds 10-12 weeks before your first frost. This will give you a late fall harvest.
This method doesn't give you as good of a germination rate as pre-sprouting, but it's perfectly acceptable.
In a couple of months you'll be looking down at a ferny swath of carrots.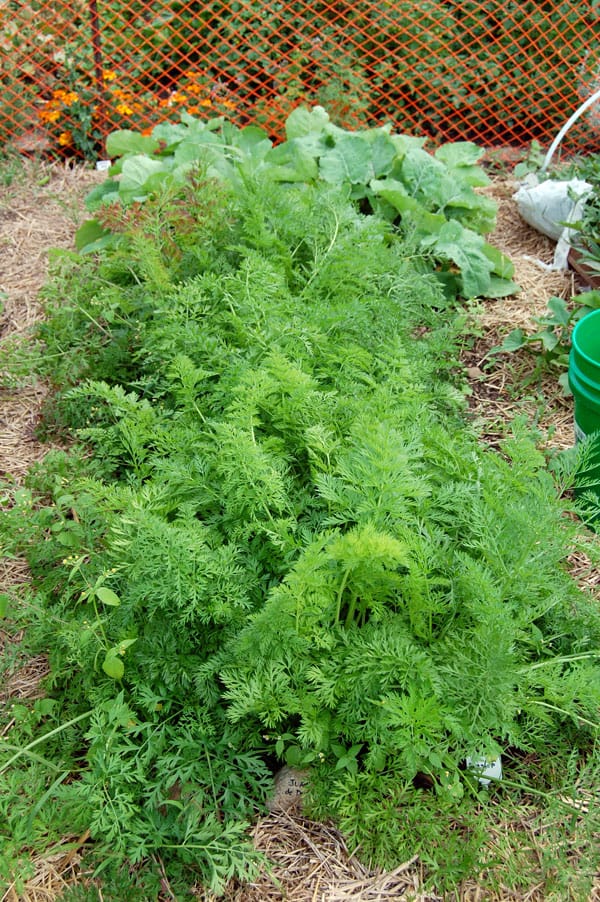 No field? No problem.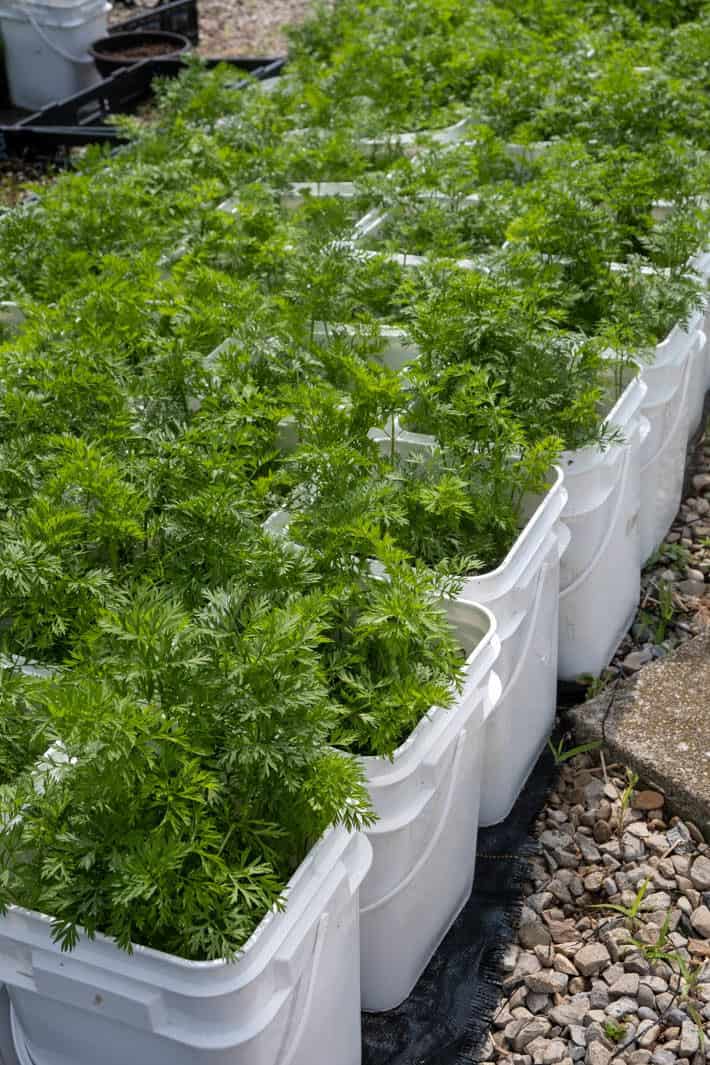 A couple of years ago when we were allowed to roam free I toured the University of Guelph's kitchen garden where they grew a lot of their produce in leftover muffin mix buckets. Carrots, tomatoes, corn, okra ... all grown in buckets.
Just remember to drill some drainage holes into the bottom and you have a perfect container for carrots.
That birthday cake for the man that ran away? I still made it. It was the one you saw at the top of the post. I froze a piece of it to eat on the 10th anniversary of my dump run.
---
This post was originally written 40 billion years ago almost before carrots were invented. It was completely rewritten with new photos for 2021.
---
→Follow me on Instagram where I often make a fool of myself←